Pinar del Rio (province)
Pinar del Rio
is a province in Western
Cuba
, it is also the name of its
capital city
.
This article covers also destinations in the
Artemisa
province which used to be part of the Pinar del Rio province until 2011.
Other destinations
Parks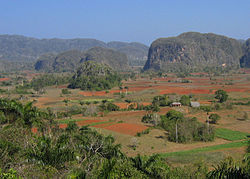 (Viñales National Park). A national park with mountains and caves, tobacco farms and horse-riding. Perhaps Cuba's national park with the best-developed tourist facilities. The town Viñales serves as a good base to explore.
(La Güira National Park) Another national park with mountains and caves, but without many tourist facilities.
This is a UNESCO Biosphere Reserve in the Sierra del Rosario mountains. The principal sites are Soroa and Las Terazzas.
San Diego de Los Baños
This was a spa town, 120 kilometers west of Havana. There's a nice hotel, the Hotel El Mirador, and a beautiful swimming pool. The hotel is open to tourists and the swimming pool is popular with Cubans. The restaurant serves both Cubans and tourists, or perhaps you wait so long for food that you qualify as landed immigrants.
Islands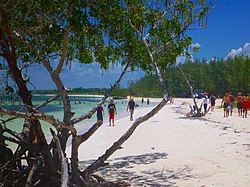 Cayo JutíasThis is one of the few beaches on Cuba's northwest coast. There's nothing wrong with the beach, but it isn't as nice as the beaches on Cuba's south coast. On the other hand it's quite secluded and there's a good chance you'll have 200m of beach for yourself. There's a restaurant but no hotel - the guys sometimes walk down the beach and offer to prepare grilled fish etc. The restaurant doesn't serve jutía (giant tree rat), so be sure to amuse your Cuban friends, especially the ones under twelve, by trying to order a fried jutía and then feigning indignation and saying that you're going to write to Raúl to complain that you went to Cayo Jutías, paid your 5 CUC at the gate, and didn't get your jutía.

Cayo LevisaAnother paradise island with diving facilities and beautiful beaches. You can make day-excursions from Viñales or stay in the hotel. There's nothing else on the island.
Hotel Cayo LevisaTwo kilometers off Pinar del Rio's northern coast, this 2.5 square-kilometer island is reached through a ferry which departs from Palma Rubia. In addition to a beautiful and completely isolated beach, the isle has first-class accommodations and facilities for scuba diving and snorkeling.
Get in
The region is accessible by car, bus & taxi. See the individual destination articles for details.
Most travelers go straight to
Viñales
. The
Viazul
bus stops on the way in
Pinar del Rio
.
See
The capital city is unique because nearly every house has front columns.
The Viñales national park is easily accessible providing pretty nature and some quick escapes from dusty cities.
Do
Go horse riding, biking or cave exploring near Viñales.
Chill out or go diving at one of the islands.
Eat
Viñales has a wide variety of restaurants which you should explore more.

Go next