Placencia
Placencia
is at the southern tip of the resort
Placencia peninsula
in
Belize
.
Get in
If coming from Punta Gorda or anywhere to the south, take a bus to Independence (Mango Creek), then a taxi or 20mins walk to the Hokey Pokey Water Taxi dock. The boats supposedly leave to a schedule, but actually really leave when they have around 20 passengers. The 15minute ride costs Bz.$10, the last boat is 5:30pm - except on Sundays when it is 4:30pm.
Flying from
Belize City
with Tropic or Maya Island Air is easiest. You can also ride a school bus into Placencia from Belize City; 4-6 hours. The road from Southern Highway to the village is rough and dusty - alternately take the bus past Placencia road to
Independence and Mango Creek
in
Stann Creek
and then the Hokey Pokey water taxi across to Placencia.
Get around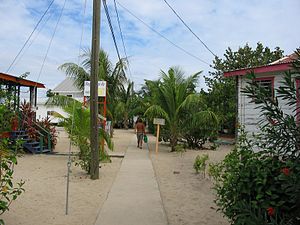 Just wear comfortable shoes. There are taxis, but you shouldn't need them except perhaps to/from the airstrip, which is only 10 minutes from town. "The Sidewalk" is a concrete pedestrian-only path that runs most of the length of the village, ending at the seashore. It is interesting to walk up and down and there are many businesses of all types along the way.
See
Rent a kayak and snoop around the lagoon. Manatees, crocodiles, dolphins and birds.

Do
Diving/snorkeling
The longest barrier reef in the northern hemisphere is a 45 minute boat ride off the coast of Placencia. Laughing Bird Caye, a National Park and World Heritage Site is even closer. The local dive centers have comfortable boats offer 2 or 3 tank dives with a lunch break on an island. The lunch consists of chicken, rice, beans, soft drinks, fruits and while doing your surface interval you will enjoy the beautiful white sandy beaches. Splash typically does a barbecue on the beach.
On an typical dive you may see turtles, rays, moray eels, barracudas, lobsters and if you are lucky you might spot a nurse shark, hammerhead shark, or Caribbean Reef Shark. You may see a pod of daulphins on the boat ride to the dive site.
If you are not yet a diver, all the dive centers offer PADI Open Water Courses as well (including Discover SCUBA Diving which lets you dive almost immediately but under the close supervision of a PADI Instructor),or you just go snorkeling in the clear shallow reef around the islands.
Between March and June around the full moon
whale sharks
will pass by. These huge gentle giants, feeding just on plankton, are pretty much guaranteed to see on a spot called Gladden Spit. Make sure you arrange your spot upfront.
Sailing
Two of the largest charter fleets in Belize are established in Placencia. They offer day trips, over night or weekly charters with or without crews.
Fishing
Book either a private fishing trip or check out one of the tour operators. The guides are perfectly trained and licensed and will bring you out to the reef or nearby islands and you can do drop-, hand-line fishing or fly fishing with or without your own gear. You can catch Snapper, Grouper, Jack, Permit, Tarpon, Snook and Bonefish.
Kayaking
: Explore the lagoon or kayak to the nearby islands. In the lagoon you might spot a manatee and guaranteed are sightings of a lot of birds.
Take a sailing trip with Nextwave Sailing, or one of the other sailing charters in town. Go fly fishing. Take an eco-tour and go snorkeling with D-tourz or Nite Wind.
Relax
: The Placencia Peninsula offers the most beautiful beaches in Belize. The weather is mostly perfect with a slight breeze. Stroll along the Sidewalk (once announced as the world narrowest street) and shop for some souvenirs.
Jungle
tours offer a safe and guided entrance into an amazing world of nature. See howler monkeys, crocodiles, turtles, anteaters and more. If lucky you will see footprints of a Jaguar. They are nocturnal and very shy. The Cockscomb Basin Reserve, just a 45 minutes drive from Placencia, is a perfect place to be part of Belize's stunning flora and fauna.
A must is a trip to one of the nearby
Maya Ruins
- explore this amazing old culture which is still vibrant when strolling through the large areas of ruins.
Explore also the nearby villages
Seine Bight
(6 miles) and
Maya Beach
(8 miles) by bus, golf cart or ride your bicycle. Seine Bight is a Garifuna community and a very gifted artist calls it her home. Visit Lola's Art just passed the football field. In Maya Beach shop at Spectarte Art Gallery.
Placencia Tours
In the village are tour operators who will be happy to give you all the necessary details on all available tours. Also ask in your hotel.
On the Hook
:
Fishing Charters
offers a variety of fishing adventures and ocean tours. Trolling to spin casting or traditional hand line fishing along with snorkeling, or just a day on an island can all be done.
For Scuba Diving or snorkeling check out Splash Dive, near the end of the Sidewalk .

phone: +501 523 3519

address: Main Street, Harbour Place

Yoga, meditation, meditation + healing techniques.
Nauti by Nature
:
Fishing Trips
You could customize your fishing vacation, incorporating various types of fishing, snorkeling, island hopping or even add camping and stay the Nauti way.
Placencia Wildside Adventures
- Turtle, Spiny Lobster and Lionfish are just some of the creatures you will encounter during your Snorkel tour from Belize. This Tour company also offers Scuba Diving and Island Adventures fun for the entire family.
Nautical Adventures Belize
- Here you will find the only Glass bottom boat in Placencia, where the operators of daily tour to the reef and Island to view the under water world from the comfort of the seat of a boat. They also offer great
sailing charter for a day
or to enjoy the sunset. This company carries out daily
sailing and snorkeling trips to laughingbird Caye
, two person minimum.
Buy

Buy from the locals. Maya women and girls typically line the sidewalk from the early morning hours.

Eat
The best seafood is at Lost In Paradise Beach Shop & Pirates Grill, located on the sidewalk in Placencia. Great baja fish tacos, ceviche, shrimp cocktails, nachos, burritos, tapas and philly cheese steak subs, vegetarian meals. Great affordable meals, small location, great food on the go. Breakfast, Coffee and Wifi available.
Actually, you can find quite a bit of good food and a few places for great food. A few suggestions would be Barefoot Beach Bar for burgers, smoked fish, smoked chicken and cold beer. French Connection offers limited seating and astonishingly good food. Tratoria offers good Italian, there is another Italian place above Wallens Market, that's also quite nice. If you want to spend a lot of money you could visit one of the resorts, though it's not the best way to spend your money.
De Tatch is the best place for local food. Seafood, chicken and daily specials reasonable.
phone: +501 610 0132

address: Main Road, Seine Bight

Viennese Schnitzel, Goulash, Dumplings, Apple Strudel, Sacher Cake and other Austrian Specialties. Candle light, AC indoors, lounge area outdoor. Cuban and Mexican Cigars for sale

phone: +501 523 3519

address: Main Street, Harbour Place

different breakfast and lunch made with love and passion, (espresso, latte, eggs, toasted sandwiches, salads, waffles, crepes, cream puffs), free WiFi internet for patrons, speak English, Spanish, German, French, Dutch
Drink
Belikin Beer (they also make a decent stout), or One Barrel rum, both products of Belize.
The local coconut rum is surprisingly good, and happy hour at the Barefoot Beach Bar (6-7pm) is the best place to be. They also have an excellent band on a Sunday evening, Inner Vibrations.
The very good artesian water from the tap.
Boson's Chair Internet Cafe

phone: +501 523-4063

address: Placencia Sidewalk

Drip Coffee, Latte, Mocha, Belikin or add a Coco rum to your Latte Sit and chill watching the boats or check your e-mail while you wait for your Laundry
Sleep
Accommodation ranges from huts with shared "bathroom" to cabanas on the beach to guest houses to resorts. The resorts are north of the airstrip in
Seine Bight
and
Maya Beach
, and not really part of the village.
phone: +501 523-3155

phone: +501 523-3234

phone: +1-352-394-0952

Private condo unit on the Caribbean

Paradise ResortSmall hotel resort owned by American Alan Stamm and run by locals. Very clean and comfortable. Free use of bicycles, kayaks, fishing gear and more. Dive shop, fishing boats, tour guides and great information about the area.

phone: +501 6050586

address: Harbour Place Placencia Village

In a peaceful area steps away from the Caribbean Sea. An octagonal cottage. It is built from hardwood with windows on all sides, and fully furnished with handmade hardwood furniture. The upstairs apartment sleeps 2-3 and includes bathroom with hot and cold water, fully equipped living/dining/kitchen area, fan, dining table, TV with cable, DVD player, CD player, and a cell phone. There are two beachfront verandah overlooking the water. The downstairs studio apartment offers windows on all sides. It accommodates 2-3 people. It is fully furnished. Amenities include hot and cold water, stove/oven, cookware, full-size refrigerator, coffee maker, blender, toaster, TV with cable, radio with CD player, fans and a cell phone.

phone: +501 523 3519

address: Main Street, Harbour Place

central location for diving on coral reef, fishing, sailing and excursions to rainforest and Maya temples, virtually bug free super protected villa steps away from the beach from Placencia with 4 elegant hygienic suites with porch for 2 to 4 people to rent with equipped kitchen, AC, TV, Wi-Fi internet, on 500m from bars, restaurants and supermarkets, free sailing trip with snorkeling for sympathetic guests.

phone: +501-533-8040

address: Maya Beach

Enjoyable 10-room beach resort with award-winning restaurant on site. All rooms have A/C, beach views, and a balcony or porch. Also has a bistro, open from 7AM-9PM every day.

phone: +501 628-0106

As the name suggests "Bulls Beach Cabanas" is less than a stone throw away from the beautiful beach of Placencia. Two of our beach cabanas offer breath-taking views of the Caribbean sunrise, which can be enjoyed without leaving the comfort of your cabana.
Stay safe
You can drink the water; it's plumbed in from an artesian well on the mainland.

Go next
If heading north you have three choices - fly, take a bus, or take a water taxi to Independence & bus from there. If headed south take the water taxi & catch a bus from Independence.
Cockscomb Basin Wildlife Preserve. It's back on the mainland in Stann Creek and well worth the effort to get there.
Monkey River Town. Several outfits can hook you up with a boat trip south for manatee and howler monkey watching.