Podgorica
Podgorica
(
Montenegrin
: Подгорица) is the capital of
Montenegro
.
Understand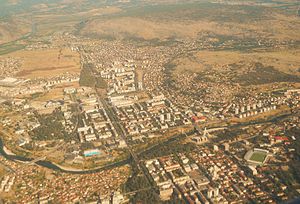 Besides being the capital of Montenegro, Podgorica is also the country's largest city, having a population of some 180,000 people. The city is situated in central Montenegro, in the scarce Montenegrin lowlands between the
Dinaric Alps
and
Lake Scutari
.
The Podgorica area has been continuously inhabited since the Illyrian and Roman eras, with settlement on the site of today's Podgorica being firmly established during Ottoman Empire rule. Podgorica was reincorporated in Montenegro in 1878, when the city started to take a more European shape. Nazi and Allied bombings during World War II destroyed much of the historical Ottoman and Montenegro-era Podgorica architecture, and the city was reborn as the capital of Montenegro in Socialist Yugoslavia (SFRY). The city was then rebuilt and expanded in a manner typical of Eastern bloc countries, so it is mostly a modern planned city, and by no means a principal sightseeing destination.
While not a typical European eye candy, the is city definitely worth visiting, owing to its interesting mix of old and new, its café culture and nightlife, and its laid back Mediterranean atmosphere. Both Montenegrin coastal cities (
Bar
,
Budva
and
Tivat
) and its mountain resorts are within one hour's drive from the city and
Tivat
one hour and 45 minutes, so it is an excellent starting point for day trips to anywhere in Montenegro.
Get in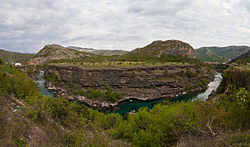 By plane
Podgorica AirportPodgorica Aerodrom is the home of Montenegro Airlines, the national carrier, which serves many major European destination; other airlines include WizzAir. For transportation to the city center: Taxis can be found in abundance in front of the terminal but cost a hefty flat rate of €15 to the city center, which the drivers often interpret as "per person". As with all taxis in Montenegro, you should haggle out a price in advance. There are no buses or means of public transportation. The only other alternative is to turn left as you leave the terminal, trod alongside the dusty road for about 1 km until you get to a bridge, to the left of which is the totally dilapidated Aerodrom train station. Trains run roughly every hour in each direction (Bar = ca. 1 hour, Podgorica = 8 minutes). If you just hop on for Podgorica, the conductor usually won't bother you, but even if he asks you for a ticket, you can buy the ticket from him for 1.20 €. Train schedule can be found here

Tivat coastal city Airport Montenegro and then 1:45 minutes by car to Podgorica. Taxis costs has a fixed price of 30 € to Podgorica as of June 2018.
By train
Train stationThere is regular passenger train service from Subotica through Novi Sad and Belgrade, and even regular trains from Bar to Budapest running through Podgorica. Train tickets are cheap, but the quality of service is not always up to Western European standards. There are overnight trains with sleeping cars for around €25. Trains can be late but are a common means of transportation.
By bus
phone: +382 20 620430

address: Trg Golootočkih žrtava

serves number of domestic destinations, as well as those in neighbouring countries.
By car
Due to its location in central Montenegro, Podgorica is the hub of all main roads in the country. Road from the northern Montenegro and
Serbia
requires additional caution during the winter.
Get around
On foot
Podgorica is a medium-sized city of 180,000+ people. If your accommodation is near the city center, or the "Preko Morače" district - all points of interest could be visited on foot.

By bus
Buses are not very frequent, and maps of the lines could be hard to locate. Ticket price is between €0.80 per single ride, and can be purchased on board, usually directly from the driver.

By taxi
Probably the best option to move around Podgorica are cheap and reliable taxi service. There are over 20 taxicab companies, that usually operate new air-conditioned European sedans. Taxi stands are virtually everywhere in the city, but they could also be reached by calling the dispatcher. - The fare is cca. €0.40 per kilometre, and usually no start fare is charged. Considering the size of Podgorica - no drive within the city should cost more than €3 or €4. - Taxi numbers: 19700 ALO Taxi, 19702 Royal Taxi, 19703 Boom Taxi, 19704 PG Taxi, 19705 Pink Taxi, 19706 DeLuxe Taxi, 19709 Orange Taxi, 19711 City Taxi, 19712 Exclusive Taxi, 19714 Red Line Taxi, 19723 Peugeot Taxi, 19800 Bel Taxi, 19708 Elite Taxi

See
Old Turkish townwith its mosques and old clock tower. A typical old Turkish "kasaba" (town), with narrow and curvy streets.

Skalineon the outfall of the Ribnica river to Morača, with its old Turkish bridge over the Ribnica, and the ruins of old Nemanja's town.

Monument to King Nikola

address: Bulevar Svetog Petra Cetinjskog

Hercegovačka pedestrian street

address: Hercegovačka street

Trg Republike

address: Slobode

the central square of the city, a lot of life at the end of the day, when people finish to work. Lot of cheap restaurants and friendly people, a pleasant place to spend the first part of the evening.

St. George's church

address: 19. Decembar

built in 10th century, on the slopes of the Gorica hill (hill after which the city was named.). - 17th century frescoes.

Catholic Church

address: Mojkovačka, Konik district

Millennium bridgethe impressive new bridge over the Morača river.

King Nikola's castleturned into a museum, also fine the surrounding park.

address: Bulevar Džordža Vašingtona

This is a newly built orthodox temple

Church of the Great Martyr Holy Dimitrije

address: Ljubljanska

Rimski Trg

address: off Bulevar Svetog Petra Cetinjskog

the square in the new part of town. The square and the surrounding area is the home for the trendiest of Podgorica cafes and restaurants, and favourite meeting point for Podgorica citizens.
Further afield
Cetinjeit is a great opportunity to escape from Podgorica's pollution for a couple of hours by breathing the fresh air of the Lovcen National Park in the former capital.

Morača river canyonVisit the 13th century Morača monastery and enjoy scenery

Doclearuins of the old roman city that preceded Ribnica and Podgorica.

Meteonruins of a fortress erected at III century B.O.T.

Skadar Lake National ParkThe largest lake on the Balkans, and a national park.
Do
While in Podgorica, one can enjoy the diversity of Montenegro's capital cafes and restaurants, check out the nightlife, or take a walk at some of the favourite picnic locations of Podgorica citizens - Mareza, Skadar Lake, or Gorica hill. While strolling through Podgorica center, you might find the shopping area interesting, as there is a good number of boutiques.
Note that swimming in the Morača river might be a pleasant way to cool off in the summer months! The other option would be newly built open-air public swimming pools.

Buy
The currency in Montenegro is the Euro (€). ATMs are widespread in the city center and the new part of town. Upscale shops and restaurants will usually accept any major credit or debit cards.
Most of the premium clothing brands have their stores in new part of the city, chiefly Vectra-Maxim neighborhoods. The prices are on par with those in the region.
Shopping malls
Delta City shopping malla 48,000 sqm mall with over 70 stores, food court and a multiplex cinema

Paladasmaller mall

Nikić Centersmaller mall
Open markets
Open markets on the outskirts of the city are a place to buy very cheap clothing, often of low quality.
Eat
Restaurants
Almost all fine restaurants in Podgorica are located either in the traditional city center, the new business district around the Roman Square, or along the Sv. Petra Cetinjskog boulevard that connects the two.
Maša restaurant

phone: +382 0 20 224 460

address: Bulevar Sv. Petra Cetinjskog 31

Renowned for its fresh seafood.

Carine Centar

phone: +382 0 20 402 400

address: Slobode 43

The Carine Center features both the fine dining restaurant and the pizzeria. Probably the best pizza in town.

Carine Moskovska

phone: +382 0 20 402 400

address: Moskovska 43

The Carine Moskovska features both the national cuisine restaurant, and the pizzeria. Probably the best pizza in town.

Salvador Dali

phone: +382 0 69 234 567

address: Bul Džordža Vašingtona 87

Newly open and chic restaurant, a favourite among local celebrities.

Plantaže restaurant

phone: +382 0 20 268 722

address: Mareza bb

A great place to eat.

Hong Kong

phone: +382 0 20 667 300

address: Stanka Dragojevića 14

So far the only Chinese food restaurant in Podgorica.

Il Giardino

phone: +382 0 69 313 313

address: Rimski Trg 28

Renowned for the Italian cuisine.

phone: +382 20 223 551

address: Vojvode Maša Đurovića 31

New Chinese restaurant in Podgorica
Pizzerias
There are dozens of pizzerias through city, and most of the cafes serve pizza, pancakes, etc.
Alpe Bar

phone: +382 0 20 202025

address: Bulevar Sv. Petra Cetinjskog 88

A pizzeria and a cafe, one of the city's landmarks.

Alpe Bar

phone: +382 20 665 771

address: Stanka Dragojevića 14
Fast food
Most popular fast food in Podgorica is the regional hamburger variant
pleskavica
. You can eat great hamburgers, as well as anything made on the barbecue (roštilj) in places all across town, but best known and most visited are "Voda u kršu", "Gurman", "Calimero", "Kruna"...
There are no international fast food chains such as McDonalds, Burger King or KFC in Podgorica.
Connect
Internet: Café www.com, Bokeška 4
Many cafés, bars and restaurants offer free wifi; ask a waiter for the password.

Drink
Most loved amusement of Podgorica's residents is to sit in a cafe on a summer day and drink their espresso.
There are dozens of
cafes
in pedestrian Njegoševa street in city center, and many more scattered around the city center. Most of the new and trendy cafes are located around "Vectra" district in the new part of the city.
Modern design and relaxed atmosphere of the cafes coupled with Podgorica's art of making espresso will make an interesting experience. Some of the well known cafes are :"Alpe bar", "Buddha bar", "Carine", "Greenwich", "Grand cafe", "Café, Café", "Switch cafe", "Soul II Soul"...and many more.
Espresso costs from €0.50 to 1.50. Coke and other soft drinks and juices will cost from €1.00 up to 2.50.
There is a number of
clubs and bars
to go out to in Podgorica. In the summer, there are many open-air bars and clubs. However, by law, open air bars must turn the music off at 01.00 AM, when the crowds move to the clubs located mostly in the basements in the city center.
Depending on your taste, it may be important to know whether a club plays worldwide popular dance hits the entire night, or the playlist include folk music from ex-Yugoslav countries, which is often the case.
Switch cafe

address: Stanka Dragojevica

A club It plays mostly foreign pop/electronic/rock music, and there are interesting music programs almost every night. Place with lot of fun.

Tantra clubIt plays dance music and is generally busy throughout the week. Drink prices are not too expensive and there is a good atmosphere.
Clubs are most crowded from 11PM until 2AM on the Friday and Saturday nights, but some of them are full throughout the week.
SkalineTwo rivers, two bridges. Pop music, drinks, coctails, icecream.
Sleep
The price of the accommodation varies, and is from €20 for a room in a motel on the outskirts of the city, up to over 100 euros in the premium hotels in the city center.
Budget
On the every main intercity road on the outskirts of the city there are motels that are the cheapest accommodation in the city. They are easy to spot, as each one has illuminated and clearly visible "Motel" sign. Expect prices from €20 - 25 and up.

Hostel Podgorica

address: Gojka Radonjića 11

Vila Patria

address: Zlatica bb

Montenegro Hostel

address: Đečevića 25

The Hostel arrange various tours, rafting on River Tara and visiting the Durmitor National Park.

Hotel Crnogorska Kuća

address: Dalmatinska 130d

Hotel Evropa

address: Orahovacka 16,

a cheap choice
Mid-range
Hotel City, under the Ljubović hill, offers very cozy rooms and beautiful surroundings for a reasonable price.

phone: +382 20 402-500

address: Bulevar Svetog Petra Cetinjskog 1

Very modern hotel on the bank of Morača river, and offers a high level of luxury, at a corresponding price.

Kerber hotel

address: Novaka Miloseva 6

The Hotel Kerber has a reliable (and free) internet connection in all rooms.
Splurge
address: Save Kovačevića 74

Hotel "Best Western Premier" is a four-star hotel in the Vectra district.
Hotel "Apart Premier" is a four-star hotel in the Vectra district. sgl from €90
Kosta's (sgl from €80) and Bojatours are smaller four-star hotels that are popular with local celebrities and politicians visiting the city.

address: Vaka Djurovica 5

Is a 4 star property, very close to the financial and Government district.

phone: +382-20-443443

address: Bulevar Svetog Petra Cetinjskog 2, Podgorica, 81000, Montenegro

Hilton Podgorica Crna Gora, is a 5-star luxury hotel with 180 double-bedrooms, 20 suites, congress center, restaurant, bar, SPA center, indoor swimming pool and underground garage. In addition to hotel capacity, were built a shopping mall and business center. Along with stylish, sunlit rooms and suites, there are 4 restaurants and lounges including a spectacular rooftop bar, plus gorgeous event space and the city's largest spa.
Go next