Pokhara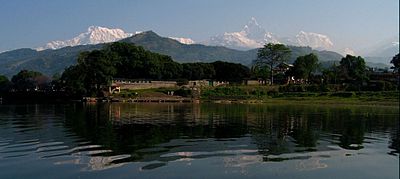 Pokhara
is the second largest city in
Nepal
with about 400,000 people in 2018. It is the starting point for most of the treks in the
Annapurna
area. It is a very popular location with most people staying around the beautiful Fewa Lake. Dozens of hotels and restaurants are sprouting like mushrooms everywhere, and today it is much easier to find modern amenities not common to other locations in Nepal, but Pokhara is losing its small town charm and the lakeside now feels more like Khao San Road (with all the usual: yoga, reiki, massages by blind people, overpriced souvenirs and disingenuous locals).
A new international airport, scheduled for 2020, is likely to bring even more tourists, so visit before the rush.
Pokhara is still beautiful and many great and genuine people can be found, but it takes some work on the traveler's side. If you intend to stay on the lakeside road, para-glide, and trek to Annapurna, you will be getting a very inauthentic version of Nepal. If you make an effort to get out of the tourist areas, you will find amazing scenery, great people, and unforgettable experiences.
Get in
By bus
From Kathmandu
Tourist buses (Rs700-800, 6-7 hr) and crowded local buses/microbuses (Rs400-600, 6-7 hr) travel the 200-km journey between Kathmandu and Pokhara almost every 15 minutes from 07:30 until late afternoon. Night buses are available, but the ride is painful.
Greenline
operates a convenient bus every morning between the popular tourist areas of Thamel in Kathmandu and Lakeside in Pokhara (USD20, lunch included). The road is winding with many switchbacks but offers wonderful views of hills and rural Nepalese lifestyle. The drivers will generally not drive too fast but some will calmly weave in and out of the stream of opposing traffic and slam on the brakes when a stop is required, making for a scary ride if you look out the front window. During the rainy season, there may be problems with the roads, and flying may make more sense.
If your bus leaves you at the "old bus station" near the old airport, just take a city bus from the road to lakeside (Rs20).
From Sunauli and the Indian Border
Buses are available from the border town of Sunauli (Rs280-380, 8 hours). If you can travel to the nearby town of Butwal, you will have more options for travelling to Pokhara. A 12-seater vehicle will cost around Rs5500 from Butwal to Pokhara.
By plane
From Kathmandu
Yeti Airlines, Buddha Air and Air Viva are reputable airlines that operate regular flights (USD102-106, 40 minutes) that can be purchased online and at the last minute. The flights offer the benefit of a bird's eye view of the countryside and of the panoramic mountains themselves. Flights are almost always delayed and afternoon flights run the risk of cancellation as delays from the morning compound.
A taxi from the Pokhara airport to Lakeside should cost Rs250 if negotiated in advance, but the city bus passes the airport and costs Rs20.
Get around
By foot
Pokhara is a fairly small city and can be easily traversed on foot. Walking is necessary to get to places where vehicles or bicycles can't reach.

By bus
Buses and minivans operate on most of the popular routes. These are crowded and uncomfortable but the fare is cheap and student discounts may be offered. Fare is Rs20-25 per way (as of Apr 2019).

By taxi
Comfortable taxis are available to be hired.

By bicycle
Bicycles can be hired in a lot of shops in Lakeside (Rs100-300/day). Make sure the seat is not too hard, and try realigning the seat if it is set uphill way, instead of sloping down.

By motorbike or scooter
It is also possible to hire a scooter or a motorbike in Lakeside (from Rs550/day). You will have to buy petrol (Rs120/litre). It is not possible to reach Sarangkot or the World Peace Pagoda with an automatic motorbike or scooter due to the steep uphill road, so get a manual gear model if you intend to travel to those places.

See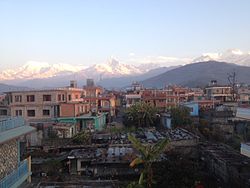 Lakes & waterfalls
Viewpoints
Caves
Museums
Do
Adventure sports
Hiking and trekking - for information on trekking in the Pokhara region, including popular treks and suggested itineraries, see Trekking in Nepal
Boating and canoeing - hire a boat or canoe for a day out on the water. Canoes can be difficult to steer on the flat lakes.
Whitewater rafting, kayaking, and canyoning - 1-10 day adventure expeditions on beautiful Nepali rivers. There are many operators offering trips, with some being Rapidrunner Expeditions, GRG's Adventure Kayaking, Adrenaline Rush and Paddle Nepal.

Paragliding in PokharaDon't miss soaring around Lake Pokhara and the Annapurnas.

Parahawking/Vulture RestaurantThe population of certain species of vulture has collapsed in many parts of Asia due to vultures eating dead cows that have been injected with a drug that helps the cows in old age but poisons the vultures when they eat them after their die. A charity has established a hospice for cows coming to the end of their lives. They look after the cows but ensure they don't have any of the drug that kills the vultures. When the cows eventually die they are given as food to the vultures. Trips are arranged to view such early morning vulture feasts. To find out more visit Blue Sky Paragliding.

Hearts & Tears Motorcycle Club: Motorbike Tours & LessonsLearn to ride custom bikes

Ultralighting
Mountain Biking. Consider these fun bike rides:
Around Phewa Lake
Sarankot/Naudada/Hemja loop - 3 hours hard from Lakeside is a fast time. Go towards downtown (Mahendrapul) from Lakeside, turn north at "Zero Kilometre" along the main road to Baglung. Be careful as it's crowded. Ride about 5–6 km north, slowly up, past the nasty old bus park, to the Sarankot Road junction, turn left (west). The climb time starts at the fork 50 m further. Follow paved road up incredibly steep climb, 1st gear almost all the way. Good pavement mostly, climb zigs past houses and ends at a small village on a saddle. It takes around 40 min from bottom. From here you can park bike and hike up old ridge trail to Sarankot, but for this loop continue west along rocky jeep road along mountains south slopes, past parasail place and onwards, rolling ascent to Kalipani village and after and hour or so jeep road hits the "hi-way" at Naudada village on ridgetop. From here good pavement zigs steep down to valley bottom, then its a long gradual descent to Hemja village, and back into Pokhara.
Dobindy Pass ride- A fun up and back hillclimb to a pass on pavement southwest of Damside. Take paved road south from Damside to Birota area then turn right (west) along main road, the "hi-way to Syangja and Tansen, gradually down towards Devi's Falls, continue west to the Chorepatan area to base of climb. The steep bends begin here, road climbs steadily, though not too steep, along south side of Peace Pagoda ridge, up to a few villages, then after a short steep descent into a forest for last climb up to the pass at Dobindy village. At least, it'll take just under an hour from Lakeside. From here you can continue west through scenic rolling country towards Syangja town, but it's usually possible to zip back down to hotel in about 35 min. Beware; this road is getting more crowded, and sometimes with lots of buses & trucks in the wrong lane.
Tibetan Refugee Camp - go for a bike ride down to the airport way, on the way to the Tibetan settlement where there is a nice little monastery, a school, and refugee-made jewellery and craft stalls. Be prepared to ride all the way uphill on the return trip to Lake area and it is wise to take a rest halfway if you want to avoid suffering from cramps and weariness the following day, from the long ride.
Rock Climbing, 3 Sisters, an organisation dedicated to the empowerment of Nepali women, runs a rock climbing course near Lakeside.
Himalayan Golf Course offers a unique golfing experience.
Education
phone: +977-981-842-1646

address: House no. 112, Dam Side

An alternative tour experiences platform, they enable locals to offer authentic and unique activities to tourists such as cooking classes in a local's home, marble carving workshops, Batik Painting, making your own recycled bags, even a sculpture class where you learn to create your own miniature sculptures from a master craftsman in Pokhara. A social enterpise, they work with many underprivileged people who either serve as hosts or facilitators. The facilitators will pick you up from your hotel and translate for you. These facilitators are usually young students looking for work to pay for their education or orphans looking to transition into society. Transport is provided for most activities in Pokhara. A great way to interact with local people and take in the culture and have something memorable.
Cooking classes - Stay on a farm and learn to cook Dal Baht from scratch!
Reiki, yoga, meditation & massage
Pokhara is Nepal's top yoga destination and there are over a dozen yoga retreats. Many of these retreats also offer massage, reiki and water/honey therapy. Some also organise 1-20 day treks that combine hiking with classes in yoga and meditation.
phone: +9779841436877

address: Sedi Bagar, Lakeside, Pokhara

Purna Yoga Retreat is residential centre for yoga and meditation offering 1-21 day courses. 10 en suite rooms, and a large and spacious glass-walled yoga hall with panoramic views of Pokhara, Phewa Lake and surrounding hills.
Annpurna Yoga Ashram (Lakeside), run by guru Narayan Prasad Dhakal, offers daily yoga classes at 08:00 and 17:00 (USD8.50), massage, reiki, honey/water therapy, as well as one-day or multi-day spiritual/meditative hikes to small villages in the area that foreigners rarely get to visit. The guru also offers the opportunity for a homestay, with traditional organic meals cooked by his wife.
Ask About Yoga, run by Preeti Gahlot, offers private yoga classes (Rs2,000) as well as twice monthly 4-day yoga-based hikes that include accommodation on an organic farm.

phone: +977 61 560030

address: Sundari Danda, Begnas Lake

offers morning yoga classes to its guests
Bohemian Tours offers guided treks in the Annapurna mountains with yoga and meditation classes along the way.

Garden Yiga Chozin Buddhist Meditation Centre

phone: +977 61 462923

Offers free daily meditation classes, dharma talks and donation-based hatha yoga instruction.
Jiva Cafe & Spa offers yoga, meditation and zumba classes, therapeutic messages, acupuncture, beauty therapies in private cottages. On Phewa Lake walking path behind Busy Bee. 09:00-19:00.
Nepali Yoga Centre (Lakeside Road) offers daily yoga classes 04:30-18:00 and 07:30-09:00 (Rs400) as well as full-day retreats that include breathing excerizes yoga nidra, meditation and chanting.
Om Family (Lakeside Road) offers daily drop-in yoga and meditation sessions, as well as holistic treatments costing Rs500.

phone: +977 9851158384

offers various guided yoga treks in the mountains with yoga and meditation classes along the way. Yoga trek is a perfect combination of gentle trekking schedule, healthy yogic food, exercises to stretch muscles and ease breathing, time to relax, reflect and enjoy the location for a deeper trekking experience and to connect the body and mind with nature.

Rishi Yoga

phone: +977 984 620 4406

offers 10-day intensive retreats with four hours of daily yoga instruction costing Rs6,500. Drop-in classes are held between 08:00 and 10:00 and cost Rs350.

phone: +977 61 694041

offers lodging including yoga classes and vegetarian meals costing NPR2,400 (2-night minimum)
Live music
With the ever-present backpacker atmosphere, there is no shortage of live music.
Busy Bee Cafe in Lakeside frequently has a live local band playing.
Festivals
Dipawali - the Hindu festival of lights and worshipping of Laxmi, celebrated in either October or November, is a great time to be in Pokhara.
Full Moon Trance Parties are held in the surrounding hills during the warmer months. Ask around for details and schedule. There have been several instances of festivals publishing fake line - ups so check with the artists.
Holi-the festival of colour is heavily celebrated. Concerts and musical events are held on Pokhara, Lakeside.
Street Festival - is celebrated every year 4-5 days before New year until 2 January. Thousands of people gather and celebrate the festival on Lakeside street. On the new year's eve, activities like dancing & singing are performed. Street festival is one of the biggest festivals celebrated in Pokhara valley.
Buy
There are several ATMs in central Lakeside and all over Pokhara. All charge a withdrawal fee of Rs500 per transaction.
Nabil Bank
&
Standard Chartered Bank
ATMs have the highest withdrawal limit of Rs35,000 per transaction.
Jewels and trinkets from the lovely Tibetan women who ply the streets with their wares in backpacks or blankets. Sit and enjoy the atmosphere, and make sure you bargain as starting prices generally are highly inflated.
Kriayt Social Business is a marketplace in central Lakeside with the mission of empowering Nepali women to earn a living. You can buy beautiful handmade items and even design your own, all while supporting a good cause.
Hemp products. There are numerous stores in the Lakeside area where you can get clothing, bags, and other accessories made from hemp. Hemp fiber is superior to cotton in durability, breathability, and environment impact. There are different quality (e.g. fiber density), so compare ahead.
*
General shopping can be done cheaply in new Town, a large bazzar selling clothing, fruit, vegetables and general items is located across the road from the old bus station
Though relatively cheap, hiking gear sold in lakeside is of notoriously poor quality- often not even surviving one treck.
General shopping can be done cheaply in the bazzar across the road from the old bus station.
Eat
The cheapest (and often the best) food is found at the street stalls, selling momos/dumplings (Rs80 for 10 pieces), samosas (Rs10 each) or fried noodles (Rs50). Early in the morning, children walk the streets with trays of pastries; chocolate croissants, cinnamon rolls and other cakes. Each cost about Rs15.
Asian TeahouseLocated along the main road through Lakeside on the opposite side from the lake. The only way you'll find this place is to look out for the handwritten sign sitting at the end of the alleyway that the restaurant sits in. Or by looking for a large shop named 'Almonds'; directly under this sign is an arcade that you walk through and it is at the end on the left. The food is great, huge servings and the food in the area. The family that owns the restaurant is friendly, hospitable and informative.

Babita Organic CafeGreat value food including momos.

Bistro CarolineSister branch of the upmarket KTM restaurant with a garden on the lake and stylish interior. Offers a good selection of French and continental food. Possibly the best wine list in Pokhara, expensive but the toilets alone are worth it.

Blue Diamond Restaurant

address: Lakeside Rd

Good western style breakfasts for Rs180, good Nepali Khanna (Dhal Bhat) for Rs130.

Busy Bee CafeA beautiful outdoor garden bar, with Pokhara's best rock & roll acts on stage around 20:00.

The China Town

phone: +977 61 463847

address: 137 Lakeside Rd

Restaurant and bar that serves typical Chinese food, especially sweet & sour dishes. Fresh and locally grown/caught duck, fish and chickens. Also, a food menu for vegetarians.

Clay Oven

address: Lakeside

Nice and cheap restaurant over looking the lake. Nice sizzler meals and USD3 pizzas.

El Bocaito Español Spanish Restaurant

address: North Lakeside

Good and reasonably priced Spanish food. Pleasant atmosphere with Spanish owner.

Emon CafeThis restaurant and bar has nightly live music upstairs with indoor and balcony seating. Cheap beer. Nice rooftop where they have a camp fire at night.

Everest Steak House

address: Pokhara

Offers steaks so large they can only be eaten by a minimum of 3 people.

Fewa Paradise

address: Lakeside

This restaurant stretches from the main road to the lakeside. Great for breakfast and lunch overlooking the lake. In the evenings they have nightly cultural music and dance shows between 19:00-21:00.

Friendship RestaurantA small place that is deservedly popular with the locals.

Cafe Fusion Restaurant & Bar

phone: +977 61 466141

address: Lakeside

Food from every corner of the globe.

German Bakery (1)

address: Central Lakeside

Similar to the other German Bakery locations. This one is attached to the Boomerang Restaurant so customers have the use of free Wi-Fi and tables.

German Bakery (2)

address: North Lakeside

There are at least three German Bakery locations in Pokhara. This one is take away only.

German Bakery (3)

address: Damside

Another location of this popular bakery chain. This one is especially good if you're walking into town from the airport or on your way to or from the hike to the World Peace Pagoda. Several tables, free Wi-Fi, good breakfasts including honey curd muesli as well as the usual bakery items.

Godfather Pizzeria

address: north Lakeside

Great oven-baked pizza.

Hanging GardenThis is one of the outlets of the famed Fulbari Resort and a one of its kind restaurant in Nepal because of its design and location. It is located at the end of the cliff facing the Seti river gorge. It offers a breathtaking view of the Seti gorge below and some of the best meals in Pokhara.

Hua-HanExcellent Chinese restaurant, famous for its Kung Pao Chicken. Prices are comparatively high, and the interior indicates that it caters to customers better dressed than the usual trekker.

Jazz CafeGreat pizzas, less great pasta.

Koto Japanese restaurantluxurious Japanese restaurant with excellent Beef Teriyaki and sushi.

Laughing Buddha Restaurant - North Lakeside. Small family run place 5 mins north of the main strip across the road from the Chilly Bar. Good for simple and good Nepali dishes in friendly atmosphere. From cheap, filling breakfast-sets (Rs100-140) to lovely dinners. Good Chicken Tikka Butter Masala or grilled fish (fresh from the lake).

Lemon Grass

address: north Lakeside

Nice restaurant with lake views on the north end of Lakeside.

Mike's BreakfastPokhara branch of the famous KTM restaurant.

phone: +977 61 461792

Lovely cafe to enjoy breakfast or lunch. Fabulous desserts, quiche, baked potatoes and sandwiches

MoondanceA popular place to eat, and although the prices are high so is the quality.

phone: +977 61 229198

Next to Lakeview Resort towards the tourist bus stand end of town, this is an outdoor garden restaurant run by a Korean couple and serves authentic Korean dishes. Recommended are Vege Bibimbob Hotpot, Beef Bulgogi stew and pork skewers. Free Wi-Fi and the complimentary side dishes are lovely.

Once upon a time

phone: +977 61 461881

address: Lakeside

Italian and Indian cuisine, very old restaurant in Pokhara. Free Wi-Fi.

Peace Dragon Lodge & Restaurant

phone: +977 61 621182

Serves a good range of Nepali, Indian & Western dishes and light snacks. Prices are moderate, and the views are stunning.

Perky BeansPopular place to eat, good breakfast, chapati wraps and renowned 500 ml shakes and smoothies.

Pokhara Java

phone: +977 9846043980

Nice and cosy coffee place, that serves breakfast, sandwiches and different varieties of coffee. Their set breakfast includes eggs, toast, hash browns and espresso coffee for Rs195.

Pokhara Steak House restaurant

phone: +977 61 692505

address: hallan Chock, Lakeside Pokhara

Speciality for all kind of steak dishes, sirloin, ribeye and T-bone.

Pokhara Thakali Kitchen

phone: +977 61 462306

address: Just off Baidam Rd

Authentic Thakali meals (including Daal Bhat) served on a large platter with several different curries. One of the best places to eat in Pokhara if you're looking for authentic regional dishes.

Punjabi Restaurant

address: Lakeside

Authentic Indian vegetarian curries and breads. Another in a list of excellent places to eat in Pokhara if you like good quality curries.

Sun Welcome

address: Lakeside

Small family run place 5 min north of the main strip, a few spots up from Newari. Cheap and delicious. Open all day, can even BYO.

Sweet Memories Restaurant

address: north Lakeside

Nice and cheap food with friendly staff.

Tara's Vegetarian KitchenA lovely small budget restaurant with a friendly proprietress. A great western-style breakfast with excellent hashbrowns; try the specialty dish, Simi Nariwal.

address: Lakeside, Basundhara Park

Serves Japanese food, sea food; specialist in sushi. Also offers Nepali food. Grilled fish, steak, pizza, herb wine are popular dishes. Delivery service for groups larger than 4.

Wheat to SweetThis place sells tasty buns.

Wooden coffee HouseA lovely little place with outdoor seating in the sun, serving excellent coffee. It's set up by a joint Dutch-Nepal non-profit organization, helping single women with children.
The bazaar across from the old bus station has basic Nepali dishes from 60 rupees, and a nice atmosphere amongst the bustle of vendors.
Drink
Try the local beer (Gurkha/Everest), and if you are brave the home brew which comes in several forms "Chang": A rice or millet beer that's slightly sour and earthy. "roxi" a stronger fermentation of Chang, And "three panni roxi": very strong and tastes awful.
phone: +977 61 525587

Various types of espressos, and other hot and cold drinks. The only completely dedicated organic coffee shop in Pokhara.
Gorkha Bar One of the famous outlets of the Fulbari resort this bar offers all kinds of drinks, cocktails and mocktails.
*
Pema Tibetan Restaurant offering Thukkpa (Tibetan Soup Noodles), Mo Mo (Tibetan style dumplings), with sukuti, sekuwa and locally brewed alcoholic drinks.
Busy Bee Great spot on the lake in the heart of Pokhara. Late night, with live music from 20:00. Pool tables, decent food, local beers and imported spirits.

address: Lakeside -Basundhara Park

Local speciality "Sushi Bite with Delight" and Himalayan herb wine.

Bullet Basecamp

phone: +977 980 838 5970

A Dutch-Australian run establishment a little away from the touristy strip of Pokhara.

Cafe Fusion Restaurant & Bar

address: Lakeside

Chilled beer, variety of wine, spirits and soft drinks such as smoothies, cocktails and mocktails.

Oxygen Lounge Bar

phone: +977 980 410 3258

address: lakeside

It's a great place located in the centre of lakeside with beautiful view of lake and mountains from the garden of the bar. Live band every night, and late night camp fire.

address: Across from Yokohama Hotel

Fast Wi-Fi, outlets for ethernet cables and power access, power is always on. Run by a very nice Nepali family,
Sleep
Virtually all tourist accommodations are in Lakeside and Damside, near Phewa Lake. In addition, there are around 12 guesthouses uphill in Sarangkot which offer better views and less air pollution, but are much more expensive for both accommodation and food. Note that these hotels are not accessible by car - they are a 20-minute walk uphill on gravel from the taxi stand in Sarangkot (Rs500 for a taxi, less for a microbus).
Work-aways and farm stays are common, many will ask for money to cover volunteers food.

Long-term
It is possible to find medium or long-term accomndation in Pokhara. Best by far is to ask locally. Anything geared exclusively for tourists in the Lakeside area will start at about USD250/300 per month for a probably new but not really special place. It takes some time but if you scout around you can find good deals for USD100-150 per month. Keep in mind that most locals make a very meager salary usually under USD200. When they say that USD300 is "local price", it is of course not true. Many local options lack furniture, Internet, etc., so you will have realistically have to pay a bit more if you want something where you can immediately move into. Just take a few days and you will find a more genuine and nicer place and it will cost half price than the tourist apartments that are springing up all over Lakeside.

Budget
Mid-range
Splurge
Go next
Annapurna is a mountainous region just outside of Pokhara, famous for trekking. Two popular longer treks are the Annapurna Sanctuary and Annapurna Circuit.
Lumbini is the birthplace of the Buddha, reachable from Pokhara by bus (Rs150, 3-4 hours).
Kathmandu is reachable from Pokhara by crowded local minibus (Rs400-600, 6-7 hours), tourist bus (Rs800-2000, 6-7 hours), and by plane (USD102-106, 40 minutes). Tickets are sold at all travel agencies.
Chitwan National Park is a World Heritage site with tigers, rhinos and jungle animals which offers elephant rides, jungle canoeing, nature walks and bird watching, as well as more adventurous tiger and rhino-viewing.
India is enterable at Sunali from the Nepalese border town of Bhairahawa, reachable by crowded local minibus (NPR545, 8 hours) or by tourist bus (Rs700, 8 hours). The buses leave very early in the morning (06:00, 07:00 and 08:00 for local bus, 06:30 for tourist bus). Beware being a sold a ticket for a tourist bus that is actually for a crowded local minibus. Upon reaching the bus station in Bhairahawa, take a rickshaw to the immigration office/border control station (Rs250).