Port Angeles
Port Angeles
is the largest city in the
Olympic Peninsula
region of
Washington
, dubbed as the "Center of it All" for the specific part of the state. It is the county seat of Clallam County. It's a great place to start for a day trip to Hurricane Ridge or a vacation to explore all of the
Olympic National Park
. Outdoor sports like kayaking, biking or hiking are very popular, while the quaint shops attract shoppers downtown and the expansive waterfront provides relaxation. With ferries coming and going all day, Port Angeles is the departure point for a trip to
Victoria (British Columbia)
. Beautiful Pacific beaches are nearby and the lavender fields and berry farms of
Sequim
beckon all summer. Port Angeles is the place to be when it comes to experiencing all that the
Olympic Peninsula
has to offer.
Due to the vast and spreading area, this article covers listings as far west as Joyce on Highway 112 towards Neah Bay.
Understand
Port Angeles is on the northern tip of the Olympic Peninsula at the northwestern side of the state of Washington in the United States. Comparably however, it is closer to Victoria (British Columbia's capital) than the state capital of Olympia!
Like most of Washington, the development of the city revolves around its nature. Pitted closely by the Olympic National Park and the Strait of Juan de Fuca, Port Angeles is the gateway for outdoor adventure, with roads leading to breathtaking lakes, stunning vistas, and the towering Olympics. Though notably less notorious than its 'angelic' counterpart in California, this quiet town had its great times when the explorers map the area and traders set posts there thanks to its deep waters.
History
The area around Port Angeles was inhabited predominantly by the Indian tribes of Klallam and Makah in an area abundant of natural resources: coniferous forests and deep blue sea that sustain prolific wildlife & marine life for daily survivals.
The first non-native sighting of the peninsula was made by explorer Juan Perez in 1774, while the first sailing along the Strait of Juan de Fuca was recorded by Captain Charles Barkley who named the water body after the Greek explorer (Ioannis Phokas) striving to seek the Strait of Anián, which legend has it is actually this same water passage. The city was then named "The Port of Our Lady of the Angels" by Spanish explorer Francisco Eliza in 1791 as it provides a haven from the rough seas of the strait, before it was incorporated to the namesake town in 1861.
Port Angeles' prime location attracts a couple aspiring businessmen to set afoot and develop the land further. Beginning with a port of entry for imported goods in the 1860s to being a federal townsite for lighthouse & military. It was the second city fully plot by the federal government after Washington, D.C, earning the city a nickname "Second National City". Alongside the federal government, entrepreneurs were trying their luck by erecting timber businesses and a fisherman wharf, and along with it commercial industries for incoming settlements. Through the next 100 years, some of the largest sawmills have bankrupted and replaced by other money-making sectors, yet the city has always been a lovable place to live: not too quiet like a village, but not too crowded like metropolitan cities.
Today, the city has a population of around 50,000 with both outside settlements and Indian natives living in harmony.
Climate
Like the rest of western Washington, most of the rain falls in fall and winter before tapering off in spring and gloriously sunny on most summer days. Comparatively speaking however, the amount of rain the city gets is one of the lowest in the peninsula at 25 inches thanks to the Olympic rain shadow;
Forks
, a town 60 miles west of Port Angeles, gets more than thrice the amount of annual rainfall!
Though snow is a rare occurrence, it is more susceptible than Seattle due to its unique topography: frigid cold air that occasionally blows from Canada slams into the Olympics above Port Angeles, often times keeping the low temperature longer than other areas of the peninsula.
Thanks to the moderating ocean effect, summers are comfortably warm with high temperatures usually no higher than the 70s (F, about 26°C), and winter temperatures rarely fall below freezing except during the above situation.
Get in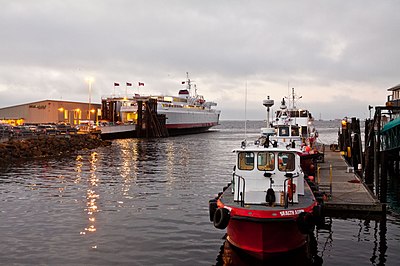 By car
The main road traversing Port Angeles is the
US Highway 101
, which loops around the Olympic Peninsula. The nearest major towns are
Forks
, 1 hour to the west, and
Sequim
, 30 minutes away in the east.
Travelers from
Seattle
or points north can get into the area in just 2 hours using a ferry from Edmonds to Kingston, and then continuing to Route 104 before merging with Highway 101. Travelers from south of Seattle can take the
Interstate 5
, exit to Highway 16 (passing the Tacoma Narrows Bridge) through the Kitsap Peninsula, before merging with the Highway 101 portion that goes along the Hood Canal. Travelers from
Olympia
or points south can get off I-5 at Hwy 101 and follow the road through
Shelton
, Brinon and the Hood Canal up to Port Angeles.
By plane
The
William R. Fairchild International Airport
(
CLM
) is on the west side of the city. The airport is used primarily for charter and general aviation purposes. The nearest airports for commercial flights are Victoria International Airport (YYJ) in Sidney, BC, 27km north of Victoria; and Seattle Tacoma International Airport (SEA) in Seattle. Be sure to have the proper travel documents to cross the border between Canada and the United States if arriving and/or departing through Victoria.
See the other modes of transportation below for traveling into Port Angeles from both Seattle and Victoria.

By boat
Port Angeles has a direct connection to Victoria, BC at Canada's Vancouver Island. One can also get to the roads towards Port Angeles after using the Washington State Ferries that dock at Port Townsend or Kingston.
Port Angeles Boat Haven is nestled in the nook of Ediz Hook and is a direct route from Victoria (British Columbia). It is a perfect stop over for boaters plying the waters of the Strait of Juan de Fuca and Puget Sound.

By bus
The main bus station is at the downtown Gateway Transit Center for Clallam Transit and Olympic Bus Lines at 123 E Front St, at Front & Lincoln, a couple blocks SE of the ferry terminal. Buses travel along US Hwy 101 between Forks, Port Angeles & Sequim. They do not go into the Olympic National Park. They can only drop off along the main road and it is up to the individual to hike into the park or arrange other transportation into the park:

Clallam Transit provides the Strait Shot to the Bainbridge Island Ferry Terminal (#123), to Forks (#14), Sequim (#30), Joyce & Lyre River(#10), and Neah Bay (#14 to the US Hwy 101/SR 113 junction in Sappho and the #16 bus to Neah Bay from Sappho). Routes #10, 14 and 30 also make local stops on their way into and out of town. The "Strait Shot" (#123) runs twice daily (M-Sa) and once on Sundays towards the Bainbridge Island Ferry Terminal with limited stops in Sequim, Jamestown, Discovery Bay, Suquamish Way & SR305, and North Viking P&R in Poulsbo.

Dungeness Line operated by Olympic Bus Lines

address: (bus stop) Gateway Transit Center @ 123 E Front St

The Dungeness Line goes from Sea-Tac and Seattle to Port Townsend, Sequim and Port Angeles. The bus goes across the Puget Sound on the Edmonds-Kingston ferry and is the most direct way to travel between Seattle and the Olympic Peninsula by bus. Connections with Amtrak, Greyhound, Sound Transit and other transportation services are in Seattle. Tickets can also be booked through Greyhound.com.

phone: +1-877-697-6258 (M-F 8AM-5PM; Sa 10AM-2PM)

Door to door service in the Olympic Peninsula (Port Angeles, Sequim, Forks) from Sea-Tac
By bicycle
The Olympic Discovery Trail passes Port Angeles from Port Townsend in the east part of the Olympic peninsula to La Push that overlooks the Pacific Ocean. The section east of Port Angeles is an well marked car free trail, much of which is paved, and easy to traverse on a loaded touring bicycle. West of Port Angeles is the "adventure" part of the trail, for which a cross-country mountain bike is recommended. The trail is non-technical single track, making it an introductory level XC, challenging but doable on a loaded touring bicycle.

Get around
By bus
Public transportation is provided by
Clallam Transit
. The fare for each bus ride is $1 for adults, $0.50 for youth and seniors with a Regional Reduced Fare Permit card. Routes 20, 22, 24, and 26 serve the city proper while Route 30 serves the Highway 101 corridor before continuing towards Sequim. The bus does not run on Sundays with the exception of the Strait Shot (#123) route.
By car
Most visitors go to and around the town by car, especially those who would venture far out into the Olympic National Park or anywhere off the Hwy 101 corridor. Parking is generally easy to find, but the downtown area only allows 2 hours of street parking. Taking the bus up here (see 'By bus' under 'Getting in' in the above) from
Sea-Tac
and renting car here may cheaper than renting a car at the airport, especially with the 12% airport surcharge, and driving up here especially. Check the car rental companies' websites for rate differences between renting at the airport, somewhere in Seattle or Port Angeles. Avis & Budget are next door to the Gateway Bus Transit Center while Enterprise is several blocks east on E 1st St.
phone: +1 360 452-4776

address: 107 E 8th St

phone: +1 360 452-4774

address: 1406 Fairchild Airport Rd

They also have an in-town office with Avis at 107 E 8th St.

phone: +1 360 417-3083

address: 902 E 1st St, Unit D

Call for a pick-up at the Gateway bus transit center or the ferry terminal. Otherwise take the #30 bus going out to Sequim to get here. They also have another office at the local William Fairchild Airport.
See
Travelers tend to trek into the
Olympic National Park
rather than the town itself for sightseeing. However, those who would rather stay in town for at least a day or two should not be left unsatisfied.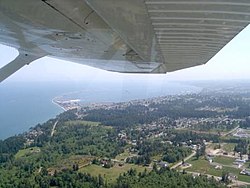 Olympic National Park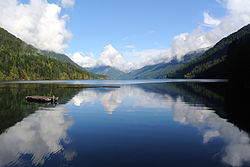 With the exception of Hurricane Ridge, all attractions are free of charge, with only a short walk needed.
phone: +1 360 565-3130

address: Olympic National Park

Only accessible from Port Angeles, this attraction in the national park overlooks the rest of the Olympic Mountains from above sea level. Also has the only snow area in the mountain range where snowshoeing, skiing, and sledding can be safely done.

address: Olympic National Park

Pristine blue water of the former glacial lake meets the towering mountain ranges on the horizon. Various viewpoints available along the Highway 101 or stop by the Lake Crescent Lodge to play in it.

Madison Creek Falls

address: Olympic Hot Springs Rd

A quick walk along the superb views of the gushing Elwha River to the falls, with poems in between.

Marymere Falls

address: Olympic National Park

A 90-foot waterfall accessible with an easy 2-mile round trip hike.
Do
phone: +1 360 457-6501

address: 824 S Lindberg Rd

18-hole golf course with accompanying views of the mountain and the sea.

phone: +1 360 293-2428

address: 115 E Railroad Ave

Hop on a boat to the ocean to see orcas (killer whale) jumping or flipping above water in action. Reservation highly recommended for summer! The tour starts from Seattle in winter.

address: 1900 W Lauridsen Blvd

The unofficial city park, featuring a fishing pond, dog park, BMX track, ball field & disc golf. (Just don't mind the sometimes passing airplane noise.)

Port Angeles City PierWhile you can just take a stroll, you can join the couple of people who fish for crabs or shrimp, if lucky!
Winery
phone: +1 360 417-3564

address: 334 Benson Rd

Winery in a secluded neighborhood. Specializes in food wines.

phone: +1 360 452-4262

address: 2358 Highway 101 W

Sweet and slightly less-dry selections of full body wine, some infused with fruity flavors.

phone: +1 360 452-0160

address: 255410 US-101

Boutique wine with rotating varieties. Concerts every week in summer to perk you up.
Buy
Port Angeles has the largest selection of outdoor gears and equipment, just in case you can only buy or forget to bring it before venturing out to nature around the Peninsula.
phone: +1 360 457-4150

address: 112 W Front St

Outdoor wears, mountaineering and camping equipment for purchase as well as winter sport gears for rental. For last-minute required items before hitting the nature.

phone: +1 360 457-6400

address: 217 N Laurel St

Local department store with nicks-knacks and arts from local artists.

phone: +1 360 457-1240

address: 120 E Front St

Climbing equipment, kayak, and bike accessories to keep you moving.

Waters West Fly Fishing

phone: +1 360 417-0937

address: 140 W Front St

Tackle shop for specifically fly fishing gears before catching salmons, along with locally experienced advisers. Also provides guided tours and info before heading out to fish.
Eat
Being near the water means get ready for delectable seafood. Look for salmons, clams, and the sweet and soft Dungeness crabs.
The downtown has been gentrifying enough that some ethnic restaurants, especially Asian, can be seen throughout.
Budget
phone: +1 360-417-3958

address: 1520 E Front St

Drive-thru only American fast food from a local Pacific Northwest chain. Burgers, fries, and milkshakes.

phone: +1 360 504-2959

address: 324 W 1st St

Fusion of Tex-Mex and Northwest flavors in burritos and sandwiches.

phone: +1 360 452-1952

address: 122 W Lauridsen Blvd

For something warm and on the budget, head over for some soup and coffee. Comfort food such as salads, sandwiches and cake.

8th Street Bridge's Grill

phone: +1 360 457-3287

address: 511 W 8th St

Extensive specialty sandwiches, burgers, and milkshakes
Mid-range
phone: +1 360 452-8344

address: 929 E Front St

Breakfast and brunch items with hospitable crew and homey interior.

phone: +1 360 452-3322

address: 920 E 1st St

Authentic Chinese food with family seating available.

phone: +1 360 452-4505

address: 903 W 8th St

A local Thai favorite with full fledged original favorite that has the place packed every night! Favorites include curries, Pad Thai and glass noodles.

Kokopelli Grill

phone: +1 360 457-6040

address: 203 E Front St

Local seafood with southwest taste. Their salmon chowder is said to be the specialty.
Splurge
phone: +1 360 452-0400

address: 929 W 8th St

Baby back ribs to fillet mignon grilled apple-smoked to perfection. Also serves salmon pasta & seafood platter as well as a small selection of pizza and salads.

phone: +1 360 417-6929

address: 117 E 1st St

Array of local seafoods and premium steak cuts in an underground floor.

phone: +1 360 452-8888

address: 23 Cedar Park Dr

Exquisite French gourmet & wines with down-to-earth owners in a regal decor.
Drink
phone: +1 360 797-1999

address: 229 W 1st St

Extensive selection of drafts, with tapas and steaks for something more substantial. Live stage with engaging events every night.

phone: +1 360 504-2613

address: 113 W 1st St

Racks of wine, cocktails, ever-changing list of beers and ciders. Burgers, sandwiches and paninis by day. Kid friendly. Live music Sunday afternoons.

Castaways

phone: +1 360 452-1177

address: 1213 Marine Dr

Seaside bar with occasional live music & cabaret.
Sleep
Group travelers can find a better deal by renting vacation homes around the area. For small groups that want a stay of homey feeling, there are also multiple choices of BnB accommodations.
Budget
Many budget hotels are located downtown, with easy access to restaurants and shops.
Mid-range
phone: +1 360 457-9434

address: 101 E 2nd St

Chain hotel brand with location right at downtown. Includes free breakfast and free access to William Michaels Community Pool 4 blocks away.

phone: +1 360-452-9215

address: 221 N Lincoln St

A local chain brand with superb views of the waterfront and neighboring Canadian mountains, yet central at downtown.

phone: +1 360 452-8401

address: 2104 E 1st St

Good chain hotel with efficient breakfast. Dedicated room for the disabled.
Splurge
Connect
Most telecom companies are able to stream 4G-LTE internet speed at the downtown area, but it can quickly deteriorate the further away you are from Highway 101. In the national park, coverage can be spotty at Lake Crescent, to non-existent at Hurricane Ridge.
The area codes for Port Angeles, and Western Washington as a whole, are 360 and 564. Because their areas overlap, all numbers must be dialed with the area code, including local calls.
You may even get Canadian networks at times which could lead to roaming costs; but it will be helpful for Canadians calling back home.
By mail
phone: +1 360 417-7528

address: 424 E 1st Ave

The zip codes for Port Angeles and the surrounding areas are 98362 and 98363
Go next
Sequim - As one of Port Angeles' next door neighbors, it is a bit more rural and still offers somewhat of a small-town atmosphere.
Forks - Take the Olympic Loop for a scenic drive around the Olympic Peninsula, including the Hoh Rain Forest and Stephenie Meyers' 'Twilight' town of Forks.