Port Moresby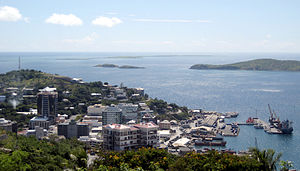 Port Moresby
(
Tok Pisin
:
Pot Mosbi
) is the capital of
Papua New Guinea
. It is the gateway to PNG, and almost all visitors to the country pass through the city. While it has a daunting reputation due to high crime rates, almost all of the locals are welcoming and there are some interesting sights.
Understand
Port Moresby is the capital and largest city of
Papua New Guinea
(PNG). The city is on the shores of the Gulf of Papua. Its population is around 300,000 and growing quickly. The indigenous people of the area are the Motu-Koitabu. Moresby, as it is commonly known, got its name from Captain John Moresby who arrived in 1873 as the first European visitor.
The city is quite spread out. The original colonial settlement was by the sea and this is still the port area, as well as the main business and banking district. On the hills above are upmarket residences. Closer to the airport, separated from the original town by hills, is Waigani, a 1970s development built to house the Government offices of the newly Independent (September 16, 1975) country of Papua New Guinea. Nearby are the housing areas of Boroko and Gordons, which also contain most of the large stores.
Get in
Port Moresby is the main point of entry into Papua New Guinea for air-traffic and most of the boat-traffic.
By plane
Airfares from Australia can be quite cheap, especially if you book online and seek one of the special fares. From other countries fares are fairly expensive and it may be cheaper to fly to Cairns and pick up a flight to Port Moresby from there.
The airport has been modernised recently and immigration and customs are relatively smooth (as long as you have the correct visa), especially as the staff are extremely friendly; however, delays are common when multiple flights arrive at once. There is an ATM next to the baggage carousel and another one in the main hall, along with a money changer, phone shops, and a café. If you are transferring to a domestic flight you might have to rush as you have to exit the international terminal, turn right and walk 300m to the domestic terminal. If you are flying Air Niugini domestically, you can check in at their transfer desk next to the other check-in desks in the international terminal, then walk over to the domestic terminal.
All major hotels will provide airport transfers - make sure they know your arrival time and whether you will be at the international or domestic terminal.
Get around
For a tourist, the attractions in Moresby can be spread out. There is little 'attraction' in the CBD and walking around will not get you very far. It is nice to walk along Ela Beach and around market areas but otherwise you will be reliant on motorised transport. There is the odd push-bike around the place - though finding one for hire may be a challenge.
By PMV
The locals rely on mini-buses (known as Public Motor Vehicles) that service all parts of the city. Whilst cheap, some drivers do not mind over-loading their vans. All PMVs have their route number and destination printed on - it is easy to ask locals where the buses go, they'll be happy to help and warn you.
By car
Car rental agencies are available close to Jacksons International airport but driving in Port Moresby might not be what most people are used to. In some areas of POM the locals throw stones at the car, usually just for amusement but in some cases they manage to crack your windshield. There are cases of people standing in the middle of a stretch of road they have mended and demanding compensation from people driving by, and as soon as you get outside of the city the roads deteriorate to muddy trails that only a 4x4 with an experienced driver should attempt. If you want to see the sights near Moresby such as Crystal Rapids near Sogeri or the start of the Kokoda, a 4x4 is highly recommended.
By taxi
There are numerous taxis (some 'teksis' too) around Moresby and calling one from your hotel will bring one promptly. You can try your luck hailing one but if you want to feel safe arrange a friend or your hotel to call a reliable driver - there is a genuine risk of robbery that can be avoided if the hotel knows exactly who you went with. When you get a good driver, take their phone number down for future trips. Taxis often have meters but they are rarely used, so agree on a price as you get in. Short trips might cost K10-20, trips from Waigani to Ela Beach might be K40-50 and to the airport anything from K50-100. Taxis might be willing to wait for you at shops and can agree on an hourly rate.
Through your hotel
The easiest and safest way to get around is by organising transport through your hotel. Most will offer transport to the main attractions in town, such as the Port Moresby Nature Park or Papua New Guinea National Museum & Art Gallery. Get the phone number of the driver and call them once you've finished to be picked up.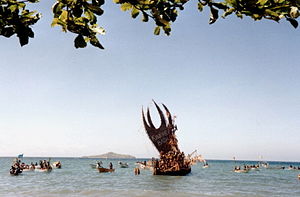 See
Port Moresby Nature Park (formerly National Capital Botanical Gardens)A must for the visitor. Has some amazing examples of PNG wildlife such as birds of paradise, a couple of casowaris, and several other native birds. If you are lucky you might catch a wedding while you are there as some locals like to conduct the ceremony in the gardens. On the same road is the National Orchid Garden which is also well worth a look - it is planned to encompass a zoological garden in the future.

Papua New Guinea National Museum & Art Gallery

phone: +675 325 2458

address: Independence Drive, Waigani

PNG's national museum has a relatively small, but fascinating, collection which includes wonderful sculptures, beads, traditional boats and cultural objects. The exhibits are well displayed, and housed in an architecturally interesting building. Photography is not permitted inside the museum but there are newer objects outside, along with some remains from WW2 in varying states of decay including planes and tanks.

address: 9 Mile

A beautiful maintained cemetery, home to 3,824 Commonwealth burials from WW2. It is the resting place of many Australian soldiers from the Kokoda Trail, plus some of the Papuan Battalion in the last two rows. A nurse in the third last row is the only woman in the cemetery.

National Parliament of Papua New GuineaParliament Haus is one of the most impressive buildings in Port Moresby, built in the style of a Maprik Haus Tambaran (house of spirits from East Sepik Province). Dating from 1984, it is usually open to visitors.

Touaguba Hill Perhaps not so much to see, but this is where the ambassadorial residences are located and is also where many of the well-to-do expats and locals live. There is a nice view from the top of the hill overlooking the centre of the city and the ocean.

Moitaka Wildlife Sanctuary

address: Sir Hubert Murray Highway

Numerous crocodiles, some very large, as well as birds and other animals.
Hiri Moale Festival. This takes place on the weekend of PNG's Independence Day in mid-September. The centrepiece is a race of up to 100 traditional Lakatoi canoes, recalling the sea voyages undertaken by the Motuan people from the Port Moresby area who exchanged sago and clay pots with the people of neighbouring Gulf Province. The departure of the canoes from Port Moresby's Ela Beach is really spectacular. The Festival is the city's main cultural show with traditional performances, as well as the canoes.

Port Moresby Golf ClubA nice golf course located right across from the government buildings. The prices are quite acceptable for visitors. Be careful, crocodiles inhabit the water holes of the golf course. The main building has a nice restaurant where one can have lunch and have a few SP beers (South Pacific beers) after a round of golf.

Ela Beach Craft MarketRun by the Ela Murray International School and held on the last Saturday of each month, this market brings together local artifacts from all over Papua New Guinea. An easy way to get some beautiful carvings, handwoven baskets, or any of a number of other things to bring home as souvenirs.
Do
Scuba Diving
A number of reefs and wrecks are within close proximity to Port Moresby and diving can be arranged through day vessels or on nearby Loloata Island (which has its own dive shop). There are a variety of sites and depths for all experience levels.
Swimming
A popular spot with the locals, the
Taurama Aquatic and Indoor Centre
is a modern sports complex opened in 2015, home to two outdoor pools (25m and 50m long) and six Olympic standard volleyball / basketball courts.
Eat
Groceries
There are basically four stores to buy groceries if you are a foreigner in Port Moresby: Andersons Foodland, now called SVS Harbour City, Stop and Shop in Hohola, and Boroko Foodworld in Boroko and Gordons. Andersons is located right next to the Royal Papua Yacht club and usually suffices. Otherwise there is Foodworld which is larger and located over the hill in Boroko. An even larger and newer Boroko Foodworld is further east in Gordons. Port Moresby's shopping mall is Vision City in Waigani. There is a large hypermarket called RH selling anything from household furniture to baked beans. Their supply is abundant and the quality is good and prices are competitive. What one should bear in mind though is that everything imported might not always be there. Often if you see something you like you have to buy a lot of it because there is no telling when the next shipment is coming. This doesn't apply to basic foodstuffs but rather to things that might not be in high demand such as herring. RH has basically closed this gap.
Vision City Mega MallBiggest mall in Port Moresby, with a large supermarket, range of restaurants, and many other shops and services, and a cinema. Be careful of aggressive customers. Plenty of taxis available but best to call a known driver if you have one.
Harbour Side
address: Stanley Esplanade
Collection of businesses, restaurants and a supermarket
Waterfront Shopping Mall
address: Champion Parade
Small but clean and upmarket shopping centre with an excellent Foodworld supermarket.
Restaurants
Asia Aromas

phone: +675 321 4780

Chinese Restaurant serving great food located inside the Steamships Plaza on Champion Parade in the downtown area. Is popular with the local expatriate community.
Daikoku Located inside the Andersons Foodland area, it offers great Japanese cuisine cooked directly at your table (teppanyaki). Don't forget to try the "Puk Puk" which is Tok Pisin for crocodile.
Royal Papua Yacht Club Serves good Australian cuisine with some Papua New Guinean touches. Has à la carte menu and a buffet that varies according to the day of the week. An invitation from a member might be required to enter.
Crowne Plaza Has a wonderful mediterranean restaurant which is probably the most expensive on the island. But if you feel like splurging this is definitely the place to go, it'll still be a good bargain.
Port Moresby Golf Club Has a nice little lunch restaurant which serves à la carte or a buffet during lunch hours.
Jepello's Great Italian food, and keyboardist who plays pop tunes. Off Waigani Drive, across the street from Big Rooster.
Seoul House Decent Korean food. Next to 5-Mile service station.
Fu Gui Assortment of Asian style cuisine. Try the Nasi Lemak chicken. In Gordon's, down the road form RH and Brian Bell.

Lamana HotelA nice place for a quick lunch buffet and an happening casino at night.Food is good and the only place where you get Indian food.Place to visit certainly with all its friendly staff.

Tasty Bite

address: Hunter St

Premiere South Indian restaurant in Port Moresby.

Tandoor On The Harbour

address: Harbour Side complex

Another highly regarded Indian restaurant.

Beachside Brasserie

address: Ela Beach Road

The hotel restaurant is well-appointed and has an extensive menu, especially grills and seafood. Also great for breakfast.

Buffalo Burgers

address: Waigani Road

Top burger place in town.

Hosi Ramen

address: Vision City Mega Mall

First ramen joint in PNG?

Poolside at AirwaysRooftop complex in the upmarket Airways Hotel. Buffets, a la carte, and sandwiches from KC Deli, all overlooking the airport.

Jacksons Bar and Restaurant

address: Gateway Hotel

New complex in the Gateway Hotel, overlooking the airport. Their best thing is crispy-base pizzas.
Drink
The drink of choice in Port Moresby as in the rest of Papua New Guinea is South Pacific lager: "SP beer". However, once that cultural experience is done, you will probably prefer to move on to the more refined 'SP Export' lager, or 'Niugini Ice' beer.
To buy alcohol you have to go to one of the characteristic yellow and green coloured shops that are usually integrated into the supermarkets. You don't want to go to the ones that aren't. They have a relatively limited selection of wines, mostly Australian or New Zealand brands. The prices are higher than you would expect because of the taxation of alcohol. The locals tend to get quite rowdy when they drink (as everywhere else) so it's best to avoid anyone that seems to be under the influence. Typically most expats drink at hotel bars or sports club bars, which have a more relaxed atmosphere.
address: Harbour Side complex

PNG's premiere cafe, making great use of the local beans and also serving good food. Main location is in Harbour Side but there are other branches, including in the international terminal departure lounge.
Sleep
Hotels are generally quite expensive in Port Moresby, and the quality of accommodation can be disappointing. Research hotel options before you book to check current standards and arrangements for airport transfers. Due to the security situation it's likely that you won't leave your hotel after dark, so choose one with good dining and recreation options.
phone: +675 324 5200

address: Jacksons Parade

Has both hotel rooms and apartments for long-stay guests. Has a nice pool with a view down the hill to the airport, and a great breakfast buffet. PNG's only delicatessen and an Indonesian spa are also located on the premises.

phone: +675 309 3000

Amenities include a nice pool, an international class restaurant, a fitness centre, and a business lounge

address: Jackson Parade

Somewhat cheaper airport alternative to the Airways Hotel.

phone: +675 304 0000

address: Mary Street, Port Moresby 121 National Capital District

A hotel that describes itself as the first "deluxe hotel" to open in Port Moresby. Rooms are expensive but modern and clean. Contains a Spa & Beauty Salon as well as a gymnasium and sauna.

phone: +675 303 2000

Located a bit off from the centre this hotel has very nice rooms, some sports facilities, and a great pizza restaurant (with live music at times).

Holiday Inn Express

address: Waigani Rd & Wards Rd

New counterpart to the Holiday Inn - cheaper but maybe better due to newer rooms. Free breakfast.

address: Ela Beach Road

Renovated rooms overlook Ela Beach - perhaps the best of the Coral Sea chain's hotels.

phone: +675 3028888

address: Sir John Guise Drive, Waigani, Port Moresby

This large new upmarket hotel is directly connected to the Vision City Mall

phone: +675 325 8590
Stay safe
Port Moresby is well known for its crime. Carjackings, muggings and worse are common. Women are particularly at risk. Foreigners are sometimes specifically targeted.
There is a great deal of concern about the level of crime and civil disorder and about the ability and willingness of the police to cope. Police officers have been found to be complicit in major crime. Police brutality against minor offenders, complainants and witnesses has been the subject of criticism from the international group Human Rights Watch.
It is possible to minimise the chances of becoming a victim of crime by being aware of your surroundings, avoiding places where large groups are gathered and avoiding places where offences are prevalent. The Waigani area, particularly the area around the traffic lights and the Port Moresby Golf Club, has experienced numerous carjackings. The Morata district is well known by locals for its riots during the weekends. It's best to not walk between locations in Port Moresby, or travel at night.
Still, the local people are mainly friendly and peaceful. The main risks are from idle young people, mostly having fun and struggling for money. But traditionally, a wrong or bad or negative behaviour often has the other side of the mirror, which is known as "pay back", also called in some cases compensation, but always wild and violent.
It is always wise to seek the advice of a person familiar with Port Moresby before venturing into unknown areas.
Saltwater crocodiles (Crocodylus porosus) are still common throughout all of Papua New Guinea. However, you are extremely unlikely to run into one.

Cope
Embassies & Consulates
A listing of the embassies and consulates in Port Moresby is available on
embassypages.com
. These include:
phone: +675 325 9333

address: Godwit Road, Waigani NCD

phone: +675 325 0935 and +675 325 9903 (office), +675 7686 2675 (consular hotline)

address: Section 216, Lot 5, Sir John Guise Drive, Waigani, NCD

phone: +675 321 5550 (office), +675 7103 9885 (emergencies)

address: 6th Floor, Defens Haus, Corner Champion Parade & Hunter St

phone: +675 325-3116, +675 325-3544, +675 325-3435

address: Sir John Giuse Drive Lot 1&2, Section 410, Kiroki Street, Gordons 5, NCD

phone: +675 321 1800 (switchboard), +675 7695 7766 or +675 7685 2319 (consular emergency numbers)

address: 1st and 2nd Floor, Cuthbertson House, Cuthbertson St

phone: +675 325 9444

address: S351 L2 Magani Crescent, Waigani

Philippines

phone: +675 325 6414

address: Lot 1, Section 440 Islander Village, Hohola

address: Level 8, Deloitte Tower, Douglas Street

phone: +675 325 1677

address: Sec 411 Lot 1 & 2, Kiroki Street, Waigani NCD

phone: +675 321 1455

address: Douglas St
Go next
With relatively few attractions, Moresby is usually just a stopping off point for tourists heading to other parts of PNG. The whole country could be listed under
Go next
. For major locations see
Papua New Guinea
. Possible day trips from Port Moresby include:
Sogeri Plateau. Fifty km from Port Moresby and, at 800m, an escape from the heat. Sogeri marks the end of the Kokoda Trail, which was the route through the jungle taken by Japanese soldiers in 1942 in an attempt to capture Port Moresby. You may encounter some attacks by young people hiding in the park. The main opportunity is to visit this very pleasant place by groups of at least 20 persons.
Yule Island. A small island just off the coast of Central Province, a two-hour drive west of Port Moresby. This was one of the first areas of PNG to have European contact. Catholic missionaries settled in 1885. They were joined by Filipino catechists and, as a result, the people of the area often have distinct Filipino features. It is a popular spot for a relaxing getaway and for good seafood.
The Kokoda Track. Walked by over 4,000 people a year, you'll be able to recognise them on the flight to Port Moresby by their wearing of hiking boots on the plane. The ~96km track is usually walked in guided groups over 6-12 days, largely following the paths used by Japanese and Australian troops who fought here in 1942. Along the way are numerous small villages, providing one of the best ways to see traditional Papua New Guinea life in a safe environment. The track starts / ends at Owen's Corner, an hour by bus from Port Moresby, and finishes / starts at Kokoda on the other side of the Owen Stanley Ranges, a 45-minute flight from Port Moresby. The only way to travel between the two is by foot, under and down endless muddy hillsides.