Port Orange
Port Orange
is a city in
Volusia County
,
East Central Florida
. Port Orange is considered to be part of the
Greater Daytona Beach Area
, although Port Orange does have its own
mailing address
, separate from
Daytona Beach
. Tourism marketing continues to tie these two cities together.
Understand
The original settlers of the Port Orange area were the Timucuan and Seminole Indians. During Florida's plantation period, Patrick Dean was granted 995 acres in 1804 from the Spanish Crown which later was named the Dunlawton Plantation. The fertile soil was favorable for citrus, indigo, and sugar cane which could be shipped to market on the Halifax River. The plantation was destroyed by the Seminole indians during the Second Seminole War in 1836. The Dunlawton Sugar Mill on Old Sugar Mill Road is the last remnant of the old plantation.
The second major era for Port Orange occurred after the Civil War. Dr. John Milton Hawks, an abolitionist and United States Army Surgeon, along with other Union Army officers formed the Florida Land and Lumber Company and brought 500 freed slaves to public lands along the Halifax River, north of Spruce Creek in 1866. Dr. Hawks moved the settlement he was credited with naming Orange Port in February 1867 from the Mosquito Inlet (Ponce Inlet) to where the community lies today. By April 1867, the settlement's name change to Port Orange because another town in the United States already had the former name. Port Orange was incorporated in 1926.
Port Orange is made up of some 150 distinct "neighborhoods", each with it's own distinctive flavor. The City encompasses 26.4 square miles speckled with beautiful parks and is home to over 50,000 residents.
One of the largest annual events in Volusia is Port Orange Family Days held in October. This four-day festival which takes place at the City Center Complex focuses on celebration of family and quality of life in Port Orange and features a carnival, business and non-profit expo, children's games, parade, food court and entertainment.

Get in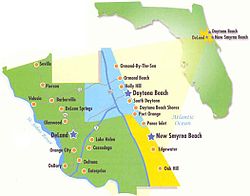 By plane
Port Orange only offers Spruce Creek Airport, a small private airport, which is part of the Spruce Creek Fly-In real estate community. If you need to fly here, you will need to find a commercial flight arriving to either
Daytona Beach International Airport
(the closest),
Orlando International Airport
, or
Jacksonville International Airport
.
By train
Amtrak
offers the
Amtrak Auto Train
service with its southern Terminus located in
Sanford (Florida)
, about 35 miles west of Port Orange. The Amtrak Auto Train carries passengers and automobiles between Sanford and
Lorton
,
Virginia
, effectively serving as a car-rail link from Florida to the
Washington, D.C.
Metro Area. You can easily drive your car into Port Orange after departing from the Auto Train.
Amtrak offers regular passenger service with the closest stop being near the city of
DeLand
. This stop is rather remote and is not recommended as an option.
By bus
Greyhound Bus Lines
offers bus service to nearby
Daytona Beach
. Upon arrival at the Daytona Beach bus station, you will need to either transfer to a local Volusia County bus or take a taxicab to complete your trip to Port Orange.
By car
Port Orange is easily accessed by car, as Interstate 95 passes by just west of the city, and
U.S. Highway 1
passes through the center of the city, named as "South Ridgewood Avenue."
Get around
By bus
Votran
is the name of the local Volusia County bus service, which also provides a public transit connection to nearby
Daytona Beach
. The buses offer service in Port Orange, M-Sa 7AM-7PM. Votran is a cheap way to get around and is handicap accessible. The website provides maps and timetables. Buses travel to most sites and places of interest. Cost: $1.75 per trip, or $3.75 for a one-day bus pass (Valid for all routes).
By car
Getting around by car is very easy and convenient in Port Orange. The major roads are all wide and easy to drive on with all the major areas signposted, but traffic jams around major intersections are common in the afternoons, and around the tourist areas on Saturday nights.
See
Parks
phone: +1 386 322-5133

address: 6250 Ridgewood Ave

Spruce Creek Park offers a 536-foot boardwalk with three miles of nature trails, leading to a 15-foot observation tower and continues to Rose Bay. The tower overlooks the marsh area near Spruce Creek.

Sugar Mill Gardens950 Old Sugar Mill. Open daily sunrise to sunset. Sugar Mill Gardens is a botanical garden developed and maintained by the Botanical Gardens of Volusia, Inc., a non-profit organization with no salaried employees. It features a 16th-century sugar mill. Free.
Scenic drives
address: Port Orange Causeway, 3501-4900 S. Atlantic Ave

The Lighthouse Loop is a scenic drive, also used by walkers, bicyclists, and runners, which passes through the cities of Port Orange, Daytona Beach Shores, and Ponce Inlet. Check the web site for the exact route.
Do
Events
Fishing
Sunset Quay Outfitters

address: 6296 South Ridgewood Ave

Offers upscale brand kayak/canoe rentals, instruction, guided eco-tours (various locations), kayak fishing.
Golf
Scuba Diving & Snorkeling
Discover Diving Guide & Services92 Dunlawton Causeway. Offers off-shore dive trips to wrecks and reefs. Also offers Lobster trips. Call to book your space. Only five passengers per trip.

Spruce Creek Scuba Guide & Services

address: 1646 Taylor Rd

Spruce Creek Scuba is a full service recreational/technical dive center. Offers training for open water diver, specialty diver, advanced open water diver and rescue diver. Also offers basic Nitrox, advanced Nitrox, staged decompression, extended range and Trimix.
Tennis
Spruce Creek Tennis Club

address: 1900 Country Club Dr

Two hard courts and six clay courts, some with lights. Call for hours and fees.
Learn
Palmer College of Chiropractic
Buy
Shopping Malls
address: 3820 South Nova Road

Countryside Shopping Center is 118,376 sq. ft. retail plaza, with a mix of national, regional, and local retailers, anchored by Big Lots, McDonalds, and Save A Lot.

Dunlawton Square

address: 3845 South Nova Road

Dunlawton Square is 332,800 sq. ft. shopping center (built in 1979), anchored by Bealls Outlet, Burger King, Dollar General, GNC, PCS Metro, Port Orange Steakhouse, Publix supermarket, Radio Shack, Space Coast Credit Union, SunTrust Bank, and TGI Friday's.

address: 3781 South Nova Road

Park Place Plaza is a 132,341 sq. ft. open air shopping center, anchored by Beall's, Gold's Gym, and Ross Dress for Less.

Port Orange Plaza

address: 4020 South Ridgewood Ave

Port Orange Plaza is a 189,673 sq. ft. open air shopping center, with a mix of national, regional, and local retailers, anchored by Family Dollar Store and Hardees.

Ravenwood Square Plaza

address: 4606 S Clyde Morris Blvd

Ravenwood Square Plaza is a 112,073 sq. ft. retail and business center, anchored by Java Jungle Coffee Bar, Manny's Pizza House, and VIP Travel Reservations.

Riverwood Plaza

address: 4001 South Nova Road

Riverwood Plaza is a 93,506 sq. ft. open air shopping center, with a mix of national, regional, and local retailers, anchored by Dollar Tree and Winn Dixie supermarket.

Westport Square Shopping Center

address: 1682 Taylor Road

Westport Square Shopping Center is a 484,594 sq. ft. retail plaza, anchored by Bank of America, Kohl's Dept. Store, Publix supermarket, Subway, and several local merchants.

phone: +1 386 253-6785

address: 5501 S. Williamson Boulevard Port Orange, Florida

An open-air retail shopping center with several dining locations and movie theater. Offers many major retail stores such as HomeGoods, Belk, Payless Shoesource, Kirklands, Michaels and Ulta. Also, a few local specialized shops including hair and nail salons. Dining options included major franchise resturants and local establishments. Movie theater is Regal Pavillion Stadium 14 & RPX.
Eat
address: 4009 Halifax Dr

Seafood.

address: 3657 South Nova Rd

American cuisine.

address: 4908 Clyde Morris Blvd

American, Barbeque.

address: 1665 Dunlawton Ave # 101

Steak, Seafood

address: 3851 South Nova Rd

Steaks, Seafood, American

Takara

address: 5527 S. Williamson Blvd
. Japanese steakhouse and hibachi grill. Excellent sushi.
Drink
First Turn Lounge

address: 5236 South Ridgewood Ave

Last Resort Bar

address: 5812 South Ridgewood Ave

The home of cold beer and killer women.
Sleep
Budget
Dusk to Dawn Motel

address: 4545 Ridgewood Ave

Fairview Motel

address: 5964 Ridgewood Ave

Town and Country Motel

address: 5384 Ridgewood Ave
Mid-range
Connect
Seven digit dialing is in effect for local calls in Port Orange. The local area code is (386).
Agencies
The Daytona Beach Area Convention & Visitors Bureau

address: 126 East Orange Avenue

The official sales and marketing organization for Daytona Beach and surrounding area, including Port Orange. .

Port Orange-South Daytona Chamber of Commerce

address: 3431 Ridgewood Ave

Clearinghouse of information about the local area.
Internet
It is common for many of the larger hotels and lodgings in the area to offer free internet access for their guests.
Public Libraries
Public libraries in the area offer free computer internet access to Volusia County residents. There is a small charge for non-residents.
Port Orange Public Library, 1005 City Center Circle, +1 386 322-5152. .
Stay safe
Florida has a high occurrence of
hurricanes
. You might want to check the
Hurricane safety
page if you are visiting Florida. Beware of lightning in the central part of the state. Also, there is a high occurrence of tornadoes in Florida, so check the
Tornado safety
page.
Port Orange has varying crime intensity by neighborhood. Tourist areas rarely have violent crimes, but theft is an occasional occurrence. The 911 number for fire and police emergencies is in effect in Port Orange.
Go next