Portland (Oregon)/Eastside
Eastside
is the part of
Portland
east of the Willamette River.
Get in
See
phone: +1 503-254-7371

address: 8840 NE Skidmore St

A tranquil and spiritual sanctuary which hosts reflection ponds, secluded gardens, and shrines on the top of a basalt cliff. The best time to visit is during the holiday season when the grotto is illuminated with lights. The Grotto also makes for a very romantic destination for a special night out.

Smith and Bybee Wetlands Natural Area

phone: +1 503-797-1545

address: 5300 N Marine Dr
Do
phone: +1 503-775-2900

address: 2425 SE Bybee Blvd
Music
Buy
Shopping malls and districts
Sellwood

address: along SE 13th Avenue, between Tacoma St & Bybee Blvd

A neighborhood shopping area on the east side of the Willamette River south of downtown, specializing in antique and vintage furnishings.

Hawthorne District

address: east side of the Willamette River

A popular shopping area, particularly along SE Hawthorne Blvd between 34th Ave and César Chávez Blvd. Includes head shops, vintage clothing, used books and magazines, local clothing designers and craft stores.

SE Division

address: east side of the Willamette River

A popular shopping area with a variety stores, bars and restaurants along SE Division from SE 12th through SE 60th.

phone: +1 503-282-2511

address: 2201 Lloyd Center

A large mall just northeast of downtown near the Convention Center with dozens of stores to visit within the mall itself and the surrounding areas particular along NE Weidler and NE Broadway, north of the mall, from NE MLK to NE 33rd. Lloyd Center was the first urban mall in the United States and the largest mall west of the Mississippi River in the early 1960s when it was built.

phone: +1 503-653-6913

address: off of I-205 exit 14

Great shopping facilities; smaller than Lloyd Center, but just as much to see.

BuckmanAn up & coming neighborhood in the southeast to rival the Pearl District in the northwest. The neighborhood is bounded to the west by the Willamette River, south by SE Hawthorne, east by SE 28th and north by E Burnside. It was once an industrial warehouse district as recent as 20 years ago is now gentrifying with all sorts of boutiques, antique stores, furniture stores, gift shops, bars and restaurants housed in old warehouse buildings particularly along SE MLK & Grand Ave (OR-Hwy 99E) and along SE Water Ave. The area is also home to OMSI (Oregon Museum of Science & Industry) and is connected to Lloyd Center by the frequent Streetcar going up down SE Union/MLK and to downtown by the Hawthorne and Morrison Bridges.

phone: +1 503-517-8899

address: 2850 SE 82nd Ave
Eat
Budget
Mid-range
Bella Faccia
at 2934 NE Alberta St (+1 503-282-0600) and at 3420 N Williams Ave (+1 503-335-0300).
Splurge
Drink
Alcohol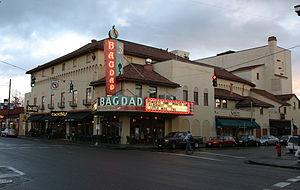 phone: +1 503-228-4651

address: 3702 SE Hawthorne Blvd

The Bagdad is one of the great things about Portland: a 700-seat second-run movie theater serving a selection of regional craft brews you can drink while you watch.

phone: +1 503-232-8538

address: 4500 SE Stark St

Belmont Station is both a store and bar/cafe. The store side hosts over 1000 bottled beers from around the world, and the cafe offers a solid lineup of sandwiches, soups, and light pub fare, as well as interesting beers on draft. The friendly and knowledgeable staff make this the place to go to explore Portland's beer scene.

phone: +1 503-238-5588

address: 2522 SE Clinton St

Shows a great assortment of esoteric films and the world's longest running Rocky Horror Picture Show.

Dots Cafe

phone: +1 503-235-0203

address: 2521 SE Clinton St

A funky night spot with great bar food.

phone: +1 503-236-2876

address: 1800 E Burnside St

Cool building and great atmosphere. Hanging swing chairs, heated patio and downstairs bar with skee ball. The food is higher end, but not pricey and full bar with big wine list and great beers on tap make this spot a local favorite.

phone: +1 503-232-6585

address: 61 SE Yamhill St

A microbrewery that achieved a weird sort of notoriety for high-alcohol-content beers, including "Dave," which had an astonishing 29% alcohol by volume. (It's no longer produced.) Originally not a brewpub, a recent relocation closer to the Willamette River has added a taproom (W-Su 2PM-8PM), and its beers can also be found around town at such places as Higgins and the Horse Brass.

phone: +1 503-232-4677

address: 2944 SE Powell Blvd

One of the newest additions to the Portland brewpub scene. They emphasize sustainable practices business model. Hoppy beer with a distinct flavor.

phone: +1 503-232-2202

address: 4534 SE Belmont St

Another English-style pub that also serves a range of English-style food. An "old-world" atmosphere, reasonable prices, an huge beer list, free darts, and a friendly and knowledgeable staff make this a great place to relax with a pint and catch up with old friends.

Laurelwood Public House & Brewery

phone: +1 503-282-0622

address: 5115 NE Sandy Blvd

For the quintessential Portland brewpub experience. Enjoy beer crafted by award-winning Brewmaster Christian Ettinger along with excellent food in a family-friendly setting. The garlic fries are not to be missed, desserts are huge and appealing, and the Laurelwood Spinach Salad is the best salad in Portland. Very child-friendly, so be aware of unsupervised toddlers darting around between the tables. Entrees are creative and of high quality.

McMenaminsOpening with its original location in 1983, The Barley Mill Pub, McMenamins now boasts over 50 locations in Oregon and Washington, which include the Bagdad Theater and Pub, Mission Theater and Pub at 1624 NW Glisan St, and the Kennedy School Theater at 5736 NE 33rd Ave. Not all locations have theaters.

phone: +1 503-232-5511

address: 2735 E Burnside St

Another cinema serving beer, wine and food. Children are allowed to shows before 5:30PM; after that it's 21+ only.

phone: +1 503-477-7823

address: 3115 SE Division St

Kava kava is a mildly sedating drink from the South Pacific. Definitely worth a try if you're in Portland since the South Pacific is quite far away. Great place to relax and socialize in a semi-authentic atmosphere, all the while trying something entirely new and exotic.
Coffee
Pied Cow

phone: +1 503-230-4866

address: 3244 SE Belmont St

A great coffee house in Portland. No other place like it. If you visit for the summer, you must come to this place. It's a great experience.

phone: +1 503-288-8667

address: multiple locations; largest and coffee lab at 3808 N Williams Ave

Great, hard-core coffee roaster where craft is more important than flash. This small coffee shop roasts its own coffee in a visible back room. Be sure to take some home as there are not many places that do such a good job with their roasting. Free Wi-Fi on site.

phone: +1 503-808-7084

address: 1028 SE Water Avenue #145

A loft style cafe and coffee roastery.
Sleep
Budget
Mid-range
Aloft Portland Airport Hotel at Cascade Station

phone: +1 503-200-5678

address: 9920 NE Cascades Parkway

Complimentary WiFi access, PDX airport shuttle services.

phone: +1 503-288-2423

address: 8633 NE Airport Way

Free daily breakfast and high speed internet access.

Holiday Inn Express Hotel & Suites

phone: +1 503-283-8000

address: 2300 N Hayden Island Dr

phone: +1 503-230-9200

address: 800 E Burnside St

Crisp, modern guest rooms, cutting edge entertainment, food 21/7, and spa style rub-downs make up this unique boutique hotel. While there, The Doug Fir is not to be missed. All day eats and drinks. Often has loaner bicycles.

phone: +1 503-249-3983

address: 5736 NE 33rd Ave

A decommissioned elementary school converted into a hotel by the McMenamins's group who also have several other converted buildings in the Portland area. Each room was made from one-half of an old classroom with items like blackboards, coatrooms, and so on still in place. The hotel has a full restaurant with its own bar and large outdoor patio. Be sure to try the Cajun Tater Tots! There's also a second-run movie theater (free with hotel stay) with a bar/cafe and table service. Also on site are the Concordia Microbrewery, Detention Bar (smoking allowed), Honor's Bar (non-smoking), Cypress Room (smoking allowed), and an outdoor soaking pool. Free Wi-Fi and great artwork throughout.

Oxford Suites Portland - Jantzen Beach

phone: +1 503-283-3030

address: 12226 N Jantzen Dr

Le Pensione Guesthouse Style Bed and Breakfast

phone: +1 503-351-4831

address: 1039 SE 37th Ave

A beautifully detailed 1892 Victorian. Huge king room, single room and very large bath. Amenities include gourmet coffee, fluffy robes, private entrance, microwave, mini-fridge, Dr. Hauscka bath products, luxury spa across the street.

phone: +1 503-255-1400

address: 9723 NE Sandy Blvd

phone: +1 503-252-7400

address: 9707 SE Stark St
Splurge