Portland (Oregon)/Northwest
Northwest Portland
includes the part of the city north of Burnside and west of the river such as the Pearl District and the Northwest District.
Get in
If you come to Portland by bus or train, you will likely step off the vehicle in northwestern Portland. The Union Station and Greyhound terminals are located here.
See
Portland_(Oregon)#Get_around
for getting in from elsewhere in the city.
See
Do
phone: +1 503-224-2038

address: 8 NW 6th Ave

Roseland Theater is a great place to go see a rock show or catch a hip hop concert. It is a good size venue but still gives you that crowded rock show feel. This venue is very fun to watch a show because the crowd always gets really into the music. It gets very crowded in some parts of the theater. This theater is standing room only. However there are seats in the upstairs to view the show from there.
Buy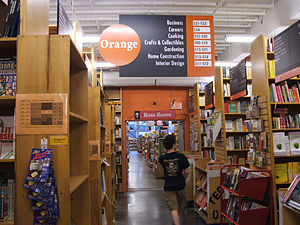 phone: +1 503-228-4651

address: 1005 W Burnside St

Powell's is a landmark in Portland, and most residents are proud to let you know that this is the biggest independent new and used bookstore in the world while visitors make a point in seeing the place as an attraction whether they buy a book or not. Covering an entire city block, the store stocks over a million books in 3,500 sections. And that's not counting the four other branches in Portland: Portland Airport, Hawthorne—including the Home and Garden bookstore—and Cedar Hills Crossing in Beaverton! The store can be imposing (get a map from the front desk), but it's a don't-miss for even the most casual reader.

phone: +1 503-796-2733

address: 107 NW 5th Ave

In the Old Town district, this Asian inspired version of Urban Outfitters is truly a funky place to get some t-shirts, bags, sneakers, comic books, vinyl toys, artwork, and more. Friendly staff. Upstairs is an amazing free gallery, with works available for purchase from cutting edge artists. Prints available too since the originals are quite pricey.

phone: +1 503-548-4835

address: 23 NW 5th Ave

Across the street from Compound, this streetwear brand has a store and gallery located in Old Town. Known for their iconic walrus symbol, they often have some more "hip" local and Portland-themed goods that make good souvenirs. A good place to grab music flyers as well as check out some amazing contemporary urban artists.

phone: +1 503-243-7946

address: 318 NW 11th Ave

Retro Swimwear brand Popina is located on the Portland Streetcar line in the Pearl District. Popina offers the Popina Swimwear Brand which is designed by Pamela Levenson and made in Oregon. Popina is known for Retro or Vintage Inspired Swimwear akin to the styles of Jantzen Swimwear which put Portland on the map as a swimwear powerhouse in the 1920s. Popina is one of 25 swimwear brands sold in the boutique.

Pearl DistrictJust meandering through the neighborhood, you're sure to come across many boutiques, gift shops, and furniture stores housed in buildings that were once warehouses and factories. The areas around Jamison Square and the intersection of Lovejoy Street and 10th Avenue have the highest concentration of these fabulous shops. The neighborhood is bounded west by I-405, south by W Burnside, north by NW Quimby and east by NW Park, just northwest of downtown Portland.

NW 23rd & 21st Avenues

address: north of Burnside

Part of the Northwest/Nob Hill District and one of the most densely populated shopping districts, with some funky and eclectic shops along NW 23rd & NW 21st (parallel to 23rd a couple blocks east) from W Burnside up to NW Marshall St. There are some bars, restaurants along NW 23rd north of Marshall.
Eat
Budget
Dockside Saloon and Restaurant

phone: +1 503-241-6433

address: 2047 NW Front Ave

Probably the best classic breakfast in Portland: perfect eggs to order, great bacon and world class golden hash browns. Pleasant waitresses, good coffee and excellent value.

phone: +1 503-808-9860

address: several locations; Northwest location at 2249 NW York

Artisan breads, pastries, soups, sandwiches and salads.

Cha! Cha! Cha! – Pearl District

phone: +1 503-221-2111

address: 1208 NW Glisan St

A restaurant of a local chain, see Portland_(Oregon)#Local_chains for description.

Cha! Cha! Cha! – Northwest

phone: +1 503-295-4077

address: 305 NW 21st Ave

phone: +1 503-274-9008

address: multiple locations all over the city; Pearl location at 122 NW 10th Ave

A local chain of burger restaurants featuring a simple In-and-Out style menu with a Portland twist. Little burger for a big price.

Taqueria Los Gorditos – Perla

phone: +1 503-805-5323

address: 922 NW Davis St

Taqueria. Slightly larger menu than the other locations. A restaurant of a local chain, see Portland_(Oregon)#Local_chains for description.
Mid-range
Splurge
Drink
Alcohol
Coffee
phone: +1 503-228-4152

address: 1740 NW Glisan St (second location in Powell's City of Books downtown)

Great locally owned company whose on-site coffee roasting has won awards. Serves organic, sustainable coffees in a great and comfortable atmosphere. One of the best coffee shops in Portland.
Sleep
Budget
Hostelling International Portland-Northwest

phone: +1 503-241-2783

address: 425 NW 18th Ave

A lovely and clean hostel in a couple of pleasant old buildings. Kitchen, internet access, and the staff are very friendly and relaxed. You can't beat the location for the price; a fairly quiet side street in a nice neighborhood near downtown.
Mid-range
phone: +1 503-224-0543

address: 2025 NW Northrup St

Boutique all-suite hotel with modern decor, a rooftop deck, and kitchens.
Splurge
phone: +1 503-770-0500

address: 15 NW 4th Ave