Portland (Oregon)/Southwest
Southwest Portland
comprises the part of the city south of Burnside and west of the river, including the downtown core and Washington Park.
Get in
Coming by train or bus to Portland, you'll likely end up at the Union Staion or Greyhound terminal in northwestern Portland, a few blocks north of the border to southwest Portland (as defined in this travel guide).
See
Portland_(Oregon)#Get_around
for getting in from elsewhere in the city.
See
phone: +1 503-306-5198

address: 1200 SW Park Ave

Lots of artifacts and exhibits on the history of the state.

address: at SW Moody and Gibbs

An aerial tram which connects the South Waterfront neighborhood to the Oregon Health Sciences University campus on a hill to the west. The tram is sleek and offers an excellent view of Downtown and the surrounding area, with splendid views of the mountains on a clear day. The joint-venture project is part of Portland's public transit system.

phone: +1 503-226-2811

address: 1219 SW Park Ave

Has several outstanding collections and is regularly updated by moving exhibits. It is an expansive museum where one could easily spend an entire afternoon. The Whitsell Auditorium in the basement of the museum is where the Northwest Film Center hosts film screenings.
Portlandia

address: 1120 SW 5th Ave

Looming over the west entrance of the Portland Building is the second-largest hammered-copper statue in the U.S. (after the Statue of Liberty); a classical sculpture of a woman bearing a trident, crouching over the entryway and reaching down to welcome visitors. For its sheer size, it's surprisingly easy to miss - keep your eyes peeled for Michael Graves' historic postmodern building painted in red, blue, and tan.

Oregon Maritime Center and Museum

phone: +1 503-224-7724

address: SW Naito Pkwy at Pine St

Located on the Portland, a steam sternwheeler tug boat moored in the river, the museum contains numerous ship models, maritime artifacts and memorabilia, while tours are offered of the ship itself.
Parks and gardens
address: SW Naito Pkwy & SW Taylor

The "smallest park in the world", a title backed up by the Guinness Book of Records, Mill Ends was created satirically for the purpose of being "a leprechaun colony and racetrack for snails." It is in the median of SW Naito, and consists of nothing more than a single small tree in the crosswalk on the north side of the intersection.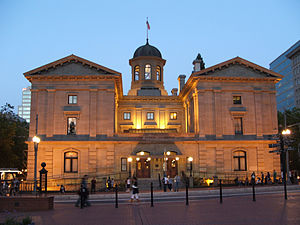 phone: +1 503-223-1613

address: SW Broadway and Yamhill

This is the central courtyard of downtown Portland, a big gathering spot that's popular with tourists and locals alike. Notable features of the park are a cascading waterfall fountain, chess boards, and the Weather Machine, a machine that predicts the weather every day at noon. Many other sculptures and art elements surround the square, including Kvinneakt, the bronze statue of a nude woman that's otherwise known as the "Expose Yourself to Art" statue after a popular poster featuring a flasher (former Mayor Bud Clark) facing this work. An annual Christmas tree lighting ceremony takes place here the Friday evening after Thanksgiving to ring in the holiday day season and get everyone attending into the holiday cheer.

address: Naito Pkwy

This wide expanse of green lawns along the downtown Portland waterfront is a scenic slice of park land, with views over the Willamette River and of the skyline. At one point, this narrow stretch of land was a four-lane freeway, but growing environmental awareness led to the city replacing the freeway with this park. Along the waterfront there are a number of fountains, memorials, and gardens, including the Salmon Street Springs, a large fountain at the Salmon Street entrance that's popular with kids during the summer; the Battleship Oregon Memorial, the old mast of the USS Oregon battleship between Oak and Pine Streets; and the Japanese American Memorial Garden at the north end of the park has monuments telling the story of people of Japanese descent in the US, including the WWII internment camps. The park is also home to many festivals throughout the year, including a Cinco de Mayo celebration, the Waterfront Blues Fest, and the carnival-like Rose Festival.

Halprin Open Space SequenceLandmark of modern landscape design representing Oregon's waters' passage from mountains to sea, spread across a string of four downtown parks with fountains and connecting pedestrian malls.
Washington Park
phone: +1 503-823-2525

address: SW Park Pl

Washington Park is a classic urban park, sprawling over about 140 acres, with many trails that take you between the stands of trees, around the hills and through the canyons - a park so large it can be easy to get lost without a map. In addition to the many attractions listed below, it also contains memorials for the Korean and Vietnam Wars, the Holocaust, and the Lewis and Clark expedition, and has beautiful vistas of Portland and Mount Hood. The MAX red and blue lines can take you to the park; the station is located at the south end of the park, outside the World Forestry Center and the Oregon Zoo entrance.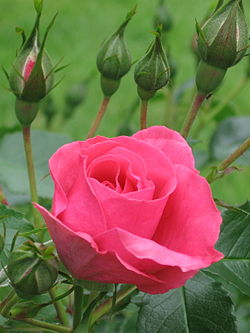 Do
phone: +1 503 227-2681

This wonderful festival, held in early June, is Portland's largest event. The Portland waterfront is turned into a carnival for a couple of weeks, starting with Fleet Week as military ships moor alongside Waterfront Park and culminating with a bunch of festivities on the second weekend, including the centerpiece of the festival, the Grand Floral Parade held on the last Saturday. Other events include flower shows, other parades, fireworks, and dragon boat races.
Watch sport
phone: +1 503-553-5400

address: Providence Park, 1844 SW Morrison

Portland's Major League Soccer team, the Timbers, play at Providence Park (formerly PGE Park and JELD-WEN Field) and are known for their strong local support. Games against the Seattle Sounders are especially heated, though fan conflict is almost always verbal. Getting tickets can be tricky, as the stadium is rather small—even after an expansion project completed during the 2019 MLS season, it still holds only a bit more than 25,000.
phone: +1 503-553-5400

address: Providence Park, 1844 SW Morrison

Portland's newest top-level professional team, the Thorns (which are owned and operated by the Timbers) are charter members of the National Women's Soccer League, which began play in April 2013. The NWSL season runs from April to late September, with playoffs in October. While not quite as popular as the Timbers, they've drawn over 10,000 per game in all of the league's first seven seasons, something that only one other team in the league (Utah Royals FC in the Salt Lake City area) has done even once, and their 2019 average attendance of just over 20,000 compares favorably with many MLS teams and makes them the biggest spectator draw in all of U.S. women's sports.
Portland State VikingsSports teams representing Portland State University, the city's largest institution of higher learning. The Vikings field 15 NCAA Division I teams in all (6 men's and 9 women's), mainly in the Big Sky Conference. As with all other Big Sky schools, Vikings football plays in the second-tier FCS. Football and basketball are typically the highest-profile sports. The main indoor venue is , home to both basketball teams and women's volleyball. However, the football team doesn't play on campus, instead using Providence Park and Hillsboro Stadium, the latter in the suburb of that name.
Music
Buy
Eat
Budget
Voodoo Doughnut

phone: +1 503-241-4704

address: 22 SW 3rd Ave

A restaurant of a local chain, see Portland_(Oregon)#Local_chains for description.

Sizzle Pie – West Burnside

address: 926 W Burnside St

A restaurant of a local chain, see Portland_(Oregon)#Local_chains for description.

address: SW 10th Ave & SW Washington St

Mediterranean food with a sloppy American twist. Cute pink, black and teal cart, fantastic for lunch and dinner.

address: 126 SW 2nd Ave

Nine restaurants serving different food styles in a casual and open food hall located inside an historic Portland building.

phone: +1 503-224-2326

address: several locations; Downtown location at 1720 SW 4th Ave

Another easy and less-expensive option. They have a number of vegetarian & vegan dishes available as well as a small outside dining area when the weather is nice.

Cha! Cha! Cha! – South Waterfront

phone: +1 503-224-0100

address: 3135 SW Moody Ave

A restaurant of a local chain, see Portland_(Oregon)#Local_chains for description.

phone: +1 503-222-5375

address: 0715 SW Bancroft St., Portland OR 97239

Although not the original location, this is the flagship location and headquarters of the nationally known Portland-based spaghetti chain, with views of the Willamette riverfront. Lovers of their mizithra cheese spaghetti will want to make a pilgrimage here.

Fat City Cafe

phone: +1 503-245-5457

address: 7820 SW Capitol Hwy, Multnomah Village

Local favorite, serves excellent breakfasts. The French toast is recommended.

phone: +1 503-246-9007

address: 8601 SW 24th Ave

This is the flagship location of the well-known American pancake restaurant chain, and it is in fact in a house. Many of the familiar favorites (apple pancakes and Dutch Babies) are available. Cash only.
Mid-range
For New York-style pizza, it's hard to beat Escape from New York Pizza at 622 NW 23rd (+1 503-227-5423), and at 7737 SW Barbur Blvd uptown (+1 503-768-4408). The restaurants are shrines to New York, unlike their chain-restaurant counterpart, Pizza Schmizza, which is also quite good with locations spread throughout Portland.

phone: +1 503-228-5686

address: 411 SW 3rd Ave

Portland's oldest restaurant, open since 1879, this place is known for its turkey dinners and Spanish coffees, poured right at your table.

phone: +1 503-226-1007

address: locations throughout the metro area; Downtown location at 705 SW Alder St

Excellent thin-crust pizza; try the faux-Italian options.

phone: +1 503-224-0311

address: several locations; downtown location at 1909 SW 6th Ave

Another place with excellent thin-crust pizza. Get any of the surprisingly good veggie pizza toppings, like artichoke.

phone: +1 503-293-1790

address: 1523 SW Sunset Blvd

Caribbean and South American cuisine with a pirate twist. Try the Great Balls of Fire (a habanero cheese fritter); if you eat 5 you will get your photo on the wall of fame.

phone: +1 503-688-5952

address: 215 SW 6th Ave
Splurge
Drink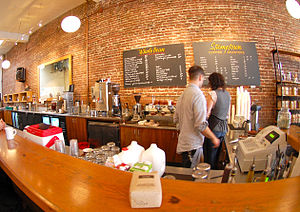 phone: +1 503-295-6144

address: several locations; Downtown location at 128 SW 3rd Ave

One of the most celebrated and appreciated local coffee roasters in a city known for good coffee, Stumptown is credited for having beans that taste as fresh as a good home roast. Frequent customers include a quirky assortment of hipsters, yuppies, artists and the like. Many other coffee shops around town sell exclusively Stumptown coffee, and beans can be purchased whole at any of the five locations, as well as more gourmet grocery stores such as Wild Oats and Whole Foods.

phone: +1 503-295-1004

address: 213 SW Broadway

Offers 20 constantly rotating taps, plus one beer engine, encompassing the entire range of beer styles with emphasis on Oregon breweries. Located in downtown Portland, convenient to most hotels, mass transit, events, nightlife, restaurants and welcome to both microbrew fanatics and the uninitiated. One of the most eclectic selections of beer around and encourages enthusiasm for the unfamiliar.
Sleep
Budget
Mid-range
phone: +1 503-226-6288

address: 809 SW King Ave

Apartment-like suites with kitchens (stove, refrigerator, coffee-maker, and dishwasher). Rooms also include a living room and comfortable beds. It's a short bus ride on the 15 to downtown. Rates are reasonable.

phone: +1 503-226-6300

address: 520 SW Broadway

phone: +1 503-892-5781

address: 7006 SW Virginia Ave

Located in the southwest part of the city, one block from a beautiful park on the Willamette River.
Splurge