Prescott (Ontario)
Prescott
is a town of 4200 people in the
Seaway Region
of
eastern Ontario
,
Canada
.
Understand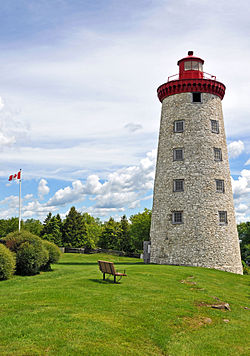 Like
Brockville
directly to the west (and countless other "founded 1784" towns), Prescott was established by United Empire Loyalists soon after the American Revolution (1776-1783) to house the King's loyal subjects. The town's location on the St. Lawrence River at a narrows directly opposite
Ogdensburg
, New York, made it strategically important in the War of 1812 as the river was a key supply line. A
US
attack on
Gananoque
from
Sackets Harbor
on September 21, 1812 led to retaliation in which Prescott's 1812-era Fort Wellington attacked Ogdensburg on February 22, 1813.
A second Fort Wellington was built on the same site in 1838 as a response to an unsuccessful domestic rebellion.
Before the Seaway opened in 1958 to bypass rapids downriver at Long Sault,
Great Lakes
vessels would unload grains and cargo in Prescott-Ogdensburg for onward shipment by rail to Atlantic seaports. Rail lines were also constructed from the region to Ottawa to provide that city with access to river cargo; the Prescott-Ottawa line is now gone (except for a few fragments within Ottawa) but Brockville-Smiths Falls-Ottawa remains in use for passenger service to Toronto.
Get in
By car
From Montréal and Toronto, Prescott is on the Windsor-Quebec corridor as Highway 401 exit 714 (Edward Street)
From Ottawa, take Highway 416 southbound to the 401 (exit 721). Prescott-Ogdensburg is the first town upriver from the international bridge.
From Watertown (New York), take NY 37 to Ogdensburg, then cross the bridge to Johnstown (401 exit 721). Prescott is 7 km (4.5 mi) upriver.
By train
The train no longer stops in Prescott; the town's limestone 1856 Grand Trunk wayside station now houses the local historic society. VIA Rail service is available to Brockville from Montréal, Toronto and Ottawa; Montréal-Toronto buses also stop in Brockville.
By boat
Sandra Lawn Harbour and Marina

phone: +1 613-925-1255

address: 191 Water Street

Rotary Lighthouse with souvenir shop, outdoor amphitheatre with free summer Sunday concerts beginning at 7PM in July and 6:30PM in August, 148-slip seasonal boat harbour, playground and picnic area.
By plane
Get around
AJ's Taxi

phone: +1 613-925-2558

address: 222 King W.

Prescott Taxi

phone: +1 613-925-2228

address: 152 King W.
See
phone: +1 613-925-2896

address: 370 Vankoughnet St, Prescott K0E 1T0

phone: +1 613-925-1861

address: 201 Water St.

Three-storey structure built by Captain William Gilkison in 1810 at the height of the forwarding trade on the St. Lawrence River, when material carried downriver by boat was offloaded on land to skirt the nearby rapids. The building was used as an American Consul, a law office and a coin laundry before being taken over by the Grenville Historical Society in 1970; it now houses the municipal visitor centre.

phone: +1 613-925-2896

address: Windmill Road
Do
Kelly's Beach

address: West end of town near Centennial Park

phone: +1 613-925-5370

address: 900 Boundary Street

18-hole semi-private course at east end of town, established 1939. "Greens" casual restaurant (kitchen/bar) +1 613-925-3908.

St. Lawrence Shakespeare Festival

phone: +1 613-925-5788

address: 206 King Street W.
Buy
Prescott Farmers' Market every Tuesday, Thursday, and Saturday at the Clock Tower
Eat
Bridgeview Restaurant

phone: +1 613-925-5663

address: 2801 Highway 2

Dragon Garden Restaurant

phone: +1 613-925-4981

address: 354 King Street W.

Chinese

Nick´s Restaurant

phone: +1 613-925-2882

address: 107 Churchill Road E.

Greek.

Papa Larry´s Restaurant

phone: +1 613-925-4226

address: 178 King Street E.

Pizza.

Piccolo Café

phone: +1 613-925-5762

address: 178 King Street W.

Coffee shop.

Tim's Fish & Chips

phone: +1 613-918-0411

address: 286 King Street W.

Take out.

Wok House Restaurant

phone: +1 613-925-2532

address: 238 King Street W.

Cantonese and Canadian
Drink
Boomer´s Sports Bar & Restaurant

phone: +1 613-925-0174

address: 186 King Street W.

Live bands, karaoke, big screen TV.

O'Heaphy's Irish Pub

phone: +1 613-925-0006

address: 101 King Street W.

Dine on an outdoor patio.

phone: +1 613-925-8800

address: 197 Water St.

British-style pub in basement of circa 1830 stone building on waterfront, next to Forwarder's Museum.
Sleep
phone: +1 613-925-2159

address: 408 East St.

B&B guest house in 1830s stone manor near Fort Wellington.

phone: +1 613-925-3228

address: Hwy 2, 2 km west of Prescott

No pets, no kids under 12. Riverside motel and cottages. +1-877-4DEWARS
Connect
phone: +1 613-925-4340

address: 360 Dibble St. W.

Eight public-use computers, scan/fax/print/copy, reading room, used books for sale.
Go next