Provence-Alpes-Côte d'Azur
Provence-Alpes-Côte d'Azur
is the most popular holiday region in the south of
France
. It covers a large area from the Mediterranean Sea in the south up to the
French Alps
in the north and extends west to east along the coast from the river Rhône all the way to the
Italian
border. Its identity as a geographical region being a legacy of the
Roman Empire
, the Provence includes the
French Riviera
and is famous for its sunny weather, colourful countryside, long-standing traditions and local language (
Provençal
). The region's favourable climate makes the variety of available local produce second to none. Flowers, fruits and vegetables all grow in abundance, the sea's fish and shellfish stocks are rich and all this without forgetting those two most Provençal of industries: wine-making and perfumery.
Perhaps best known for the many fashionable resorts along the Côte d'Azur, the Provence's other main attractions include the Old Port of
Marseille
, the ancient cities of
Aix-en-Provence
and
Avignon
, as well as a plethora of sun-baked villages and mountaintop towns. So why not follow in the footsteps of Vincent van Gogh and see for yourself why Provence-Alpes-Côte d'Azur is such a special and inspirational destination?
Departments
Cities
— the second largest city in France has around one million inhabitants and a major port
— the city of water and art, Paul Cézanne's hometown and a source of inspiration for many of his landscapes
— an inspiration for Vincent van Gogh, as well as the site of numerous Roman remains
— known for its Palace of the Popes, where several popes and antipopes lived between the 14th and 15th centuries, and for its folk song-spawning bridge.
— a glamorous and expensive seaside town that hosts the annual Film Festival
— a major beach resort along the French Riviera with its famous Victorian waterfront, the Promenade des Anglais
— this medium-sized naval city has an old town and links to Operation Dragoon, aka the Mediterranean D-Day
Other destinations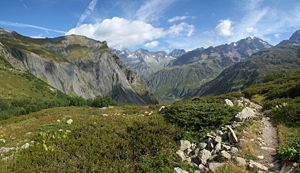 — one of Europe's largest river deltas and wetlands, a great place to spot flamingos and French cowboys
— snow-capped mountains ideal for thrilling snowsports and après-ski elegance
— super beaches, superyachts and the super-wealthy
— a semblance of the Caribbean in the azure waters of the Var
— the stereotypical rural Provence of sleepy villages, joie de vivre and wine (these last two not necessarily being linked)
Mercantour National Park — seven uninhabited mountain valleys with hiking trails, this is where the Provence shows its wild side. Lucky travellers may catch glimpses of chamois, ibex, golden eagles and even wolves.
— the largest mountain in the region has been nicknamed the "Giant of Provence" or "The Bald Mountain"
— beautiful turquoise river canyon, great for kayaking, hiking, rock-climbing or just driving around the limestone cliffs
Understand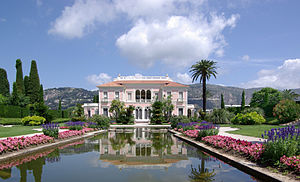 Provence-Alpes-Côte d'Azur covers all the original territory of Provence, together with what used to be the
Italian
-controlled County of Nice. The term "Provence" comes from the fact that this area - "Transalpine Gaul" - was the first part of what is now France to become a
Roman
province; it was from here that Julius Caesar launched his famous conquest of Gaul. The region's identity is associated closely with its history and culture. Although a bit stereotyped now (those lavender fields and hill villages that plaster postcards and guidebooks), contemporary Provençal life is rooted in a long heritage of lively regional culture and language.
This is a vast and beautiful region, and merits a long trip, not just a few days or a week. To truly appreciate this region, you must be the type of traveller who likes food, wine and local crafts. It is recommended that you plan your own itinerary, and make it flexible enough so you can linger at an outdoor café or appreciate a historic sight when the moment takes you. There is a
joie de vivre
attitude throughout the region which is contagious, especially after a picnic of cheese and sausage bought direct from local farmers, and two glasses of a good rosé.
Climate
The low-lying parts of this region have a Mediterranean climate, so are generally dry and warm for most of the year, with more rain and wind over the usually brief winters. Summers here are hot and long, and the number of sunshine hours is very high all year round. The higher zones stretching up into the Alps have a mountain climate which, though still dry in summer, can be quite cool. This southernmost part of the Alps is the sunniest in the range, though winter snow is still common.
Read
Those interested in literary interpretations of Provençal life should look up the works of
Marcel Pagnol
and
Peter Mayle
, the latter only if wealthy British expats are your cup of tea. Specifically, Mayle's
French Lessons: Adventures with Knife, Fork, and Corkscrew
also gives a bunch of practical tips and recommendations for every district of the Provence, as well as which areas to visit for their gastronomy.
Talk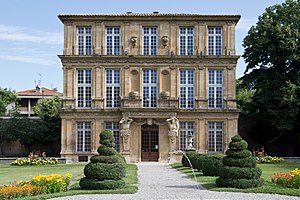 French
is of course the official language of this region, but you'll find that many locals have a
regional accent
. The
e
at the end of words is often pronounced softly in Provence, whereas in standard French, it is not pronounced at all. For example, the word "Provence" in standard French ends with an "s" sound, as "proh-VAHNSS", whereas in Provence itself, it will often end with a sound resembling a short English "eh", as "proh-VEN-seh". Many vowels are changed as well, so that they are pronounced in a manner somewhat closer to the English pronunciation of the written vowels. However, standard French is understood by the locals.
This accent is largely due to the fact that several generations ago a different language -
Occitan
or
la langue d'Oc
- was the dominant local tongue such that most locals only learnt French at school. The dialect of Occitan spoken in Avignon is Provençal, and was the subject of strong preservation attempts in the early 1900s on the part of a group of writers and artists known as the
Félibrige
. The most famous of these was Frédéric Mistral, winner of the Nobel Prize for Literature in 1908. Despite the efforts of the
Félibrige
, the language has now largely disappeared, though it is still spoken by a minority of the local population. It is also taught in some regional universities and courses run by non-profit groups. In certain areas, road signs are bilingual, with place-names and some local information being printed in both standard French and Occitan.
Travellers interested in speaking some French or Occitan can check out Wikivoyage's
French
and
Provençal
phrasebooks.
Get in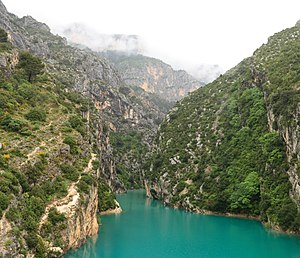 By plane
The two major airports for the region are Nice-Côte d'Azur and Marseille-Provence. Most transatlantic flights to France land at
Paris Charles de Gaulle
, from where it is possible to travel to the Provence either by catching a connecting flight,
using a high speed train
, or hiring a car and
driving
.
Nice Côte d'Azur AirportFrance's third busiest airport after the two in Paris welcomes flights from pretty much every major European airport and a handful of places further afield, such as Beirut (summer only), Doha, Dubai, Montreal Trudeau (summer only), New York JFK (summer only) and Tel Aviv Ben Gurion.
Marseille Provence AirportHas year round services from such European cities as Amsterdam Schiphol, Berlin Schönefeld, Brussels Capital, Frankfurt, London (Heathrow, Gatwick, Luton, Stansted), Istanbul IST, Madrid Barajas, Paris (Charles de Gaulle and Orly), Rome Fiumicino and Stockholm Arlanda. There are also year-round flights from cities in Francophone Africa such as Agadir, Algiers, Constantine, Dakar, Oran and Tunis.
Toulon-Hyères AirportThe only year-round flights arrive from Brest, Charleroi, Paris Orly and CDG. There are summer connections from Copenhagen, Rotterdam and Southampton.
Avignon Provence AirportOnly has summer flights with Flybe from Birmingham and Southampton.
By train
Rail connections are excellent. The
TGV
(
train à grande vitesse
, high-speed train) gets you down to the Mediterranean sun in about three hours from
Paris
, and just over an hour from
Lyon
. There are also high-speed connections from
Spain
jointly operated by the SNCF and Spanish company
Renfe
; this allows you to reach
Marseille
from
Barcelona
Sants in 4 hrs 41 mins, and from
Madrid
Atocha in 8 hrs. Rail connections from the east (i.e.
Italy
) and west (i.e.
Occitan
cities such as
Montpellier
and
Toulouse
) are somewhat slower, but regular connections are provided by SNCF Intercités (within France) and
Thello
, from
Milan
and
Genoa
to
Nice
and
Marseille
.
From northern Europe, too, there are many possible routes. The TGV has connections as far afield as
Brussels
Midi/Zuid and
Frankfurt
Hauptbahnhof, while
Eurostar
operates direct services from
London
Saint Pancras to Avignon TGV (5 hrs 49 mins) and Marseille Saint Charles (6 hrs 27 mins), via Lyon. In July and August, trains run five times a week from the British capital; from April to June and September to October, the service operates three times a week, and from November to March it runs once weekly (on Saturdays). At other times, travellers coming from the UK may catch the Eurostar to Lille or Paris and make the connection onto the domestic TGV network.
Typical rail gateways include
Aix-en-Provence
, Avignon, Marseille and Nice. You can easily use one of these cities as a base for exploring the region.
By car
France has an extensive and comprehensive motorway network that is well-maintained and often free of congestion. Enter PACA from
Lyon
and the north via the A7, from
Liguria
and the rest of
Italy
via the A8, and from the west (
Montpellier
,
Toulouse
,
Spain
) via the A9.
If you're travelling from elsewhere in the country, or from nearby Italy or Spain, driving may be the way to go. However, because of the price of petrol and most of the motorways being toll roads, visitors coming from the UK and northern Europe may think twice before getting behind the wheel. At any rate, with typical (non-stop) driving times from the Eurotunnel terminal and the English Channel ports being around 10 hours, the journey is long but doable. Some northerners who plan to tour the region by car or by campervan choose to make the initial journey part of their trip, making stops on the way down.
Get around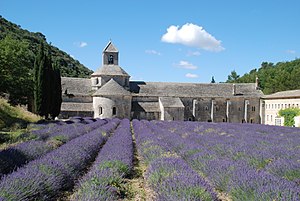 By car and bicycle
The region can be easily explored by car or bicycle, using the easily-navigated and dense network of country roads and highways. With a village every ten minutes by car, and something interesting around every corner, Provence is one of those places where getting lost can work in your favour.
Still, for longer journeys, you will want to know where you're going. The main
autoroutes
(motorways) of the region are:
A7: Auvergne-Rhône-Alpes, from Lyon, Orange (A9), Avignon, Alpilles / Luberon, Salon-de-Provence (A54), A8 for Aix-en-Provence, A51, Marseille (A50, A55)
A8: A7, Aix-en-Provence (A51), A52, Brignoles, A57, Draguignan, Fréjus, Cannes, Nice, Monaco, Menton, Italy, towards Imperia and Genoa
A9: Orange (A7), Occitanie, towards Nîmes and Montpellier
A51: A7 from Marseille, Aix-en-Provence (A8), Manosque for Luberon / Verdon, Gap, the Hautes-Alpes, continues as N85 into Auvergne-Rhône-Alpes, towards Grenoble
A52: A8 near Aix, Aubagne, A50 towards La Ciotat
A55: Marseille (A7, A50), Martigues, Camargue
By train
The main lines operated by the national company SNCF are:
Along the coast between Marseille and the Italian border, with both local and TGV trains, though all the trains runs at normal speed.
From Marseille and Aix into the Alps: Digne-les-Bains, Gap.
From Marseille west to Avignon and on towards the south-west of France and along the Rhône river.
A
full map
of services in the region can be downloaded from the SNCF website.
Local trains are prone to delays, so plan some margin if you have to change for a TGV or a flight. This region is one of the most impacted in the country by rail strikes when they happen. Usually long-distance trains are not impacted, and strikes rarely last longer than one day, but the few trains that do run are packed with commuters.
See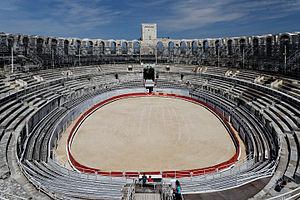 Provence-Alpes-Côte d'Azur is a region of
artists
, and many of the greats have been inspired by the vibrant colours and excellent light quality that the landscape offers.
Nice
has museums dedicated to Marc Chagall and Henri Matisse, while
Vence
has Matisse's stunning Rosary Chapel. Tragically, there are no paintings by Vincent van Gogh left anywhere in Provence, but the town where he was most productive -
Arles
- pulls in the crowds because it still has many of the sights the great artist pictured like no-one else ever had. For something a little different, you can't go wrong with Le Corbusier's monument to brutalism, the Unité d'Habitation tower block in
Marseille
.
Avignon
has a large contemporary art museum, the Collection Lambert, with a range of works all produced since the 1960s. The city also has an unmissable summer theatre festival for three-and-a-half weeks every July.
The region is known on the world stage for its
glitz and glamour
, none more so than in the
Riviera
. Whether you're drawn to see millionaires' yachts at
Saint-Tropez
, rub shoulders with film stars at
Cannes
, go to the pools in
Monaco
, or just soak up the atmosphere of the Promenade des Anglais in
Nice
, there are many ways to get a taste of the celebrity lifestyle. The Riviera is also known for its luxury homes, and some of the most famous open their doors to tourists. For instance,
Saint-Jean-Cap-Ferrat
has the insanely opulent graecian Villa Kérylos, and the Villa Ephrussi de Rothschild, which is surrounded by nine spectacular themed gardens.
Lovers of
historical buildings
can't go wrong in PACA, and there are examples from all eras to see. The Romans more than left their mark here, and
Arles
is the most blessed, with sights including a very well-preserved amphitheatre which is still used for festivities, the subterranean cryptoporticus and Roman baths. For a slice of living Roman history, the
UNESCO
-listed Théâtre Antique d'
Orange
is a stunning 1st century outdoor theatre - if you visit in summer (end of June to beginning of August), you can go and see the opera there! A more low-key, but still impressive, offering from antiquity is the Roman bridge in
Vaison-la-Romaine
. The 14th century brought crisis to the Roman Catholic Church, and the western Popes upped sticks and built themselves an enormous Gothic palace - the largest building of its style - in
Avignon
. The building is still standing in all its majesty, though the interior is now quite sparse due to a spot of bother in the French Revolution. Provence is also known for its medieval hill towns; one of the best known is
Gordes
- all golden stone and cypress trees - while the much rockier
Les Baux-de-Provence
is overlooked by the ruins of its château.
Do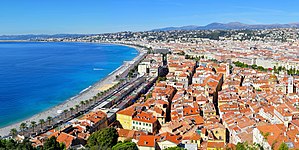 What's the most Provençal sport you can think of? Go to any town square or public park in the region and chances are you'll see groups of older men playing
pétanque
. The aim of this southern French variation of boules is to roll one's own metal balls as close to the
cochonnet
(a little wooden ball known in English as a "jack", although
cochonnet
actually means "piglet"!) as possible, knocking out other players' ball in the process; the player whose ball is closest to the
cochonnet
at the end wins the game. Visitors wishing to try it out can usually find a cheap set on sale in supermarkets and larger towns even have their own pétanque courts. More adventurous travellers may even volunteer to join a locals' game. If you are friendly and polite, the other players will most likely jump at the chance to share their sport with a foreigner and this can be a great way to try out your French on the locals. But be warnedː despite the game's relaxed reputation, competition can get quite fierce among more seasoned playersǃ
Buy
Visit the production centres of some of Provence's most famous exports.
Vineyards
(
vignobles
),
olive groves
(
oliveraies
) and
lavender fields
(
champs de lavande
) can be found all over the region, and many offer you the chance to "try before you buy". The
Visites Gourmandes
portal is an excellent tool for locating such places. Each of these products is grown by season, so the best time to visit the producers varies: lavender fields bloom from June to August, particularly around the
Drôme
,
Luberon
and
Vaucluse
; vines come to fruition between September and November; olive trees are harvested in November and December. In addition to edible produce, Provence is one of the world's leading centres of
perfume
. The most prestigious perfumeries (
parfumeries
) are concentrated around the town of
Grasse
. All sell to the general public, and three prestigious
maisons
(Fragonard, Galimard and Molinard) are also open to visitors.
Don't miss out on the
marchés hebdomadaires
(or
weekly markets
), laden with an enormous array of produce. Expect to see everything from wonderfully local breads to meats and cheeses, fresh seafood as well as herbs, citrus fruits, olives and figs, not to mention artisan crafts and the ubiquitous lavender. As in much of France, locals are fiercely proud of their region's produce, and with such a diverse repertoire, you can hardly blame themǃ
Eat
Centuries of intense study of the culinary arts has produced a country where the food is almost invariably excellent. It is difficult to have a bad meal because French standards are so high. Nonetheless, in tourist traps there are places where standards slip, but to avoid this the classic tip is to choose restaurants that are busy with locals.
Each village in the region has a market day. You can buy local fare such as breads, cheeses, sausage, olives and preserves straight from the farmers and take them (the food that is, not the farmersǃ) for a picnic while exploring the countryside.
If you are going out for a sit-down meal, there are three main types of dining experiences to choose from.
Restaurants
are more formal in France, serving full dinner menus and at a pace that is slower than in, say, North America. You are expected to enjoy the food and it should be the main reason for going out. It is considered inappropriate to request that a dish be prepared in a different way than is stated on the menu. Restaurants usually have a selection of set menus, each with a different price range. You can also choose from a list of à la carte items. A
bistrot
is more casual and has more individual items, while a
café
is more casual still, serving press coffee, drinks, sandwiches (such as the ubiquitous
croque monsieur
) or pizzas.
Provence has a unique cuisine that reflects its Mediterranean history and frequent exchange of cultures. This is an olive-growing region, and there are many varieties, ranging from the tiny peanut size Niçois olives to the large Bouteillan or Aups olives. Other than oil, olives are also enjoyed as spreads either alone (
Olivade
) or mixed with capers (
Tapenade
). Many producers offer guided visits of their groves; these can be smallholding-sized plots but some are set in the grounds of real châteaux.
While many products are found all over the region, some are best sampled in certain areas. Let it be known that despite the region's bounty of native fare, the Provence has a highly popular pizzeria culture. OK, now that that announcement is out of the way, let's move on to some real Provençal cuisineǃ
On the coast
, most of the cooking is fish-based, with sardines and anchovies being the most popular. For English speakers, the region's two best-known
plats
are of course
bouillabaisse
, a fish stew rich in herbs and spices, and the famous
salade niçoise
, a tunafish salad made with eggs, anchovies, tomatoes, green beans and black olives. While sampling both of these is a must, other lesser-known but equally tasty dishes include
anchoiade
, which is an anchovy-based apéritif spread, garlicky
aioli
and a Marseille specialityː grilled sardines. Another wonderful Provençal speciality is the savoury
soupe de poissons
, which is made with a base of tomatoes, onion, garlic and herbs and often served with croutons, grated gruyère cheese and a very spicy aioli.
In the hills
, easily the most famous and best-loved dish is
ratatouille
, which in real life is even better than a certain Pixar film shows it to be. Though it be but a simple vegetable stew, and a peasant dish to boot,
ratatouille
is a very special mix of fresh courgette (USː zucchini fruit), mushrooms, aubergine (USː eggplant), bell peppers, tomatoes and onion as well as garlic and Provençal herbs. In season, one can also enjoy stuffed vegetables (
farcis
) that are typical of rustic cooking. If the thought of all those vegetables is making you queasy, here's one for the carnivores.
Daube
is a scrumptious beef stew that is often mixed with olives.
For
dessert
, the
tropézienne
cake is not to be missed. This fluffy sponge-cake will cool you down nicely in the summer inferno. At the other end of the year, you may experience a unique Christmas ritual that will have pudding lovers salivatingː at the end of the Christmas meal, no fewer than thirteen desserts are servedǃ Which particular thirteen is a hotly-debated question (debate being one of the Provençal people's favourite activities). Despite the disagreement, an official list has been drawn up which encompasses:
pompe à huile
, the so-called "four beggars" (nuts, dried figs, almonds and raisins), dates, apples, pears, water melon, grapes, both black and white nougat and sorbet.
Drink

Most of the
wine
in this region is of very high quality and must be tastedǃ If this seems like a ludicrous and impractical task for the average holidaymaker, then why not try the locals' favouriteː a good rosé. Totally unlike the sweet, cheap crap many of us remember from the 1970s, traditional Provençal rosé is dry, light and acts as a perfect accompaniment to an afternoon picnic of bread and cheese.
Viticulture aside, the drink most endeared to the Provençal psyche is
pastis
, an apéritif liqueur made from anise. The many brands may be indistinguishable to outsiders but each one has a devoted local following, similar to sports teams and their fans. With an average alcohol content of 40-45%, this is strong stuff and will likely lead to some memorable nights (or not, depending on how much you indulge inǃ)
Fancy yourself a super spy at heart? Sampling a
Martini
("shaken, not stirred" or however you like) while on a night out in the Riviera is a must.
If alcohol isn't your thing, or if you just fancy a break from all that pastis, the region's excellent range of fruit trees yield a healthy
fruit juice
crop, and French
coffee culture
is ubiquitous.
Stay safe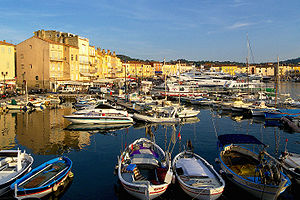 In an emergency, dial
112
.
If you decide that the Provence is your place to stay, you might as well stay safe. The last 10 years have seen a sharp rise in the crime rate on Côte d'Azur, with many houses burgled. Help and information for victims of burglary and those who want to check or improve the security of their property is best done with the assistance of the local police chief. If you decide to make the Provence your base and you are looking to buy a property, you should be just as cautious as in anywhere else. Don't just buy your property without doing the necessary research. Make sure you buy your property through a listed agent who is in possession of a "permit".
Go next