Providence
Providence
is the state capital and largest city in
Rhode Island
, as well as the third largest city in
New England
. Formerly an industrial bastion of organized crime, Providence's Renaissance has created new parks and attractions and brought emphasis back to its historic roots. Downcity events, historic vistas, eclectic districts such as
College Hill
and
Federal Hill
, and a great nightlife make Providence a worthwhile tourist destination.
Districts
Understand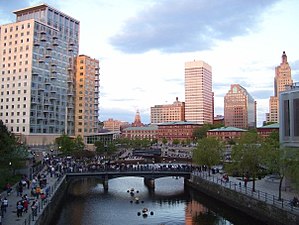 History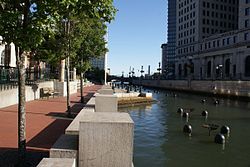 Puritan refugee and Massachusetts exile Roger Williams settled Providence, Rhode Island, in June of 1636. It soon became one of the thirteen original colonies of the United States. The Narragansett Native Americans previously occupied Rhode Island's land.
British taxation held back the city's economic growth in its fishing, farming, and nautical enterprises. Providence joined other critics of the British Crown and opposed the Sugar Act, a tax that adversely affected Providence's international rum trade. The Gaspee Affair of 1772 involved the residents of Providence leading the first violent attack of the American Revolution.
After the Revolutionary War, Providence's economic industry changed from maritime activities to manufacturing, especially in jewelry and textiles. Such industries drew many immigrants from overseas lands such as Italy, Ireland, England, Portugal and Cape Verde, whose descendants compose a high proportion of the population of the state today.
The jewelry industry boomed in the 1920s. The Great Depression hit the local economy hard, leading to population decreases. Organized crime rose to the forefront in Providence in the 1950s through the 1980s, primarily situated in Providence's Federal Hill neighborhood. Providence became a notorious mob scene led by mafia boss Raymond L. S. Patriarca.
The "Renaissance City" got its nickname in the 1990s when Mayor Vincent "Buddy" Cianci Jr came into his second term. After millions in local and national funds were spent throughout the city in the 1970s, the city's previously falling population was stabilized. Cianci pushed for an emphasis on the city's strength in the arts and entertainment and revitalized the city's natural landscape. He brought Rhode Island the Providence Bruins hockey team, uncovered Providence's rivers, relocated a large section of the railroad underground, created the now famous Waterplace Park and river walks, and sanctioned the construction of the Bank of America Skating Rink and the gigantic Providence Place Mall.
Providence has a long history of political corruption that some feel to be part of the local charm. In keeping with this tradition; Mayor Cianci was indicted not once but twice from local office. When running for office for his second term, he actually ran partly from jail. It wasn't until a 2001 racketeering case was brought against Cianci that the notorious Mayor's reign ended.
Once dominated by the Italian-American political establishment, Providence had five mayors of Italian descent, including Cianci's two non-consecutive terms, between 1975 and 2011. Demographic shifts contributed to the election of the city's first Hispanic mayor, Angel Taveras, in 2011. The current Mayor of Providence is Jorge Elorza, who did what many in Providence once thought was impossible and defeated Cianci in his final comeback attempt; he died of colon cancer at 74 little more than a year after the election.
Climate
Providence's climate is humid continental/subtropical. This means high humidity year-round, with hot, wet summers and cold, snowy winters. Unlike other inland states in New England, Rhode Island's position along the Atlantic coast keeps Providence's temperatures relatively warm. Precipitation is a mainstay in Providence's climate. Spring and summer months often have bouts of rainfall and winter months are regularly hit with snowfall and blizzards. Providence's position on the coast of the Narragansett Bay leaves the city susceptible to hurricanes, but such occurrences are rare.
Visitor information
Get in
By plane
T.F. Green Airport
(
PVD
), in nearby Warwick south of Providence, offers many low cost and regular flights to cities in the United States.
By car: take I-95 North. Approximately 20 minutes.
By bus: the #14 and #20 buses connect the airport to Kennedy Plaza in downtown Providence. #14 is an express bus taking 15-25 minutes. #20 has more stops and takes 40 minutes. See RIPTA for schedules.
By commuter rail: MBTA runs 10 trains per weekday from the airport to downtown Providence.

Boston's Logan Airport (BOS) is much larger than T.F. Green Airport, and is generally used for most international flights.
By car: take I-95 South. Approx. 1 hour (potentially much longer in traffic).
Public transit: take the MBTA Silver Line bus (it's a BRT line) to South Station and take an MBTA commuter train to downtown Providence. Approx. 1hr 30 mins in travel time. Add waiting time of 1-2 hours if you haven't planned which commuter train to catch. The commuter rail leaves you in downtown Providence.
By train
, 100 Gaspee Street, is the central train station in Providence, located across the street from the Rhode Island State House.
AmtrakProvidence is served by the Northeast Regional and the Acela, which connect the city to New York City and Washington, D.C. to the southwest and Boston to the north. Service is rather frequent. The Acela train takes just under 3 hours to arrive from New York's Penn Station after traveling from points further south.

phone: +1 617 222-5000

The MBTA runs a commuter rail service between Boston and Providence on the Providence/Stoughton Line. If coming from Boston, this is a cheaper option than Amtrak, although the trip takes longer. It is $11.50 for a one way trip taking about an hour. Tickets bought aboard the train, instead of at the station, have a $1.00-$2.00 surcharge added.
By car

For those driving, I-95 will serve you well from Boston or New York areas, Rt. 146 is better when coming from Worcester or western Massachusetts area. I-195 connects to Cape Cod and eastern Massachusetts. Driving from TF Green Airport (PVD) , head north on I-95. Driving to the airport exit 13 on I-95.

By bus
phone: +1 401 781-9400

Services across all of Rhode Island and throughout Providence, with a central hub in Kennedy Plaza. Bus charge is $2.00, and an extra $.75 for a 2-hour valid transfer to travel with other buses. One-day, 10-day, 15-day, and monthly RIPTA passes can be purchased inside the Kennedy Plaza bus station or at a Rhode Island Stop-and-Shop or Shaw's.
Bonanza Bus Lines. Bonanza travels to many states on the East Coast. Tickets can be purchased at Kennedy Plaza or online. Trips depart from Kennedy Plaza at any given time throughout the day.

address: Canal Street at Park Row

Services daily from New York City with three round trips. Tickets can be purchased online, daily deals from $1–61.
Get around
Downtown Providence is very compact and can easily be covered walking. There is some parking available throughout the city, but
RIPTA's
public transport network is extensive and an alternative to driving. Although public transit in Providence is almost entirely comprised of buses, the buses are on-time, reliable, and much of RIPTA's bus fleet is new. Kennedy Plaza, RIPTA's downtown bus station, has recently undergone a major overhaul and is well laid out with digital displays at each terminal that tell when the next bus will be coming.
Two of the downtown lines are run completely on natural gas trackless trolleys (called the Providence LINK Trolley) and cover most of historic Providence. Base fare is $2.00, though e-riptiks or ride passes may be purchased either on-board or at local Shaw's and Stop and Shop supermarkets. Seniors or disabled persons ride for half price during non-peak hours with the presentation of an id. Students from some local colleges can buy discounted bus passes or use their school id cards (policy varies depending on the school).
See
Providence is a city rich in unique architecture, beautiful streetscapes and stimulating intellectual pursuits. One of America's older cities, Providence features many historic buildings like the Rhode Island State House and Trinity Repertory Theater. These locations, among others, exemplify some of the country's best 19th and 20th-century architecture. The RISD museum and Roger Williams Park Zoo offer days of fun sightseeing for adults and children alike.
Architecture
The monumental
Rhode Island State House
, finished in 1901, is a wonder that has the world's fourth largest self-supported marble dome.
Downtown Providence
also includes a number of beautiful 19th century buildings in a variety of styles.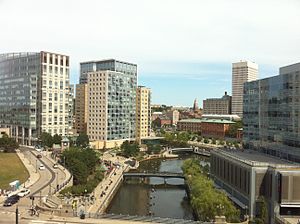 Brown University'
s Ivy League campus, dating back to the 1700s, features buildings from nearly every American architectural movement. Best to visit in May-September when school is largely out of session and weather is amenable to walking.
Though professional tours of the city are not offered, a book featuring 12 self-guided walking tours of the city's architecture is available for purchase at the
Providence Preservation Society
, 21 Meeting Street, +1 401 831-7440.
Streetscapes
Benefit Street and College Hill - The tree-lined Benefit Street contains an outstanding collection of 18th and 19th-century houses and mansions. Additionally, a popular overlook of the Downtown Providence skyline and Rhode Island State House is available at Prospect Park on Prospect Street. Popular with visitors to the city, Benefit Street is also host to the seasonal Providence Ghost Walk (below under "do"), where one may see the ghost of poet Edgar Allan Poe, who was said to spend extended amounts of time in the city, strolling down Benefit.
Prospect Park on Congdon Street: This is great park to just go and chill out. It overlooks the entire city, in a relaxed way. It is very easy to waste hours there just laying on the lawn or hanging on the benches. It is very common to see weddings taking place here because it is an ideal Providence Park for such a thing. It is a great spot for having a picnic, playing frisbee with your friends, or simply spending some time alone to sort out your thoughts.
Federal Hill: This famous Providence area is located just west of downtown, and is quickly and easily accessible from downtown by walking, biking, or trolley ride. This area is known for its Italian heritage and is one of the oldest neighborhoods in the city. Some have even compared it to Little Italy in NYC. In 1994, the movie "Federal Hill" was filmed here. At present, Showtime is filming its second season of their critically-acclaimed series "Brotherhood" in and around the Federal Hill area; a neighborhood referred to in the series as "The Hill", a fictitious Providence neighborhood representative of Federal Hill. There is plenty to do in Federal Hill, including shopping, dining, and nightlife. There are many nationally renowned Italian restaurants here, including Andino's, Old Canteen, and Cassarino's. There are also a number of retailers whose specialty is "Authentic Italian Food," such as Venda Ravioli, Via Roma, and Tony's Colonial. Gasbarro's Wines is also located on Atwells and carries an extensive variety of wines, both local and international. Impressive bakeries and pastry/confection shops also in the Federal Hill area are Scialo Bakery, Pastiche, and Ocean State Chocolates. Running roughly parallel to Atwells Avenue is Broadway. Broadway has been referred to as the "Bellevue Avenue" of Providence due to the number of large Victorian mansions lining both sides of the street, in reference to the famous mansion-lined Bellevue Avenue of nearby Newport, Rhode Island.
The East Side- The East Side (not to be confused with East Providence) starts on the east side of Waterplace Park and sits atop College Hill. Within the East Side, lies the Rhode Island School of Design and Brown University. One of the oldest parts of the city, the East Side is home to historical houses and buildings and a plethora of unique areas including, the Blackstone District, College Hill District, and the India Point district. The East Side is great for walking around, visiting eclectic shops along famous Thayer Street, and viewing other parts of Providence from the East Side's Prospect Park, located on Congdon Street (between Benefit and Prospect).
Thomas Street - Between Benefit (to the east) and North Main (to the west).
Westminster Street - Between Memorial Boulevard (to the east) and Empire Street (to the west).
North & South Main Street - Between Planet Street (to the south) and Meeting Street (to the north)
Weybosset Street - Between Westminster (to the east) and Dorrance Street (to the west).
Parks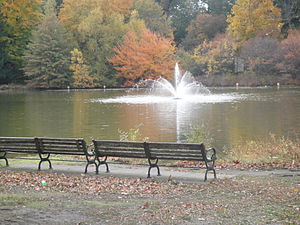 Roger Williams Park
, in the southern part of the city, is an elaborately landscaped 427-acre park contains seven lakes and numerous museums and other attractions.
Waterplace Park
, finished in 1994, is probably the most accepted recent addition to the city owing to its historic and unassuming look. Featuring cobblestone paths and unobtrusively shaped concrete form, the park follows Providence's downtown rivers quietly below the level of automobile traffic. You'll usually find a few people enjoying the park quietly. Come here during Waterfire (below under "do") to see the park at its best.
Do
Waterfire
is an event where 100 fires are set alight on the three rivers that pass through the middle of downtown Providence. The string of fires illuminates nearly two-thirds of a mile and residents and visitors gather to stroll along the river. The fires are burned from sunset to past midnight on select evenings (typically on weekends) from April or May through October.
Festivals
The feast of St. JosephIs celebrated on Federal Hill in May. It is sponsored by the Holy Ghost Parish. For further information, the following number is listed on the Order of the Sons of Italy Organization.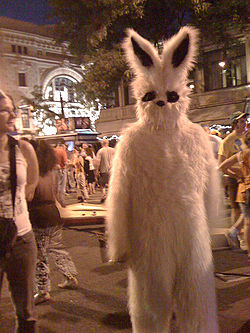 "The Stroll" is a twice a year event, in June and October, where you can walk Federal Hill and sample 22 restaurants and 11 boutiques and shops. For hours and exact dates call the Providence Warwick Convention and Visitors Bureau at +1 401 274-1636 extension 230 or 231, or register online. Included in the $20 price for sampling, are coupons for two free beverages.
Foo Fest is an urban street party hosted by AS220 each summer. It features numerous interactive art installations and games, with local artists showcasing their creations. Live, original, local musicians play all day, usually featuring one special guest headlining act. This festival caters to people and kids of all ages in the alternative or arts scene. $5. Times and dates subject to change each year.
Providence SoundSession is a popular, multi-genre summer music festival and concert series. Over the course of a week at number clubs, cafes, parks and stages, SoundSessions presents live gospel, reggae, pop, indie rock, hip hop, jazz, comedy, techno,and soul. Times, locations and ticket prices vary.
Columbus Day is celebrated on Columbus Day Weekend on Federal Hill. It consists of a parade on Sunday, outdoor vendors, and a who's who of Italian "hierarchy".

Bright Night ProvidenceDec. 31. Citywide. Artist-run arts oriented New Year's Eve celebration. Featuring hundreds of the best local sings, actors, dancers, acrobats, musicians, magicians and clowns to celebrate Rhode Island's most important cultural asset — its artists.

Pride Fest - Gay Pride Parade Occurs in the summer, usually in June. There are events in the daytime and then a parade at night. The parade lasts for about half an hour filled with dancing men, drag queens, old people driving in old cars, and people simply celebrating life. The streets of Downtown Providence are lined with some people in crazy outfits and others just there to watch and see what it's all about. It is a very popular event, and people tend to be intoxicated, so some pushing and bumping into people can occur. The floats are usually very well decorated and the people dancing upon them are very skilled at hyping up the crowd. When the parade finishes the gay bars downtown open up for special events complete with more drag queens, lots of dancing, and drink specials.
Arts and theater
In Downtown,
Providence Performing Arts Center
is Rhode Island's home for Broadway productions, children's shows, and popular entertainment.
AS220
is a community art center hosting musical performances, poetry slams, and other events.
Trinity Repertory Company
produces numerous premiere plays.
Entertainment arenas
address: 1 LaSalle Square

A 14,500 seat indoor sports and entertainment arena located in downtown Providence which brings in over a million people annually. It holds various musical events, Providence Bruins ice hockey, basketball, and almost every type of show for kids. Has events such as Champions on Ice, featuring Olympic medalist Michele Kwan and others, Coheed And Cambria/Avenged Sevefold Co-Headline Tour, and every PC Friars and Providence Bruins home game. Ticket prices will usually vary depending on the event, and can range from $30.00 for a concert to $150.00 for a special event (such as ice skating). Wheelchair accessible.
Rhode Island Convention Center Providence. A multipurpose facility available for almost any event, from dog shows to dinner banquets. Special Events at the Rhode Island Convention Center:
Northeast International Auto Show - Automobile extravaganza featuring hundreds of new model cars, trucks, minivans and sport-utility vehicles from more than twenty import and domestic manufacturers.
Rhode Island Spring Flower and Garden Show - More than twenty-eight gardens, lectures and demonstration, children's activities, bookstore and more than 200 garden-related vendor booths.
The Home Show - Largest and most informative consumer home show in southern New England. Features hundreds of exhibitors and displays of the latest products and services for building, remodeling and decorating homes. A variety of seminars and demonstrations.
Live music
address: 79 Washington Street

A midsized musical venue in downtown Providence a few blocks from the Providence Place Mall. It's housed in a historic five-story theater and hosts punk bands, alternative, hip-hop, blues, reggae, and many other types of music which are set for a larger venue, but can't quite fill the Roseland Ballroom or similar larger gigs. However, it also brings the groups who would normally be set for a much larger stage, such as De La Soul, Coheed And Cambria, or George Clinton and the P-Funk. With slightly less expensive tickets than a bigger venue and a much more personal experience, Lupos is a great show worth going to any day.

address: 5 Elbow Street

This establishment attracts a lot of different styles, but it's focused mostly on rock, alternative, and blues. Although it isn't very big, the inside is composed of exposed brick and wood and gives the place a warmer, cozier feel than your typical venue. It also has a bar and a very good sound system for a building that size. The bands that come to the lounge are usually progressing bands which have gotten some publicity, and regional bands of the area. Ticket prices are relatively low, ranging from $5-20.00. The Century Lounge is a good bet for a cheap show with a personal feel or to see and support local bands.

Club Hell

address: 73 Richmond Street

While known for its unique nightclub atmosphere, Club Hell has recently become a music venue as well. It is a small yet intimate place with bar and a dance floor. Past musical acts include local success story ZOX and The Von Bondies. Tickets usually run from $5-15.

Simon's 677

phone: +1 401 270-6144

address: 677 Valley Street

Simon's 677 is a great electronic music and hip hop venue. They have brought in some great talent over the years, especially on the underground electronic music scene. They also host a number of metal bands of both national and international notoriety. If you're looking for a spot to bang your head or jump into a mosh pit, this is the place you want to go.
Nightlife
Many nightclubs are located in Downtown, particularly along Richmond St.
address: 7 Dike St

Themed nights are what Therapy is all about. DJ's spinning House music for you entertainment. 21+ every Friday and Saturday.
Water Place Park, is connected to 3/4 mile of cobblestone-paved pedestrian walkways along the waterfront known as Riverwalk host to Providence's popular summertime Waterfire events, a series of bonfires lit on the river accompanied by Classical and World music. The Friday night concert series kicks off at Waterplace Park in June for free. This is a summer concert series for all Rhode Islanders featuring an eclectic array of performers ranging from jazz and folk to hip-hop and rock.
Learn
Providence is home to many schools. The city is also home to a few notable colleges.
Providence College 1 Cunningham Square, +1 401 865-1000,
University of Rhode Island Providence Campus 80 Washington Street, +1 401 277-5000,
Rhode Island School of Design 2 College Street, +1 401 454-6100,
Community College of Rhode Island 1 Hilton Street, +1 401 455-6000,
Rhode Island College 600 Mount Pleasant Avenue, +1 401 456-8000,
Brown University 71 George Street, +1 401 863-1000,
Johnson & Wales University 8 Abbot Park Place, +1 401 598-1000,
Roger Williams University Metro Campus 150 Washington Street, +1 401 276-4800,
Buy
Westminster Street
in downtown boasts much of the newest and most diverse local shopping in the city.
Thayer Street
in College Hill is the place to go if looking for a pleasurable and eclectic shopping experience. You will almost always see an eclectic mix of people here. Many of the stores sell quirky trinkets which make good gifts. Located near two colleges, it attracts many young adults. It could be called an "artsy" street with stores that sell, imported clothing, handmade crafts, clothes, art, housewares, and books.
Providence Place Mall
address: 1 Providence Place

Witness RI's most anticipated establishment since the building of the historic downtown Arcade; Providence may well be the only city in America where plunking down an enormous mall smack in the middle of downtown proved to be a great idea. The massive and well accommodating mall houses 3+ main floors of various shops, including a wide array of specialty items, clothing, shoes, books, and one IMAX and Showcase Cinemas theater each on the fourth floor. There are a handful of lower level restaurants to dine in as well as a food court on the third floor, and a Dave & Busters Restaurant on the fourth floor.
Shop the city
Rhode Islanders can be quite secretive about the city's hidden treasures. Outside of the state's most frequented shop spots lie many other great opportunities to find that special item or to simply discover something new and exciting.
Specialty Stores:
Comina Inc

address: 201 Wayland Ave

Sells a variety of items including jewelry and furniture. Items have a wide range in pricing from $10 to $1000 for larger pieces of furniture.

Frog and Toad

address: 795 Hope St

A 'Mom and Pop' shop for over eight years, Frog and Toad offers local art and handcrafted items, fair trade pieces from around the world, and an eclectic range of cards, jewelry, home goods, gifts for all occasions, and clothing. Complimentary gift wrapping.

Paper Nautilus Books

phone: +1 401 521-5533

address: 5 South Angell St, Wayland Square

A 16-year old local bookstore, and one of the last in the city. Boasting over 25,000 books with many rare copies and out of print books, it is a local gem. Paper Nautilus also has its lovely outdoor courtyard for reading during warmer weather as well as presenting local artists around the stores. In this vein there is also the "Arto-mat", a cigarette vending machine modified to dispense small pieces of local artwork.

Nanita Variety Store

address: 1364 Broad St

Sells a variety of adult items at average to moderate prices, including lingerie and other typical products found in adult stores.
Franklin Rogers Limited, 142 Westminister, +1 401 454-8170. Offers average priced men's wear specializing in fine suits and business attire, in addition to casual menswear such as sweaters and golf attire.

M&M Step & Style

address: 1282 N. Main St

Specializes in casual hip-hop clothing for males and females at reasonable prices ranging from $20-$50.

In the Bag

address: 141 Elmgrove Ave

In the Bag sells designer bags straight from New York. The owner will get you any bag you want from a designer's show room.

phone: +1 401 277-4949

address: 20 North Main Street

risdworks sells functional pieces designed by Rhode Island School of Design Alumni and Faculty. Great for finding fun and unique gifts.

address: 769A Hope Street

Local yarn store with a variety of fibers for knitting and crochet. Drop in Knit Therapy Wed evening 6:30PM-8:30PM. Classes available.
Consignment/Thrift:
Into The Wardrobe

address: 117 Brook St

Sells a variety of consignment items, ranging from inexpensive tops around $5 to some more moderately priced items such as gowns ranging in price from 30-up to $100.

Clothing Collaborative

address: 220 Elmwood Ave

Sells typical items found at a consignment shop, offers a variety of business dress and casual attire. Most items are moderately priced ranging from $5-$40.

Act II

address: 802 Hope St

Act II is a second-hand store that sells antique jewelry and designer clothes such as Lacoste and Burberry.
Other:
Easy Coast Tatooing and Body

address: 170 Atwells Ave

Clean facility and friendly employees.

Armageddon Record

address: 436 Broadway St

Armageddon shop is on Broadway,just a short walk from downtown. Run by two members from the band Dropdead, they specialize in rare and obscure rock albums and local music from around Rhode Island. They also specialize in music zines and t-shirts.

B-Sharp Music

phone: +1 401 223-2112

address: 265 Broadway St

A musical instrument shop, they stock rare and hard to find items from Orange and Hughes and Kettner guitar amps as well as making and stocking their own effects pedals. They also specialize in vintage instrument and amplification repair.
Eat
phone: +1 401 331-8829

address: 50 Aborn St.

Cuban Revolution features a signature, award winning Latin menu. Voted Best Sandwich in Rhode Island in 2003. Meals $6-$12.

phone: +1 401 272-2271

address: 10 Memorial Blvd

Ruth's Chris Steakhouse serves New Orleans-inspired appetizers, U.S. Fine steaks, fresh seafood, classic desserts, and an award winning wine list. This is a frequent place of interest for the New England Patriots football players. Private dining rooms available.

address: 125 North Main St.

Specializing in all your fine dining needs, Cafe Noir is the place for a classy and elegant dining experience. Known for its French cuisine with a twist, Cafe Noir is a must if you are new to the area or just passing through. Full bar available and also a variety of delectable desserts which are made fresh to order!

La Sonrisa

address: 320 Broad St Providence

Best Spanish food around. For $5.00 get a full course meal. From Chicken rice and beans to seafood salad. Order in or take out.

Tea in Sahara

phone: +1 401 709-3252

address: 69 Governor St.

Very affordable Moroccan appetizers, smoothies, and paninis. Hookahs, with a variety of flavors, are also served. Relaxed atmosphere and friendly servers. Free WiFi provided.

Local 121

phone: +1 401 274-2121

address: 121 Washington St.

Locally harvested, seasonable, and organic cuisine is served in the modern and elegant dining room. You can often catch live acts in the tap room which is adjacently located. The speakeasy downstairs is an ideal environment for everything from live music to business lunches.

phone: +1 401 369-7551

address: 250 Brook St.

Wings and Things is located on the Brown University campus on the East Side. They are best known for their wings and boneless chicken chunks, slathered in your choice of 20 sauces. As far as dedicated wing joints go in Providence, this is the one to beat. They offer dine-in, take out, or delivery. If you're in the mood for some spicy wings or want to test your machismo by trying to handle their highest heat, then Wings and Things is the place to go.

address: 311 Plainfield St

Family business owner Maria Meza opened her restaurant mid-2007. This Mexican family restaurant offers traditional and affordable dished while also using authentic ingredients at the same time. Most of their ingredients are brought in directly from Mexico, providing an authentic Mexican taste and experience. Maria hosts many festive Mexican traditional events throughout the year to give her customers a rare and memorable time.
Drink
Cafes
phone: +1 401 383-8393

address: 300 Thayer St

Part of a small New England chain, Blue State Coffee donates a percentage of its profits to local causes. It also serves light fare, such as sandwiches and soup.

phone: +1 401 621-7700

address: 199 Wayland Ave

Along with an extensive menu of typical cafe drinks, Teas and Javas also offers "coffee corretti," or spiked coffee drinks. There is also a large food menu.
Nightlife
Although Providence may be small compared to other states' capitals, it has quite a bustling nightlife. There are a variety of bars and clubs to suit any taste and price range - from hip eclectic bars in the artsy college area, to upscale martini bars downtown, techno and hip-hop clubs for the younger crowd, and casual pubs and brewhouses scattered throughout the city, there is certainly something for everybody. RI Law prohibits Happy Hour drink specials.
Sleep
Cope
On 1 March 2005, Rhode Island put a smoking ban into effect. Smoking in bars, restaurants, and other businesses is prohibited.
Stay safe
Providence is not known for scams or pick-pocketing so the biggest issues are drug and gang violence. If you do not use drugs then you should not have any issues. It is best to stay East of the highway 95 North with the exception of Federal Hill and a few other notable places, most of the poverty lies on the West end of the City.
Providence is a relatively safe city for its size, though proper caution and common sense should not be abandoned. The downtown area can be dodgy at night, especially around Kennedy Plaza and Washington Street. The club areas on the outskirts of downtown have also been known to draw some issues, though most are gang related. Another area to avoid at night is the Camp Street area of the East Side. There is some known gang activity and there has been some violent behavior in the past. Also, late nights on Federal Hill are a great place for drunken misbehavior, so exercise caution whilst in the bar and club area of this historic neighborhood.
As far as violent crime goes, it is best to avoid South Providence and the Olneyville neighborhoods of the city. There is little reason for most tourists to go to these locations, though the city's three main hospitals are relegated to the South Side. Olneyville's New York System was featured on Food Network's "Best Thing I Ever Ate" series, and while there are two other locations within driving distance of Providence (Rhode Island is the smallest state, after all), a quick visit here to get a few hot dogs will not result in a problem unless you decide to walk around the neighborhood a bit and it's 1:00 in the morning.
Consular services
phone: +1 401 454-1492

address: 49 Weybosset St

Portugal

phone: +1 401 272-2003

address: 56 Pine St, Hanley Bldg 6F
Go next