Puerto Montt
Puerto Montt
is a city in the south of
Chile
, just north of
Chiloé Island
.
Understand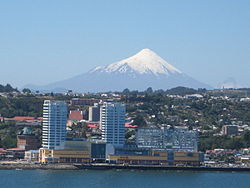 Puerto Montt, with great views of the ocean and towering peaks of the Andes, is a centre in Northern Patagonia for heading south along the Carretera Austral to Chiloé island, Chaitén, Torres del Paine, Puerto Natales, or east to Bariloche, Argentina.
Get in
By plane
By bus
Terminal de Buses Puerto MonttCentral bus station by harbour, 10-15 minutes walk from city centre. Many departures to cities in the north, as well as services to Chiloé Island. Cruz del Sur are the fastest, since they own many of the ferries crossing the strait to Chiloé island, and their buses bypass the waiting line; they take 2 hours and cost CLP$6,000. Buses to Bariloche in Argentina take around 7 hours for CLP$13,000.
By ferry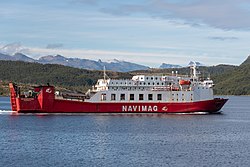 address: Diego Portales 2000 - near Puerto Montt bus station

Navimag has boats to Puerto Natales (Fridays), Punta Arenas and Puerto Chacabuco. The latter costs CLP$38,000 pp, CLP$100,000 for a car. Tickets bought in office in Puerto Montt often cheaper than bought online.
Kémelbus takes passengers to
Chaitén
by bus and ship in a daily, 10-hour scenic trip through the fjords south, "ruta bimodal" leaving 7am from bus station. Buy tickets in advance.
Ferries all the way to
Chaitén
have many departures in summer, but often only one per week in winter.
Naviera Austral
connects Puerto Montt with
Chaitén
. Ferry leaves at midnight and journey takes 10-12 hours. Simple seat costs CLP$19,000, berths are twice as expensive. Check their website for current schedule and pricing, as both vary with tides and seasons. If you just arrived by bus, walk west along the waterfront for a few hundred meters to reach their office.
The ferry to
Chiloé Island
leaves about 50 km south west of town, takes 30 min and costs CLP$1,000 pp and CLP$8,300 for a car. See entry for Cruz del Sur above.
Get around

Your feet will take you most places, but plentiful taxis and colectivos.

See
The area along the beach near the bus station is pleasant for a walk with things along the way to entertain you. Walking east you will get great views, especially at sunset, from the hills there.

Do
Alerce Andino National ParkAfter many of Chile's forests have been cut down and converted into efficient eucalyptus forests for industrial use, the remaining beautiful ones with still some interesting trees left have been converted into pricey and touristy national parks. Unfortunately, the park can only be visited during opening hours and camping in the park is not possible, which makes it unattractive for most keen hikers.
Eat
Many cafés, restaurants and bars in the centre, but a good place to have some seafood is a 15-20m walk, 1km or so southwest of bus station at the fishing community of
Angelmó
. Along with the seafood market there are some restaurants, and options for shopping Mapuche craftworks.
El Fogon de Cotele

phone: +56 65-227-8000

address: Av. Juan Soler Manfredini at Playa de Pelluco

The best beef in the south of Chile, grilled before your eyes. Excellent wines. Host Jeremy Law is a charmer.
Sleep
There is a multitude of cheap hospedaje in Puerto Montt, so don't despair if your travel guide only shows a few expensive ones.
Hain Puerto Montt Hostel

phone: +56 9 5375 5311 (WhatsApp)

address: Vial 839

New hostel open in 2019. Wifi, lockers, central heating. Real fire in cosy sitting room, kitchen. Free coffee in the mornings. Residential district, but restaurants and bars two minutes walk away, Lider supermarket and city centre 5 min away, bus station 15 min walk (1 km). Multiple power sockets on lower bunks only. Local Chilean, Carolina speaks English and is a helpful host. Call/text for seasonal discounts.

Hospedaje La Nave

address: Ancud 107

Downtown and close to the bus terminal. Nothing special about this hospedaje. Many options around the bus station to choose from, so don't panic if you arrive late. No breakfast but a huge bathroom and fantastic high pressure hot water shower makes for a recommendation.

Colectivo Bellavista

phone: +56 65 251730, +56 9 0912073 (cell)

address: German Vargas Poblete, Fortuoso 9

A friendly and quiet place, not so near to the city centre, free pickup and dropoff, breakfast included.