Pyay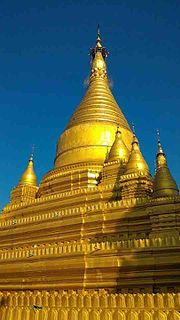 Pyay
or
Prome
(Burmese ပြည်မြို့) is a city (pop. 134,861 as of 2014) in the
Irrawaddy
region of
Myanmar
.
Understand
Pyay is an ancient yet modern city dating back to 638. It has interesting religious sights such as the giant sitting Buddha south of the city and the Shwebontha Muni Pagoda in nearby Pa Daung. It has three universities.
Most people come here to see the ancient ruins of Sri Kshetra aka the old Pyu city. Pyay is not yet that famous with western tourists.

Get in
By bus
From specific destinations:
By train
Pyay Main StationThe ticket counter is not open all day, so ask the locals before heading to the train station.
From specific destinations:
Yangon – Trains leave every day from two different stations in Yangon, central and Kyemyindine station. From Kyemyindine 07:00 & 11:00 to arrive at 06:00 & 22:00. (11 hr), respectively. From central Yangon at 13:00 to arrive at 21:30 (8½ hr). Upper class is 3,900 kyat and ordinary seat 1,950 kyat for the whole distance.
Pathein – The train leaves at 05:30 (2,000 kyat) and stops at Hinthada and . For the last 100 km from Kyankin to Pyay use local transport, because the train does not cross the Irrawaddy River. Boats are also an option.
By boat
There is a local ferry that leaves Bagan Sundays at 17:30 and arrives on Monday at 10:45, from 20,000 kyat.
Another local ferry leaves Yangon Fridays at 16:00 and arrives on Tuesday 24 hr later.
By plane
Pyay AirportNo scheduled flights from other Myanmar cities.
Get around
The with an Aung San statue in the middle can be used for orientation, because most destinations are close.
Most sights and the Main Station can be reached by foot if you stay in one of the guesthouses in the center. For destinations outside this range, take a motorbike taxi or shared ride/pickup along the main roads. A private ride to the Highway Bus Station is about 1,000 kyat. Shared pickups are about 500 kyat for 10-15 km.
As always, you can also rent a bicycle starting at 1,000 kyat from on of the guesthouses.

See
Shwe Sandaw PagodaThis pagoda offers the perfect view to take pictures of the giant, sitting Buddha (Sehtatgyi).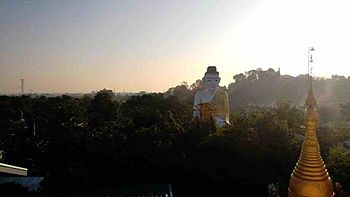 SehtatgyiGiant, sitting Buddha.

PagodaThis pagoda offers a great view of Pyay and the surrounding area.

Tharaykhittaya Archaeological MuseumAn interesting collection of artifacts found around the ruins, showing bronze, ceramic and stone funerary urns, silver coins and bowls, jewellery, carved stone Buddhist and Hindu figures as well as ceramic votive plaques.

Shwe Myethman PagodaA Buddha with glasses, and the 80 Buddhas Monastery. There are other pagodas within 400 m diameter around Shwe Myethman. Also see this , 2 km before Shwe Myethman.

Shwe Bontha Muni PagodaThe Shwe Bontha Muni Buddha is supposed to be one of three replicas of the Maha Myat Muni Buddha, believed to date to 554 BCE when Sandar Thuriya, the king, ruled.
Do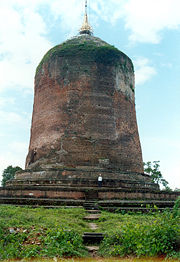 Sri KsetraEven if you have seen Bagan, this sight is well-worth the visit. In 2014, Sri Kshetra, Halin and Beikthano (the Pyu cities) have been declared UNESCO World Heritage.

Akauk TaungIn the cliff carved, beautiful Buddha statues. Best be seen by boat from the river. In addition, you can make a stop and explore the temples and Buddhas on top of Akuak Tuang mountain, which takes about one hour.
Buy
Several ATMs can be found in the city.
Pyay Say Gyi MarketTry this market for the typical items found on Burmese markets.

Night Market
Eat
May Ywet War Myanmar Restaurant

phone: +95 53 25 338

address: Kan St

A wide range of delicious curries. Top choice among all restaurants in Pyay.

San Francisco Restaurant

phone: +95 53 29 297

address: Strand Rd

Not very good value for money.

Grandma's RestaurantGood western and South Korean food by the owner Banyar Aung, who has worked as a cook in Kuala Lumpur.

Hline Ayar RestaurantGreat for sunset, including extensive English menu.
Drink
Some bars for the evening and including beer can be found south of the main roundabout. Some have English menus.
phone: +95 53 29 125

address: No.29, Market Street

Coffee, tea and little snacks.

Romeo Cold CafeAnother riverside option good for a chill and tea.
Sleep
Most accommodation options are central near the main roundabout.
Pan Ga Ba Guest House

address: 342 Merchant Street

This is the recommended choice in Pyay. Family run, cozy and clean, although a little outdated and moldy. Very helpful people and great breakfast (papaya, samosa, spring rolls).

Hotel 3D

address: No.1448, Shwe Tite Tan Street

Small but cheap rooms. Including a bottle of water. WiFi.

Myat Lodging House

phone: +95 53 25 695

address: 222 Bazaar Street

Not clean or comfortable.

Smile Motel

phone: +95 53 25142

Has 20 old but decent rooms on the first floor in a very central location. Room are small but include comfortable beds, bathroom, TV, fridge and AC. Very friendly staff and bell boys.

Pyay Strand

phone: +95 9 516 7684, +95 53 25846

address: 6 Strand Road

Bright, big rooms including bathroom and TV. Comfort of the rooms various, so make sure to see your room before checking in. Great location nearby the river.

phone: +95 53 24222, +95 53 12233

address: No.772 Strand Road

One of the more expensive hotels including all amenities, e.g. a swimming pool.
Go next
Long distance buses will start from the
Highway Bus Station
. For short distances, try the pickups or minibus along the main road out of town.