Queenstown (New Zealand)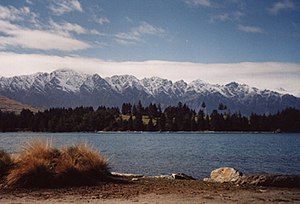 Queenstown
(Māori:
Tāhuna
) is a world renowned resort town in the
South Island
of
New Zealand
. The town sits on the edge of
Lake Wakatipu
and is surrounded by the
Southern Alps
.
Understand
What was once a small, remote, South Island town has transitioned since the 1980s, first to a busy ski destination, and now to a year-round tourist mecca and centre for adventure tourism. It is a world-famous destination attracting around 1.9 million visitors every year, undoubtedly the tourism capital of the South Island if not New Zealand, and a must-see stop for most visitors to New Zealand.
Situated on the shores of Lake Wakatipu, New Zealand's third-largest lake (291 km 2 or 112 sq mi) and one of Otago and New Zealand's most scenic lakes, surrounded by mountains, it's not hard to see why its stunning scenery draws people here year round. Queenstown happily caters for all visitors with a full range of attractions, activities, accommodation and eating options for any budget, from backpackers to five-star luxury. This popularity is not without its problems though - in many respects, Queenstown can be a tourist trap. However, reasonable prices and a few bargains can be found for those prepared to look for them.
Queenstown is a bustling town throughout the year, peaking over summer and during the ski season. There is a vibrant nightlife with the town's small central area packed with bars and restaurants. If you plan on getting a good nights sleep, then you might consider staying slightly out of town. It's common to see people on the streets up to 5AM returning from disco or pub. If you're looking for a relaxing scenic holiday,
Wanaka
(just over an hours' drive away) is smaller and more tranquil with less of a manic teenage party atmosphere.
Climate
Queenstown has a temperate climate with four distinct seasons, mild summers, cool winters, and rainfall evenly distributed throughout the year.
Local newspapers
The Mirror
. The first of two free community newspapers to hit the streets (on Wednesday morning),
The Mirror
is a great source for catching up on all things that are happening in the entire Queenstown-Lakes area. In addition to the news articles, there is a weekly restaurant review and profile of a band or DJ that will be headlining at one of Queenstown's many nightspots that week.
Lakes Weekly Bulletin
is an additional source of second-hand items for sale, community noticeboard, employment vacancies, film/gig guide, flatmates and rentals.
Visitor information
phone: +64 3 442 4100

address: 42 Camp St, Queenstown Central

Visitor information and brochures.
Get in
By plane
Queenstown AirportThe country's 4th busiest airport by passenger numbers. It is served by Air New Zealand, Jetstar, Qantas and Virgin Australia. There are direct flights from Sydney, Melbourne, Brisbane and Gold Coast in Australia, and from Auckland, Wellington and Christchurch in New Zealand. The frequency of flights varies seasonally, with the biggest number during the winter ski season. Typically, flying to Queenstown is more expensive than to other South Island destinations from Australia.
Queenstown Airport is known for its spectacular approach, the snow-covered mountains of the Southern Alps surround it on four sides and there is a complicated path to the runway. Low cloud and cold weather can close the runway, especially in winter, resulting in cancelled flights; however new precision approach equipment has considerably reduced this.
Queenstown Airport also provides for private jets and other aircraft, and there is a huge number of helicopter take-offs and landings each day. Scenic flights and heli-skiing are a popular attraction for the region.
From the airport, the cheapest way into town is on the
Orbus
service 1, which runs every 15 minutes and this costs $10 (cash) or $2 GoCard one way - pay the driver when boarding (2018 prices). Alternatively, catch the bus from the McBride St station on Kawarau Rd (10 minute walk from the airport) and the cash fare is $5 into town. Taxis into town cost about $35-45 while
Supershuttle
shared vans will take you straight to your accommodation for $26 for one or two people (Mar 2019).
By bus
Daily services from
Christchurch
,
Dunedin
,
Invercargill
,
Te Anau
,
Wanaka
and the
West Coast
(
Fox Glacier
,
Franz Josef
and
Greymouth
) .
National bus operator
InterCity Coachlines
and
Newmans Coach Lines
provide daily services in and out of Queenstown with connections throughout the South Island. Fares start from just $1 and can be purchased on-line or via numerous local ticketing agents including the i-SITE information network. Services arrive and depart from the Athol Street car park located in the main retail shopping area.
National sightseeing tour operator
GreatSights New Zealand
has daily tour options to Queenstown from Christchurch via
Mt Cook
and operates daily services to the
West Coast
including (
Fox Glacier
Franz Josef
and
Greymouth
).
There are also a number of smaller shuttle operators who connect to and from Queenstown including
Tracknet
.
Ritchies
have several return trips to Wanaka a day.
Many international tour companies carry holidaymakers into Queenstown by coach.
By car
Queenstown is 6.5 hours non-stop from Christchurch via the
Mackenzie Country
and the Lindis Pass, so allow a full day driving. The drive is spectacular, through the diverse countryside of New Zealand's South Island, with vast plains, rolling hills, multicoloured lakes and mountain passes. The Lindis Pass does occasionally close in winter due to snow; a slightly less scenic detour via
Oamaru
and
Alexandra
will add 2–4 hours to your journey.
Major international and all national rental car and camper van companies have offices in Queenstown.
By train
There is no rail line into Queenstown. There used to be a rail line from Invercargill to Kingston at the southern tip of Lake Wakatipu, but the line closed after a major washout in 1980, well before Queenstown's tourist boom.
The
Taieri Gorge Railway
scenic tourist train seasonally operates to Pukerangi and Middlemarch, with a coach connection for the remaining distance to Queenstown.
Get around
The Queenstown town centre itself is small enough to walk around. Parking is at a premium and can be hard to find during the day. For further distances a bus or car is necessary.
There are a number of tour operators to be found in the CBD of Queenstown. Transport from Queenstown's CBD to adventure activities is often part of the tour package. Some operators may pick up from your tourist accommodation.
By boat
A number of boat tours depart from the Queenstown Wharf at the bottom of the Mall - including the historic steamship TSS Earnslaw, affectionately known as the
"Lady of the Lake"
.
There is also a water taxi service.
By bus
Queenstown has a small local bus service operated by
Orbus
. There are four routes - the most useful for tourists being services 1 which run every 15 minutes to the airport and the Remarkables Park shopping centre. Fares are reasonable if you pay cash: $5 for most trips and $10 to the airport. If you are using a few buses, then get a GoCard for $5 and top it up with $10 to get $2 fares on all buses. The bus network has two hubs, at Camp Street outside the O'Connell shopping mall in central Queenstown, and on Kawerau Road at the Frankton shopping centre (junction of Highway 6 and 6A) near the airport.
By car
Renting or buying a vehicle
is convenient for getting around town, and to nearby areas. Many budget and premium car rentals provide services in Queenstown.
See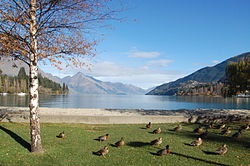 The spectacular mountain scenery and Lake Wakatipu dominate the view from most parts of town. Most attractions in Queenstown make the most of the view and it's enough reason to spend time in Queenstown even if you choose not to do anything else.
After that though, there are not a lot of things to 'See'. Its in the 'Do' category below where Queenstown really excels. Nevertheless, there are a few sights around the town to check out:
Skyline GondolaOne of the best views is from the top of Bob's Peak reached by the Skyline Gondola. Breathtaking views of Coronet Peak, the Remarkables mountain range and across Lake Wakatipu to Cecil and Walter Peaks. It's truly magnificent and awe-inspiring! If you're fit, you can save money by hiking up the Tiki Trail, a very steep 1-2 hr hike from town.

Queenstown GardensJutting out into Lake Wakatipu, these botanical gardens contain a variety of exotic and native trees and plants as well as a large pond and a range of facilities.

address: Upper Brecon St

Wildlife attraction featuring native New Zealand birds

address: Corner of Stanley and Ballarat Streets

Contemporary art exhibitions and artists studios. Has some paintings for sale.

address: 39 Camp St

Commercial art gallery selling the very large oil paintings by local artist, Ivan Clarke. As the prices start around $5,000, most visitors come away empty handed. The paintings are a mixture of local landscapes and a quirky set of dogs dressed as humans (The Lonely Dog).
Do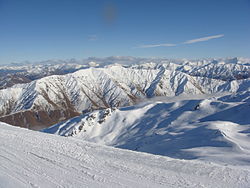 Getting out there and 'doing' is really what Queenstown is all about. Skiing was the first drawcard, but now it shares the limelight with a multitude of ways to test your bravery. If you can think of a way to get adrenaline pumping, Queenstown's budding entrepreneurs have probably tried at some stage to make a tourist attraction out of it. Bring a lot of money. It's easy to get swept up in the excitement, and ring up thousands of dollars of exciting activities quickly. A bungu jump, for example, can cost $200 or more, skydiving $300, jet boating $100, and so on (Mar 2019). And don't forget about the upgrades: a higher jumping-off point, photo and video packages, and more jumps.
Queenstown also has a full range of more gentle attractions, including relaxing tours, and luxury spas.
Skiing
Skiing
&
snowboarding
- There are four large commercial ski fields, and two specialist fields easily accessible from Queenstown. There are also a number of heli-skiing providers.
Coronet Peak - The closest to Queenstown, about 15 min from the Centre of town via a sealed access road (all other ski fields have unsealed/gravel access roads), features a full range of slopes.
Remarkables - Nestled in the Remarkable Mountain range which towers above the airport. Slightly smaller than Coronet, but still easily accessible from town. New lifts/runs and an access road upgrade for 2014.
Cardrona - In the crown range, approximately 60 min (58 km) from Queenstown along the windy Crown Range Road. It features mostly mid-level terrain and a large terrain park.
Indoor Snow Park - In the crown range across the other side of the valley from Cardrona, the Snow Park is a snowboard-orientated world-class Terrain park.
Snow Farm - Next to Snow Park, this is a specialist cross-country ski area.
Treble Cone - The furthest field from Queenstown, about an hour and a half away. Usually visited by people based in Wanaka, Treble Cone is seen as more of a skiers field and generally features more advanced terrain.
Adventure tourism
There are dozens of attractions and providers. The information centre in town acts as a booking centre and is a great place to start inquiries. Most businesses will have a store in the CBD where they can arrange things for you. Hostels and hotels generally have a stack of pamphlets showing what is on offer, and staff are generally happy to help with recommendations and bookings. All providers generally provide transfers from Queenstown.
Bungy jumping. Queenstown is home to the world's first commercial bungy jump, established on the Kawarau Bridge in November 1988 and still operating today.
phone: +64 3 450 1300

address: Gibbston Hwy (SH 6), Gibbston Valley

The 43-metre (141 ft) bungy jump off the Kawarau Suspension Bridge is the world's oldest commercial bungy jump, and the only bungy jump in Queenstown offering tandem jumps.

phone: +64 3 450 1300

address: Brecon St

47-m drop. Bungy or swing.

phone: +64 3 450 1300

New Zealand's highest bungy at 134 m. The bungy is 45 min east of Queenstown; shuttles depart are from the AJ Hackett office on the corner of Shotover St and Camp St in central Queenstown.
Nevis CatapultDescribed as "bungy jumping on steroids". Opened in August 2018.
Clay target shooting. Fire a real 12 gauge shotgun with Break One Clay Target Sports.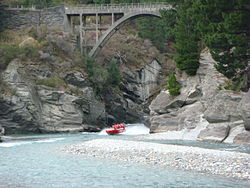 Jet boats. Exciting jetboat rides have been operating near Queenstown for 50 years. The jet boats carry passengers at high speeds over shallow waters performing stunts like 360-degree pirouettes in the water.
phone: +64 3 442 8570

address: Gorge Road, Arthurs Point

The original Shotover Jet is billed as "The World's Most Exciting Jetboat Ride".
Kawarau Jet launches into Lake Wakatipu from the centre of town.
LugeA fun-filled gravity ride for all ages and abilities. You control your own gravity-propelled vehicle down the track. Choose from two tracks, one scenic and gentle, the other advanced and adventurous. Children must be at least 6 years old and 110 cm (3ft 7in) tall to ride alone; those younger or shorter can ride in tandem with an adult.
Mountain biking package tours are available which include transport to specific locations. Or you can just hire a bike, grab a map and some tips and explore yourself. There is also a downhill service based on the gondola, where you can buy a day pass and use it as a lift for repeated runs, and Rabbit Ridge, a trail centre located in Gibston Valley, with over 40 km of tracks and shuttles.
Mountaineering
Parapenting/paragliding - launching yourself off a hill with a parachute to ride the "thermals"
Parasailing available on Lake Wakatipu
Quad-bike tours - are available, some of which are specifically designed to take in Lord of the Rings film locations.
Riverboarding - Swimming through rapids on a bodyboard.
phone: +64 3 442-7797

address: 37 Shotover Street

An action-packed and personally challenging white water activity.
NZONE Skydive

address: 35 Shotover St

First commercial tandem skydive company in New Zealand, operating since 1990.
White water rafting - Single and multi-day options, including a chance to go 'black water rafting' through an underground tunnel.
Ziptrek Ecotours - New Zealand's #1 original zipline tour. Amazing zipline tours through the forest high up on Bobs Peak and accessed by the Skyline Gondola. A fully guided tour with cool tree house architecture interconnected by fun ziplines, stunning views and a little bit of education on the environment, Queenstown history and local flora & fauna.
Other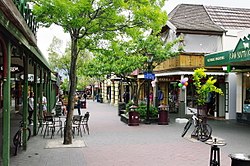 Cruise on the TSS EarnslawLake cruises on Lake Wakatipu offer great views of the town, surrounding mountains, etc. The TSS Earnslaw is a popular historic (1911) steamship which offers daily tours. There are also private charter providers.

CyclingHire a bike for the day and use your legs. There is a cycle path which runs around the edge of the lake from the centre of town to the golf course opposite.
Off the RailsGuided cycle tours on the world famous Otago Rail Trail from Sept to May. Departing from Queenstown. Includes bike hire, accommodation, breakfasts and transport.
Horseback ridingThere are some great tours that pick up in Queenstown and take you into the valleys, through rivers, etc. Pamphlets can be collected at any hotel or hostel to explore the dozens of horseback tours
Fishing and flyfishingLake Wakatipu is known for trout. You cannot buy fish from lakes in New Zealand, you have to fish for them yourself. Flyfishing is also available locally.
Garden tours - Queenstown has a number of superb private gardens as well as the centrally located public Queenstown Gardens jutting out into Lake Wakatipu. The walking track on the lake edge offers excellent views of Queenstown and surrounding mountains.
Queenstown Garden ToursOperate small group garden tours to 3 private residential gardens in and around Queenstown during spring & summer.
Golf - there are six golf clubs in town, with facilities (and green fees) ranging from everyday to five star.
Hiking - Queenstown Hill behind the town can be climbed in about 3/4 hours for a fantastic view (and unlike most things in Queenstown it's free). There is also a nice track around the lake.
Touring - the scenery surrounding Queenstown makes for excellent touring, with lakes, mountains and bush around vineyards and farmland. There are also a number of specific 'Lord of the Rings' themed tours which take in local film sites for the movie series.
Scenic flights
The helicopter and light aircraft flights around Queenstown and to Milford Sound and Fiordland are rated amongst the best in the world. It is easily possible to fly from Queenstown in the morning, cruise Milford Sound over lunch, before returning to Queenstown in the afternoon, replacing what could otherwise be a long day on the road.
phone: +64 3 442-2207

address: Queenstown Airport

Scenic flights to Milford Sound, Mount Cook and the Glaciers
phone: +64 3 441-4011

address: Queenstown Airport

Exciting scenic flights in & around Queenstown & Milford Sound, Lord of the Rings flights with the pilots who filmed the trilogy.
Glacier Southern Lakes Helicopters

address: 35 Lucas Place, Queenstown Airport

Offers a selection of daily scenic flights over the iconic landscapes of the Wakatipu and Fiordland and Mount Aspiring National Parks. Alpine or snow landings are part of all their flights or you can discover the uniqueness of a glacier landing, included in all their Milford Sound experiences.
Wine tasting
The southernmost vineyards in the world are close by.
Appellation Central Wine ToursAppellation Central's team of specialists guides will host you on a memorable day out in Central Otago wine country. Small group tours depart daily from Queenstown.
Buy
The town centre contains many tourist and souvenir stores but bargains can be hard to come by.
Top quality knitwear, Sheepskin and Possum Fur products, Greenstone (Jade) and bone carvings, and fine New Zealand wine is available for a price.
Outdoor suppliers are plentiful, with equipment for trampers (hikers), mountain bikers, skiers and snowboarders, and many others who use Queenstown as the launching-pad for expeditions into the nearby National Parks.
There are a handful of convenience food stores in the town centre, most open until midnight and beyond. Two large supermarkets are on the outskirts of town.
Most of the stores in Queenstown are open daily until 20:00 or 21:00.
address: Shotover Street

Small supermarket.

address: 64 Gorge Rd

Mid-sized supermarket
Frankton
The suburb of Frankton next the airport has the main supermarkets and large chain stores.
Eat
There are a huge variety of numerous eating establishments to be found in Queenstown, from all-hours takeaways to fine dining. Reservations for dinner are important at the best places most times of the year, and most nights of the week.
Due to the large number of restaurants, Queenstown is a culinary hub for New Zealand, and you will find regional produce such as pinot noir wine and Canterbury lamb on display in many of the restaurants. Fine restaurants also serve world-class seafood (local mussels, oysters and deep sea fish such as blue cod), game and red meat (farmed venison and beef).
There are also a number of wineries in the Gibbston Valley (20 minutes drive) with restaurants attached, most of which are open for lunch.
Budget
Budget food is a little harder to come by in Queenstown. There are a few small fish and chip shops, kebab joints, and the usual KFC and McDonald's. Your best bet if your looking to save a few dollars is to hit the supermarket. The other option is to wander around and check out daily specials on the sandwich boards of restaurants.
phone: +64 3 441 1232

address: 42 Shotover St, Queenstown Central

Legendary, large burgers, insanely busy most of the day.

Night n' Day

address: Church St

Hot food and groceries, also at 48 Shotover St.
Mid-range
At Thai

phone: +64 3 442-3683

address: Church Street

Thai cuisine

phone: +64 3 442-8588

address: Cow Lane

Pizza & spaghetti house

phone: +64 3 442 6768

address: 7 Beach St

Queenstown's seafood restauarant, serving South Island fish & shellfish.

phone: +64 3 442 9995

address: 14 Brecon St

tex-mex, casual dining

address: 45 Beach St

Japanese

Skyline Queenstown RestaurantTaste of New Zealand buffet offers delectable fresh seafood, salads, roast meats and delicious desserts.

phone: +64 3 442-8635

address: Upstairs, 7-9 The Mall

Competitor for the best pizzas in town, caters for everyone and family friendly (before the drinkers start to come in the evening)

address: 7 Rees Street
Splurge
phone: +64 3 442-6994

address: 17 Marine Parade

A great restaurant with ambience, sensational service. The menu is extensive and specialises in meat. The whole leg of lamb for 2 could feed 3! The wine list is very good. Prices are at the higher end but sensational for a special occasion. Smaller private room dinning opportunities as well as a great bar room for pre-dinner drinks.
The Bathhouse Fine Restaurant, Esplanade +64 3 442-5625 (fine dining)
The Bunker, Cow Lane +64 3 441-8030 (fine dining)
Public Kitchen & Bar Steamer Wharf +64 3 442-5969 (previously Wai Waterfront Seafood Restaurant).
Drink
Nightlife in Queenstown is largely about drinking and there are over a hundred licensed premises, with most in the downtown area. It's hard to walk down one of the central streets without tripping over a bar or three. Most bars stay open till around 4AM and it is lively most nights.
There are cheap bars popular with backpackers and young locals, and sophisticated and expensive wine, cocktail and imported beer bars. Many bars and pubs have sunny outdoor courtyards in the summer months, and roaring open fires in the winter. Major sports events are normally to be found on screen somewhere in Queenstown.
There are two small casinos for adult entertainment.
A selection of some of the most well known places follows:
address: Upstairs, Cnr Searle Lane & Eureka Arcade

A boutique nightlife bar, the upstairs bar has a lounge feel about it, warmed by an open fire with a private deck. It has an extensive cocktail list.

Bunker Bar

address: Cow Lane

Hard to find boutique bar on Cow Lane, upstairs with open fires and a private deck. It has an extensive cocktail list.

The Find

address: 53 Shotover St

Successor to the burnt down World Bar. Another popular backpacker bar. The specialty is cocktail-like drinks served in teapots.

Loco

address: Shotover St, attached to the base backpackers

Big backpacker bar popular with tour bus groups. Drink specials and theme parties nightly. Not the place for a quiet drink.

Red Rocks

address: 48 Camp St

Smaller backpacker bar with a ski lodge feel and a deck outside.

Tardis

address: Cow Lane

Late night drum and base/dance venue.

phone: +64 3 442-8635

address: The Mall, 7 Ballarat St

Later in the evenings this pizza bar turns into a popular drinking spot. Dining, drinking and partying under the sun and stars with an opening roof.
Sleep
Queenstown has a full range of accommodation choices, including backpackers, campsites, bed and breakfasts, apartments, motels and hotels. For the truly decadent there are also a number of 5 star boutique luxury lodges around the area, some of which often feature in 'best places to stay in the world' lists, and come with prices to match.
Budget
phone: +64 3 441-3922

address: 5-11 Church St

Voted the Best Hostel in New Zealand at the Golden Backpack Awards 2010 and at the HOSCARS 2011. Open fire in lounge area, a sauna and ski storage available. SkyTV cinema, TV lounge, modern kitchen, wheelchair friendly, travel services, girls only dorms, high speed Wi-Fi. Free tea and coffee, light breakfast.

phone: +64 3 442 7400

address: 48 Shotover Street

One of two YHAs in town - other is at 88-90 Lake Esplanade.
Mid-range
Splurge
phone: +64 3 441-0004

address: 3-5 Church Lane

The Spire Queenstown is a personal and inviting boutique hotel delivering guests a superior level of service.

phone: +64 3 441 0450

address: 2 Marine Parade

A luxury boutique hotel with a history that dates back to the Otago Gold Rush in 1866.
Stay safe
Queenstown is a relatively safe town. The most common offence committed against tourists in the Queenstown area are car break-ins.
Although limited in number, the police in the Queenstown area are intolerant of disorderly behaviour and are prepared to arrest for quite minor offences. As with anywhere in New Zealand, they have no tolerance for possession of drugs.
Other emergency services in the area operate on a volunteer basis. Occasionally you may hear what sounds like a World War II air raid siren go off in Queenstown. This is not signalling that someone is trying to attack New Zealand with nuclear weapons, but signalling volunteer fire-fighters to get down to the station because there's a house fire/car accident/kitten stuck up a tree.
Rental car companies have restrictions in their rental agreements to prevent their vehicles being operated on some high country roads. New Zealand's ski-field roads also take many visitors by surprise, but driving to suit the conditions will considerably reduce any risk.
Queenstown Police Station

phone: +64 3 441-1600

address: 11 Camp St, Queenstown Central

Remember, in an emergency, dial 111 and ask for police.

phone: +64 3 441 0500

address: 9 Isle St, Queenstown Central

General practice with after-hours accident and medical clinic. Has on-site x-ray and plastering for fractures and attached pharmacy.
Connect
There are several internet cafes to be found in Queenstown with cheap rates. Some hotels charge plenty for internet, others offer it free. Most of the town is covered by Wi-Fi. Pick up a prepaid card at reasonable rates.

Cope
Consulates
Czech Republic

phone: +64 3 409-0960

address: Level 2, 11-17 Church St

Mrs Vladka Kennet, Honorary Consul can issue emergency travel documents.

France

phone: +64 21 211 8299 (Mobile)

address: 24 Milward Place, Kelvin Heights

Mrs Beatrice Riso, Honorary Consul.
Laundromats
Go next
Queenstown can be used as a base to see the surrounding country, including
Arrowtown
,
Glenorchy
,
Kingston
, the Kawarau Gorge,
Cromwell
and
Wanaka
.
The drive to Glenorchy, 50 minutes to the northwest and alongside Lake Wakatipu for much of the journey, is rated as one of the top scenic drives in the world.
The Gibbston Valley wine area is 20 min drive, just before the ancient Kawarau Gorge.
More distant tourist destinations such as
Te Anau
and
Milford Sound
are a day trip away, with many tour operators providing bus tours and flights.
Fox Glacier
, the bigger and less crowded west coast glacier, is 4.5 hours drive north.