Raahe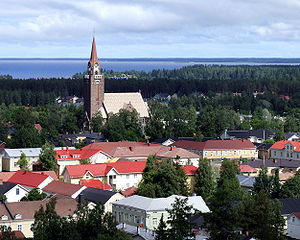 Raahe
is a city in the
Oulu
province, 74 km south of the city of
Oulu
. With 22,500 inhabitants, Raahe is the third largest town in the region. The town is strongly associated with the steel industry, through the huge Rautaruukki steel mill as well as Finnish rules baseball (pesäpallo) through the Pattijoki team.
Get in
By car
The highway 8 E8 running along the Finnish west coast from Tornio to Turku passes next to Raahe. Driving is the most comfortable way to get into Raahe.

By bus
The only form public transportation to Raahe is the bus, as the railway is used for goods transport only. Buses traveling on the section between Oulu and Kokkola (ie. generally from Oulu or Rovaniemi to Kokkola, Vaasa or Turku) stop at Raahe.

Get around
Information about local buses can be found
here
. You can use
route planner
to seek local bus routes between given locations and addresses. You can also walk, since the city is very small.
See
Raahe Church

phone: +358 8 213 2610

address: Kirkkokatu 10

Built in 1912 using granite stone from the archipelago outside Raahe.

Urho Kekkonen statue

address: Rantapuisto

A statue of Finland's longest serving president, Urho Kekkonen.

Ruukki Steel MillOne of the biggest steel mills in Europe, and a major employer in Raahe.

phone: +358 8 439 3335

address: Rantakatu 33

The sea museum of Raahe. Lots of stuff about seafaring and the oldest scuba gear in the world!

Old RaaheOld Raahe is also worth seeing, it covers a big area from the centre and consists of very old wooden houses. The market-square in Old Raahe is the Finland's second best preserved square-shaped empire style marketplace.

address: Rantakatu 51

A good view over Raahe and especially over the archipelago. They have a Chinese restaurant which serves delicious Chinese food.
Do
address: Rantakatu 7

A remarkable movie theatre!

Rännärin pesäpallostadionIn the summer season, you can go and see a match of pesäpallo - Finnish rules baseball. Pattijoen Urheilijat of the highest pesäpallo league (Superpesis) plays their home games at Rännäri field which is located in Pattijoki village, 5 km from Raahe.
Festivals
Buy
Lots of flea markets all over town, check them out.
Naavalainen

address: Kiertotie

Handicrafts.

address: Sovionkatu 13

Music store.

address: Kauppakatu 53

Music store.
Eat
Budget
Tori-Grilli

phone: +358 8 223 6824

address: Kauppatori

Inside the bus station. Traditional Finnish Grill cuisine. Veggie burger is definitely worth checking out, as well as tonnari (tuna burger). You should also try out the cornerstone of Finnish Grill food, Käristemakkara.

phone: +358 8 223 1886

address: Kirkkokatu 27

A pizzeria with good pizzas but terrible service.

Take Away

phone: +358 8 221 908

address: Antinkankaantie 30

According to some the best Finnish Grill cuisine. The kebab in this place is rumored to be the best in Finland.

Madonna

phone: +358 8 265 029

address: Lappastentie 1

Competes with Take Away about the best Finnish Grill cuisine title. It's just a matter of opinion.
Mid-range
Ararat

phone: +358 8 220 525

address: Kirkkokatu 22

Armenian restaurant in Kirkkokatu, not very chic but the food is great. The only Armenian restaurant in northern Finland.
The
hotels
also have mid-range eating options.
Splurge
N/A
Drink
Coffee
address: Laivurinkatu 11B

Over 100 different coffees and very good filled rolls.

Tiina-Elina

phone: +358 8 220 082

address: Kauppakatu 52

A bakery with a cafe.
Bars and pubs
address: Kirkkokatu 32

Pub Ottopoika

phone: +358 8 222 888

address: Laivurinkatu 18-20

Very cheap pint. Billiards table, darts, video games, jukebox, Internet.
Clubs
Blues Moon

phone: +358 8 222 888

address: Laivurinkatu 18

No blues in music selections, only in the people. Be careful.

Night Club Gina

phone: +358 8 221 288

address: Laivurinkatu 15
Sleep
Budget
address: Lohenpyrstöntie 53, Pattijoki

A trailer park at the shore, some kilometers north of Raahe.
Mid-range
phone: +358 8 840 3100

address: Uimahallintie 4

The price includes a ticket to the nearby swimming centre Vesipekka, WiFi in the room and breakfast.

phone: +358 8 211 6400

address: Kirkkokatu 28

In the city center.
Splurge
N/A
Go next