Rail travel in India
The Indian rail network is the third largest in the world, and the rail system is efficient, if not always on schedule. Tracks running well over 60,000 km help connect over 7,500 stations, ferrying nearly 20 million people every day. Although distances in India are long and Indian trains aren't the world's best, travelling on them can add a fascinating new dimension to a visitor's experience. There is virtually no better way to make friends with the local people and see the spectacular and diverse Indian countryside. On many routes the railways are the fastest and cheapest way to get around.
All trains in the national system in
India
are operated by the government-run
Indian Railways (IR)
.
Understand
There's a variety of trains in India, depending on the route you travel and whether you travel during the day or overnight. The more expensive and luxurious trains are as a rule air-conditioned, stop only at major stations, only have reserved seats or beds and in general offer passengers more space. In contrast, the cheaper services are slower, often have no air-conditioning and include non-reserved compartments. With a wide range of trains and accommodation types, you have the choice of travelling in a first class compartment comparable to first class in a western country, in a more down-to-earth (and likely more adventurous) way or something in between. If you are looking for a really luxurious experience, there are several luxury trains touring popular destinations around India.
As in most of the world, tickets can be purchased both online and from counters at railway stations. If bought online, the ticket can be printed instantly or mailed to you. Availability of tickets depend on when you travel, how early you book and which class you want to travel in. On busy routes and dates you may end up on a waiting list and will get on the train only if there are cancellations, or you may have to travel in a rather uncomfortable general compartment.
Also eating and sleeping much depend on the type and class of the train. Cuisine in India is very diverse, and as food is usually prepared on stations the train stops at and served on board, you'll have a chance to experience the local cuisine when you travel! In the lower classes such as Sleeper Class there are often also hawkers selling food.
If you plan to sleep on the train, have a look at the sleep section below; some places in the compartment are better than others for sleeping. In addition, the cheaper trains, often rather crammed, without air conditioning and stopping at every station may not offer an optimal environment for a good night's sleep. If you will stop for the night at a railway station you may not need to worry about finding a hotel room as many stations offer accommodation in retiring rooms.
Recently, there have been some new coaches (usually updated chair cars) and services (Tejas Express and Gatimaan Express) introduced by IR to make travelling on the rails more appealing, especially in light of increasing commercial aviation. These tend to be more comfortable and faster than other trains, since they are not only meant to be the best on the network but also to be the most modern. However, they aren't as common as other services - they aren't nationwide and mostly run on the Mumbai - Goa route - and tend to have more expensive fares. Soon, there will also be new multiple units introduced (Trains 18 and 20) that resemble certain European trains, with an increase in available features and upgrades.

Trains
Regular trains
All regular trains in India are either super-fast express, express/mail, fast passenger, passenger or local/suburban trains. The broad hierarchy from luxurious to normal is as follows: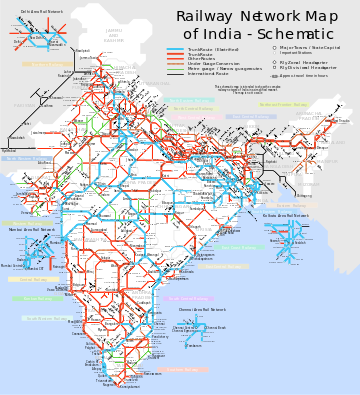 Rajdhani Express — These are fully air-conditioned superfast overnight trains, having only AC sleeper accommodation, that run between the National Capital (Delhi) and each major stations. They are the most luxurious trains of the Indian Railways.
Shatabdi Express — These are fully air-conditioned superfast daytime intercity trains offering sitting accommodation (no sleepers). They are the fastest trains in India.
Garib Rath Express — These are fully air-conditioned superfast overnight trains, having both sitting and sleeper accommodations, that offer more seats per coach at a lower fare.
Duronto Express — these are air-conditioned as well as non-airconditioned non-stop trains offering an experience of luxury combined with punctuality and to add to it the expense of travel is lesser than Rajdhani.
Note: Above are fully reserved trains. They do not have unreserved/general compartments (see below).
Jan Shatabdi Express — These are superfast daytime intercity trains offering both air-conditioned, non-airconditioned and unreserved Jansadharan sitting accommodation.
Express and Mail — These trains have both air-conditioned and non-airconditioned carriages, including both sitting and sleeper accommodation, and stops at major railway stations.
Fast Passenger — These trains have only non-airconditioned carriages,including both unreserved sitting (mostly) and sleeper (sometimes) accommodation. They stop at almost all stations on their route.
Passenger — These trains have only non-airconditioned carriages offering only unreserved sitting accommodation.
Local or Suburban — These trains offer both sitting accommodation as well as standing room and grab rails, and operate within and around big cities.
Mountain trains
Indian Railways operates trains to various hill stations in India. Travelling on them is a delightful experience, with the tiny trains passing through tunnels, over bridges, around curves and loops amid spectacular scenery. The three mentioned below are
UNESCO World Heritage Sites
.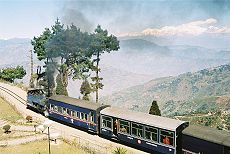 Darjeeling Himalayan Railway (DHR) —Winding its way over the steep and torturous foothills of the Himalayas, the 'toy train' takes six hours to cover the 83 km distance from New Jalpaiguri (NJP) to Darjeeling. Completed in 1883, the railway follows the road (and mostly shares the same bed) and uses an interesting system of reverses (the trains climbs into a sliding and then goes into reverse to climb up the next section of the hill, sort of like a sideways V) and loops (the track loops around and crosses itself) to navigate the steep climb. Batasia Loop, at a tor point near Darjeeling just beyond the town of Ghoom, is the most famous because of its great views.
Kalka–Shimla Railway —The railway from Kalka to Simla was completed in 1903, the final stage in the connection of Calcutta, then the capital of British India, with Shimla, the summer capital. The 96 km railroad runs through the magnificent scenery of the Shivalik Hills, up valleys ringed by high mountains, across 864 stone bridges built like Roman viaducts, and through 107 tunnels, the longest over a kilometer (1144m) in length.
Nilgiri Mountain Railway (NMR) —The steepest mountain railway in India, the NMR climbs the 6159 feet from Mettupalayam to Udhagmandalam over a distance of 46 km, with gradients of 1:12 in some stretches. Completed in 1899, it is the only railway in India to use a rack and pinion system to climb the steep gradient. The train passes through 16 tunnels, over 250 bridges and around 205 sharp curves, with the breathtaking scenery of the Nilgiri Hills visible all along the way.
Luxury trains
One of the luxurious ways to explore the most prominent tourist destinations and attractions in India is to opt for
luxury train travel
. The history of luxury train travel in India dates back to the days of erstwhile maharajas who used to travel in opulent personal carriages for purpose of state visits, hunting and personal occasions. In the year 1982, Rajasthan Tourism Development Corporation launched Palace on Wheels in collaboration with Indian Railways to revive the art of elegant traveling in India. Palace on Wheels was launched to promote tourism in Rajasthan and cater exclusively to the overseas traveler and offer them a hassle free, all-inclusive and opulent option of traveling to the royal destinations in Rajasthan. Palace on Wheels is still the most revered luxury train in India. Nowadays there are a total of 6 luxury train plying different routes and offering a total of 11 pre-packaged itineraries.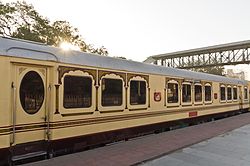 The Palace on Wheels— India's most authentic luxury train, the Palace on Wheels does an eight-day loop from New Delhi with stops and sightseeing tours in Jaipur, Ranthambore, Chittorgarh, Udaipur, Jaisalmer, Jodhpur, Bharatpur, and Agra. The train is equipped with modern amenities such as internet connection, live television, dining cars, bar & sitting lounge, guest cabins with attached bathroom and even a spa. The all inclusive prices of the Palace on Wheels start from US$340 per person per night on triple occupancy basis in the lean season and US$450 for the same in peak season (October–March). It is advisable to make bookings on this train well in advance as the train is sometimes booked out months ahead.
The Deccan Odyssey— Second luxury train introduced in India after the huge success of Palace on Wheels in Rajasthan, the Deccan Odyssey was a joint initiative of Maharashtra State Tourism Development Corporation and Indian Railways to promote tourism in Maharashtra. The itinerary of this luxury rail tour was designed to offer the cultural and historical insights to the guest at some of the most significant destinations in Maharashtra. The 7 nights/8 days itinerary beginning from Mumbai crisscrosses some of the most mesmerizing landscape along the verdant Western Ghats and the Konkan Coast. This luxury train tour package also includes 2 days halt in the tiny emerald of Goa, which is a very popular global beach destination. The Deccan Odyssey fare starts from US$315 per person per night on triple occupancy basis in the lean season (April & September) and US$425 for the same in the peak season (October–March).
The Golden Chariot— Named after the famous Stone Chariot in Hampi, a World Heritage Site, the Golden Chariot offers two weeklong itineraries across destinations in South India. Golden Chariot is the only luxury train in India offering luxury tours in South India. This Indian luxury train does two eight-day loop from Bangalore. There are two journeys offered by the train named Splendor of the South and Pride of the South. Whereas the Pride of the South covers destinations in the Southern State of Karnataka, the Splendor of the South cuts across the state borders and covers prominent destinations in Kerala, Tamil Nadu, Pondicherry and Karnataka. Some of the facilities offered in the train include restaurants, bar, lounges, gym, business centre, spa, Wi-Fi internet, cabins with attached bathroom and disable friendly coaches. The Golden Chariot Pride of the South itinerary begins from Yeshwantpur Station in Bangalore and covers Mysore, Srirangapatna, Kabini, the historical sites of Shravanabelagola, Belur, Halebidu, Hampi, Badami, Pattadakal, Aihole and finally the beaches of Goa during its 8 days loop. Prices of Golden Chariot Pride of the South starts from US$440 per person per night on triple sharing basis and reaches as high as US$754 for the same on single occupancy basis. The Golden Chariot Splendor of the South itinerary take the guests on voyage across Bangalore, Chennai, Pondicherry, Thanjavur, Madurai, Poovar, Thiruvanathapuram and Kochi. The attractions of this luxury train tour include Auroville, Vidhan Soudha, Rock Fort Temple, Kumarakom backwaters, Meenakshi Temple, Chinese Fishing Nets, Jewish Synagogue and UNESCO World Heritage sites Group of Monuments at Mamallapuram and Brihadeeswara Temple at Thanjavur. This prices for Golden Chariot Splendor of the South starts from US$545 per person per night on triple sharing basis and reaches as high as US$831 on sigle occupancy basis.
The Indian Maharaja— India's first privately run luxury train and winner of World Travel Award in the category of Asia's Leading Luxury Train; the Indian Maharaja connects Mumbai to Delhi and covers some of the most royal and culturally significant destinations in India. This luxury train trip includes tours to UNESCO World Heritage Site of Ajanta and Ellora, Taj Mahal, Agra Fort and Fatehpur Sikri along with Udaipur, Jaipur and Ranthambore National Park in Rajasthan. The Indian Maharaja itinerary asts for 8 days and 7 nights and the train tariff starts at US$595 per person per night for Silver Class twin occupancy and the most exclusive gold class single occupancy could cost as high as US $1590 per night.
Royal Rajasthan on Wheels— Royal Rajasthan on Wheels takes you on a whirlwind tour across princely land of Rajasthan. Spectacular fortresses, resplendent palaces and diverse culture await the travelers in Rajasthan which used to be the land of Rajput maharajas in the days of yore. The itinerary of the train include tours to Jaipur, Jodhpur, Udaipur, Chittorgarh, Khajuraho, Varanasi, Agra and Delhi and span across 7 nights and 8 days. Attractions include the Taj Mahal, Amber Fort, Fatehpur Sikri, Mehrangarh Fort, Ranthambore National Park and Eastern and Western Group of Temples at Khajuraho.
Maharajas' Express— Latest luxury train in India, Maharajas' Express is touted as the India's answer to the Orient Express. This luxury tourist train offers 5 itineraries 3 of which are pan-Indian tours and 2 are golden triangle tours. The Maharajas' Express journeys are named the Heritage of India, the Indian Splendor, the Indian Panorama, Gems of India and Treasures of India. Maharajas Express also happens to be one of the costliest luxury tourist train rides in the world with fare starting from US$3580 per person per journey and reaching as high as US $22000 per person per journey for Presidential Suite.
Sleep
Long-distance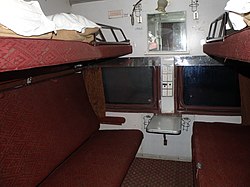 AC First class (1A), the most comfortable class to travel in, includes lockable four-berth and two-berth (coupe) compartments. The carriages are clean (and carpeted) and the toilets are much cleaner than any other toilets you get to see on Indian trains. Sheets, pillows and blankets are provided (an attendant makes the beds at night). AC First Class carriages are usually found only on important overnight trains and are the most expensive class.
AC 2 Tier (2A) Passengers sleep on four berths in an open cabin or on two berths that are positioned lengthwise along the side of the carriage. Each cabin has a curtain for privacy and each side berth has its own curtain for privacy. There are four toilets, two at each end of the carriage, and usually include a mix of western and eastern style loos, spottily provided with toilet paper. An attendant brings around blankets, sheets and pillows.
AC 3 Tier (3A) is similar to 2 Tier, the significant differences being the additional middle-bunk in the cabins (but not on the sides). Recently Indian Railways has added curtain in each cabin for privacy and each side berth has its own curtain for privacy similar to AC 2 Tier coach. This can make it uncomfortable to sit up straight during the morning if the person in the middle-bunk is a heavy sleeper. An attendant brings around sheets, blankets, and pillows in the evening. Because there are more people around, AC 3 Tier tends to be noisier than AC 2 Tier.
AC 3 Tier Economy (3E) is generally found in Garib Raths and a few Durontos - it is similar to AC 3 Tier but with the presence of a middle berth on the side too making it 9 berths in a bay. Denoted by "G". 3E is cheaper compared to 3A.
Sleeper class (SL) is the way most Indians travel and is an inexpensive way to get around the country. Berths are arranged in the same pattern as AC 3 Tier, six berths in a cabin and two along the side of the carriage, but there is no air-conditioning. The downside is that it can be hot, sweaty, and uncomfortable inside. The toilets are sometimes dirty and, in some parts of India, you'll find yourself sharing your cabin with passengers without a reservation. For the adventurous, this is the way to see India. Chai-wallahs and hawkers selling all kinds of items and food (mostly local food) roam the carriages and you'll find yourself sharing food and life-stories with the lower-middle-class families that travel on this class.
For typical layouts of the different classes, you can refer to these
unofficial diagrams
.
Short-distance
With the new coaches and services that were made and established in the last few years, the quality of these "daytime" coaches can vary immensely, even in the same class.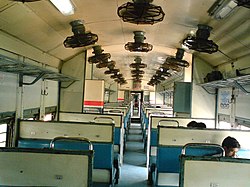 Anubhuthi (EA) is available on a few Shatabdis. It is essentially a modernized version of EC (see below) , with new coaches that have updated seats with a screen for each passenger. It is similar to Tejas Express chair cars.
AC Executive Chair Car (EC) is only available on some Shatabdis and Durontos. It is extremely comfortable, and is the most comfortable way to travel during the daytime.
AC Chair Car (CC), found on most daytime intercity trains, is also quite comfortable, but the seats are not as wide as EC. It is advisable to travel on this class wherever possible, as 2S (see below) can get quite crowded, particularly on busy routes.
Second seater (2S), available on most daytime intercity trains, is reserved seating in carriages without air-conditioning. Seats are comfortably padded, but the heat and dust outside can make it an uncomfortable ride in summer. Also,it is usually used by the passengers with a "general" ticket,and use the seats by paying the fine (usually ₹20) to the TTE. There is every chance that you may end up in a seat with four people which is actually meant for 3.Also, if you find that there are too many empty seats while booking online, don't expect the compartment to be empty.
Unreserved
Unreserved/General compartments (UR/GEN) have padded seats but the carriages are often packed with people sitting on the aisles and luggage racks. Not an advisable way to travel, even for short distances, except for the exceptionally tough and the curious that are in it for the experience alone.
Fares
Log on to
IRCTC
for details of trains and fares. Alternatively (and especially if you do not have an account yet), you can find trains, fare details and ticket availability on the Indian Railways section on
Trains/Fare/Accommodation Availability Between Important Stations
.
Despite the numerous types of trains and classes, the fare system is quite logical.
Shatabdi, Rajdhani, Jan Shatabdi and Garib Rath trains have fixed point-to-point fares. The fare one-way may be slightly more or less than the reverse-fare, due to different catering charges.
Different types of trains
Basically there are five types of trains:
Passenger Trains are slow trains that stop in all stations including very small stations.
Fast Passenger Trains are passenger trains that skip smaller stations and offer the same fare structure.
Express Trains stop only at major railway stations and charge higher than Passenger trains.
Superfast Express Trains skip some of the major stations and charge even higher than Express Trains.
Rajadhani and Shadabdi Trains are elite trains that offer only air conditioned coaches. They stop only at selected stations. The fare is quite high because all food is included.
Schedules
Before booking a ticket, do visit the Indian Railways website on
Trains/Fare/Accommodation Availability Between Important Stations
for information including finding a train, fare and ticket availability.
You can also get the whole schedule online
by train number
. A list of trains operating
between a given pair of stations
can also be obtained online.
Alternatively you can get a copy of
Trains At A Glance
, the national rail timetable, from any railway station. This is updated every July and remains valid until the end of the next June. It allows you to choose the best train for your needs, and find the name and number of the train for your destination. However, this is a general guide and does not contain a detailed list of all stations, neither does it contain all the trains that ply. A more specific guide depending on the "rail zone" is available at important stations on that zone. For example, a detailed guide on trains plying in West India (i.e. the Western Zonal Timetable) will be available at all major railway stations in West India.
This
private webpage (India Rail Info)
also lets you search for trains, fares and ticket availability and route maps (no account necessary). Only use this site for your information, but
always book online tickets, etc. via the official webpage (IRCTC) as stated under Ticketing
.
Ticketing
It is necessary to reserve tickets in advance in order to travel by any of the classes listed above (except
UR/GEN
). Tickets an be booked in two ways:
Internet booking
There are two different types of tickets that can be booked online:
An i-ticket (short for internet ticket) is a ticket that is booked online, printed at an IR office and couriered to your (Indian) mailing address within 48 hours of booking. The procedure for booking an i-ticket is as follows:
Log on to the IR Online Passenger Reservation Site.
Login with your username and password. If it's the first time you're using the site, you need to sign up first, by providing your name, email id, mailing address, telephone number and occupation. (note: Foreigners and Non Resident Indians must provide ISD: International Standard Dialing code as applicable to them at the time of registration on IRCTC.)
Type the station codes of the originating and destination stations, the date of journey and the class into the box in the centre of the screen, and select the 'i-ticket' check box.
Click on the Find Trains button. A list of trains operating between the given stations will appear.
Select the train of your choice from the list and click on the Book Ticket option. Before you do this, you can also check the fare, schedule etc. by clicking on the respective buttons.
A Ticket Reservation form will open on the page. Fill in the details and preferences of all the passengers (a maximum of six in a single booking), check the appropriate address box and click on the Go button.
A copy of your ticket with the details will appear on the screen. Click on the Make Payment button.
A list of banks opens up in a new window. Select your bank and give the details of your card (PIN number etc.). If you are using a non-Indian card, you must choose the "Axis" option.
A message confirming the booking will appear on the screen. The ticket will be delivered to the mailing address specified within 48 hours.
Check train pnr status
An e-ticket (short for electronic ticket) is a ticket that is booked online and printed instantly. Valid proof of identity (voter ID card/ PAN card/ passport/ driving license) of any of the passengers should be produced along with the ticket on the day of the journey. The procedure for booking an e-ticket is as follows:
Log on to the IR Online Passenger Reservation Site. Additionally there is an official app but, as for February 2017, payment with foreign credit/debit cards is not supported. So use the website instead.
Login with your username and password. If it's the first time you're using the site, you need to sign up first, by providing your name, email id, mailing address, telephone number and occupation. (note: they only take mobile phones from within India that start with the 91 country code.)
In the left section 'Plan my Journey', type the station names of the originating and destination stations and select the station codes from the autocomplete list that will appear. Select as well the date of journey and the 'Type ticket' must be E-ticket Press submit button.
The page will reload and show you the results. If no results are returned, try different station names (for example, from Agra city to Agra CANTT).
Results will list available trains ordered by departure time. Last part of each results there are the classes (for example AC1, AC2, AC3, SL). Click the wished class and, on top, additional information will appear.
The site will display information for that train, class and day, and will show other times available for that particular day and class for upcoming days. Search for the word AVAILABLE. That means you can book it right now. Other words mean join a waiting list. Click the 'Book now' link under the word AVAILABLE.
A Ticket Reservation form will open on the page. Fill in the details and preferences of all the passengers (a maximum of six in a single booking), check the appropriate address box and click on the Next button.
A copy of your ticket with the details will appear on the screen. Click on the Make Payment button.
A list of payment options will appear. If you are using a foreign credit or debit card, select the option 'Payment Gateway / Credit Card' and then 'International credit cards - Powered by Atom'. Please note that, as for February 2017, you can't purchase tickets with less than 2 days in advance using a foreign card because of legal restrictions. Click the Make Payment option.
The copy of your ticket with the details will reappear on the screen. You can carry the printed copy/SMS sent on your electronic copy on iPad, mobile phone, laptop etc. as well as a valid proof of identity with you on the day of your journey.
E-ticket is considered to be the fast, secure and best way to book tickets (especially Tatkal tickets).
Counter Booking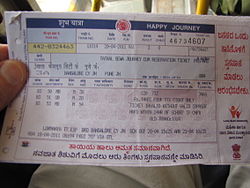 Tickets are also sold at most railway stations and at Indian Railways' 1000-plus computerised passenger reservation centres located across the country. For reservation at a counter, you need to fill in a paper form and submit it to the clerk at the counter (occasionally, after a long wait in a queue) along with the payment in either cash or by credit card. Credit cards are accepted at most important stations. Counters in the metros and other important cities accept Visa, MasterCard, AmericanExpress and Diners Card, as well as cards of most Indian banks. There are generally 1 to 3 counters where credit card payment is allowed, depending on the station.
Booking Tips
Avoid travel agents, touts, or anyone else who offers to book your tickets for a fee. It is usually much easier and cheaper to do it yourself.
If you are booking from abroad, the easiest is to use the online service and print e-tickets at home. i-tickets can also be sent by local courier to addresses in India (not abroad) and most hotels willingly accept delivery if notified in advance.
Train tickets are in high demand, especially during the summer (April–June) and winter (December–January) breaks. This means that without careful planning, it may be next to impossible to get tickets for long distance travel (for example from New Delhi to Mumbai). You can book up to 120 days in advance, but during the busy season, the tickets may get sold out quickly. So plan your journey well in advance.
Foreign nationals can get tickets from a quota reserved for them. In big cities, you have a specific counter or even a special office for them.
If you plan to travel in 1A or EC, tickets should be easier to get - they are generally in less demand. However, in view of the increasing tourist population, even those seats are hard to get unless booked at least 5 days in advance.
If the Indian Railways website seems to daunting, consider using Cleartrip.com or MakeMyTrip.com: Both offer comfortable booking for a small fee and will keep you updated on your waitlist status. However, these pages require IRCTC accounts.
12Go Asia offers a ticketing service for Indian trains that comes without the need of creating an IRCTC account. However, the service does not cover all the routes in India.
Non-confirmed accommodation
If you do not get a
Confirmed (CNF)
ticket, you may get one that is
Waitlisted (WL)
or in the
Reservation Against Cancellation (RAC)
status. If you've booked your ticket in advance, it will probably move from
WL
to
RAC
status or even to
CNF
status as time goes by (because of cancellations), so it is a good idea to check it periodically and keep your plans dynamic. Use the 10-digit
Passenger Name Record (PNR)
number, printed on the top right-hand corner of your ticket, to check the status of your ticket at any point of time, either on the
website
or by phone (dial
139
, from any landline telephone in India). The number will read like WL32/WL14 or similar, with the structure being WL(original position)/WL(current position).
You cannot get on to a reserved compartment if your ticket is waitlisted (you can only enter a General Compartment if available). Waitlisted caught entering the train are treated as non-ticket holders and fined. But if you have an RAC ticket, you are allotted 'sitting' berths i.e. in a Sleeper Coach, you and a fellow RAC ticket-holder share a berth so that both of you can travel sitting instead of sleeping. The Ticket Examiner then allots you a CNF sleeping berth as and when one is available due to last minute cancellations, no-shows etc. Depending on the train, the route and the season you are travelling in, the RAC ticket may get upgraded to CNF either as soon as the journey begins, mid-way through the journey or not at all. If you do not move up past a wait list (WL) ticket before the train leaves, you can apply for a refund, but only up to a maximum of a few hours after the train leaves (3 hours for short journeys, up to 12 hours for long journeys). If you bought your ticket online, a WL tickets receive an automatic refund.
Final berth listing will not be completed until at 4-hours prior to departure.
Once the checked list is posted, often final cancellations and government official reservations are re-positioned which allow WL and RAC to move up in the queue. It is also possible that the list moves downward as officials are granted priority seating, and later confirmed seats become non-confirmed. Booking non-confirmed is really a gamble, but more often then not the seat will become available, especially if your earlier in the queue.
If you arrive at the station while still waitlisted, wait until the train arrives. A reservation list will be posted at the beginning of each class or tier. Locate your name according to reservation number. If your name is not listed, your ticket remains non-confirmed. Track personnel will also be able to assist you.
Boarding without accommodation may still be possible.
The conductors are known to assist and turn a blind eye to providing foreigners and students available seats without a proper reservation. A bribe payment might be expected, use your own judgement. Any exchange will be discussed upfront immediately after departure, and expected to be completed upon arrival. Typically you will be placed in AC1 or AC2 alongside officials who will also be aware of your accommodation and will expect a partial payment as well. Because a number of seats are reserved for government officials in top tiers, it is easy for officials and conductors to "sell off" an accommodation.
Tatkal Quota
Many trains keep a small quota of seats known as
Tatkal
(meaning 'immediate', abbreviated as
CK
) for sale one day before the departure date. There is an extra charge for these seats. This option is also available at the time of booking online. Even with this extra quota (about 4% of the seats on a train) it can sometimes be difficult to get the train you want when you want it. For tatkal tickets cancellation no refund will be paid. Only four tickets can be booked at time. ID proof is must for Tatkal ticket booking.
What is PNR
It is a record in the database of Indian Railways computer reservation system (IR-CRS) which saves the journey details for a passenger or the group of passengers.
How to check PNR status:
There are many different ways to check your PNR status among which popular ones are listed below.
PNR status check online through websites.
Through mobile application.
Reservation status checks using SMS service.
Railway enquiry counters in your nearest railway stations
After final chart preparation
PNR status check online through websites:
Checking PNR status through online is the most popular way to check your PNR status.
Following are some renowned websites where you can check your PNR status.
# www.railwayenquiry.net This website is best place where you can reach to get any information regarding Indian railways. It can be PNR status, train between the stations, Fare enquiry, Train live status etc. This site will make you to get any train details without a pinch of effort.
# www.indianrail.gov.in This is Indian Railways official portal. It is designed and maintained by CRIS (Centre for Railway Information Systems).
IndRail Pass
The IndRail Pass is valid for all visitors to India. It is a pass which allows unlimited travel on all of IR's trains except:
Metro/Suburban Trains
Hill Railways
Luxury Tourist Trains
IndRail passes automatically expire 1 year from the date of issue. However, prior reservations are necessary. The IndRail Pass is generally not good value for money if you are staying for a month or more. However, if you choose to travel in Executive Chair Car for 2 or 3 journeys over a couple of days, it is worth purchasing.
IndRail passes are available for sale in railway offices at the following stations: Agra City, Agra Cantt, Ahmedabad, Amritsar, Aurangabad, Bangalore City, Howrah, Chandigarh, Chennai Central, Gorakhpur, Hyderabad, Jaipur, Mumbai Central, Mumbai CST, Mumbai Churchgate, New Delhi, Puttapurthi Town, Rameswaram, Secundarabad, Trivandrum Central, Vadodara, Varanasi, Vasco da Gama and Vijaywada.
General Sales Agents
are authorised to sell the IndRail pass at a 3-5% surcharge in New Delhi, Mumbai, Bangkok, Dhaka, Durban, Frankfurt, Helsinki, Kuala Lumpur, London, Muscat, New York, Paris, Port Louis, Sharjah, Sydney, Tokyo and Toronto.
Period of Validity
AC 1
First Class/
AC-2 Tier/
AC-3 Tier/
AC Chair Car
Sleeper Class/
Second Class (Non-AC)
Adult
Child
Adult
Half Day
57
29
26
One Day
95
47
43
Two Days
160
80
70
4 Days
220
110
110
7 Days
270
135
135
15 Days
370
185
185
21 Days
396
198
198
30 Days
495
248
248
60 Days
800
400
400
90 Days
1060
530
530
A month refers to 30 continuous days
For the 1/2/3 months pass, the rate for children is half of the adult fare rounded up to the nearest 5 dollars.
For all other passes, the discount is 50% rounded off to the nearest 1 dollar.
Fares have to be paid in US $ or Indian ₹. However, the dollar rate is fixed and the Rupee rate changes according to the exchange rate.
Even if you have an IndRail pass, reservations are compulsory.
You cannot reserve tickets online using an IndRail pass.
Foreign Tourist Quota
Many important trains also have a
foreign tourist quota
(abbreviated as
FT
) available for foreigners or holders of an IndRail pass. Payment must be in foreign currency, usually US Dollars or Pound Sterling, or in Indian Rupees (₹) backed with adequate proof of foreign exchange conversion (an ATM receipt is usually acceptable). A passport may also be required. There are very few seats available on this quota and, with tourism to India on an upswing, it is best to try for a seat at least two or three days in advance. Tickets on the foreign tourist quota cannot be booked online.
Intracity transport
The larger cities in India are generally served by more than one railway station. Most trains might halt at only one station, while others may stop at two to three.
Local rail network in cities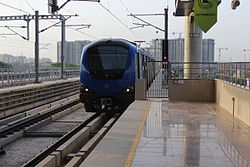 IR runs suburban railways in
Mumbai
,
Delhi
,
Kolkata
,
Chennai
,
Hyderabad
and
Pune
. Kolkata, Mumbai, Bangalore and Delhi have rapid transit (
Metro
) systems as well.
Recently, a monorail system started serving the city of
Mumbai
. But most of the lines are under construction. Local rail networks are often crowded, but are generally the fastest and cheapest way to get around cities which have them. Those who are not accustomed to it are advised not to travel in local trains as it might be quite troublesome for them to alight from the train at the correct station after pushing through a large crowd of other commuters.
Men are advised not to enter the
Ladies
compartment.
Trams
Tram systems in India were built by the British in Kanpur, Calcutta, Mumbai and Chennai. Only the Calcutta trams remain. Although appreciated for being emissions-free, they are not very popular due to the slow speeds.
Eat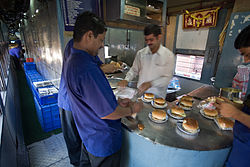 Hot food is available at mealtimes on almost every train in India. The food is mostly prepared in kitchens at railway stations and then loaded onto the train, either onto a pantry coach attached to the train (on most important trains), or just brought on board by waiters and distributed directly to passengers. In some trains food is cooked in the pantry coach of the train. In most cases, a waiter collects orders an hour or two before mealtimes and if you don't place an order, you may be left out in the cold, or if you are lucky you can get some food at many railway junctions. However, in trains having a pantry car, breakfast is prepared on board the train and you do not have to place an order beforehand. You can tell which trains have a pantry car because there is a
P
listed with the classes available in
Trains at a Glance
. Meals available for lunch and dinner are generally vegetarian and non-vegetarian thalis (rice, dal, a vegetable (chicken or fish curries for non-veg thalis), yogurt (often sour), chapatis and occasionally, a sweet dish) or (veg/egg/chicken) biryani. Chilli chicken (sweet and sour chicken wings with chillis) is often available. Breakfast normally onsists of vegetable cutlet and bread, or omelette and bread. Pantry car service always includes the sale of tea, coffee, cold drinks and "namkeen" (chips and other salty snacks). Note that while pantry cars mostly re-distribute food, they do have a small kitchen and, if you're sick of the daal/chappati that shows up in the thali, it doesn't hurt to visit the pantry car and see if they can rustle up an omlet or some fresh chicken curry with parathas. The quality of food varies, with the fare being better in the South, North and West. The concept of hygiene, taste, and cuisine changes from region to region.
Most pantry cars and restaurants at stations are now managed by
Indian Railway Catering and Tourism Corporation (IRCTC)
. IRCTC provides satisfactory quality and hygienic food aboard trains and at stations. IRCTC kiosks are ubiquitous where one can find snacks/breakfast/packed foods/ biscuits/ cookies/ mineral water etc. At major stations, IRCTC has licensed
Comesum
to open fine-dine restaurants. There are also
Jan Aahar
outlet at many junctions which provide tasty and healthy food at affordable prices.
On the Rajdhanis, Shatabdis and Durontos, all meals are included in the fare and are served at your seat at mealtimes.
If you are finicky, bring enough food and bottled water for the journey including delays: bananas, bread and chocolate bars are good basics to have. Most important stations will have vendors selling all kinds of edible stuff, but the usual caveats about eating in India apply. Often, snacks and food reflect local specialities.
Cope
Smoking and consumption of alcohol on all trains and at all railway stations is prohibited. There is a steep fine for violation of these rules.
Most larger Indian train stations offer a standard set of facilities including cloak rooms to leave your luggage (slow and bureaucratic but cheap and reasonably safe; you must lock your own bag and show a ticket), First class waiting rooms (no touts or beggars), a computerised reservation office for advance bookings and a booking office for unreserved/same-day tickets. Restaurant facilities vary widely.
Several railway stations also have touchscreen kiosks which help you track your train (real-time running information) and also provide a host of other details regarding bookings, schedules etc.
All railway stations in India have signs in English mentioning the station name and details of facilities at the station. If you are still in doubt, asking around might be a bit of a problem because of the language barrier. In such circumstances, and in case of an emergency of any sort, contact the station master or the station superintendent for assistance. All station masters and superintendents speak English and will help you out.
Don't just look at a map and assume a short trip, it's best to check Trains at a Glance before making your plans.
Restrooms on Indian trains are usually of the squat variety (most carriages have two squat-type and two sit-down type toilets). The cleanliness tends to deteriorate over the duration of a journey, but on longer trips toilets are cleaned at intermediate stations. Washbasins are provided both inside and outside the toilets. Shower cubicles are available only on AC First carriages in Rajdhani Express trains.
Enjoy the train, and speak to your fellow passenger. You may meet fascinating, wonderful people.
In all the states, all the non-AC coaches can be over-crowded because of local ticket-less passengers. At the time you may not find an authority to complain. So, better to adjust in the situation and try not to argue and complain. AC coaches are fairly safe from this problem.
In all Reserved classes, an identity card is needed per ticket (PNR), though whether your ID will actually be checked depends on the conductor.
People who serve you inside an AC wagon, like the Pantry boys, or the AC attendant (who would provide you blankets,sheets and pillows) may expect passengers to tip them. If you are not very forthcoming, they may approach you for a tip either during the journey or near the ending hours of the journey. So its advisable to give a small tip in the range of ₹10 or ₹20.
Stay safe
Always watch your bags, especially in and around train stations. Once on a train, chain and lock your bags to the hooks provided under the lowest bunk, or keep them at your head. Make sure to also lock any exterior pockets (keep your toilet paper, and anything else you'll want on the outside). You can buy chains from chain-and-lock sellers who walk around train stations and trains.
Do not take food from any unknown passenger if they insist to do so. Just avoid it with some polite words. Otherwise you may not be able to distinguish between a thief (he/she'll intoxicate you) and a true passenger.
Sleep
In the train
The top (UB) and side upper (SU) bunks are best if you are the sort who likes to sleep early or late. The middle (MB) and bottom (LB) bunks are converted into seating area, so you will be forced to stay awake if everyone else in your compartment wants to stay up. Side lower (SL) and middle (SM) bunks are a great idea if you want a window seat, but they are a bit smaller than the other bunks, so don't choose them if you are a tall person. Note that 1A and FC classes do not have MB, SL or SU bunks, while 2A does not have MB or SM bunks.
In stations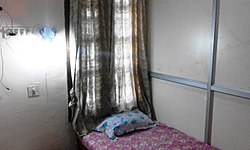 IR operates two hotels in Delhi and Howrah. Passengers can book independent rooms or dormitories on production of tickets. Known as the
Rail Yatri Niwas
, the facilities are very basic and the rooms are quite shabby. There is a self-service restaurant.
There are also two
Railway Hotels
in
Puri
,
Odisha
(formerly Orissa) and
Ranchi
,
Jharkhand
, which offer far better service than the ones in
Delhi
and
Howrah
.
Retiring rooms
are available at most major railway stations across the country. They offer basic facilities including a bed, mattress, blankets, drinking water, closet, toilet (and in the case of airconditioned rooms) a television. One has to produce a reserved journey ticket in order to be able to book retiring rooms.
Dormitories
, both airconditioned and non-airconditioned, are available at almost all railway stations in India.
Rail Yatri Niwas

phone: +91 11 2323-3484

address: New Delhi Railway Station

Rail Yatri Niwas Howrah

phone: +91 33 2660-1742

address: Howrah Railway Station

Railway Hotel

phone: +91 6752 222-063

address: Puri Railway Station