Rail travel in the Netherlands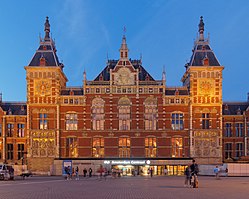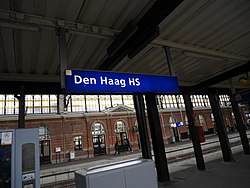 Prioritising the traveller, the Dutch railway network is a great way to cross the country. Practically everywhere is reachable by train, having a network of of track. The Dutch network is a well-maintained and well-travelled network. A free travel pass is available to students in the country. Beyond that, the Dutch have eradicated paper tickets fully, using the
OV-chipkaart
, often shortened to
OV-chip
or
chipkaart
, instead. The card either holds data of the route you're travelling (disposable card) or it holds credit or a travel product (personal and anonymous card). The OV-chipkaart (which also works in buses, trolleybuses, trams and metros) is what sets Dutch public transit apart from that of other countries.
This distinction is a recent development, with network maintainer ProRail improving the network, adding and revamping stations during the first quarter of the 21st century. Historically though, the Dutch were late in starting a rail network, having horse-drawn barges on their extensive inland waterways as a perfectly fine alternative for both cargo and people. After the first line proved successful, the 19th century saw a jump to the 'new' mode of transport, only to be too enthusiastic about railways and see many lines fall into disuse or be completely demolished in the 20th century.
Nederlandse Spoorwegen
(NS, Dutch Railways) have not had a monopoly on rail travel since the 1990s, allowing more domestic and foreign railway operators to join the fun. In modern times, the network can be crowded, but trains are still a great way to see the country.
Structure
The Dutch rail network connects virtually all notable destinations from
Amsterdam
to
Zoetermeer
and
Zevenaar
to
Assen
. There are roughly as many stations as there are municipalities in the country (about 400). The entire network consists of of track, three quarters of which is electrified. The largest city without any means of rail-bound public transport is
Oosterhout
(North-Brabant), with some 44,000 citizens. The biggest region that cannot be reached by rail is
Zeeuws-Vlaanderen
(Zeeland), which borders
Belgium
, but would be fully detached from the rest of the Netherlands were it not for a single road tunnel crossing underneath the Western Scheldt estuary.
Passenger rail companies
Breng most notably focused on bus and trolleybus connections in Arnhem and Nijmegen, Breng only runs a single train service in the Achterhoek: Arnhem — Doetinchem, creating a quarter-hourly service to Doetinchem in cooperation with Arriva, which has its trains turn around at Winterswijk instead of Doetinchem.
R-Net operated by NS runs the concession for the Gouda — Alphen aan den Rijn line. R-Net is a sort of quality label for frequent public transport within the Randstad area.
R-Net operated by Qbuzz started running trains on the MerwedeLingeLijn (Dordrecht — Geldermalsen) in early December 2018. This is the first rail service operated by Qbuzz, which, as the name implies, has thus far only serviced buses and trams, the latter in a joint venture with bus operator HTM.
Blauwnet is not so much an operator as it is a joint venture. Arriva and Keolis share lines in Overijssel and have agreed to run these trains in a somewhat more neutral livery, namely the blue livery of Blauwnet (Blue-net). The lines included are four services from Zwolle to Emmen (Arriva), Enschede, Kampen and Oldenzaal (Keolis), Almelo — Hardenberg (Arriva), as well as two international lines: Hengelo — Bielefeld (Eurobahn, a sister company of Keolis), and Enschede — Gronau (DB Regio, a sister company of Deutsche Bahn, as is Arriva).
Historical background
Starting out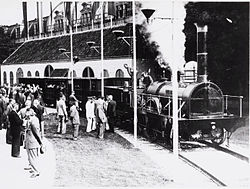 Rail transport did not catch on in the Neterlands until 1839. There were many plans to connect the country by rail, but unlike most European countries, the Netherlands didn't need a rail network. A perfectly workable system of horse-drawn barges (
trekschuiten
) was already in place, using the country's famous canal network. Shipping companies also lobbied against railways, causing attempts to raise funds for railways to fail dramatically.
The most viable line was one proposed by W.A. Blake, who wanted to connect Amsterdam to
Cologne
(Germany) via
Arnhem
. His fundraising efforts failed, but one of his employees, W.C. Brade, continued the plans, changing the route to connect the capital to
Rotterdam
, with a test stretch running to
Haarlem
to test economic viability. Wealthy investors began to favour a connection between the ports of the Netherlands, Amsterdam and Rotterdam. King William supported the plans because he was reluctant to let his country fall behind its neighbours which were all working on their first railways.
With the King's support, construction of the railway started. However, the Netherlands lacked engineers and had to import them, mainly from
England
. Even with these engineers, some odd choices were made. The railway that had to connect to foreign railways was built on a broad gauge instead of the standard gauge that the neighbours used, making the tracks incompatible until they were converted.
On September 20, 1839, a train pulled by
De Arend
('The Eagle') with
De Snelheid
('The Speed') as backup, left
Amsterdam
for
Haarlem
and arrived without any major problems 30 minutes later, covering a distance of 16 km (9.9 miles). Commercial transport on the line commenced four days later.
Expansion and boom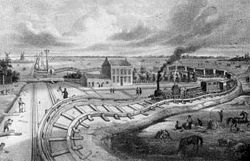 Most railways were built on popular demand, and building only commenced once individuals had raised the funds. Nothing was centralised. By 1850 several main railways were constructed, yet the Netherlands was significantly behind its neighbours. Moreover, the major rivers of the country hadn't yet been bridged, creating a major divide between the Netherlands above the Rhine and the Netherlands below the Rhine. The networks that had come to exist were badly linked if they were linked at all. In Amsterdam and Rotterdam, the main railway hubs at the time, competing companies had different stations, both on opposite edges of the towns.
In 1860 the
Nederlandsche Centraal-Spoorweg-Maatschappij
(NCS) constructed a line connecting
Utrecht
to
Kampen
via
Amersfoort
and
Zwolle
. In 1869 Utrecht became connected to
Eindhoven
via
's Hertogenbosch
and two years later
Lage Zwaluwe
was connected to
Dordrecht
, finally spanning across the rivers Meuse and Waal (Rhine delta). The
Oosterspoorweg
(Eastern railway) was constructed partly in 1874 and partly in 1876, connecting Amsterdam to
Zutphen
.
By 1860 the government of the Netherlands finally realised that railways might be of national importance, creating the
Spoorwegwet
(Railway law), meaning that the government finally started funding and exploiting railways. The law proposed ten railways, labelled A through K, that would connect the Netherlands. These railways would not yet be used by a government-owned company, but instead by the National Railways (
Staatsspoorwegen
or SS). These lines were:
The SS had a rivalry with the HSM (
Hollandsche IJzeren Spoorweg-Maatschappij
), both of which tried their best to take as many passengers away from the other by siding with third parties, taking over their railways or using their shipping services to get passengers across a river that couldn't be crossed by using their railway.
The
Staatslijnen
weren't enough to cover the entire country, with the east being particularly left out. Many local railways (
lokaalspoorwegen
) and tramways were built by non-governmental organisations started by individuals, often traders or investors. The tramways didn't have to install signals, whereas the railways were required to. The downside of the tramways was that they had to deal with speed limits as they often used pre-existing roads.
Connections to neighbouring countries were also started by individuals. Staatslijn B already connected to Germany near
Enschede
. Additionally, the line between
Turnhout
(Belgium) and
Tilburg
was built by
Grand Central Belge
in 1867 and
Boxtel
was connected to
Wesel
(Germany) in 1878 by the
Noord-Brabantsch-Duitsche Spoorweg-Maatschappij
(North-Brabantic-German Railway Company).
The 1900s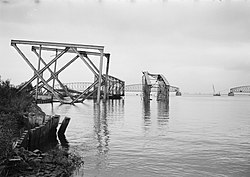 The rivalry on the railways led to many mergers. A single state-owned railway company, however, never came into being. The SS and HSM were the main winners of the rivalry. They joined forces in August of 1937, forming the
Nederlandsche Spoorwegen
(Dutch Railways), of which the state became the owner. Most railways were then operated by the NS, excluding several border-crossing and local railways. This remained the case for some sixty years, until 1995.
During the 1900s many lines were electrified, the first of which was the 1908
Hofpleinlijn
(
Rotterdam
-
Scheveningen
). The line was electrified with 10,000 volts of alternating current. In the 1920s the ZHESM, which owned the line, developed 1500 V direct voltage, which was used first on the
Oude Lijn
(Old Line; Amsterdam - Rotterdam) in 1924. The 1500 DC voltage became the standard electrification for the Netherlands and is used to this day on almost all electrified lines.
With road traffic on the rise, many local railways were no longer profitable. Most of them were abandoned in the 1930s and after the second world war.
By 1934 the first diesel train, the Mat '34, had been put into service. The Mat '34 was also the first streamlined train design, which would be used on all newly-built electric trains a year later. Steam locomotives were used less and less after the second world war. The last steam train in regular service ran on January 7, 1958. In 1956 the class system in trains was changed across Europe. Third class became second class, second class became first class and the (rarely used) first class was abolished.
Reorganisation and rivals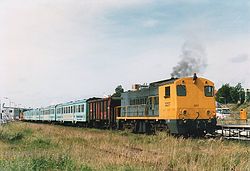 The 1990s brought reorganisations to the
Nederlandse Spoorwegen
, which meant a divide in maintaining and using the railways. The running of the railways stayed with NS, and the maintenance and upkeep of the infrastructure was shifted over to the newly formed
ProRail
. NS was divided into
NS Reizigers
for passenger service and
NS Cargo
for transport of goods. Local concessions were put in place to open up the market to other private companies, and end the monopoly of NS.
The first competition came in 1996, when
Lovers Rail
started running trains from Haarlem to Amsterdam, which turned out unpractical for people in
IJmuiden
and
Lisse
, as well as visitors to
Keukenhof
. Lovers Rail ceased operations in 1999.
More successful were the regional lines outside of the
Randstad
. The first of these was
Mariënberg
-
Almelo
in 1998, followed by the Northern Lines in
Friesland
and
Groningen
in 1999 and 2000. As of 2017, local lines are run by Arriva, Breng, Connexxion and Keolis. Several lines in the Randstad are planned to be converted into metro lines around 2020 in order to improve public transit there.
Services
Classes of travel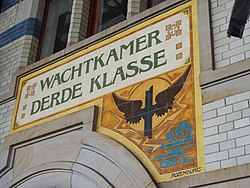 The Dutch classes of travel follow the European standard, which is divided into two classes:
Tweede Klas (second class), indicated on carriages with a simple 2, offers seating of a decent quality which outside of rush hour are perfectly fine. As soon as rush hour starts, expect little space, especially when travelling with loads of luggage. There are almost always overhead storage racks for luggage, but even a simple backpack may prove too big for the little space that is available in second class. Especially the SGM Sprinters have little or no room to move. Seating is the main problem in second class, aside from overcrowding during rush hour. Intercity trains, most notably the double-deck VIRM and DD-IRM, have silent areas or coaches, which are often quieter and are a de-facto midway solution between first and second class, as overcrowding is not as big of an issue.
Eerste Klas (first class), indicated by a 1 on the side of carriages offers more space between seats, electrical outlets in most trains, and higher quality seating (though higher quality often refers to leather instead of fabric seats). The first class, however, does have a notable price difference that might very well not be worth it for frequent travel according to most Dutch train travellers. As a result, first class is rarely overcrowded. Booking a seat in advance is only possible on international intercity journeys with, for example, the ICE or Thalys trains. Sleeper carriages are not found on regular intercity trains, as travel time is rarely more than 2½ hours, even though the longest travel time within the Netherlands directly from station to station takes around 5½ hours (Delfzijl to Vlissingen (5 hr 38 min in the 2018 schedule)). Sleeping on the train is fine if you have a ticket for where you sit.
The classes share toilets, which are not all wheelchair-accessible. If the train doors have no steps, then there is a high chance that it will have wheelchair-accessible toilets. Regional services rarely have toilets. Larger stations, however, do. The number of toilets, and their accessibility, is due to be improved with the Intercity and Sprinter Nieuwe Generatie. Both classes have freely accessible Wi-Fi.
Almost all trains have a conductor. Most trains have no catering, but on some lines drinks and snacks are available for purchase.
Traveller's rights
The Dutch railway is often mocked for its lack of punctuality and its inefficiency; however that may simply be because Dutch people have a high standard and treat five minutes of delay as a calamity, while the average customer of some other railways would laugh at such an event. Most of that can be explained in cultural difference: the Dutch are very punctual people. Aside from that, trains often seem full if you're not willing to sit beside someone you don't know, which is something the Dutch don't exactly prefer.
Should your train be cancelled, or should your journey be limited in any other way, such as by one of the rare railway strikes, then you are entitled to financial compensation as long as you have obliged to the railway operator's
terms and conditions
.
Refunds
and
Lost and found objects
can be reported and requested via NS's website. Should the problem occur when travelling with another railway operator, then contact them via their website if possible, or give them a call. If neither of these are possible, then head for the nearest info desk (often found at the larger stations with the
Centraal
suffix).
Regional, local and commuter lines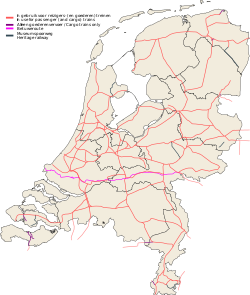 Railways in the Netherlands have been divided into a larger main concession for the core network, which until 2025 is granted to Nederlandse Spoorwegen (NS), and into a couple of local concessions, which railway companies bid to operate. These lines are most often non-electrified, running diesel stock, whereas all lines operated by NS are electrified. Of the railway operators active in the Netherlands besides NS, Arriva is by far the biggest. Arriva alone services the following lines:
Arriva runs FLIRT3 trains on the S2 and S4 lines, LINT 41/H on the S1 and Valleilijn line, Stadler GTW 2/6 and 2/8 electric and diesel units on about all other lines. Almost all trains bear a name of a significant person, location or event related to the region the trains service, where the Stadler GTWs are named after people, the FLIRT3s after locations and events, while the LINT 41/H trains rarely are named. The names are always marked on the heads of the trains, only visible on the outside. Names vary from artists like
Piet Mondriaan
and
M.C. Escher
to assumed spy
Mata Hari
and from naval explorer
Willem Barentsz
to garden designer
Piet Oudolf
.
Breng services the aforementioned line between Arnhem and Doetinchem creating a quarter-hourly service between both stations in cooperation with Arriva.
Keolis has definitely seen better days, once having lines all over the Eastern Netherlands as Syntus, it now only services only the Zutphen —
Hengelo
—
Oldenzaal
line as
Twents
. All of these trains are LINT 41/H models refurbished in 2013 to have toilets on-board. These trains, constructed between 2001 and 2004, are the oldest trains on the local networks. As of December 2017, Keolis services the
Kamperlijn
(
Kampen
—
Zwolle
) in its own livery and all other trains in neutral Blauwnet livery.
In December 2018, bus company Qbuzz entered the railway market by taking over the MerwedeLingeLine from Arriva.
Nederlandse Spoorwegen runs
Sprinter
trains on the core network, which is a NS brand for a
stoptrein
(stopping train), calling at every stop along the line. Sprinters are nearly always servicing lines that also have Intercity connections, so depending on your departure and/or destination station, you probably are faster by taking an intercity train instead of a sprinter.
Intercity lines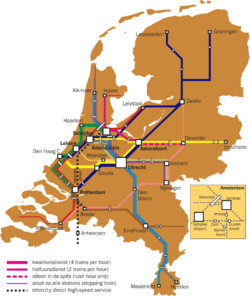 All Intercity lines are served by NS, and all of these lines are electrified, with the trains served by NS running on energy generated by wind turbines. NS has two categories of Intercity connections (aside from international connections):
Intercity Direct
The closest thing that the Netherlands has when it comes to high speed rail. IC Direct lines often have a few stops on any particular route, usually large cities with lots of traffic. As of 2017, there are two services, both calling at the same stops, and each with an additional, different stop:
Amsterdam
—
Schiphol ✈
—
Rotterdam
(—
Breda
). The line mostly uses the HSL-Zuid connection.
There have long been plans to expand the Dutch high speed rail network by two lines, but so far nothing has come of them. HSL-Oost (Amsterdam —
Ruhr Area
) has been in discussion since the 1990s, with tracks between Amsterdam and Utrecht already being doubled from two to four lines, allowing two of them to be used for high speed connections, connections to Arnhem have been modified, with most modifications to the stations, but east of Arnhem, little has changed. The alternative, the Deltaline, was presented in March 2006, but it never got off the ground either. For now, trains to the Ruhrgebiet are limited to .
The Zuiderzeelijn never got beyond the planning phase: whether the line is to operate a Maglev, HSL or
Superbus
has not been decided. The line has been permanently set aside for ten years now, and will not be dug up for some time yet.
Regular Intercity lines
The regular intercity connections are most likely the ones you would use the most. They connect the major cities with one another, skipping the smaller towns along the route.
Utrecht
is what comes closest to the central hub, due to its location in the center of the country. Only routes serviced by NS dedicated to domestic rail travel) are counted as Intercity lines here, even though Arriva does offer connections that can be defined as Intercity, they refer to them as
Sneltrein
(fast train). Routes below are listed by their serial number. Do not bother remembering the serial numbers, as these cannot be found at the station.
International lines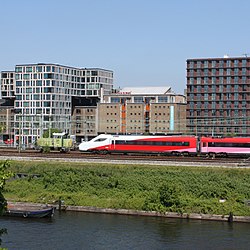 The most infamous intercity line of the Netherlands has to be the HSL-Zuid, running between Amsterdam and
Brussels
, which were to be served by newly built V250 'Fyra' trains, nicknamed the
Kruimeldief
(named after a type of small handheld vacuum cleaner with no proper English name, as the train's nose resembled one). The trains turned out to be poorly constructed, making the news several times too many as train after train failed to show up to platforms, and other technical difficulties caused many delays on other parts of the Dutch and Belgian networks. These problems were labelled as a consequence of new materials, but after the trains had been in service for over a month, no improvements were to be seen. On January 13, 2013, half of the scheduled trains were cancelled, and the other half suffered average delays of an hour. Four days later, 85% of the 'Fyra' trains weren't running. One of the trains that
did
work that day had a plate on its underside come off after it was damaged by frost while the train was at high speed. This incident was the final nail in the V250's coffin; Belgium banned the Fyra from running on its HSL network. The Fyra has since been 'temporarily' replaced by regular intercity trains, which up to this day still run.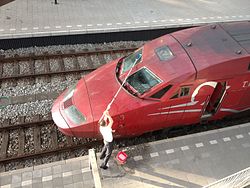 Regardless of the
Fyra-debacle
, as the situation around the Fyra is known as in the Netherlands, the Netherlands still have international intercity lines, all of which are operated by NS International, a subdivision of Nederlandse Spoorwegen. These are:
ICE 43: Amsterdam — Basel calling at Utrecht, Arnhem, Oberhausen, Duisburg, Düsseldorf, Hanover, Bielefeld, Gütersloh, Hamm, Hagen, Wuppertal, Cologne, Bonn, Frankfurt am Main, Mannheim, Karlsruhe, Offenburg and Freiburg im Breisgau. Train runs only once per day.
ICE 77: Amsterdam — Berlin calling at Amersfoort, Deventer, Hengelo, Bad Bentheim, Rheine, Osnabrück and Hanover, running every two hours.
ICE 78: Amsterdam — Frankfurt am Main calling at all stops listed for the ICE 43 up to and including Frankfurt.
IC 35: Amsterdam — Brussels calling at Schiphol ✈, The Hague, Rotterdam, Breda, Antwerp and Mechelen.
Eurostar 9100: Amsterdam — London St. Pancras International calling at Rotterdam, Brussels and Lille. (It is one-way only from London due to issues with immigration control in Amsterdam; however, Amsterdam to Brussels Eurostar journeys are bookable.)
Thalys 9300: Amsterdam — Brussels calling at Schiphol ✈, Rotterdam, Antwerp and Brussels, multiple times per day. This service is extended to Paris once per day.
Thalys 9900: Amsterdam — Lille calling at Schiphol ✈, Rotterdam, Antwerp and Brussels. Leaving once or twice per day.
ÖBB NightJet sleeper train services are planned to connect to Amsterdam per 2021, creating a direct connection to Vienna.
These tickets can be purchased through
NS International
. After purchase, you get the option to export the tickets into the NS International App, available on Andriod and iOS, or download them as a PDF file, which you can then print out. Note that the NS International app is not the same as the NS Reisplanner. One is an app owned and maintained by NS Reizigers and the other by NS International, two divisions of the same company, Nederlandse Spoorwegen. Tickets for IC(E) can also be bought through
Deutsche Bahn
, tickets for Eurostar can be booked with
that company
, while tickets for Thalys can also be bought through
Thalys
. All four have early bird offers that can be considerably cheaper than regular fare, which gets you from Amsterdam to Brussels or Antwerp for €29, Paris and Berlin for under €40 and London for €59. OV-chipkaarts and other NS passes can be used on domestic ICE and IC Brussels segments but an additional €2.40 supplement is required for journeys on the former; such fares are not valid on Eurostar and Thalys which both require reservations/advance booking.
Other lines to neighbouring countries are stopping trains, connecting to Germany (GER) and Belgium (B):
Trains in the Netherlands are limited to no more than with the exception of the HSL-Zuid line which is capable of supporting trains travelling at . Thalys and Eurostar services are the only services capable of reaching that speed now.
Planning your trip
The most reliable way of planning your journey is by using the
NS Reisplanner
, on the homepage of the NS website, or using the
NS Reisplanner Xtra
app on Android or iOS. The app displays everything you need to know about a station and a journey, whether it be the type of train you will be on, how busy said train is, or simply whether there are any shops open at a nearby station where you can have a quick lunch. The app begins in Dutch, but can be changed to English via the
Instellingen
menu, found under the
Meer
tab. The app, however, is not fully translated, making it only easy to use in English for planning a journey by train.
When continuing a journey by other modes of public transit, such as bus, tram or metro, use
9292.nl
or the associated app of the same name. 9292 also features trains, and is overall a better solution, enabling you to plan your route from your exact starting point to the very address you'd like to visit. The NS Reisplanner, on the other hand, features information about the station you'll arrive at, such as services, the amount of
OV-Fietsen
available and the shops open at the time of your arrival, and is generally more focused on transport services provided by NS (Nederlandse Spoorwegen).
The best way to get your tickets is by simply using your OV-chipkaart (
see 'Buying tickets' below
), though various sites, such as
DiscoverHolland.com
may offer a trip to an attraction you wish to visit, with transport included. These often turn out to be cheaper and more relaxing as you already have the journey planned out and since you have your ticket to the attraction in advance, making the journey just that little bit more care-free. Additionally, you will avoid the crowds. It is not uncommon to have to spend an hour and a half queuing up to get a ticket on the more popular days. Aside from DiscoverHolland, some Dutch shops such as
Kruidvat
offer a full day of travel by train for around €20. These deals often pop up around the Dutch holidays.
Buying tickets
Pricing
In general, railway tickets on NS and regional railway operators are priced on a pay-as-you-go (PAYG) distance basis. There are no peak or off-peak hours for the purpose of computing the standard PAYG price but some subscriptions and unlimited day-tickets are valid only during off-peak hours (i.e. outside 06:30-09:00 and in some cases outside 16:00-18:30 on weekdays). Although NS Reisplanner Xtra or the 9292 app can provide you with the actual railway fare for the journey you want quickly, if you are curious about how these fares are computed, you first need to understand that it depends on the number of tariff units (
tariefeenheden
) between your origin and destination. NS train fares start at €2.40 for journeys up to eight tariff units. The fare for each additional tariff unit varies between €0.10 to €0.20 and there is no clear pattern as to when to charge which. But the maximum possible one-way second class fare one could ever pay for domestic NS rail travel is €26.50 (worth 200 tariff units). To compute for the fare between stations, first refer to the
tariff unit map
to determine the number of tariff units. If there are intermediate stations between your origin and destination stations, just add the number of tariff units you see along the route. Then on p. 5 of the
price list
, locate the number of tariff units you just derived (first column) and its corresponding fare (second column). In case there are two or more possible routes to get to your destination using NS, the price will always be based on the route with fewer tariff units regardless of the route you have taken. One-way second class ticket prices between Amsterdam Centraal and selected stations are listed below (*not including supplements for travel with certain trains):
With the exception of travel involving international railway stations, Thalys or Eurostar, you are free to travel on any train to get to the points listed on your ticket at any time of the day and reservations are not necessary (the downside of this is you may be forced to stand when trains are crowded). If you decide to travel on an IC-Direct train involving Rotterdam and Schiphol Airport station or an ICE train within the country, you will need to purchase a supplement worth €2.60 in addition to the standard PAYG rates.
International services are, however priced differently - based less on distance and more on market conditions. Unlike purely domestic rail travel, travelling on international services offers incentives for those who book in advance and for a particular train as a ticket from Amsterdam to Brussels may cost twice as much if booked a day before the intended journey as if booked more than a week before. Travelling on Thalys and Eurostar will always require reservations. To purchase tickets involving international travel, proceed to the NS International service point at major railway stations, NS International website, or website of the train operator.
OV-chipkaart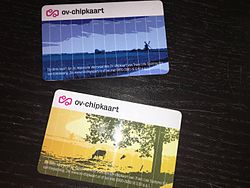 All public transport in the Netherlands (buses, trams, metros and trains) use contactless smart cards called
OV-chipkaart
(OV stands for
Openbaar Vervoer
meaning "Public Transport"), sometimes also called the
Public transport chipcard
.
Single-use swipe cards are available for NS trains and some local operators, but come at a surcharge. Unless you plan to use the public transport system only incidentally, your best option is to obtain an anonymous OV-chipkaart upon arrival as it's convenient and ultimately cheaper. However, the card must have a minimum stored value, which for NS trains is €20 (unofficially €16) and generally €4 for local public transit operators. The upfront cost (€7.50) of the anonymous OV-chipkaart is non refundable.
The OV-chipkaart comes in three versions:
See the main article for more information on buying and using an OV-chipkaart.
When travelling by train on the Dutch network on a disposable card, the card needs to have been bought at the station of departure
before
boarding the train at either a service counter or a ticket machine. After purchase, you must check in by tapping the card against a OV-chipkaart card reader before boarding the train and check out by tapping another reader when leaving the station at your destination.
The anonymous or personal OV-chipkaart can be used on all modes of transport except Thalys and Eurostar. As reservations are not necessary to ride on most trains operating within the country and there are no special discounts offered on such trains (excluding Thalys, Eurostar, and the international segments of the ICE, IC-Berlijn, and IC-Brussels train), passengers with an adequately-loaded OV-chipkaart can proceed directly to the platform (but check in and check out using the fare gates or
chippaal
). Using the vending machines or going to the ticket desks before a train journey is only necessary to top up credit or change the class of travel. The fare that will be deducted will be the same fare that is offered when trying to book a ticket for that route on NS.nl and NS Reisplanner Xtra app.
The international tickets issued at Dutch stations come in the form of a disposable OV-chipkaart. These are, naturally, perfectly fine for travel abroad. International tickets, which when obtained abroad will most likely be traditional paper tickets, are still valid on the international train they're intended to be used on.
Online tickets
NS tickets are also available in the form of an
e-ticket
, which is cheaper than a regular disposable ticket obtained from a ticket machine (€1 difference). These tickets can either be downloaded as a PDF file and printed onto an A4 sheet of paper, or
loaded onto your smartphone
using the Reisplanner Xtra app. Either of these has a QR-barcode on the ticket, which should be scanned at designated ticket barriers to access the platforms. Naturally, you should have a sufficiently charged phone should you use the mobile ticket. If your phone runs out of battery during your journey (far from every train has on-board electrical outlets), you may be fined for illegal ridership. A printed or mobile ticket works as a personal OV-chipkaart and will have some of your identity on it. You should, therefore, have a valid ID on you while using the ticket. If you are having trouble booking an e-ticket on NS.nl or the Reisplanner Xtra app (e.g. foreign debit cards are not accepted), try booking at B-europe.com, the website of Belgium's national railway company SNCB or the SNCB International app.
Online tickets
are available in the
online webshop
of NS in which it is possible to order several products. Most of these can either be obtained through loading them onto your OV-chipkaart, or by ordering an
E-Ticket
which can be used on your mobile phone, provided it has the NS Reisplanner app installed and the phone runs either on Android 4.0 or up or iOS 8 or up. Holders of foreign VISA or MasterCard debit cards may experience some trouble using such cards on the app and may use websites like B-europe.com.
Overview of tickets
The following list provides an overview of tickets being sold online, at a ticket machine or at the counter. Prices are for online purchase or as loaded on an anonymous or personal OV-chipkaart. For purchase at a ticket machine as a disposable ticket, add €1.00 per ticket. For purchase of tickets at the counter which are otherwise also available at the ticket machine, there is an additional surcharge.
Prices updated as of July 2019.
Regional and special tickets
Tips for saving credit
A minimum fare of €2.40 may seem high. There is talk to make rail travel more affordable, but until some plans are actually put in motion, the only way of saving money on your journey while not breaking the law are by taking a subscription to a travel product or buying a day pass that covers a certain region.
Check the NS Reisplanner Xtra or the 9292 app to find out the fare between your origin and destination. If a standard one-way fare between your origin and destination costs more than €20 and you plan to return on the same day, it may be worth purchasing a Holland Travel Ticket, which also includes access to local public transport.
Subscriptions
Subscriptions are perhaps the most straightforward way of saving money. Nederlandse Spoorwegen offers eight season tickets for saving money, which are usable in all of the Netherlands:
Students in the Netherlands, domestic and foreign, can request a
Studentenreisproduct
(Student travel product), which can only be used if you're a student, but also once you're in the Dutch student financing system,
DUO
. You require a personal OV-chipkaart, to which you then link your
studentenreisproduct
. More options for students can be found
here
.
Should you need to use the train a lot when working in the Netherlands, have a look at
Business Travellers' subscriptions
. Requesting these will often require a validation from the company that employs you.
The discounts stated above are based on the fares of regular (Sprinter and Intercity) train journeys. This means that unless stated otherwise, passengers with subscriptions are liable to pay for supplements if travelling on Intercity Direct and ICE trains. These subscriptions do not extend to Thalys and Eurostar journeys.
Using the train
The
Nederlandse Spoorwegen
website has information about services at every station on the Dutch network, including accessibility, bike rental, lockers, waiting rooms, service desks, shops and restaurants, toilets and taxi / park and ride facilities. Departures per station can only be found on the
Dutch version
of the website, but the page does not need much translation. Simply type in the name of your station, click
Zoeken
(search), and an overview of departure times pops up. The four tabs are named
Tijd
(time),
Naar
(to/destination),
Vervoerder
(railway operator) and
Spoor
(platform). The content of the table is rather universal and needs no translation. At the bottom of that page you will also find current disruptions on the network, be it planned maintenance or unexpected interruptions. Again, the names of the stations need no translation. Terms often used are
tot en met
(up to and including) and
tussen
(between).
At the station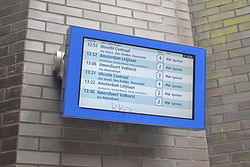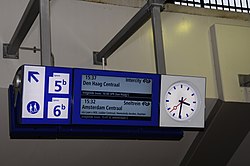 If you have already obtained an e-ticket or have a sufficiently topped-up OV-chipkaart, you can just proceed directly to the platform of your next train but may need to pass through the barrier gates (see third paragraph for more details).
If you aren't familiar with the journey you wish to take, arrive at the station with time to spare. Entering the station is simple. Smaller stations can be entered without any hassle, but before boarding the train you will have to check in with your OV-chipkaart at one of the posts available on the station. In addition, most passengers who wish to take the Intercity Direct or ICE trains within the country have to tap their OV-chipkaart using the designated red pole as it will deduct the €2.40 supplement required for travel on such services. Tapping on the red supplement pole won't be necessary if the supplement was purchased in advance or through the ticket machines, or if a passenger's subscription already includes it. These red poles are found on the platforms of participating IC-direct stations.
Larger stations have barrier gates, requiring you to check in to access the platforms. These gates have the same function as an OV-chipkaart pole. Checking out at the same barrier-equipped station without travelling anywhere won't charge your card's balance. The barriers are merely there to prevent fare evasion. Stations served by more than one train operator have different coloured fare gates; each colour indicating a different operator - make sure you check in with the operator whose train you will use immediately and check out of the operator whose train you just finished your journey with. Being 'checked in' with NS whilst on an Arriva train or vice versa will result in a fine or warning.
If you are travelling internationally but are using an OV-chipkaart for the domestic section of the trip, please check out at the last domestic station not covered by your international ticket. Likewise, if you are returning to the Netherlands from an international journey, be sure to check in at the first domestic station not covered by your international ticket. If your entire journey is covered by a pre-purchased international ticket (including Thalys, ICE, and Eurostar trains), you will still need to scan your ticket's barcode at the designated barrier to access the platforms and/or exit them.
All stations have LCD-displays showing the upcoming departures, with the first departing train always on top. These show the time of departure, platform, destination and service. Numbers in red written right after the scheduled departure time (e.g. +5) mean that a train is delayed with the numbers in red showing the number of minutes the service is expected to be delayed by (e.g. +5 written after 15:20 means the service will be delayed by approximately five minutes, which means a departure at approximately 15:25). These signs are found at the entrances of smaller stations, or in the main lobbies of the larger stations, often labelled
Vertrekkende treinen
(departing trains).
In the main hall of the station, should it have one, there are always double LCD-screens per track, showing the direction to the stairs up or down to platform level, the two tracks you will find at the other side of the stairs, the two displays showing the time of departure, service, destination and the train after it. The same display also has an analogue clock embedded in it.
At platform level the same display can be found, though only with a single screen. It will show the platform you are on, the time of departure, destination, service, stations visited on that specific journey, as well as further details and the train departing after it. These displays too have an analogue clock embedded.
The largest stations in the Netherlands either already have or will soon have gigantic LCD displays in their main lobbies showing roughly the next half hour of departures. Again, these displays show the time of departure, destination, platform, train type and further information, most often some of the calling points of each train.
Should anything unscheduled occur, then the displays will update with that information and an automatic announcement in Dutch can be heard. If the train is international, this will often be repeated in German, French and English. Trains in the Netherlands are not identified by numbers or IDs, instead, they are identified by their destination and time of departure (e.g. "The 16:08 Sprinter to Leiden Centraal via Lammenschans") (Dutch: "
De sprinter van 16:08 naar Leiden Centraal via Lammenschans
").
On the platform, stand back from the edge, behind the white dashed line if possible. Trains don't always stop at platforms, and the vortex caused by trains speeding past might pull you onto the track or under a train if you're standing on the edge of a platform. Do not use flash photography as it may distract the train drivers.
Station services
If you fancy a snack or think you'll need something to eat before arrival, now is the time to get one. Aside from the PROTOS trains on the Valleilijn, no trains have either a restaurant car or vending machine. The PROTOS only has the latter. Larger stations, often the ones where you have to switch trains to get somewhere, have shops in their main lobbies. These can include:
Starbucks: the well-known coffee chain from the United States.
AH ToGo: An on-the-go version of Albert Heijn, one of the largest supermarket chains of the Netherlands.
Smullers: A snackbar, often featuring the Dutch concept of Eten uit de muur (Eating from the wall). No, they won't throw your hamburger onto the wall expecting you to use the wall as a table. Instead, you throw a euro or two into a vending machine or tap a credit/debit card into the reader and you get a hamburger, Broodje kroket, Frikandel or any other available food item in return. If the concept scares you, don't worry. They also have a regular counter where you can order a snack, a drink or Belgian fries.
De broodzaak: A sandwich shop
Burger King
Kiosk: Usually on the platform, where you can quickly pop out of the train to get a coffee, tea or other while your train awaits departure on another platform.
Many of the larger stations also have information counters, where you can get your ticket if you'd rather talk to station staff. The ticket you get is a disposable chipkaart, which can only be used once, and will have an additional cost for printing. Also, aside from Intercity trains and the Sprinter LightTrain, trains do not have toilets, and smaller stations might not have a toilet. Be sure to time your visit wisely, and always take your luggage with you when leaving a train, even if you intend getting back on again in a minute or two. Trains never wait long at a station. Besides, most services run every 15 or 20 minutes or even 10 minutes on several lines.
Finding your way about

If you can read Dutch or German, then interpreting the signage everywhere will not cause many problems. Otherwise, the language barrier can make your journey stressful. However, the signage is not too hard to understand if you know what you're looking for. Some words in Dutch resemble those in English. During your journey, you might run into the following signs or labels frequently:
Bewaakt - Guarded, often accompanied with the symbol of a guard or policeman and a bike, meaning that this is a guarded bike shed or garage.
Camera-toezicht - Camera surveillance, found on every station.
(Fietsen)stalling - Bike storage area, either a bike shed or garage.
Fietsverhuur - Bike rental, where you rent a bike with OV-Fiets.
Geen toegang - No access
Gehandicapt - Handicapped, most often referring to accessible toilets.
Halen en brengen - Collect and drop-off, for use by private cars.
Heren/Dames - Men/Women, toilets.
Lift - Elevator
(Niet) roken - (No) smoking. Smoking is strictly prohibited in indoor public spaces; therefore, smoke outside if these signs cannot be found.
Parkeren - Parking
Spoor - Track. The symbol accompanied with this text is the number of the platform you're on. Platforms are always labelled per track instead of individually.
Taxi - Taxis
Uitgang - Exit, should you have enough of travelling by train for a moment.
Wachtruimte - Waiting room
All signs except for the exit sign have a white background and a blue pictogram. The exit sign is green with a white pictogram.
Finding a train on the go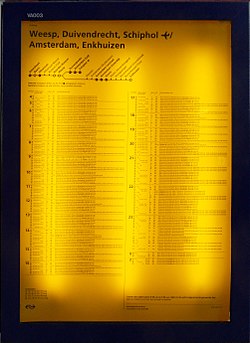 Aside from the NS Reisplanner and other tools to help you plan your journey, it is of course possible that you're refraining from those tools for whatever reason. Luckily for you, the connections are all still written down on posters found throughout the stations, most often at the entrances of smaller stations or the throughway to the platforms at larger stations. They work as follows: At the top of the page you will find the direction of the trains. On the image to the right this is
Weesp, Duivendrecht and Schiphol ✈ OR Amsterdam and Enkhuizen
. The line pictures has two termini, Schiphol ✈ and Enkhuizen. Often looking at the schematic below the directions is more insightful. Stations listed with

have Intercity trains stopping there. Sprinters stop at all stations unless mentioned otherwise (which is rarely the case). Below that you will find a massive table listing (from left to right) the departure time, days on which the train is in service, the platform it departs from, the line operator and lastly the destinations and type of train. On the bottom of the page you will find some small information, such as footnotes explaining irregularities, as well as some other information. Often found terms here are:
Maandag - Monday
Dinsdag - Tuesday
Woensdag - Wednesday
Donderdag - Thursday
Vrijdag - Friday
Zaterdag - Saturday
Zondag - Sunday
Januari - January
Februari - February
Maart - March
April
Mei - May
Juni - June
Juli - July
Augustus - August
September
Oktober - October
November
December
Van - starting, start date
T/M - Up to and including, end date
Stop vanaf op alle stations - Stops at all stations after
Stopt ook in - Also stops at
Stopt niet in - Does not stop at
Vertrekstaat - Time schedule for station
The yellow signs however are bilingual nowadays, all the footnotes are printed in Dutch and English.
Boarding the train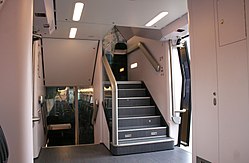 You must have a valid ticket or validated OV-chipkaart before boarding the train. If you were not able to purchase a ticket and/or validate an OV-chipkaart due to a defective machine please report this immediately to the conductor.
If you have a seat reservation for an international train, then watch the display at platform level for your coach number. All trains have automatic doors, having a single button to open them per entrance. On the inside these may be on either side of the doors. These are almost always labelled with two arrows pointing away from each other. In older NS stock these labels also have the doors pictured, as well as an additional button for closing the doors. The doors are always locked when the train is moving. In newer stock, pressing the button to open the doors while the train is slowing down for the next station will light up the LEDs around the button, and will open the door once the train has stopped. Generally, it is best to press the button to open the doors as soon as the train has stopped, as in some stock pressing the button may open the doors regardless of the train having stopped. This button may occasionally not work properly, in which case, it should open after being pressed a second time. When the doors open, people leaving the train get priority over people boarding the train, therefore, always stand out of the way for people leaving the train.
On the door of each carriage are icons that tell you what facilities the carriage is equipped with (e.g. WiFi, toilets, bicycle-friendly).
Finding your seat
Having a ticket never guarantees a seat
. Be prepared to give up your seating if someone having trouble standing upright approaches (e.g. elderly people or pregnant women). If someone requests you to give up your seat, you do not have to oblige, though it is much appreciated if you do, should the person have a valid reason to need the seat.
Always keep your ticket, reservation or OV-chipkaart with you. Do not tuck it away somewhere deep in a rucksack, as you might be checked at any time for having paid for the journey, albeit by OV-chipkaart or E-Ticket, a subscription or seat reservation. Should you lose your OV-chipkaart, you can
report the card as stolen or lost
. Should the card break, then you can
request a replacement
.
Onboard announcements
Depending on the operator and rolling stock, onboard announcements are either automated or manually done by the conductor, or the driver. Station stops are normally announced twice over the train intercom. At larger stations the possible transfer to other trains will be announced. Announcements are in Dutch, and also in English on international trains and on domestic trains for the major stations relevant for tourists or international travelers. Sometimes the manual announcements are difficult to hear or understand, so be sure to check the carriage display at the front or rear of the carriage, showing the next few stops as well as a time of arrival. Some railway operators may put advertisements on these signs as well, so wait a bit until the display switches to the right screen.
On automated systems, you may hear a reminder: "
Reist u met de OV-chipkaart? Vergeet dan niet om uit te checken.
" (Travelling with an OV-chipkaart? Do not forget to 'check-out').
Travelling with luggage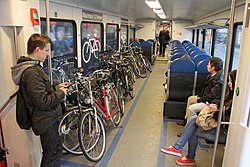 Most Dutch trains are designed for travelling rather short distances, as the Netherlands is not a big country. Therefore, many travellers will not carry much luggage. This of course is different on international trains.
As a general rule of thumb, there is more space on single level than on
dubbeldekker
trains, though the amount of space in the latter might surprise you. Luggage can also be put under the seats; a space that remains unused surprisingly often. Be kind to your fellow travellers and never put your luggage in the walkway of the train; this is a safety hazard as well as a nuisance. Passengers leaving the train often stand up ahead of the arrival time as many trains tend to leave as soon as everyone has got off and on the train. When the train driver applies the brake, people might fall or stumble, and your luggage might break their fall if they do, but it is way more common that they get their foot tangled in one of the straps on your rucksack, duffel bag or other. Only when it doesn't fit in the luggage racks or your seat is it acceptable to use the walkway as storage space. At that point, however, be prepared to answer "
Waarom neem je niet gewoon een taxi?
" (Why don't you just take a cab?).
Have you left an item on the train or lost track of it during your journey? No fear, help is always near. Nederlandse Spoorwegen stores an awful lot of lost items in their warehouse. If you've lost anything on their trains or in any station, then
get in touch with them via their website
or by calling them (). Arriva also stores your items for some time, though their contact form is
only available in Dutch
. Get help from Dutch passersby or station staff, who will most likely be willing to help you out. Breng, again has
the same issue
with their online form, though they do offer a quick and handy overview of recently found items along with a photo, making it more accessible to non-Dutch speakers. The same goes for
Keolis
.
Connexxion's online form
is somewhat more easy to translate, and you can most likely figure out what to write and select with a dictionary or translation service at hand.
Combining modes of transport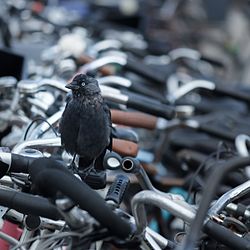 The Netherlands being one of the most bike-friendly and cycling enthusiast countries on Earth, there is usually some bike parking at stations, sometimes even a whole dedicated garage just for bikes. Utrecht Centraal has the largest bike garage, which can store up to 12,500 bicycles. Bikes often have a dedicated lane if not road to themselves. Cycling in the Netherlands is the cheapest and perhaps the safest way to get about from station to destination. Above that, they are often not much slower, if not faster than taking a bus or car through a city. Dutch law does not require you to use any form of safety measures (i.e. a helmet or knee-pads), so don't waste time looking for a place to find some.
Stations are usually well connected if not the hub of the local bus or
urban rail
system. The OV-chipkaart can be used on buses, trams and metros, with an alternative to the Chipkaart lacking more than OV-chipkaart support. To find a connecting mode of transport on the fly, look for the signs with the white background and blue pictograms. They will guide you to a bus, tram or metro (which are all spelled the same way in Dutch), a
stalling
((bike) shelter),
bewaakt
(guarded (bike shelter)) or
fietsverhuur
(bike rental). The OV-chipkaart is fully integrated into the Dutch public transit system, so prepare to use the card for not only access to vehicles, but also for luggage lockers and private bike lockers.
Big stations often have special departure boards dedicated to buses and trams, making it easier for you to see where your bus or tram leaves, and giving you the pleasure of having to not getting soaked during heavy rainfall while waiting for a bus. When continuing your travel by bus, be sure to
check-out
your OV-chipkaart when getting off the train, and checking in as soon as you enter the bus, as rail travel costs are based on distance travelled, while busses' costs depend on time travelled. Should you prefer to pay for a bus ride by credit or debit card, then you can do so. Cash payments for bus tickets have since been stopped on paper, but many busses still accept cash for a ticket.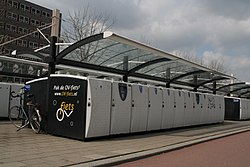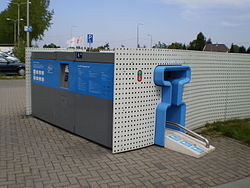 OV-Fiets
The Dutch bicycle-share system "OV-fiets" is only accessible for residents of the Netherlands. Users of the service require a personal
OV-chipkaart
and a Dutch bank account.
OV-Fietsen
, bikes available for usage through the OV-chipkaart, can be found in the bike garage or shelter of the station. Which of the two the station you're using has, depends on the station. The OV-Fiets is a bike that can be rented using the
OV-chipkaart
. You will find them in the shelters or garages of the station either in a locker or a dispenser. You simply scan your OV-chipkaart, after which the locker opens, or in the case of a dispenser, a bike rolls out. It's strongly recommended that you check the tyre pressure and fix the bike seat at the height that's most comfortable for you. Should your tyres have too little pressure, then look around: every station in the Netherlands is equipped with at least one bike pump (
fietsenpomp
). Should the seat be too high or to low, then undo the lock on the seat pin via the small lever, place yourself next to the bike and bring the seat up to your hip. This should be roughly the ideal height for you. Then simply lock the seat in place by turning the lock in the opposite direction and go on your way. Should the bike have punctured tyres, then take it to the mechanic found at the station. If there is none, return your OV-Fiets and get another one. This can be done free of charge within 15 minutes. The OV-Fiets is a subscription based service, though. The service is as good as free. The only cost charged per year is €0.01 to check and confirm your bank details. Feel free to unsubscribe from the service as soon as your journey to the Netherlands is over. The subscription can be ordered and
here
.
Additional costs will be charged when you return your OV-Fiets to a different station than the one you got it from (€10). Other than that, costs are €3.85 per 24-hour timeslot. A single bike can be used for up to 72 hours, after which the price changes to €5 per day. You receive an invoice for use of the OV-fiets every month via email and payment is made via direct debit.
Ferries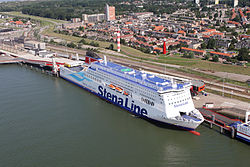 Domestic ferries in the Netherlands are only found as a link to the
Waddeneilanden
, which can all be reached with relative ease. Your OV-chipkaart is
not
usable on ferries.
The Netherlands also has international ferries, all of which connect to the
United Kingdom
.
IJmuiden — Newcastle (UK): The IJmuiden harbour can be reached from two ways: Travel to Beverwijk Station, from which you take bus 74, heading for IJmuiden Zeewijk. You leave the bus at the IJmuiden Stationsstraat stop, which means Station street, reminding of the station here that was used up into the 1980s, after which services were cancelled and the stations of IJmuiden fell into disuse. From the Stationsstraat, walk uphill, taking the first road left (Neptunusstraat), followed by another left onto the Duinstraat. From this point you should be able to see the harbour and getting there is as simple as following the road you're on.
The quicker route, however, is to travel to Amsterdam Sloterdijk Station found on many of the lines from Amsterdam Centraal station, namely the lines to
The Hague
,
Schagen
,
Vlissingen
,
Den Helder
,
Enkhuizen
,
Enkhuizen
and
Haarlem
, all of which are Intercity connections, as well as Sprinters to
Uitgeest
,
Hoorn
,
Zandvoort aan Zee
, The Hague,
Hoofddorp
, as well as a Sprinter from
Schiphol ✈
to
Hoorn Kersenboogerd
. From
Ass
, which is how Sloterdijk is abbreviated, bus 82 connects directly to the
IJmuiden Sluisplein DFDS
bus stop, which is way closer to the ferry terminal than the aforementioned
IJmuiden Stationsstraat
.'Ferries to Newcastle are serviced by
DFDS Seaways
.
Hook of Holland — Harwich (UK): The Hook of Holland is directly serviced via a metro service by RET, which services Station Hoek van Holland Haven, which had trains running there up until 2017. Metrolijn B, which the station is on, connects to the train stations of Rotterdam Alexander, Rotterdam Blaak and Schiedam Centrum. These in turn are the easiest to get to via Rotterdam Centraal, whether that would be by train or metro is up to you.
Unforeseen disruptions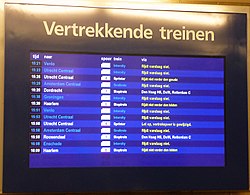 Most trains don't, but there will always be a chance that your train gets stranded or can't continue for a different reason. The most occurring of which are signal or switch malfunctions (
Sein/wisselstoring
) or a collision with a vehicle, animal or person (
Aanrijding met voertuig/persoon
). When in a hotel or anywhere else, you can check known disruptions on
NS' website
or the
NS Reisplanner Xtra app
on your phone. Their overview covers all of the Dutch network, including routes serviced by other operators. Here you can also find planned maintenance to the railways, so you won't be caught in surprise when you arrive at the station and the track is missing at your platform. You will be able to see the changes to your journey as well. When at a station, you can see disruptions on the main LCD screen in the station's lobby or entry way, as well as the displays by the tracks. In case of a delay, times on the station displays get rounded off to the nearest five minutes, while the NS Reisplanner does not round off times.
Should your train and the following few trains be unable to arrive or depart, then rail replacement busses will be dispatched. These are most often provided by the operator themselves. The operator may outsource this task, but rarely does so. It's best to ask around for information when this happens, as the place of departure of these buses is different per station, as are the stations they stop at. Even if a sprinter or stoptrein gets replaced, that doesn't imply that the replacing bus stops at all stations along the route.
Stations
The Netherlands has 397 train stations in service, divided over 388 municipalities. This excludes former railway stations that haven't been demolished, but includes stations with limited service, such as
Utrecht Maliebaan
, which is only used when the
Spoorwegmuseum
is open. These stations are all maintained by ProRail and serviced by NS, Arriva, Breng, Connexxion or Keolis. In the Netherlands, only the major stations are staffed.
Major stations of the Randstad
Major regional stations
Notable stations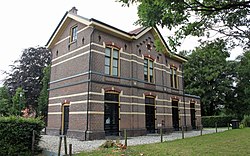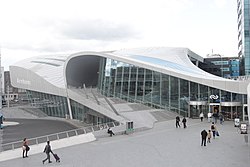 The first train stations built in the Netherlands were temporary, as the railways needed to prove their use before being accepted into the country. Most 19th-century stations were built in neoclassical styles, some with German influences. The art-nouveau, known best from the Parisian metro, has only been used in a single station,
Haarlem
, which stands to this day.
Foreign railway companies got involved with train lines onto Dutch soil, building their own stations.
Valkenburg
's station, for example, is a misfit when it comes to Dutch station buildings. Stations alongside international borders were seen as a way of introducing the country, these therefore, even though they saw little in passenger numbers, were rather decorated.
The later 19th century and the start of the 20th century saw the rise of
Standaardstations
(Basic stations), which weren't basic per se, but rather a base of which several variations were made: a general blueprint. Take for example the GOLS Groot
standaardstation
, used for stations of the
Geldersch-Overijsselsche Lokaalspoorweg-Maatschappij
, active in the
Achterhoek
and
Overijssel
. Of the GOLS Groot type, thirteen stations were created. Of these four remain, being
Groenlo
's station, which has no line connecting it anymore,
Haaksbergen
's station, in use for a heritage railway, Terborg and Aalten, which are still in service on the line connecting
Arnhem
with
Winterswijk
.
In the 1930s, the style switched towards somewhat more modern designs while not abandoning the classic look of stations. Examples are Amsterdam Amstel and Amsterdam Muiderpoort, both built by H.G.J. Schelling.
In the
Second World War
, a lot of the Dutch railway infrastructure was destroyed, including many stations. This allowed for rebuilding using pre-fabricated elements out of concrete, as is the case for
Zutphen
and
Enschede
's stations, as well as
Nijmegen
and
Vlissingen
's stations. The classic look was fully abandoned in the late 1950s, with
Tilburg
station being the first to make the radical switch, featuring a large floating roof covering the tracks and station building. Abandoned and rarely used station buildings which were still in service had their building replaced with smaller stations, often not being much more than a ticket desk.
Starting around 1980, the look of stations gained more importance where the functionality of the building first was of utmost importance. More money went into the buildings, allowing for much prettier stations, such as
Almere Centrum
, which has a shopping street running through the core of the building,
Leiden Centraal
, which main walkway form a major connection between multiple parts of town.
Schiphol ✈
,
Rijswijk
and
Rotterdam Blaak
were built over an underground railway.
In the 21st century, more modern materials have been used.
Utrecht Centraal
and
Arnhem Centraal
have gone through major redesigns, leading to them winning many awards for their design.
Former stations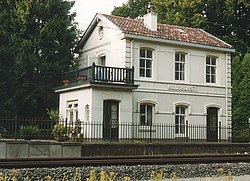 Where the aforementioned
Groenlo
railway station is no longer in use, with the line it was once connected to gone as well, it is not the only station with this fate. Stations in the Netherlands had their services cancelled en masse after
the Blitz
, with cancellations of service happening to this day. Former stations occasionally get a new purpose as a house, as is the case with Groenlo's station, but also as office, restaurant - you name it. Cancellations of service are not as frequent anymore, but stations whose service ended after
Spoorslag '70
(the 1970 service overview of the Dutch railways, part of a bigger plan to make the railways better by 1975) that have not been demolished yet, are:
The IJmondlijn is the line that Lovers' Rail, the first railway operator of the Netherlands serviced for several years. After they quit, the line was closed, leaving the stations of Driehuis-Westerveld, Velsen Zeeweg, Velsen-IJmuiden Oost, IJmuiden Casembrootstraat, IJmuiden Julianakade and IJmuiden to be abandoned in 1999. The stations are rather overgrown, but are able to be put back in service. The start of the line at Santpoort is still serviced by the Haarlem — Uitgeest railway, serviced with Sprinters.
Hulshorst's services were cancelled at the end of May 1987, the day Amersfoort Schothorst was opened, as the newly opened station made serving the small station close to impossible. The stations was to be closed after the Second World War, but was not, as a servitude laid on the station, a document made during the purchase of the land on which the station stood, which roughly stated that the station ought to be served at least four times per day, twice in both directions, had to stop at Hulshorst. The then mayor of Nunspeet, the municipality the station is in, remembered reading the document and the station was kept in service. When service was cancelled in 1987, there was no trace of the document, nor of anyone having seen or read it, which allowed for cancellation of service.
Kerkrade West and Wijlre-Gulpen had their services cancelled once the railway they were on was discontinued in 1988. The railway since has become the Zuid-Limburgse Stoomtrein Maatschappij heritage railway, which services both stations, though not regularly. Also on this railway is Simpelveld, closed in 1992 with the closure of the Maastricht — Aachen railway.
Soestduinen's services were cancelled in 1998, and was not destroyed as it received the status of municipal monument. The station was closed as not enough travellers used the station.
Rotterdam Hofplein was used as the terminus of the Hofpleinlijn until this line was converted to light rail operation by the Rotterdam metro, now connecting at Rotterdam Centraal. The station still stands, housing mostly creative start-ups and the like underneath the former tracks.
Many other stations have quirks or simply notable things to them. For example,
Arnhem Velperpoort
, still in service, has the same entrance it had in the 1960s, though it is no longer an entrance. The station building has been converted into a workspace instead. Going east on the same line, you will find other quirks such as a post remembering the Stillewald Halt near
Wehl
, as well as the West and Stadion stations in
Doetinchem
, the first of which is now an office space, and the latter is an abandoned platform. The main station of Doetinchem up to 2017 used to have no tracks 1 and 2, as these were the cargo platforms removed in the 1980s. Every line has notable things, and looking out for them can be entertaining on an otherwise bland journey.
Trains and rolling stock
While accessibility is a bit of a problem with NS (requiring separate staff at the station to operate mobile ramps to enable step-free access older rolling stock), this issue will be improved with the two
Nieuwe Generatie
trains being built as we speak. Domestic trains that are wheelchair-accessible are marked with an icon (). These trains generally have their balconies at platform height, removing the need for a wheelchair ramp or lift. When using an NS train, or an
inaccessible
train, it is required to ring up the service provider, giving them time to get a lift or ramp out. Due to the ineffective nature of this process, it is recommended to not use a train so long as you aren't using only local networks.
Mainlines
The
Stadsgewestelijk Materieel
or
SGM
for short, is a train used in the Sprinter services by NS. The term
Sprinter
has replaced the term
Stoptrein
(stopping train) fully at NS. The SGMs in service at this time are all of the type SGMm, the additional
m
referring to a modernisation that happened between 2003 and 2006, in which all SGMs had a mid-life revision. All SGMm trains run as Sprinters, in their iconic blue-white-yellow style. The SGMm is planned to be replaced by the
Sprinter Nieuwe Generatie
starting in 2018. If you know
the terms Deutsche Bahn uses
don't be confused - while the ICE Sprinter is the fastest train with the fewest stops DB has, the Dutch Sprinter is the slowest with the most stops.
The
Sprinter Lighttrain
or
SLT
for short, is the replacement for the
Mat '64
, introduced to passengers in 2009, 45 years after its predecessor was put in service. The SLT is intended for Sprinter-lines with short distances in between stops - a bit like S-Bahn or RER, which makes them most common in the
Randstad
. Its light weight makes for a fast acceleration, which results in shorter journeys, allowing for better usage of the routes.
The
Intercitymaterieel
or
ICM
for short, is an intercity train used by NS. The trains are nicknamed
Koploper
, as passengers can walk the entire length of several coupled units through the head of a unit. Its name translates literally to
head walker
, but the proper translation is
leader
. Like the Stadsgewestelijk materieel, the ICMs too have been modernised, changing their names to ICMm. The ability to walk the entire length of coupled units was removed at this time, as the function was likely to fail and cause delays. The ICM has a reclining chair, power outlet, footrest, reading light and
lectuurnet
, a little net in which you can find some newspapers or store your own books available in first class.
The
Dubbeldeksinterregiomaterieel
(
DD-IRM
) or
Verlengd Interregio Materieel
(
VIRM
) is possibly the most iconic train used on the Dutch rail network. Its name translates roughly to
Double-decked inter-region unit
and is most often referred to as
Dubbeldekker
by passengers. The DD-IRM is occasionally combined with mDDM trains, which were supposed to be taken out of service in 2010, but 44 of them were put back into service in 2016 after being modernised 6 years later. The VIRMs have wireless network and displays showing information about your journey in the modernised trains. The regular ones have a toilet for everyone to use, with reclining chairs and a footrest in first class.
The
Nieuwe Intercity Dubbeldekker
, abbreviated as
NID
or
DDZ
, are modified DD-AR and mDDM trains dating to the 1990s. The DDZ runs both as an Intercity and Sprinter service, making it the only Sprinter stock to not feature the white-blue-yellow colour scheme. The DDZ is outfitted with wireless internet and a toilet, with first class extras being a reclining chair, power outlet, a reading light, footrest and a
lectuurnet
.
The
Intercity Rijtuig
(
ICRm
) is an outcast to some extent, not being an EMU. The wagon is mostly used on the HSL-Zuid service as Intercity Direct. The wagon features the standard reclining chair, footrest and
lectuurnet
in first class. Silence areas are spread through the carriages.
The
Sprinter Nieuwe Generatie
, or
SNG
, are being put into regular service on a few services. The trains are replacing the ageing SGMm trains in 2019. Unlike the SGMm, the SNG will have toilets on board and will be entirely wheelchair accessible by having the entire floor of the train be at the same height as the platforms at stations.
The DDZ as well as the modernised VIRM feature double deck seating, having a somewhat disliked coupé-system. Throughout the train, you will find
stiltezones
(quiet zones),
werken- en rustzones
(work and relaxation zones),
meet-and-greet zones
and regular
praatcoupés
. The latter are found on the lower floors. The upper floors have the three
stiltecoupé
-variants:
Werken- en rustzones: These zones are dedicated for travellers to travel in quiet. The traveller is invited to read a book, work, sleep or talk silently. Seating is most often in rows, as you would have seating in a bus. The Werken- en rustzones can be identified with an emblem of a sitting person, surrounded with headphones, a book and a laptop surrounding him.
To make the system more complicated for everyone, this variation has a variation too. Should you be able to read the word 'Silence' or 'Stilte' on the windows, then you are in a stiltezone. You are very much discouraged to make any notable sound. Though you are allowed to have a snack or simply eat something, your fellow travellers may not be as much of a fan or you unpacking your lunch in a stiltezone.
Meet-and-Greet zones: Meant for meeting people. Seating is most often in groups, with seats facing each other. There are even lounge areas for groups. The traveller is welcome to talk, use their phone to call someone and have extensive conversations at a regular volume. This zone can be identified with an emblem of two people facing each other, with a speech-bubble above their heads.
International and high speed trains
The
Thalys PBA
and
PBKA
units have little difference amongst them. The PBAs are used on the Thalys network between
Paris
,
Brussels
and
Amsterdam
, and PBKAs also go to
Cologne
(or
K
öln in German). Both units can and occasionally are coupled. Both trains are part of the French
TGV
-family. These trains can mostly be seen in the Dutch stations of Amsterdam Centraal, Schiphol ✈ and Rotterdam Centraal.
ICE 3M
trains are used by Deutsche Bahn on international intercity journeys. Of the 17 ICE 3M trains that use the Dutch network, 14 are owned by DB, and 3 by NS. The "M" stands for "Mehrsystem", i.e. the ability of the trains to run under multiple voltages and in multiple rail systems, in this case the Dutch and the German one. The only line that these trains ride on is the
Amsterdam
–
Cologne
–
Frankfurt
–
Mannheim
–
Freiburg
–
Basel
-line, stopping on the Dutch stations of
Utrecht
and
Arnhem
. DB promises free Wi-Fi even on the Dutch stretch of its ICE journeys.
DB also runs its own InterCity (IC) trains to and from the Netherlands for example on the Berlin - Amsterdam route. As of 2017 they use a hodgepodge of rolling stock most of it refurbished since 2012 and capable of top speeds up to .
Since the V250 Fyra trains were only good for 40 days of service, NS owns and borrows
Bombardier TRAXX
or
NS HighSpeed 186
electric locomotives. The locomotives are being used in combination with the
Intercityrijtuig
(Intercity carriage) or
ICRm
for short. The trains run on the HSL-Zuid line (Amsterdam — Breda), as well as the Amsterdam — Brussels line.
The newest international train to the Netherlands is the
Eurostar e320
, known in the
United Kingdom
as
British Rail Class 374
. The train has arrived the Netherlands since 2017 on the Eurostar Amsterdam — London service. The train is capable of speeds up to and has some 900 seats divided over 16 carriages.
Local trains
The
Protos
is an electric unit, of which 5 are in service in the Netherlands. All of which are used by Connexxion on the
Valleilijn
(
Amersfoort
–
Ede
-
Wageningen
). The units aren't popular, only 6 have been sold after some 10 years on the market, Connexxion being the only buyer.
The
Stadler GTW
is by far the most popular train on the local railways. Arriva, Breng, Connexxion and Veolia used the train, with the latter two no longer servicing in the Netherlands. Breng only uses the diesel model, Arriva uses both diesel and electric models and Connexxion uses only the electric model. Veolia's trains have been taken over by Arriva, which got the concession for
Limburg
in 2016. Stadler being a Swiss-German company, the name stands for "Gelenktriebwagen" or articulated railcar.
Stadler FLIRT
s are used by Arriva in
Limburg
, R-Net in (mostly)
Zuid-Holland
, Abellio rail on border-hopping services into Germany as well as NS itself in mostly the southeast of the country to help support the Sprinter services. The FLIRTS are used by NS to replace the first generation of SGM units. Arriva has ordered 8 additional FLIRTS to service Limburg starting in 2020, as well as 18
Flirtino's
, which are diesel-electric hybrid trains, which too will start service on the northern lines by 2020. Keolis and Connexxion also have a small collection of FLIRTs riding on the
Hanzelijn
(Kampen – Zwolle – Enschede) and the
Valleilijn
respectively. Despite the name being a German abbreviation for "flinker leichter innovativer Regionaltriebzug" (fast light innovative regional train/railcar) it is virtually always pronounced as an English word.
The
LINT 41/H
trains are the oldest trains on local networks at this time. Most of the Dutch models have come from Syntus (now Keolis), which took 25 of them in service in 2001. By 2012 this number was down to 9, as Keolis had lost a large number of local concessions. Some of these were transferred abroad, and some were bought by Arriva and Veolia. Arriva bought seven additional LINT 41's in 2016.
Future trains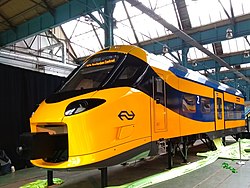 NS expect to get two newly built trains onto the rail network by December 2021. These are the
Sprinter Nieuwe Generatie
(2018) and
Intercity Nieuwe Generatie
(2021) - "nieuwe generatie" meaning "new generation". Both trains aim to be more modern than the current ICMm and SGMm models in service. A whopping 118 SNG and 79 ICNG trains have been ordered. They will feature toilets (which until the coming of the NS FLIRT weren't available in Sprinter trains) and power sockets, as well as loads of seating options. The trains will both be way more accessible for the disabled, having the floor at platform level, as the SGMm is not at all fit for people bound to wheelchairs, as entering the train requires using two high steps from platform level, a hinder of some 30 cm. The
Nieuwe Generatie
trains are also NS' response to the ever increasing number of travellers on the rail network. Twenty orders of the Intercity Nieuwe Generatie with necessary modifications so that it can run the international service to
Brussels
are supposed to be put in service by 2025.
Arriva has announced that it has placed an order for several new trains by Stadler to service some of the northern lines around Groningen. The service will be ran using
Stadler WINKs
. The WINKs are planned to be put into service in 2020.
Heritage and steam railways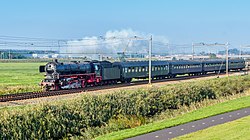 When many lines were being closed between 1930 and 1960, some initiatives popped up to save several of these railways, making them heritage railways. All of these run steam trains. Listed below are the museums that have their own railways and running stock:
Nationaal Spoorwegmuseum (NSM) in Utrecht is the biggest and best-known museum with one of most every train that has ever been in Dutch service.
Museum Buurtspoorweg (MBS) between Haaksbergen and Boekelo runs on the remains of the Doetinchem − Enschede railway.
Museumstoomtram Hoorn – Medemblik (SHM) between Hoorn and Medemblik, which uses tram running stock, yet uses a former local railway.
Stichting Stadskanaal Rail (STAR) runs a part of the line between Zwolle and Stadskanaal that has been partially broken up. The section between Zwolle and Emmen still exists, as does the part between Musselkanaal and Veendam in Groningen. The line might be reused by Arriva in coming times, as the province too supports this. STAR supports this aim to improve public transport between Groningen and Stadskanaal, though it wishes to continue its own services.
Veluwsche Stoomtram Maatschappij (VSM) uses the railway between Apeldoorn and Dieren, starting its services back in 1975.
Zuid-Limburgse Stoomtrein Maatschappij (ZLSM) rides trains between Valkenburg aan de Geul, Schin op Geul, Simpelveld and Kerkrade.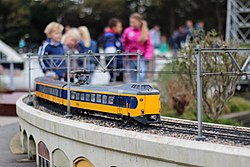 The Netherlands has a lot of narrow-gauge railways, most of which aren't noteworthy, having little when it comes to rolling stock and a scarce amount of track. The two most notable narrow-gauge railways, however, as well as heritage tramways are listed below:
Lastly, if you'd rather watch trains instead of travelling with them, then visit Madurodam in
The Hague
. Madurodam is a well-known miniature city featuring many landmarks of the Netherlands, and 4 km of model railway at a 1:25 scale. On and along this track you will find many locomotives that have been and are used by NS Reizigers and NS Cargo, models of the iconic Wadloper and
Mat '64
, as well as VIRM and Thalys models, running between scale models of the stations found in Utrecht, Groningen, Enkhuizen and Valkenburg. The Utrecht model is, funnily enough, older than the station it is based on. The scale model was revealed in 2007 to demonstrate the look of the station design.
Stay safe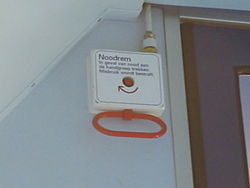 The Dutch railway system is very safe, similar to its European peers. Accidents at grade crossings do happen, but generally they end worse for whatever is on the tracks than the train or the people inside it. The last accident with on board fatalities happened February 23, 2016 at a rail crossing without barriers near
Ommen
. In the 21st century, only six fatal railway accidents have happened, accounting for seven deaths in total. Inclement weather that may endanger trains or passengers often leads to service being interrupted as a precaution, which understandably enrages travelers but enhances safety. ProRail, which is in charge of maintenance of the railways, wants to have all barrier-less crossings to have barriers by the end of 2018, which will make accidents even less frequent.
Crime on trains - aside from occasional pickpocketing and "misplaced" luggage - is rare but should you feel threatened or harassed, talk to a conductor if you can find one - not all trains are staffed with more than just one conductor. Sadly enough, the conductor is more often the target of harassment than a traveller, often for simply doing his job. Treat railway staff with the same respect you'd have for a policeman. If no conductor is to be found, look around. Often you will either find an
0800-
phone number on stickers in your wagon or find a
noodtelefoon
(emergency phone), labelled with
SOS
either at a central location of your wagon, or at the wagon's balcony. Call this number or press the button to talk to the operator's staff that will help you out as well as inform the appropriate emergency services. Do not use the emergency brake unless you've been told to by staff, which, even in the case that is is necessary, is very unlikely. Using the emergency brake locks the train for some time, disallowing it to continue on the tracks. By engaging the brake you're not only making life-threatening situations worse by making it more difficult for emergency service to reach the train, you're also making many people very mad by causing a delay on their daily route. Also, misuse of the emergency brake (
Noodrem
) is often severely punished, most often in the form of a large fine. No matter the severity of the situation, the
Noodrem
may
never
be used in a tunnel.
Go next