Rameswaram
Rameswaram
is a town on Pamban Island, in the southeast Indian state of
Tamil Nadu
. It's known for Ramanathaswamy Temple, a Hindu pilgrimage site with ornate corridors, huge sculpted pillars and sacred water tanks. It is separated from mainland India by the Pamban channel and is about 40 km from
Mannar Island
in
Sri Lanka
. It is in the Gulf of Mannar, at the tip of the Indian peninsula. Pamban Island, also known as Rameswaram Island, is connected to mainland India by the Pamban Bridge. Together with
Varanasi
, it is considered to be one of the holiest places in India to Hindus, and part of the Char Dham pilgrimage.
Get in
By plane
Nearest airport in
Madurai
- 174 km from Rameswaram. Most of the major Indian cities have daily flights here.
By train
Being a significant pilgrimage site, Rameswaram (
RMM
) is connected to all major south Indian cities like Kochi, Chennai, Hyderabad and Bengaluru. But you might find it difficult to find a direct train till here from north Indian cities.
By road
Connected with all important towns of Tamil Nadu, City Buses are available including night services. Point to Point services, Tourist taxi, auto / cycle rickshaws and horse carts are also available.The taxi charges for a small car (Indica) is around ₹5 per km. It costs around ₹1800 for return trip from Madurai to Rameswaram. Andhra Pradesh State Road Transport corporation ( APSRTC ) operates Rameswaram – Tirupathi daily service.
See
Pooja procedure at Sri Ramanathaswamy Temple
It is very important for you to know the correct procedure to offer Pooja at the main temple. Temple management allows only Hindus to perform this pooja. It is best to hire a guide a day in advance, generally around ₹400-₹500 for everything. Pooja at the main temple is a 4-step process:
Mani Darshanam - You should watch the Sphatic (Emerald) mani first thing in the morning at main temple. Darshan timings are 4-5AM. You should not take a bath before. There is a special entrance for ₹50- but it's better to stand in the general queue for ₹10 which, counter-intuitively, moves faster.
Samudra Snanam - Next, you should walk down to Samudram(Sea) for Snanam (bathing). The sea, 500 m away from the temple, is very peaceful and shallow here without any tides at all. Mythology says that Samudram surrendered to Lord Rama during his attack on Lanka and since then it is calm.
Teerth Snanam - Proceed to the temple for Teerth snanam (Holy bath). The temple has 22 wells that are said to contain holy water from different places. You need to sequentially take bath at each place. The markings are good and you can easily make out the next well.The government rate for this is ₹25 per person. Attendants are there at each well and they will pour water on you. They splash a bucket of water on a group of pilgrims. You may need to go in queue. You can also hire attendants out side the temple for this process. But they will charge ₹150 per person. Plenty of these attendants can be found at the temple entrances with a bucket and rope in hand. If you feel like getting drenched with one full bucket of water at each well, you need to hire an attendant; otherwise, this is not required.
Main Pooja - Now you can change your clothes and dry yourself. There are different prices for different kinds of pooja. The basic one starts at ₹111. Your guide will arrange for the Pujari (priest), who will do some rituals. Then he will offer milk, grass, leaves, etc. to Lord Shiva on your behalf in main temple. You can view all this sitting in front at a price of ₹500. Afterwards, he will tell you the story of Rameswaram. He will also ask you to recite some shlokas after him. Pujari charges around ₹500-600 for his services.
You can also enjoy sumptuous prasadam at noon. It is offered near inner door of Lord Shiva temple.
Sri Ramanathaswamy TempleRenowned for its magnificent prakaras or corridors with massive sculptured pillars on either side. The longest corridor in the world is here, long and wide. The temple has a Gopuram tall. Different rulers built the temple as it stands today, at different periods from the 12th century AD. There many guides who will attack as soon as you enter the temple premises; negotiate the deal of how much to pay them if you need their services. The history of the temple is linked with "Ramayan" and it is believed that the deity was installed by Lord Rama after the war with Ravana at the instance of the great saints to get rid of the "Brahma Dosham".

AgnitheerthamSri Ramanathaswamy temple faces east. The seashore, about from the main entrance of the temple, is very calm and therefore ideal for bathing. The water at this place is considered sacred and known as Agni theertham. Pilgrims perform poojas in honour of their ancestors at this seashore.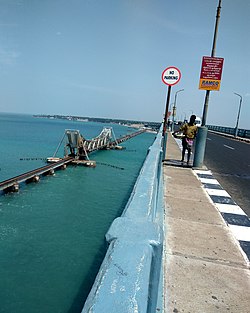 Annai Indira Gandhi Road BridgeConnects the Rameswaram island with the mainland. It is the longest sea bridge in India, nearly long, and stands as a fine example of Indian architecture. The islands near by and parallel rail bridge below can be viewed from this bridge.

Badrakaliamman TempleA temple for Devi Durga

Dhanushkodithe southern tip of the island, Dhanushkodi was completely washed away by the 1964 cyclone. This is a strip of land about wide and long on the eastern end of Rameswaram island. On one side are the waters of the Indian Ocean and on the other is the Bay of Bengal. The two seas, otherwise known as Ratnakaran and Mahodadhi, with their confluence is shaped like a bow while the strip of land resemble an arrow poised for release. Devout Hindus consider the Adi Sethu, or the arrowhead, a sacred place to perform religious rites. It is also a place worth visiting for its scenic beauty and bird life.

The Five-faced Hanuman Templethe deity of Hanuman drawn withsenthooram. Idols of Lord Ram, Sita and Hanuman brought from Dhanushkodi during the 1964 cyclone were placed here. The floating stone, used to build the SethuBandanamor, the bridge between India and Lanka, can be found in this temple.

Gandamadana Parvathamis a hillock situated 3 km away and is the highest point in the island. Here one can see the imprint of Lord Rama's feet on a chakra. The entire island of Rameswaram is visible from this point.

Jada Theerthamlegend has it that Lord Rama, on his way back after killing Ravana, Worshipped SriRamalinga (believed to be installed by him). Before doing so, he washed his hair in this theertham to purify himself.

Kalam House

address: Mosque Street

The former President A.P.J. Abdul Kalam House is an interesting place to visit. At present, his residence has been converted into a museum that stocks his childhood memoirs. The place is ideal to get a glimpse into the extraordinary life of this simple man, right from childhood to his research days. Several pictures and awards of Dr. Kalam are kept on display in this two-story building, which is maintained by his elder brother. Moreover, a section of the house has been turned into a store that sells a variety of merchandise.

Kalam MemorialA very beautiful and grand building. It was inaugurated on the second death anniversary of Dr Kalam. A must-visit. No photography is allowed inside the main halls.

Kothanda RamaSwamy TempleA popular belief is that Vibishana, brother of Ravana, surrendered before Rama here.

Nambu Nayagiamman TempleGreatly venerated by the people of Ramnad District.

Satchi Hanuman TempleA very small roadside temple. It is considered to be the place where Hanuman delivered the good news of finding Sita to Rama with satchi or evidence, Choodamani or the jewel that belonged to Sita

Sugreevar Temple/Theertham

Villoondi TheerthamIt is found inside the sea like a well where freshwater is available.
Do
Glass boat ride at Pamban Bridge: There is one glass boat at the govt. boating center on the other end of the bridge. That boat too is not in order, as water has entered between the two layers of glass through which you are supposed to see the corals. The boatman will tell you that the glass is not in order only when you reach the point where you are supposed to see the corals. The water is shallow there, but you won't be able to see the corals with the glass in that condition. As such, it is an utter waste of money till the govt. officials fix the boat. Before boarding that single boat, check the glass and ask the boatman if it is in proper condition. (April 2012) One can enjoy the wonderful glass boar ride near pambanbridge to see coral reefs in the Sea. Boat has a glass bottom which enables you to see corals through it. To reach this place, you need to catch local bus from Rameswaram bus stand to Pamban bridge. From there you have to take an auto to boat center (₹40-50) (minimum 400 per boat of 8 persons), it is almost halfway on the bridge. Boat is run by Government officials and you don't have to bargain. They provide good service and don't even expect a tip from tourists. If you want to have a good view, be there between noon - 1PM on a good sunny day. Always carry an umbrella with you and watch the coral reef in umbrella shade, otherwise you'll see your own reflection on the glass instead of corals(imp: try to go for glass boat ride with a group because some days there might be no tourists there and you might end up paying more as there is no one to share glass boat ride with you) :)
It might not be even proper coral to see in the areas, some says the corals are all damaged around here!
Visit Dhanushkodi: Apart from the temple this certainly is one of the best things to see and do in Rameshwaram.
Since 2017, a full paved road goes all the way down to Dhanushkodi and the further 3 km till the tip of country towards Adams bridge/Sri Lanka. The bus #3 from Rameswaram brings you there for ₹30.
On the tip, you see the sea on both sides: on one side the Bay of Bengal and on the other the Indian Ocean, the Bay of Bengal side is relatively calm and hence goes by the name (Penn Kadal , Lady Sea) and the India Ocean is rough with waves lashing and is called ( Aaan Kadal, Male Sea).
Dhanushkodi is a interesting ghost town (destroyed in the 1964 cyclone after which the city was deserted): it seems to revive between the ruins: many wood bungalows are around the old harbor (fishermen) and others with handicrafts along the road. A primary school is also active. You can see the post office , railway station , church and rail tracks in ruins.
It's best to go in the evening or early morning to avoid the scorching sun, the bus starts at early as 6AM and until sundown 6PM. You might experience the travel with the former minitruck instead of the bus.
Buy
If you are interested in buying seashell items, visit the Leema Shopping near Dr. Kalam's House. You can get quality items in a comparatively well priced than elsewhere in Rameswaram.

Eat
A number of Marwadi Bojanalays, semi-sponsored restaurants for charity, are near the west entrance of the temple and serve good food at a reasonable price.
Another good place is the Ram Nivas restaurant. They specialise in Indian Chinese food. Service is a little slow but the food is worth the wait. To get there, turn right at the temple when coming from the Bus Stand and walk about 50 metres.
Gujarat Bhavan offers excellent homely meals as well, but be prepared for a long wait time. When you exit the temple from the East gate and walk straight, around 200 metres towards the sea-shore you will find this place on the right hand side.

Sleep
phone: +091 -957807635

address: Agasthiar Theertham

The hotel is near temple and sea. There is no arrangement for food.

phone: +914573301401, +914573223222

address: NH- 49, Madurai Rameswaram Highway

address: Semma Madam, Ramnad Highway

The tariff is quite high considering that Rameswaram is a small town, with no breakfast included. Also has a good restaurant attached. The staff are warm and friendly. Ample secure parking place for cars. But it is quite far away from the main temple.

Tamilnadu HotelThis Tamilnadu Tourism Development Corporation hotel provides good accommodation at reasonable rates. It is under renovation.

address: 1/8A south car street

Decent hotel with good service.

Hotel/Lodge Guru
Go next