Raseborg
Raseborg
(Swedish; Finnish:
Raasepori
) is a municipality in
Uusimaa
.
Understand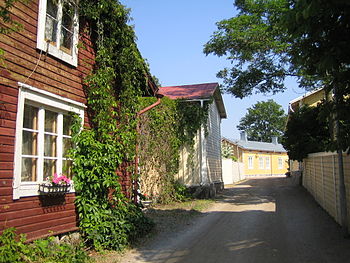 Raseborg was created in 2009 by consolidating the municipalities of
Ekenäs
,
Karis
and
Pohja
into a single "town". The majority (66 %) of the population speaks Swedish. A medieval castle of Raseborg located in the former municipality Snappertuna gives name to the new municipality.
EkenäsEkenäs is a coastal town at the edge of an archipelago, part of which is the Ekenäs Archipelago National Park. It has a pretty old town consisting of narrow streets of wooden houses. Ekenäs guest marina at 59° 58' 41" 23° 26' 10" is large for the size of the city and known for it's beauty and good location adjacent to city centre.

KarisKaris is a railway junction located on both the Helsinki–Turku and the Hanko–Hyvinkää line. Karis is also your Raseborg trip junction where from you can access Billnäs ironworks by walking a few kilometers north, artisanal and historical Fiskars village by a 20 minute bus ride north and scenic Ekenäs by a 12 minute train connection to the south, towards Hanko.

PojoPojo is one of the birthplaces of Finnish metal industry. The ironworks of Billnäs was founded there around the same time as Fiskars ironworks.

Fiskars VillageFiskars is known as an idyllic artisanal village destination, and location of the historic Fiskars ironworks. It is a centre of art and industrial and non-industrial design a 20 minute bus ride north of Karis. Fiskars Corporation, the oldest functioning Finnish company, was founded around the Fiskars ironworks in the 17th Century. It has places to stay and dine around the year if you can afford to splurge. There are things to see, and you can buy design, artworks, modern industrial products of known Finnish brands, art and utility glass products, metal wares, clothing, jewelry, ceramics, leather goods, fair trade world products, furniture, handicrafts, artisan beers and graphic works.

JussaröThe only Finnish ghost town, 18 km south of Ekenäs, off the coast. Guest marina by the Hanko–Helsinki leg. A waterbus service to Jussarö is available from Baggö Marina, Baggövägen 1275.
Get in
Karis can be reached by route 51 from
Helsinki
. It is located about 80 km west from the capital. After another 20 km along route 25 in direction of
Hanko
you will arrive in Ekenäs. From
Turku
you can come via highway E18 and route 52, the distance to Ekenäs is about 115 km.
Karis is a
railway
junction, on the
Kustbanan
railway between
Helsinki
and
Turku
and on the railways to
Hanko
and
Hyvinkää
. Arriving by
bus
is also possible.
You can also come by ferry from
Paldiski
,
Estonia
, via the port of
Hanko
.
Get around

Karis and Ekenäs are connected by rail and bus. From Karis you can take the regular 20 minute bus service to Fiskars around the year. Each place is small enough to be explored on foot comfortably.

Karis
The centre of Karis is opposite (north of) the train station. Take the bridge over the railways, use the left fork and continue on Köpmansgatan, which is the shopping street. Instead turn right after crossing for supermarkets. For a walk in a residential area with villas and gardens, the Svartån river and Pumpviken park, walk half a kilometre east (to the right) from the centre, e.g. along Centralgatan or Högbergsgatan. The ridge behind the station is Lojoåsen (Lohjanharju), part of the Salpausselkä terminal moraine left by the Ice Age, separating the Finnish Lakeland from the Gulf of Finland and continuing as the Hanko peninsula to south-west.

See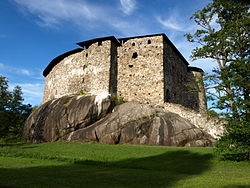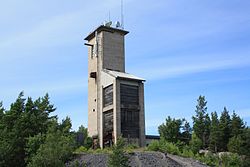 phone: +358 400-856-544

address: Jussarö

Jussarö was a mining city where iron ore was mined once. Between 1967-2005 the island was used by the Finnish Defence Forces. The island's services in season include guest marina services operated from Café Ön, a small shop of some sorts, rent-a-sauna, guided tours and since 2016 also lodging.
Happenings
Festivals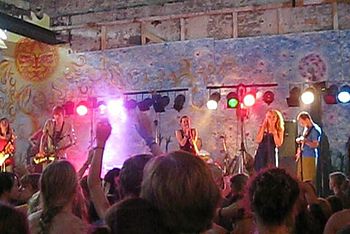 phone: +358 46 849 0653

address: Gullövägen 400, Ekenäs

Series of events at the Raseborg castle, including Raseborgs Summer theater, Midsummer festival, Medieval fair and tournaments in July, etc.
Other happenings
address: Peltorivi 7

A yearly event in July bringing professional antique sellers with their wares and buyers together in Fiskars Thu 7.7 - Sun 10.7.
Do
Ekenäs Archipelago National ParkPart of the archipelago off Ekenäs is a national park. The larger wooded islands and the general seascape are reachable by taxi boat. A sailboat or sea kayak is ideal to explore all of the archipelago.
Canoeing
phone: +358 400 411992

address: Gullövägen 400, Ekenäs

Kayak rentals, courses, guided tours in archipelago.
Theater
phone: +358 19 2415035

address: Raseborgs Slottsväg

2016 piece is The Sound of Music playing from late June to early August
Skiing and hill car in the summertime
phone: +358 19 238 955

address: Brunkomin rantatie 1, Åminnefors

Finland's southernmost ski center 7 km north from Karis owned by Pohja Sport registered non-profit association. Rentals, ski and snowboard instruction and very affordable café with small eats and alcoholic beveratges.
Buy
Buy in Ekenäs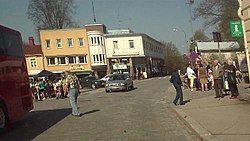 phone: +358 45 6155900

address: Radhustorget

Local farmers' and market Wednesdays and Saturdays with fresh fish at good prices from local fishers

KungsgatanKungsgatan is Finland's first pedestrian only street and still sided by boutiques of various wares.
Buy in Fiskars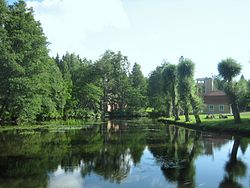 Shoppes in Fiskars sell design, artworks, modern industrial products of known Finnish brands, art and utility glass products, metal wares, clothing, jewelry, ceramics, leather goods, fair trade world products, furniture, handicrafts, artisan beers, graphics and chocolate. There is also a small convenience store.
phone: +358 204 39 5612

address: Fiskarsintie 22, Fiskars

Company stores of favourite Finnish brands: Fiskars, Arabia, Hackman and Iittala.

phone: +358 40 938 1411

address: Peltorivi 7

Rekola Brewery and Shop est 2012 offers artisan brews in the heart of Fiskars
Eat
In Ekenäs
In Karis
Budget
Splurge
In Fiskars
Drink
In Karis
phone: +358 19 236-872

address: Köpmansgatan 30

Small eats, drinks, occasional live and recorded music, graphic arts and non-alcoholic possibilities in hearty atmosphere: a second (or first?) living room for many of the youth. Short walk north of Karis centre. The garden is lovely for refreshments in in the summer and live fire in the stove keeps the house warm in the winter.

phone: +358 40 0392363

address: Alingsåsgatan 37

Restaurant by day and one centre for social life in Karis day and night. Billiard, dart. Pizzas, burgers, hot wings.
Sleep
In Ekenäs
phone: +358 19 2461500

address: Vitsippsgatan 2 / Valkovuokonkatu 2

Peaceful hotel to the north of the city center. Boat places but only for motor boats as it is north of the low railway and highway bridge.

phone: +358 19 24 13 833

address: Kammakaregatan 4 - 6

phone: +358 19 241 3131

Hotel with 20 rooms and 2 restaurants
In Karis
phone: +358 50 5379584

Dönsby Bed and Breakfast is 4km from the Karis city center in a serene country side setting. 4 rooms houses max 10 guests. Classic Finnish close-sourced breakfast during summer-season and off-season guests are welcome to use the guest kitchen.
In Fiskars
phone: +358 50 441 91 79

address: Fiskarsintie 9

Fiskars Wärdshus Hotel and Restaurant

phone: +358 19 2766510

address: Fiskarsintie 14

Fiskars Wärdshus Hotel and Restaurant has been serving travellers since 1836. Fax. +358 19 237326
In Svartå
phone: +358 19 36 231

Svartå Manor offers the most luxurious lodging in a beautiful park setting.
In Billnäs
phone: +358 40 58 000 82

address: Sjösängintie 23

Eden Billnäs B&B near the ironworks offers lodging around the year.
Connect
Prepaid data SIM cards are widely available from R-kiosks at reasonable prices. Customer convenience Wi-Fi is not very widespread due to everyone having a data plan in their phone.
Go next
Port, marina and sunbathing city of Hanko is reachable by half-an-hour rail link from Karis railway station or by taking Main Road 25 south-west. From Hanko Port there is car and cargo ferry connection to Paldiski, Estonia.
For history fans, travel east or west along the King's Road
Lohja to the north-east on the Main Road 25