Regina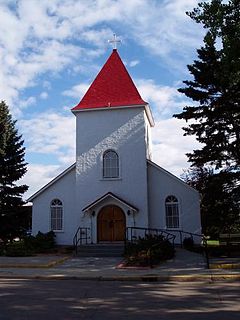 Regina
is the capital city of the province of
Saskatchewan
. With about 215,000 people (2016), it is in the southern part of the province on
Trans-Canada Highway
No. 1.
Understand
Regina is home of the RCMP Training Academy and the Canadian Football League's Saskatchewan Roughriders. Before
Alberta
and Saskatchewan became provinces, Regina was the capital of the
Northwest Territories
. Louis Riel was executed in the city.
Wascana Centre, created around the focal point of Wascana Lake, remains one of Regina's attractions and contains the Provincial Legislative Building, both campuses of the University of Regina, First Nations University of Canada, the provincial museum of natural history, the Regina Conservatory (in the original Regina College buildings), the Saskatchewan Science Centre, the MacKenzie Art Gallery and the Saskatchewan Centre of the Arts.
Residential neighbourhoods include precincts beyond the historic city centre are historically or socially noteworthy neighbourhoods – namely Lakeview and The Crescents, both of which lie directly south of downtown. Immediately to the north of the central business district is the old warehouse district, increasingly the focus of shopping, nightclubs and residential development; as in other western cities of North America, the periphery contains shopping malls and big box stores.
As demand has risen for Saskatchewan's agricultural and mineral resources, Regina has enjoyed a period of strong economic growth.
History
The site had been called Wascana ("Buffalo Bones" in Cree), but was renamed "Regina" (Latin for "Queen") in 1882 in honour of Queen Victoria. This decision was made by Queen Victoria's daughter Princess Louise, who was the wife of the Governor General of Canada, the Marquess of Lorne.
Unlike other planned cities in the Canadian West, on its treeless flat plain Regina has few topographical features other than the small spring run-off, Wascana Creek. Early planners took advantage of such opportunity by damming the creek to create a decorative lake to the south of the central business district with a dam a block and a half west of the later elaborate 260-metre (850 ft) long Albert Street Bridge across the new lake. Regina's importance was further secured when the new province of Saskatchewan designated the city its capital in 1906.
In 1912, the Regina Cyclone destroyed much of the town; in the 1930s, the Regina Riot brought further attention and, in the midst of the 1930s drought and Great Depression, which hit the Canadian Prairies particularly hard with their economic focus on dry land grain farming. The predecessor of the New Democratic Party (the main left-wing political party in Canada), formulated its foundation Regina Manifesto of 1933 in Regina.
Climate
Get in
By plane
address: 5201 Regina Ave

Has 8 gates that handle flights to major centres in Canada via Air Canada and WestJet, weekly flights via WestJet to Las Vegas and Phoenix, and charter flights to sun destinations during winter. Regional airlines provide service to Saskatoon, Prince Albert and points in northern Saskatchewan.
By road
Major highways
Highway 1 (Trans-Canada Highway) − Regina sits along the Trans-Canada Highway (Highway 1 in Saskatchewan) and is a 40-minute drive east of Moose Jaw. Calgary is 7 hours to the west on Highway 1, and Winnipeg is a 5-hour drive to the east on Highway 1.
Highway 6 (CanAm Highway) - Highway 6 runs north-south through the city along Albert Street, the main street, and runs south to the U.S. border (Raymond and Plentywood, Montana), which is about 90 minutes away; this port is open 24 hours a day, seven days a week. Going north it eventually leads to the parklands in central Saskatchewan and is one of four routes to Prince Albert (the others being Highway 11, Highway 2 via 11 and Highway 20 via 11).
Highway 11 (Louis Riel Trail) − Saskatoon is 2½ hours to the north on Highway 11, and it continues to Prince Albert. Edmonton is 8 hours to the northwest via Highways 11 and 16.
Highway 39 - Highway 39 runs diagonally from northwest to southeast from Moose Jaw to the U.S. border (North Portal and Portal, North Dakota), about 2½ hours away; this port is open 24 hours a day, seven days a week. Highway 39 passes through the cities of Weyburn and Estevan and accessed via Highway 6 at Corinne, about south of Regina. The CanAm Highway transitions from Highway 6 to Highway 39.
Minor highways
Highway 33 runs to southeast Saskatchewan and is an alternate route to Weyburn and Estevan.
Highway 46 is a short commuter highway to Balgonie, Saskatchewan.
By bus
phone: +1 306-209-3636

Bus service along the Trans-Canada Highway from Winnipeg to Vancouver, twice daily. Service from Saskatoon, Prince Albert, Medicine Hat, Swift Current, Moose Jaw, Regina, Whitewood, and Moosomin (Saskatchewan); Revelstoke, Salmon Arm, Kamloops, Hope, Abbotsford, and Vancouver (British Columbia); Calgary, Strathmore, Canmore, Lake Louise, and Banff (Alberta); and Brandon, and Winnipeg (Manitoba).
from Saskatoon3 hr.

from Prince AlbertArrives at 8:30PM (W includes a lay-over in Saskatoon).
By train
There is no
Via Rail
service to Regina.
Get around

Regina is pretty navigable, especially its inner city area where roads are on a grid, like most other cities around the region. Regina also has a Ring Road, though it is only a half ring road and can take you around most of the city.


See
Museums and art galleries
phone: +1 306-791-7900

address: 2903 Powerhouse Dr

Over a hundred permanent, hands-on exhibits, live stage shows, amazing Gryo-Gym, and one of the tallest climbing walls in Canada.
phone: +1 306-522-IMAX

Saskatchewan's only IMAX Theatre, it is one of about 250 such theatres in the world. It is one of the most dynamic ways for people to experience the places, people, and principles of science and nature.
phone: +1 306-787-2815

address: 2445 Albert St

An interesting natural history museum that describes the features of the province. Also features a half-size robotic T-Rex called "Megamunch".
phone: +1 306-584-4250

address: 3475 Albert St

Major touring exhibits, Gallery Shop and 175-seat theatre. Tours available.
phone: +1 306-522-7333

address: 5907 Dewdney Ave

Through the use of permanent and temporary exhibits, multimedia technologies, and extensive programming, the Heritage Centre tells the RCMP story and educates Canadians and the world about the past, present and future of the RCMP within Canada and abroad. The RCMP Heritage Centre also has a Gift Shop and e-store. Tours of the RCMP Academy, Depot Division are offered daily from May-Aug.
phone: +1 306-522-7166

address: 1835 Scarth St

A contemporary art forum.
Parks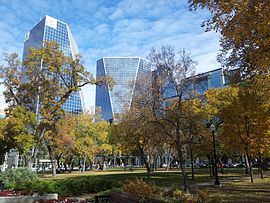 Regina has more parks and greenspace per capita than any major city in Canada.
Wascana CentreHuge 9.3-km² (2300-acre) park that is built around the shores of Wascana Lake, a man made lake in the heart of Regina. It is one of North America's largest urban parks, and includes several attractions, such as several walking and bicycle paths, the Saskatchewan Science Centre, an outdoor pool, a marina with boat rentals, the Saskatchewan Legislative building, and the Saskatchewan Centre of the Arts.
Douglas ParkHouses the Canada Games Athletic Complex and Leibel Field.

address: https://wascana.ca/things-to-see-and-do/parks-and-play-areas/willow-island

This island on Wascana Lake is open to the public and is available for group bookings. A pontoon boat which seats 12 passengers is used to transport people to and from the island.
Central Park
Victoria ParkLocated in Regina's Market Square. It is the venue for many summer and winter events and concerts. In the centre of the park is a war memorial. A few statues dot the park, there is a playground on the southeast corner. The park is well treed and has many benches. On summer afternoons expect downtown's business-people to populate the park equally with teenagers (who mostly stay on the grass).
A.E. Wilson ParkThe northern entry point to the Devonian Pathway. There are many path intersections in this area, making it great for short walks. The park has the widest points in the creek on the North side of Wascana Lake. It is home to the Jack Hamilton Arena and Rick Hansen Optimist Playground.
Saskatchewan Legislative Building

phone: +1 306-787-5416

address: 2405 Legislative Drive

Tours are approximately 30 mins. Pay particular attention to items belonging to Tommy Douglas, who was the Premier of Saskatchewan and introduced universal health care while in office.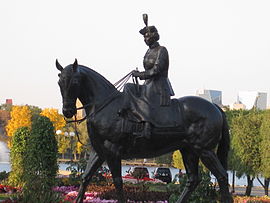 Shows
Regina is home to many performing arts venues.
address: 1880 Saskatchewan Dr

Casino Regina is in a beautiful historic train station. With almost 2 million visitors every year, it's Saskatchewan's top tourist draw.

phone: +1 306-525-9999

address: 200 Lakeshore Dr

Concert hall where many big-name artists play here; seats 2,033.

The Saskatchewan Cultural Exchange Society

phone: +1 306-780-9495

address: 2431 8th Ave

In the warehouse district. Operates two venues: The Exchange, a 240-capacity club (complete with bar and Ms. Pac-Man machine) and The Club, a smaller venue. There are usually several acts per night, and range from independent bands to comedians to visual artists. Admission is usually under $10 or free.

phone: +1 306 791-6395

address: 2424 College Ave

The RSO is a full-scale, professional orchestra focused on sharing live orchestral music with residents of Southern Saskatchewan. The concert season runs from August to May. The RSO provides a unique and fun concert experience.

phone: +1 306-525-6400

address: 1801 Scarth St

The Globe is a 100-seat venue for plays and intimate concerts. It is in the Prince Edward Building upstairs from the Old City Hall Mall.

The Artful Dodger

Creative City Centre

The Artesian
Movies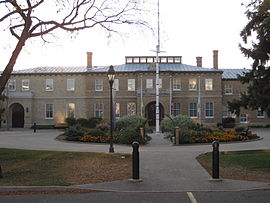 First-run cinema
Cineplex OdeonSouthland Mall.

Galaxy Cinemas

address: 420 McCarthy Blvd N

In the Normanview Shopping Centre.
Cheap theatres
These are theatres that show movies after their main theatrical run at a discount. Tickets are usually under $5.
Independent theatre
Do
Events
Downtown Ice & Fire Winter Carnival (15-18 Feb). Winter Carnival activities include snow sculptures in Victoria Park, evening lantern procession and a masquerade ball.
RCMP Sergeant Major's Parade (year round). A demonstration of the inspection of the troops, followed by a march through the Parade Square or the Drill Hall. The Sergeant Major's Parade occurs M-F at 12:50PM, statuatory holidays excluded. RCMP Depot Division
RCMP Sunset Retreat Ceremonies (Jul-Aug). Colourful 45-minute ceremony centered around the lowering of the Canadian Flag. Features RCMP Cadet Band and Cadet Troops wearing the traditional scarlet tunic of the world-renowned Royal Canadian Mounted Police. Also in attendance uniformed members mounted on horses and carrying lances. RCMP Depot Division

Regina Folk FestivalThe Regina Folk Festival (RFF) is an annual folk music festival held in Victoria Park. Occurring the second weekend in August, the festival is a three-day annual event including evening headliner concerts and daytime workshops and performances. It is Western Canada's longest-running music festival.

Canadian Western AgribitionHeld in late November, it is Canada's premiere agriculture show and marketplace with over 4000 livestock on display including cattle, horses, bison, llama, sheep, and goats. Highlights: 14 breeds purebred beef cattle, Canadian Cowboys' Association Finals Rodeo, light and draft horse events, grain and forage events, agri-trade/technology and western craft trade show, stock dog trials, Agri-Ed showcase, food fair and daily entertainment.

address: City Square Plaza, 12th Avenue & Scarth Street

Members of the market make, bake or grow their wares. The market offers the freshest fruit and vegetables, bison, lamb, tastiest breads, cookies, and original crafts and treats around.

address: Cathedral Neighbourhood Center, 2900 13th Avenue

Members of the market make, bake or grow their wares. The market offers the freshest fruit and vegetables, bison, lamb, tastiest breads, cookies, and original crafts and treats around.

The Queen City ExThe biggest summer fair in the province, featuring something for all ages - free stages, food, midway, exhibits. Buffalo Days parade, home decor, pancake breakfast, Equifest, downtown activities. Late July-early August.

Regina International Fringe Theatre FestivalTheatre lovers and performers will come from across the province and around the world for the festival running concurrent with Buffalo Days. Fringe is cutting edge entertainment bringing together performers and audiences in a fun, safe and exploratory environment. Early July.

ConnectYearly electronic music festival that can be found just outside of the Regina area.

Cathedral Village Arts FestivalAnnual celebration of the arts, located in Cathedral Village.

MosaicLocal multicultural festival.
Sport
address: 1734 Elphinstone St

Regina is home to the Saskatchewan Roughriders football team of the Canadian Football League. The team's loyal fans are known for prominent displays of the team's colours, green and white, especially through their tradition of carving fake football helmets out of watermelons. The Riders' home is the new Mosaic Stadium, located near the corner of Elphinstone Street and Saskatchewan Drive, which opened in 2017 to replace the previous Mosaic Stadium (historically known as Taylor Field).

address: 1700 Elphinstone St

The Regina Pats are the world's oldest major junior hockey franchise in existence, beginning play in 1917. The Pats are four time Memorial Cup champions and have produced NHL veterans such as Doug Wickenhiser, Clark Gillies, Brad Stuart, Barrett Jackman, Derek Morris and Josh Harding. The Pats play at the Brandt Centre also known as the Agridome.

phone: +1 306-721-0666

address: 750 Winnipeg St N

Regina's top baseball team plays in Canada's Premier Collegiate League, the Western Major Baseball League, versus ten other teams in Saskatchewan and Alberta.
Golf
There are many public golf courses throughout the Regina area. The Royal Regina is a semi-private coursel. Joanne Goulet, Tor Hill & the Murray are municipal courses. The city also runs a par 3 course at Lakeview. The surrounding area boasts championship courses at Deer Valley Estates and Emerald Park.
Buy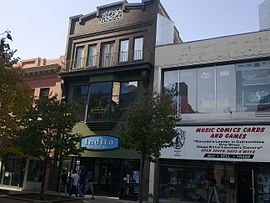 Eclectic, locally-owned shops and boutiques can be found clustered in the pedestrian-friendly
Cathedral Village
or
Old Warehouse District
.
Visitors to Regina will also find all the indoor shopping malls and big box power centres endemic to most North American cities:
phone: +1 306-584-7644

address: 2965 Gordon Rd

Located in the south end of the city at the corner of Albert and Gordon. Has a Cineplex Odeon movie theatre.

address: 2102 11th Ave

Anchored by Hudsons Bay. It is located downtown in the middle of most of the city's office space. For this reason parking is difficult and expensive. Covered raised walkways connect this mall to Casino Regina, and The Delta Hotel. Immediately south are Scarth Street Mall and Old City Hall two pedestrian-only shopping centers.

phone: +1 306-586-0818

address: 3806 Albert St

The anchor stores are Extra Foods, Rexall Drugs, and Liquidation World.

Normanview MallHas a Galaxy Cinemas movie theater.

North West commercial area anchored by Walmart, Superstore, Home Depot and Sobeys. Do not attempt if you are not driving.
"Vic East" commercial area anchored by Walmart, Superstore, Best Buy, Costco, Home Depot and Victoria Square Shopping Center on Victoria Avenue East. Do not attempt without a car.
Eat
Saskatchewan is known for having one of the largest per-capita ratio of restaurants to citizens, so there is a wide variety of places to choose from. Regina's downtown alone has approximately seventy eating establishments. Aside from the regular chains, here is a list of local favorites: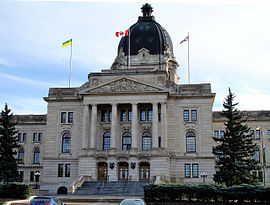 The Cathedral Village Free House

phone: +1 306 359-1661

address: 2062 Albert St

A popular and trendy spot for a tasty lunch or for chilling out in the evening. Popular with the office and university crowd, the food and service are excellent, but you may find it a little too busy at certain times of the day. Also features the occasional live music show.

The Copper Kettle Restaurant

phone: +1 306 525-3545

address: 1953 Scarth St

An award-winning restaurant located downtown. Was featured on The Food Channel a few years ago. Many types of food are available, but they are especially known for their Greek food. (For a different taste, try the spinach & feta pizza.) A wine bar is also available.

phone: +1 306 546-3660

address: 2228 Albert St

Offers an good array of dinner and appetizer items that rise far above the usual fare. It also offers a large selection of both alcoholic and non-alcoholic beverages as well as a diverse and reasonably priced martini list. It can get get fairly crowded on Fridays and Saturdays, so make reservations or arrive early.

Crave Kitchen and Wine Bar

phone: +1 306 525-8777

address: 1925 Victoria Ave

Located downtown, Crave is an upscale tapas, wine and dessert location with a good atmosphere for socializing. It is a popular place to go for lunch as well.

phone: +1 306 585-3663

address: 3000 Wascana St

An upscale restaurant overlooking Wascana Creek. A bit pricey, but the food, service and atmosphere is fabulous.

Luiggi's Pasta House

phone: +1 306 949-7427

address: 470 Albert St N

An Italian-themed pasta house with excellent food and prices and awesome service. Family and group friendly. Take-out and delivery city wide, including to all the hotels around Regina. Very much a local favorite.

phone: +1 306 359-7663

address: 1845 Victoria Ave

Casual dining restaurant located downtown. Serves American-style food and has a decent wine and beer selection. Offers both indoor dining and a rooftop patio.

The Chimney Restaurant and Lounge

address: 2710 Montague St

A steakhouse located in the Lakeview area with an extremely cozy atmosphere and good prices.

Creek in Cathedral Bistro

address: 3414 13th Ave

A small, intimate restaurant. The menus are changed regularly and feature fresh ingredients. A bit pricey, though.

Greko's Restaurant and Steak House

address: 4424 Albert St

A Greek-style steak house in the south end of the city. Good prices and service. Especially good garlic bread.

address: 1653 Park St

A small, but impressive locally-owned restaurant and store with a very "homey" atmosphere. Specializes in Ukrainian food, like cabbage rolls and perogies. Not usually open during supper hours, though.

address: 3255 Quance St

In the east end of the city, not too far from many of the local hotel chains. Features a lounge and a restaurant. Very friendly and reasonably priced.

The Icehouse Tavern

address: 14 Park Bay, Emerald Pk.

Home of the legendary Iceberg hamburgers.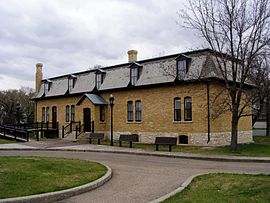 Teppanyaki Japanese Steak House

phone: +1 306 359-0099

address: 736 Victoria Ave

Viet Thai Restaurant

phone: +1 306 569-3833

address: 2080 Albert St

India House

phone: +1 306 585-8882

address: 806 Victoria Ave

Hanabi Japanese Sushi Restaurant

phone: +1 306 585-8880

address: 1950 Broad St

Michi Japanese Restaurant and Sushi

phone: +1 306 565-0141

address: 1943 Scarth St

Afghan Cuisine Family Restaurant

phone: +1 306 949-0800

address: 832 Albert St

Flavors of India Restaurant and Sweets

phone: +1 306 757-5353

address: 305 Victoria Ave E

Angkor Southeast Asian Delight

phone: +1 306 522-2388

address: 2567 Quance St

Saigon By Night Restaurant

phone: +1 306 522-2444

address: 1840 Broad St

Selam Ethiopian Restaurant

phone: +1 306 775-3131

address: 2115 Broad St

Neo Japonica Japanese Restaurant

phone: +1 306 359-7669

address: 2167 Hamilton St
Drink
The legal drinking age in Saskatchewan is 19 years.
For those looking to check out a bar or night club in the evening, Regina's Old Warehouse district is the place to be. There are 6 bars and clubs on Dewdney Ave between Albert and Broad Sts:
Gabbo's Nightclub

phone: +1 306 347-9907

address: 2338 Dewdney Ave

Habano's Martini and Cocktail Club

phone: +1 306 347-2288

address: 2288 Dewdney Ave

An upbeat nightclub with a good clientele, Habano's is a good place to go have fun. They have varied entertainment - from DJ's to live music to hypnotists. Drink specials on the weekends.

phone: +1 306 522-4774

address: 2226 Dewdney Ave

An Irish pub with an old world style, McNally's is well-known for having very good taste in entertainment, and brings in terrific bands. It also has a wood fireplace, a dancefloor, a full restaurant menu, 24 different beers on tap, as well as a good selection of other drinks. Tuesday night is karaoke, and Thursday night features local artists performing.

phone: +1 306 359-7276

address: 2206 Dewdney Ave

An excellent brew pub which brews their own beer, Bushwakker's was once named by The Globe and Mail newspaper as one of Canada's top 5 brew pubs. Good food, very spacious and comfortable. Also features live music - Monday is jazz night and Wednesday is folk night.

Pure Ultralounge

phone: +1 306 543-7465

address: 2044 Dewdney Ave

Popular with the university crowd, The Drink tends to attract the biggest names in live music in town. It can get crowded easily, so come early. Features Big Beer Fridays and Infamous Saturdays.
Casual Pubs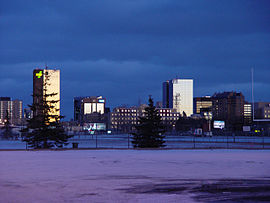 Beer Brothers Bakery and Cuisine

phone: +1 306 586-2337

address: 1801 Scarth St

A casually themed restaurant and pub located downtown. It features a wide variety of beer, and the food and service is exceptional. Beer drinkers, take note.

phone: +1 306 566-4094

address: 1947 Scarth St

O'Hanlons is one of Regina's most popular nightlife venues and stands out from the Dewdney bars. Friday night usually features a few bands, and Saturday night is the infamous Dance Party. A great selection of drinks is available, and the atmosphere is great.
Dance bars
phone: +1 306 721-1390

address: 1235 Broad St

The city's only biker bar and tattoo parlour, The Gaslight is also known for its very good (if a bit loud) live music. The burgers and Mexican food are among the best in town. A good selection of drinks is available, plus they have a Jägermeister machine.
Other drinking joints
phone: +1 306 780-9495

address: 2431 8th Ave

A club which is owned and run by the Saskatchewan Cultural Exchange Society (SCES), The Exchange contains some of the best live music in the city. It attracts fairly big names, as well as a lot of local talent. Improv is also a fixture. There is no age limit to get in, though it is also a licensed establishment and serves good, cheap drinks if you present ID.

phone: +1 306 359-7440

address: 641 Victoria Ave E

The Pump is a country and western-themed venue in the east end of the city, though non-country music is frequently played as well. Features a dancefloor, a very spacious lounge, a bar and the city's largest all-seasons deck. Also has karaoke in the basement.

JD's Cafe and Nite Spot

phone: +1 306 569-2121

address: 1055 Park St

A bar and nightclub located in the northeastern industrial part of the city, in a somewhat isolated location. It is popular among the locals, but is infamous for attracting a bit of a rough-and-ready crowd. Thursday nights is the especially popular Ladies' Night (women get in for free), with a live DJ and music video mixshow.

phone: +1 306 543-3535

address: 6330 Dewdney Ave

Located on Dewdney Avenue, though it is several blocks west of the main strip of nightclubs (so you might want to drive there in winter). A very friendly pub with excellent daily drink specials. Western Pizza provides the menu. Karaoke on Thursday, Friday and Saturday.

phone: +1 306 585-2760

address: 3806 Albert St

The Broken Rack is in the south end of the city, in the Golden Mile Shopping Centre building. Has a very friendly atmosphere, and features a pool hall, restaurant and several arcade games.

The OUTside Nightclub

phone: +1 306 569-1995

address: 2070 Broad St

An LGBT bar in the downtown area. Has a heated patio, which is very cool in the winter. Also home of the Homo Depot and Pink Triangle Community Services.

phone: +1 306 924-0111

address: 909 Albert St

The Press Box is a very popular place to go to watch sporting events, and features over 30 TV screens. It gets especially busy when a Saskatchewan Roughriders game is on. Features a lot of sports memorabilia (which you can buy on request), a lounge, and a restaurant.
Sleep
Hostels
Bed and Breakfasts
Staying at
bed and breakfasts
is a great way to meet local people. Prices in Regina start at $70 for single and $85 for double occupancy.
Budget
Mid-range
Splurge
Stay safe
Much like Saskatoon, Regina has a higher-than-average crime rate per capita (at one point being known as Canada's most dangerous city), but unless you go out looking for trouble, nothing is likely to happen to you. The downtown area is quite safe, though you may run into the occasional panhandler or drunken person at night.
The two main neighbourhoods to avoid in Regina are the North Central and Heritage/Chinatown districts, (which are located northwest and northeast of the downtown core), and where most of the crime and prostitution is concentrated.

Go next
Moose Jaw - Chief attractions are the excellent Western Development Museum (one of four in the province) near the intersection of Main St. and the Trans-Canada Highway (Highway #1). This museum's focus is on transportation, which fills it with excellent, bright displays of antique trains, automobiles, and aircraft, with even one prairie boat thrown in! Another notable tourist attraction is the pair of "tunnels of Moose Jaw" tours, which take visitors through a set of winding tours above and below the downtown core of "the Friendly City." The tours have two themes: the Chinese immigrant experience, and the bad old days of the 1920s, when Chicago mobster Al Capone allegedly took a ride to the northwest terminus of the Soo Line Railway in Moose Jaw to hide out whenever the "heat" was turned up in Chicago.
Regina Beach - 60 km (35 miles) northwest of Regina, north of Hwy 11. This beach community and several others sit on Last Mountain Lake.
Fort Qu'Appelle for decades, has been another summer getaway, with several shallow lakes in the vicinity lined by rows of cottages and boat houses.
Rouleau, a small town located about 45 minutes south of Regina, has become a popular destination in recent years due to it being used as the filming location for the popular TV sitcom Corner Gas. (The studio where the rest of the series was filmed is located near Broad Street and College Avenue in downtown Regina.)