Rio de Janeiro/Centro
Rio's
Centro
(Downtown) is a district in the city of
Rio de Janeiro
.
Understand
Centro has most of the city's notable churches and museums, including the Modern Art Museum, as well as many of its most famous bars. Lapa is one of the most thrilling places to be in Rio after dark, with streets and bars full of people, all in historical buildings (most of them from the early 1800s). In Lapa you can hear typical Brazilian music such as samba, forró, and choro. It's the place to try typical Brazilian food and drinks like the world famous caipirinha. The nearby Santa Teresa neighborhood, located on the hills to the southwest, is a beautiful historical district and home to many of the city's artists.

Get in
Line 1 of the subway provides access from both the
Zona Sul
and the
Tijuca
area of the
Zona Norte
. The station at Central do Brasil is the transfer point for Line 2 which services most of the
Zona Norte
.
address: Praça XV

Ferries to/from different destinations
Get around
You can walk to Santa Teresa from surrounding districts such as Catete, though it's a stiff uphill climb, and some of the streets aren't entirely safe.
By light rail
The VLT light rail system serves many places in the area, including Santos Dumont airport and Praca XV port.
By metrô
Line of the subway has stops in most of the important neighborhoods of the Centro:
Cinelândia - for Praça XV, the National Library, City Hall, Municipal Theatre, Museum of Modern Art and Odeon movie theatre. To Lapa (Bohemian district).
Carioca - for Santa Teresa tram station, downtown offices
Uruguaiana - for a popular market
Presidente Vargas - for downtown offices
Central - for Central do Brasil rail station, Itamaraty Palace, and for Line
Praça Onze - for the Sambadromo
Estácio - used to be for subway Line 2, but it's no longer used for transfers during weekdays (it's still used at weekends), so, be sure not to come all the way to this station instead of switching trains at Central.
By bicycle
A number of bike rental services are available.
See
Banco do Brasil Cultural Centre

phone: +55 21 3808-2000

address: Rua 1º Março 66 - Centro

A cultural centre with gallery, movie theatre, video room, library and stages; usually hosts the main exhibitions in town. An interesting building completed in 1906 with old-fashioned elevators/lifts.

phone: +55 21 2299-213

address: Rua Visconde de Itaboraí - Centro

French cultural centre built in 1820, with gallery and video hall.

phone: +55 21 3814-2121

address: Praça Floriano - Centro

Hosts the city council

Lapa Viaduct

address: Lapa

Colonial structure built in 1750 that brought water from springs to downtown.

address: Av. Rio Branco - Centro

City Theatre, inspired by the Paris Opéra House.

phone: +55 21 2220-9484, +55 21 3095-3881

address: Av Rio Branco 219

The National Library offers guided tours on weekdays, showing visitors its rare collection, various bookstacks and the catalogue system. Registration with identification is required, and tours run for about an hour. They leave at 1.00pm for English tours, and 11.00am, 1.00pm and 3.00pm for Portuguese tours.

Passeio Público

address: Rua Texeira de Freitas at Rua Mestre Valentim

Commissioned in 1779, this was to become the first public park in the Americas. Check out the original Rococo-style gate and the ironwork fountains.

Petrobras Headquarters

phone: +55 21 3224-7836

address: Avenida República do Chile 1202

The headquarters for the federal gas (petrol) company is an interesting piece of brutalist architecture which somehow resembles a Rubik's Cube with some blocks missing.

Praça da República

address: Av. Pres. Vargas

Large park; good for a rest. Look for monkeys and capybaras that roam about.

Sambódromo

phone: +55 21 2502-7122

address: Rua Marquês de Sapucaí - Praça Onze

Site of the famous Carnaval parades, the Sambódromo is a long street flanked by grandstands and VIP boxes. From the start of the year until Carnaval week, technical rehearsals (Ensaios Técnicos) free to the public are held on Saturday and Sunday evenings, with 2-3 teams performing per session.

Selarón Steps

address: Santa Teresa

A stairway covered by colorful tiles and the ever-evolving art work of Chilean artist Jorge Selarón.

phone: +55 21 2332-9166, +55 21 2332 9166, +55 21 2332-9258

address: R. Alexandre Herculano, (Praça Tiradentes)

Estátua equestre de D. Pedro I

address: praça Tiradentes

phone: +55 21 2514-1069

address: Praça Quinze de Novembro, 20

Jose Bonifacio Monument

Floriano Peixoto Monument

address: Cinelândia

Fountain of Praça Monroe

address: Cinelândia

Glória InletA beautiful spot for a stroll along the bank of Guanabara Bay.

Memorial Monument of Opening Ports - Trade

address: Rua do Russel/Praça Luiz de Camões, Glória

Saint Joachim Palace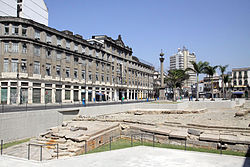 Valongo Wharf Archaeological SiteThe place where, during the first decades of the 19th century, ships carrying a total of almost a million African slaves landed. When slave trade was banned, freed slaves lived there for some time, eventually the whole area was entirely rebuilt and its dark history was forgotten until 2011, when African amulets and other items of worship were found during construction works. Nowadays the former wharf is an archaeological site and since 2017 a world heritage site.

Campo de Santanalocated near the site where the Brazil was declared a Republic in 1889. Sire of the monument for Republican leader Benjamin Constant
Churches
address: Glória

Small but interesting church built in 1739. It is more correctly known as the Outeira da Gloria, outeira in Portuguese meaning "knoll" or small hill. The church was well sited to be seen by arriving sailors sailing into Guanabara Bay. The layout consists of two intertwined octagonal prisms. There are some interesting wooden engravings and tiles from Portugal. Best accessed by one of the world's shortest funiculars from Rua do Russel. The ride is free. Nice views.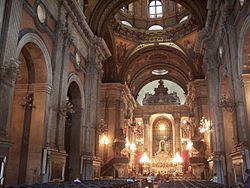 Benedictine Monastery of Rio de Janeiro

address: Rua Dom Gerardo 68 - Centro

Colonial architecture. Founded in 1590.

Candelária Church

phone: +55 21 2233-2324

address: Praça Pio X - Centro

Neoclassic cathedral.

Metropolitan Cathedral of Saint Sebastian

phone: +55 21 2240-2669

address: Av. Chile 245 - Lapa

A rather bizarre, modern cathedral shaped like a volcano, with a very impressively vacuous interior. One of Oscar Niemeyer's most famous designs.

Our Lady of Mount Carmel Church

address: Rua do Ouvidor

Saint Paul Church

address: R. Fonseca Guimarães, 8-12 - Santa Teresa

Church of São Francisco de Paula

phone: +55 21 2509-0069

address: Largo de São Francisco de Paula, 9-11, Centro

Church of Our Lady of Lapa

address: Rua do Ouvidor, Centro

Church of Our Lady of Lampadosa

address: Av. Passos, 2-20 - Centro

Chapel of the Divine Child

phone: +55 21 2242-0460

address: Rua Riachuelo, 75 - Centro

Church of St. Goncalo and St. George

phone: +55 21 2221-9661

address: Rua Alfandega and Praça da República corner, Centro

St. Francis Church

address: Largo São Francisco da Prainha, Saúde

Church of St. Francis of Penance

address: Largo da Carioca

Church of the Venerable Third Order of St. Francis of Penance is a part of the Convent of Saint Antony

Church of Saint Lucia

phone: +55 21 2220-4367

address: Centro, R. Santa Luzia, 490

Churches of Convent Carmo

address: Largo do Paco

Centro

São Francisco da Penitência Church

phone: +55 21 2262-0197

address: Rua da Carioca, 5 - Centro

Colonial church built in 1773.

Monastery of Saint Theresa

address: Ladeira de Santa Teresa

Baroque

Church Our Lady of La Salette

address: Rua do Catumbi

Founded in 1914. It has neo Gothic arches. One of the most beautiful church in Rio de Janeiro.
Museums
The National Museum has burned down
The former Imperial Palace (Paço de São Cristóvão) housed the Brazilian National Museum, one of the largest of its kind in the Americas, until 2 September 2018 when it was destroyed in a fire together with many exhibits — an immense loss for the natural and cultural heritage of South America. Some artifacts were saved, but as of September 2018, it's unclear if, when and where they will be put on display again.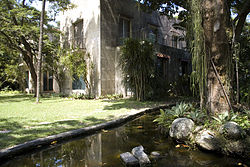 phone: +55 21 2224-8981

address: Rua Murtinho Nobre 96 - Santa Teresa

An art and antique museum with a good collection of works by modern masters. During Carnaval 2006 some of its most famous works of art were stolen while a procession passed by outside.

phone: +55 11 3062-9197

address: Av. Europa 158

For researchers about the Brazilian film, radio, and broadcasting industries.

phone: +55 21 2240-4944

address: Avenida Infante Dom Henrique 85 - Glória

After MASP in São Paulo, the second most important contemporary art museum in Brazil, (downtown, next to Santos Dumont airport). Modernist architecture on the edge of the Bay.

phone: +55 21 2220-2328

address: Praça Marechal Âncora - Centro

A museum of Brazilian history stretching from colonial to imperial times; big collection of paintings, but poor in artifacts.

Naval and Oceanographic Museum

phone: +55 21 533-7626

address: Rua Dom Manuel 15 - Centro

Installed in a building constructed in 1868, this museum preserves articles from the seafaring history of the city.

address: Praça Floriano, Avenida Rio Branco

Another building modelled on one in Paris, this time the Louvre. Includes large paintings from Academicist and Neoclassical Brazilian artists, as well as many copies of European sculptures

phone: +55 21 3031 2741

address: Praça Mauá, 5, Centro

Recently completed museum as part of the regeneration of the old port area. Made up of a newly constructed building with good views from the roof, next to a converted building that was previously part of Rio's former bus station. Rotating exhibitions changing annually.

Tram Museum

phone: +55 21 2220-1003

address: Rua Carlos Brandt 14 - Santa Teresa

This small tram museum has photos of and artifacts from the glory days when trams were all over Rio, including some models of old tramcars and lots of electrical equipment.
Palaces
Gustavo Capanema Palace

address: Rua da Imprensa 16

Former ministry of culture, designed by French architect Le Corbusier; though small, it is regarded as an important pioneering work in modern architecture.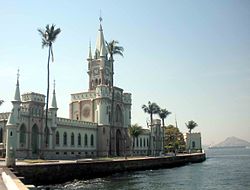 Ilha Fiscal Palace

phone: +55 21 2271-7000

address: Av. Alfredo Agache - Centro

The former Customs House for Rio has some fascinating decorations and is well worth the visit.

address: Av. Marechal Floriano, 196

Former presidential palace (1889-1893) and foreign office; now hosts a museum of South American diplomacy, a library and the UN information offices in Brazil.

phone: +55 21 2215-2622

address: Praça XV de Novembro 48 - Centro

Old Imperial Palace built in 1743 (though impressively modest). Colonial architecture.

Tiradentes Palace

phone: +55 21 2588-1411

address: Rua Primeiro de Março

The seat of the Legislative Assembly, visitors are welcome to wander in the corridors along the perimeter of the first floor, which tell the history of the Legislative Assembly and the building (mostly in Portuguese). Access to the second floor can be arranged through a guided tour with volunteers at the reception.
Do
Artists' Open HouseHeld over a few days in May and November of each year, when Santa Teresa's artists open their studios to the public. There are free shuttle buses from most parts of the city for this event.

Mocidade Independente Samba School

phone: +55 21 2516-3215

address: Rua Júlio do Carmo, 251 - Cidade Nova

phone: +55 21 2223-1231

address: Rua Rivadávia Correia 60 - Gamboa

This arts and entertainment complex celebrates Carnaval year-round. Thursday nights at 8PM, there is a special Carnaval samba presentation called Forces of Nature (Forças da Natureza), which includes a dinner buffet, for R$190 per person, with students and senior citizens getting half-price.

Santa Teresa Historic Tramway

address: Bonde de Santa Teresa

What was Brazil's only remaining metropolitan tramway, in continuous operation since 1859, ran from Largo da Carioca, across the Arcos da Lapa, and into Santa Teresa terminating at the Largo de Curvelo. The tramway was closed in 2014 after accidents, but as of October 2015 is running again. If you follow the road further up from the last stop, and take the second road to the left, after another 300 m you will reach a rest area with a nice viewpoint, from where you can see much of Rio.

UFRJ School of Music

phone: +55 21 2240-1391

address: Rua de Passeio 98 - Lapa

A good place to catch free classical music concerts. Stop by during the day for a schedule or check the newspaper for events, as the surrounding neighborhood can be a bit shady at night.
Buy
Saara

address: surrounding Rua Buenos Aires between Praça da República and Rua dos Andrades ~Rua da Alfândega, 187

Nothing to do with the desert, this bazaar is named after an association of small shop owners that was established there on the early 1900s, most of them from the Middle East and Jews from Eastern Europe. There are also lots of Chinese businesses. Today, it has a wide variety of shops, selling almost anything. From trousers to gum, from licorice to Carnaval costumes, you can find virtually everything on the always crowded - yet peaceful - pedestrian-only parallel streets. A very popular tour during weekdays, but be on time. After 6 o'clock the shops close and the once filled streets become empty.

Music shops

address: Rua Carioca

While a handcrafted guitar will easily go for thousands of reais, you may want to pick up an inexpensive cavaquinho or cuica. One block north on Rua 7 de Setembro there are some CD and record shops, though their offerings are meager.
Eat
Budget
phone: +55 21 2262-3613

address: Praça XV 48 - Centro

Quick and quiet spot for a light lunch.
Mid-range
phone: +55 21 2224-4582, +55 21 2224-9138

address: Rua Teotônio Regadas, 34 - Lapa

Al-Kuwait

phone: +55 21 2240-1114

address: Av. Treze de Maio, 23 - Centro

A good place to try the Brazilian take on Middle Eastern food.

phone: +55 21 2232-2300

address: Rua Gonçalves Dias 32 - Centro

Dates back to 1894 and has a dazzling tea room and arguably the best sweets and other delicacies in town.

phone: +55 21 2222-2358

address: Rua Uruguaiana 11 - Centro

phone: +55 21 2224-9358

address: 17, Avenida Mem de Sá

Delivery service. - Other units: Avenida Ataulfo de Paiva, 1228 - Leblon. (+55 21 2294-0797), - Avenida Armando Lombardi, 75, Loja A - Barra da Tijuca, (+55 21 3153-4040).

phone: +55 21 2232-3775

address: Praça João Pessoa 7 - Lapa

Mike's Haus

address: Rua Almirante Alexandrino 1458 - Santa Teresa

Dishes up German food. Ex-hangout of train-robber Ronnie Biggs.

Municipal Café

phone: +55 21 2240-8823

address: Rua Alcindo Guanabara

Restaurante Nova Capela

phone: +55 21 2232-1907

address: Av. Men de Sá, 96 - Lapa

Try the house specialty of mutton with rice and broccoli (carneiro com arroz com brócolis).

Pilão de Pedra Restaurant

phone: +55 21 2232-2771

address: Praça Monte Castelo, 12

BarSansushi

phone: +55 21 2224-4658

address: 382, Rua Almirante Alexandrino, Santa Teresa

phone: +55 21 2224-1003

address: 432, Rua Almirante Alexandrino, Santa Teresa

Air Conditioning
Splurge
phone: +55 21 2305-9174

address: Rua Aprazível 62 - Santa Teresa

This restaurante mineiro, inside an antique villa, has nice veranda and garden seating with great views of Guanabara Bay. Reservations recommended.

phone: +55 21 2508-7095

address: Rua Almirante Alexandrino 264 - Santa Teresa

Another fine restaurant in an old villa built in the 1930s, this eatery serves exotic dishes from the Amazon region, including fish such as piranha, and unusual fruits like cupuaçu, taperabá, and jambu. They also have a good selection of regional cachaças.
Drink
Armazém São Thiago (Bar do Gomez)

phone: +55 21 2232-0822

address: Rua Áurea, 26 - Santa Teresa

A beautifully restored former grocery store, with a high ceiling, nice wooden furnishings, and beer that's always ice-cold. Located a bit past where most tourists get off the tram, and frequented by an eclectic local crowd which spills out on to the sidewalk even in the afternoon.

Bar do Arnaudo

address: Rua Almirante Alexandrino, 316 - Santa Teresa

Arnaldo is one of the classic drinking spots in Santa Teresa, famous for its food from Brazil's northeast region. - Some other bars also in nearby as: Bar da Boa, Bar Brasil

Bar Simplesmente

phone: +55 21 2508-6007

address: Rua Pascoal Carlos Magno, 115 - Santa Teresa

Lively and popular with the young crowd. And not simply a bar; the food is inexpensive but good.

address: Rua Joaquim Silva, 11 - Lapa

This is in fact not a club but a street party. This place was a quite small and hidden beer and beverage deposit store. After a change in the administration it changed into a bar, offering good quality live music, and turned into one of the nicest street parties in Rio. Laid-back atmosphere typical of Rio, samba and beer. Is surrounded by historical buildings in this old forgotten spot of Lapa. On Tuesdays they have a "roda de samba" involving samba players sitting around a big table and people around singing and dancing. Nice day to go: get there early around 21:30. On Thursdays nights, chorinho is played (old style instrumental samba). Nice to see the old school players doing their best there, a bit of Buena Vista. On Fridays is the busiest day, with samba till 3AM.

Goya Beira

phone: +55 21 2232-5751

address: Largo das Neves 13 - Santa Teresa

Pleasant little place for a drink or two, with a view of Praça Neves with the tram line. If you get hungry, try the pizza.

Cabaret Casanova

phone: +55 21 2221-6555

address: Av. Mem de Sá 25 - Lapa

Dance club.

phone: +55 21 2221-0043

address: Av. Mem de Sá 79 - Lapa

Located in a nice old house from the 1900s, this place always has good samba groups playing. One of the best days is on Monday nights when on stage you can see one of the most powerful voices of samba, the singer Richah, with his group playing old Carnaval songs.

Circo Voador

phone: +55 21 2533-5873

address: Arcos da Lapa - Lapa

Live music venue with plenty of live Carioca music.

phone: +55 21 2252-4611

address: Rua do Riachelo 91/93 - Lapa

Clube dos Democráticos was founded in 1867 and is one of the first carnaval groups of Rio. Nowadays the great ballroom of the beginning of the 20th century houses one of the best places to dance Brazilian rhythms, especially samba, in Rio. Best days are Wednesday and Thursday. Wednesday is the day of Forró (a Brazilian rhythm from Northeast really popular throughout the country) and on Thursday the traditional samba. Both days are awesome, if you're looking to experience a genuine Brazilian atmosphere where people dance all night long, even if you don't know any step of the ballroom samba, you'd be mostly invited to dance and taught by the locals. Inexpensive big beer bottles and caipirinhas.

phone: +55 21 2507-6686

address: Av. Mem de Sá 69 - Lapa

address: Rua do Lavradio 20 - Lapa

One of the most beautiful and best-known samba clubs in Rio de Janeiro. Was once elected by the British newspaper The Guardian as being one of the top 10 bars in the world. Nice decor, filled with antiques, paintings, medieval armors, old bicycles, etc. in an amazing 19th century warehouse. Three floors: on the first floor the main stage, second floor is a annex where sometimes another band plays or there is a DJ playing mostly Brazilectro (mix of electronic music with Brazilian songs). Fridays and Saturdays are the busiest nights and sometimes specially in the summer there are pretty long lines, so get there early, around 22:00, to avoid them. Bring a valid ID/passport (copy is also accepted) to get in. By the entrance you get a consumption card (don't lose it!) and you pay your consumption and entrance fees at the cashier before leaving the building. Dress up.

Teatro Rival

phone: +55 21 2524-1666

address: Rua Álvaro Alvim 33 - Lapa

address: Rua Sacadura Cabral 154 - Saúde

Dance club.

phone: +55 21 3970-1338

address: Rua do Riachuelo, 97 - Lapa

A rather fancy "Snooker & Dance Hall" (Sinuca & Gafieira) club with nationally known samba artists on the regular schedule.
Sleep
Budget
Hotel Aymore

address: Rua Carlos Sampaio, 106

phone: +55 21 98854-3401

address: Rua Almirante Alexandrino 2023 - between Laranjeiras and Santa Teresa

Might be your choice if staying in a favela is your cup of tea.
Mid price
phone: +55 21 2508-6440

address: Rua Joaquim Murtinho 587

A bed & breakfast that offers nice prices for couples and groups. Great view, too!

phone: +55 21 3511-2500

address: Rua Silva Jardim 32 - Centro

Three star hotel. Rooms: 250

phone: +55 21 2558-3052

address: Rua Silveira Martins, 20 - Flamengo

Nice location next to the park, but a bit overpriced compared to similar accommodation in the area.
Splurge
address: R. Laurinda Santos Lobo, 311

Charming guest house in an exotic mansion with swimming pool and tropical gardens. The house was the former residence of the Governor of the State of Rio.

Ibis Santos Dumont

phone: +55 21 3506-4500

address: Avenida Marechal Câmara 280 - Centro
Stay safe
Avoid entering or leaving Santa Teresa on foot after nightfall. During the day it's a nice hike up the streets, but the neighborhood is surrounded by three different favelas, and assaults after dark are not unheard of even for the locals. Take taxis and stay in groups.