Rio de Janeiro/Zona Sul
The
South Zone
of
Rio de Janeiro
is where most tourists usually stay. Lots of hotels, from the fancy 5-stars like Copacabana Palace to hostels, are to be found in the neighborhoods of
Copacabana
,
Ipanema
and
Leblon
, which also have three famous beaches, the latter two just being separated by the canal that drains the Lagoa into the sea.
A little closer to downtown, the
Gloria
,
Catete
,
Botafogo
, and
Flamengo
neighborhoods are pleasant and full of
Carioca
character.
Get in
Most parts of the Zona Sul are easily accessible by bus or metro from Centro or Zona Norte. Line 1 of the subway runs from the
Zona Norte
and
Centro
through most of the main neighborhoods of Zona Sul, as far as Praça General Osório at the east end of Ipanema.
Real Auto Onibus
offers direct bus connections from both airports to many locations in Zona Sul.
Get around
By metrô
Line 1 services the Zona Sul as far west as Ipanema. The stops are:
Praça General Osório (in Ipanema) - for Ipanema Beach and Arpoador
Cantagalo (in Copacabana) - for Arpoador and the Rodrigo de Freitas Lagoon ("Lagoa")
Siqueira Campos (in Copacabana) - for Copacabana beach, and coaches to Ipanema, Leblon, and Gávea
Cardeal Arcoverde (in Copacabana) - for Copacabana and Leme beaches and Rio Sul mall
Botafogo - for Botafogo beach, Botafogo Praia Shopping mall, and indie/art movie theaters; connection (integração) bus to Urca/Sugar Loaf and Jardim Botânico.
Flamengo - for Flamengo beach, Guanabara Palace
Largo do Machado (in Laranjeiras) - connection (integração) for a bus to the Christ the Redeemer statue on Corcovado
Catete - for the Museum of the Republic
Glória - for Nossa Senhora da Glória church
By bicycle
There are a number of bike rental services, names and ownership have however changed a few times.
See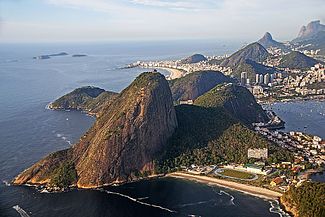 phone: +55 21 2546-8433

address: Av. Pasteur 520, Urca

One of the defining landmarks of the city. The cable cars take you up from for a breathtaking view of much of Zona Sul and the center, and also the city of Niteroi, just across Guanabara Bay. You have to queue again at Urca Hill (Morro da Urca) station for the second part of the ride. You can also walk up a trail to this point (start on Trilha do Morro da Urca along the shore, then climb the stairs on your left) and take the cable cars to Pão de Açucar and back to Praia Vermelha for R$92, or just back to Morro da Urca for R$59, or just down to Praia Vermelha for R$39 (full prices). This ticket office closes at 19:30, the downward trip is free after that. At Morro da Urca you can take a sightseeing helicopter trip, if you can afford it. The area is pretty secure, thanks to the various military institutions nearby. The buses number 511, 512, 591 and 592 and the subway buses from Botafogo bring you to the base station. Do not make the mistake of thinking you have seen enough once you have seen the view from Cristo Redentor. Try Sugarloaf at sunset for a truly mind-blowing experience. It is also possible to hike/climb up via the Escalada do Costão.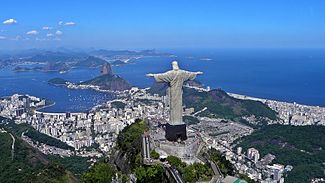 phone: +55 21 2558 1329

address: Rua Cosme Velho, 513

The granite peak is capped by the 38-m statue of Jesus Christ (Cristo Redentor), Corcovado has been the vantage point for countless picture postcards and travel posters through the ages. It provides a sweeping panorama, from the interior of Guanabara Bay to the north, to Lagoa Rodrigo de Freitas (Rodrigo de Freitas' Lagoon) to the south.
:There are different options to go up to the top:
#By taxi. The driver may expect extra if you will not be using his taxi to go back down.
#Hiking. Most of the paths are well-marked, but you can get maps and guides as well.
#
By train
. On a ride from through
Floresta da Tijuca
(Tijuca Forest), an island of subtropical rainforest in the middle of one of the most populous cities of South America. Trains can get very busy. Consider a lunchtime or afternoon trip when there are less coach parties. You can buy tram tickets the day before at the kiosk at the Rio Sul shopping centre(additional fees may apply, about R$6/ticket) or via the official website. Tickets again are sold at the ticket booth in front of the train for the same day, availability permitting.
ArpoadorThe rocks at the Copacabana end of Ipanema beach. From here you can see a panorama including Corcovado and Sugar Loaf. It is supposed to be the best place to watch the sunset from in Rio. Reputedly a bit dangerous so go there at weekends when there are lots of people and a few police around.
Guanabara Palace

address: Rua Pinheiro Machado - Laranjeiras

Former palace of the Imperial Princess, now the governor's office. Eclectic architecture. Not open to the public.
Largo do Boticário

address: Rua Cosme Velho

A delightful square of well-preserved colonial style houses that date back to 1831.
Laranjeiras Palace

address: Parque Eduardo Guinle

This is the official residence of the Governor of the State of the Rio de Janeiro
Monumento a Estácio de Sá

address: Av. Infante Dom Henrique - Gloria

Erected in 1973. Homage to Estácio de Sá, the founder of Rio de Janeiro
Churches
Basilica of the Immaculate Conception on the Botafogo Beach

phone: +55 21 2551-7948

address: Praia de Botafogo, 266

Our Lady of the Rosary Parish Church

address: 164, R. Gen. Ribeiro da Costa, Leme

address: ~19, Rua Gago Coutinho, Rua das Laranjeiras, s/n°, Largo do Machado
Museums
Parks
phone: +55 21 3874 1808

address: Jardim Botânico

Planted in the 1800s, it is both a park and a scientific laboratory. It contains a huge collection of plants from all over the world, not only tropical ones. If you take the bus note that Jardim Botanico is also the name of a neighborhood and the road on which it is found so make sure you go all the way to the entrance. The gardens are well kept and very lush. Not far from the cafe, you are likely to hear swooshing sounds. Look up and you can see small monkeys swinging from tree to tree.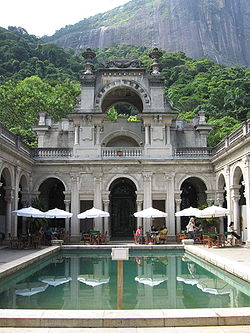 Parque Enrique Lage

phone: +55 21 3257 1800

address: Rua Jardim Botânico, 414

Public park with walking trails through subtropical forest. A cafe offers drinks and meals. A trail goes up to Corcovado mountain from here. The land was formerly the residence of industrialist Enrique Lage and his wife, singer Gabriella Besanzoni. During the 1920s Lage had the mansion remodeled by Italian architect Mario Vodrel, with interior paintings by Salvador Payols Sabaté. The mansion was notably featured in the 2003 music video for Snoop Dogg's single "Beautiful."

address: along the bay between Flamengo and Glória

1.2 million m² with broad walkways, Flamengo Beach, various monuments, and over 10,000 trees. To its north is the Museum of Modern Art (see Centro).

Parque Guinle
Do
Hike/Climb Sugarloaf MountainIf you are keen on hiking and climbing up the full way, check out this trail. Equipment is needed as there is a vertical section with potentially serious consequences in case of a fall. If you do not have your own rock climbing equipment, go with a guide. On the way down you can use the gondola for free to get to Morro da Urca. From there, you can follow an easy trail to get back to the ground.

Cláudio Coutinho Trail

address: Urca

This pleasant walk follows the southern coast of Urca Hill (Morro da Urca), and side trails lead to various points on the hill, offering lush vegetation, monkeys, and nice views of the bay.

Planetarium Espaço Museu do Universo

phone: +55 21 2529-2146

address: Rua Vice-Governador Rubens Berardo, 100 – Gávea

There are shows, mainly for kids, in the planetarium on weekends. These are targeted at different age groups so it is essential to check the age the show you plan to attend is for or you may get stuck with one that is totally unsuitable. From Weds to Fridays the space is also open without shows and there are around 60 hands-on scientific experiments to entertain kids.

Rodrigo de Freitas LagoonA large lagoon in the middle of South Zone, with great views to Corcovado and Ipanema and Leblon beaches. You can run, walk, skate or cycle the 7.5 km around this freshwater lake and then retire to your luxurious Ipanema penthouse apartment, or just imagine it! Some have been known to swim in it although pollution levels are very high. Around Lagoa you can rent cycles, swan-shaped pedalos and, on the western side near where the helicopters take off, electric cars for younger kids.
Pedalboats

address: on Lake Rodrigo de Freitas - Ipanema

Pedal the lake in these swan-shaped boats for 2-5 people.

QuadracycleTake a ride around the lake on one of these unique contraptions, like a bicycle for two side-by-side riders under a little canopy.
Hanggliding and Paragliding

address: São Conrado

From the ramp atop Pedra Bonita, qualified instructors offer tandem flight courses in hang gliding, paragliding, and ultralight. Wind conditions are typically safe and offer splendid views of the surrounding beaches and mountains. Helicopter rides also available. Various clubs offer the experience: and .
Panoramic helicopter ridesThese are noisy and drive Rio's residents mad as the helicopters circle the statue of Christ, but if you can live with that and can afford it, a helicopter trip is likely to be the most memorable experience of your visit to Rio. There are 2 operators in the city:
Helisight: You can catch a copter at the first stage of the cable car ride up the Sugar Loaf or, alternatively, on the west edge of Lagoa. The basic trip takes in Sugar Loaf, Corcovado and Zona Sul (R$230 per person, minimum three people); longer, and more expensive, trips will take you to places such as the Maracana football stadium (R$350 per person). Prices quoted are web site prices. They may be negotiable on the day but no chance if a cruise ship is in town.
Panoramic Flight RJ in Barra da Tijuca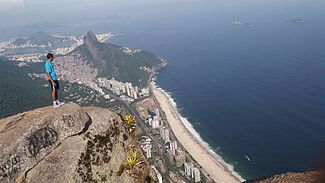 Pedra da GáveaHike up this monolith of 844 m and enjoy one of the most spectacular city views in the world. It can be done either by booking a tour or on your own. The round trip takes roughly 4-5 hours and is strenuous and challenging with a stretch of light rock climbing ("Carrasqueira"). Bring enough water and food and wear proper shoes. Attention: There are stories online of people, who got robbed on the hike up.

Hike up the Morro Dois IrmãosThere are two viewpoints in this hike before reaching the final destination of the peak. From the first, you will be able to see Rocinha, which is the largest favela in Latin America, and a clear view of Pedra da Gávea. From the second, you are able to see Serra da Carioca, Gávea, Corcovado (where Christ the Redeemer stands tall), and Pedra Bonita. Once reaching the highest peak of the Morro Dois Irmãos you are able to see all of South Zone (Zona Sul) ranging from Botafogo to Leblon, including a beautiful view of Rodrigo de Freitas Lagoon (Lagoa Rodrigo de Freitas).
Beaches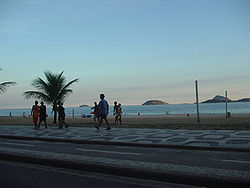 Perhaps the best thing to do in Rio is
nothing
, while sitting on its glorious beaches. Of the two most famous,
Copacabana
and
Ipanema
, the former gets a bit more crowded (perhaps that will change now the Metro has been extended to Ipanema). Both have spectacular mountains to the side Sugar Loaf to the east of Copacabana, and
Dois Irmãos
("The Two Brothers") to the west of Ipanema. Though famous, the water at South Zone beaches may not always be clean enough for swimming. Water quality goes down after heavy rain that washes pollution out to the sea-- it is advisable to ask your lifeguard.
Leblon and Ipanema are usually OK; Copacabana sometimes has problems, especially after very rainy days. The seas at Leblon and Ipanema are also somewhat rougher than at Copacabana. Even when they appear calm this can be deceptive. A common problem is when swimmers venture out beyond the breakers and then cannot get back. There are lifeguards at all of the ``postos´´ and surfers can be relied on to help out swimmers in trouble. There is also a rescue helicopter that pulls people out of the water in a net. But you don´t really want to suffer the embarrassment of this happening to you so even if you are a strong swimmer, take care!
Along Copacabana and Ipanema-Leblon there are
postos
(lifeguard watchtowers with toilets and changing facilities). Posto 6 is unaccountably missing, although it is generally considered to be opposite Rua Francisco Sá when Cariocas arrange to meet on the beach. Although beaches are often considered a plural, democratic space, there are still some informal (and not too strict) "social area" divisions.
Beginning at Glória and winding outward toward the south and southwest, the beaches are:
On Guanabara Bay

Beaches on the bay are generally less popular, as they are relatively narrow and with smaller waves. Sometimes inappropriate for bathing.
Flamengo Beach

address: Av. Infante Dom Henrique

Botafogo Beach

Urca BeachPopular with the residents of Urca.

Vermelha BeachThe "red beach". Very safe due to military base, which is nearby.
Oceanic
Leme BeachSomewhat less crowded than the Copacabana Beach

Copacabana BeachAmong the most famous beaches in the world, Copacabana attracts many tourists, both foreign and national. In summer, there are occasional free evening concerts of big name acts which draw huge crowds.

Arpoador Beach

Ipanema BeachThe main beach for the middle-class, and specifically the Posto 9 section (watchtower #9) is preferred by left-wingers, intellectuals, artists, journalists and similar beach-goers. You can easily walk into a politician or someone famous here. The area close to the Farme de Amoedo street in Ipanema is known to attract the gay crowd of the city, who show off openly their sexuality.

Leblon Beach

São Conrado BeachOn the other side of the Dois Irmãos mountain west of Leblon, this beach is popular with middle class people and favela dwellers alike. Good surfing and hang-gliding opportunities. Sometimes inappropriate for bathing.
Samba schools
phone: +55 21 3205-3318

address: Rua Bertha Lutz, 80 - São Conrado
Learn
phone: +55 21 98761-3653

address: Rua Ronald Carvalho 154 - Copacabana

Learn some of the most traditional and delicious Brazilian meals and drinks, like cassava sticks, shrimp moqueca, batida de coco, caipirinhas and pé de moleque peanut brittle. Ideal for cloudy or rainy weather.
Buy
Hippie Fair

address: Praça Osário - Ipanema

Here you will find everything from soapstone Redentor statues to swizzle sticks carved with Amazonian birds. There are several vendors selling the same thing so you can have fun bargaining.

Hype Babalonia

address: Rua Jardim Botânico 971, Gávea

This market has some more upscale merchandise and you will find fewer tourists. It is a place where middle class Cariocas do some bargain shopping.

Shopping Cidade Copacabana

address: R. Siqueira Campos, 138

phone: +55 21 2285-4395

address: Rua Ipiranga 55 - Laranjeiras

One of the best places to get authentic local handicrafts. A lovely store with many great gift ideas. There are two floors, the first full of items for sale, such as pieces made from wood, ceramic and fibre, fit to decorate any living room space. The second floor is where they sometimes have art exhibits, usually related to Brazilian history, culture or customs from various regions that are distinctly scattered throughout the country.
Books
Shopping malls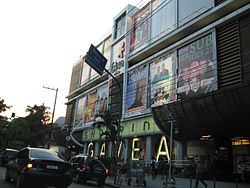 Eat
Budget
Cervantes

address: Av Prado Junior 335B - Copacabana

Famous for making their classic filet mignon and pineapple sandwich in the blink of an eye.

address: Largo do Machado, 29 - Catete

This two-story shopping arcade has a number of inexpensive Middle Eastern restaurants on the ground floor.
Mid-range
phone: +55 21 2540-4829

address: Avenida Henrique Dumont 71 - Ipanema

A popular all-you-can-eat sushi bar.

Berbigão

phone: +55 21 2205-7245

address: Rua Catete, 150 - Catete

Seafood restaurant with good selection.

Cantina Donanna

address: Rua Domingos Ferreira 63-B - Copacabana

Italian cuisine.

phone: +55 21 2247-2776

address: Rua Prudente Morais 10 - Ipanema

Serves nothing but traditional, authentic Brazilian feijoada.

Filé de Ouro

phone: +55 21 2259-2396

address: Rua Jardim Botânico 731 - Jardim Botânico

A good alternative to churrascarias, this steakhouse is simple and cozy. During the weekends there are usually big lines, but the steak is delicious. Try Filé à Oswaldo Aranha, with toasted garlic.

Gula Gula

phone: +55 21 2259-3084

address: Rua Anibal de Mendonça 132 - Ipanema

A trendy restaurant with excellent salads, main dishes and deserts.

address: Rua Siqueiro Campos 23 - Copacabana

Good-value rodizio-- all-you-can-eat salad and barbecue.

Nam Thai

phone: +55 21 2259-2962

address: Rua Rainha Guilhermina 95 B - Leblon

Fairly authentic and very popular Thai restaurant. Reservations essential at weekends.

New Natural

address: Rua Barão do Torre 173 - Ipanema

A good per-kilo restaurant. It is attached to a whole foods shop and has a good buffet selection, including sushi.
Splurge
Drink
Bars
address: Rua Conde de Bernadotte 26 - Leblon

With over 500 varieties, this is the place to start your studies of Brazil's national drink.

Bip Bip

phone: +55 21 2267-9696

address: Rua Almirante Gonçalves 50D - Copacabana

This unpretentious and thoroughly un-touristy hole-in-the-wall botequim has been a favorite hang-out of top local musicians for decades and hosts regular live choro, samba, and bossanova performances.

Empório

address: Rua Maria Quitéria 37 - Ipanema

Popular with the younger crowd, that hangs out there to listen to DJs playing rock. Most of the crowd hangs out there because they are underage and can't get in the underground nightclubs. Gets packed with foreigners during summer.

Garota de Ipanema

address: Rua Vinicius de Moraes and Rua Prudente de Morais - Ipanema

There's no better place in Rio, Brazil, or even the world to watch bathing beauties stroll by than this cafe-bar, named after the song which according to legend was written here in 1962.

Bar Getúlio

phone: +55 21 2255-5272

address: Avenida Atlântica, 2334 - Copacabana

The Irish Pub

phone: +55 21 2513-3044

address: Rua Jangadeiros 14A, Praça General Osório

Best on Monday nights.

phone: +55 21 3874-0064

address: Rua Saturno de Brito, 50

Saturnino bar is perfect to go with friends or on a date, it's very romantic for a candlelight dinner, and since it´s in an open area, you can see the moon. The ambient is very pleasant. There's a wide variety of different drinks and several options of appetizers that go from seafood to Japanese to burgers. They are open until late hours.

Shenanigans Irish Pub & Sports Bar

address: Rua Visconde de Pirajá 112A - Ipanema

Great any day but best on Wednesdays, this second-story Irish bar shows only a green awning at street level. Has imported beer(bottles and draught), American pool and a variety of sports on the big screen (NFL, NCAA, NHL, MLB, Football(soccer), Rugby and all local Brazilian sports.
Clubs
phone: +55 21 99999-8633

address: Rua Henrique Novaes 107 - Botafogo

Nightclub.

address: Rua Vinicius de Moraes 288 - Gávea

Electronic-only club, with two floors. Mostly has electro, minimal and house parties, with well-known DJs from Rio, Brazil and foreigners. A "must" with the electronic-loving community.

phone: +55 21 2548-7498

address: Rua Siqueira Campos 143 - Copacabana

"Fosfo" as it's nicknamed by the goers has a strong Saturday rock-oriented party. Young, trendy crowd with djs playing mostly indie rock, discopunk and electro-rock. After 04:00 it has a more electronic after-party. Different parties happen on Fridays, but it's usually electronic, with favorite genres being electro, house and minimal. Other nights are usually more electronic also, but has had Rock parties also on Thursdays. On Tuesdays there's a dub/reggaeton party.
Samba clubs
Cariocando

phone: +55 21 2557-3646

address: Rua Silveira Martins, 139 - Catete

A fairly new establishment, offering a bit of Lapa in the Zona Sul. Live music (samba, choro, MPB) Tu-Su. They seem to have a knack for booking the lesser-known offspring and siblings of more famous musicians.

address: Rua Alice 550 - Laranjeiras

This place is quite special: back in the 1960s, '70s and '80s it used to be a well known exclusive brothel, so that's why it is named Casa Rosa. The big pink eclectic style mansion was closed for several years and after a face-lift restoration now houses the officially known Centro Cultural Casa Rosa. Sundays are the best day to go there, especially because they do a great combination of serving the national dish of Brazil - Feijoada - with samba. There are always nice local musicians, and the atmosphere is laid back and friendly. Get there early since the music starts at 19:00 and they stop serving the feijoada at around 9. Dress down.
Concert venues
Bar do Tom

phone: +55 21 2274-4022

address: Rua Adalberto Ferreira 32 - Leblon

Hosts lesser names, mainly performing Brazilian music.

phone: +55 21 2224-3913

address: Largo da Lapa 47 - Lapa

The city's main venue for classical performances.
Sleep
Budget
phone: +55 21 2527-7452

address: Rua São Clemente 23 - Botafogo

Basic accommodations in large dormitories. Fabulous breakfast buffet. Excellent value. Right at the beach of Botafogo.

phone: +55 21 2523-0060

address: Rua Francisco Otaviano 177 - Ipanema

Clean place, older interior, only a sidewalk apart from the beach.

phone: +55 21 2205-1983

address: Rua Silveira Martins 135 - Catete

Fairly new hostel in what used to be the Hotel Hispano Brasileiro.

Beija Flor

phone: +55 21 2285-2492

address: Rua Ferreira Viana, 20 - Flamengo

Typical budget hotel in Catete district. The rooms have no exterior windows and just open into the hallway, so take a look before deciding.

phone: +55 21 3988-9912

address: Travessa Guimarães Natal 12 - Copacabana

A, unique hostel in the safest part of Copacabana. A large colonial house, fully renovated with spacious ensuite dorms, excellent social areas, great breakfast and friendly, helpful staff.

phone: +55 21 3734-2235

address: Rua Emilio Berla, 180

A hostel with breakfast, kitchen, laundry, Wi-Fi, security lockers and hot showers. Tours can also be arranged to the main tourist attractions.

phone: +55 21 3209-0348

address: Rua Barata Ribeiro, 111

One of the most popular backpackers spots in Copacabana. It is located two blocks away from the beach.

phone: +55 21 2512-8076

address: Paul Redfern, 48

Has both private and shared rooms. It is located one block away from the beach. You have access to Wi-Fi, a public kitchen and the bar. The breakfast is included.

phone: +55 21 2226-0991

address: Praia Botafogo 462, no. 9 - Botafogo

El Misti Hostel Rio de Janeiro

phone: +55 21 2547-0800

address: Frederico Pamplona 20 - Copacabana

Free pickup from the airport, breakfast.

phone: +55 21 3495-1027

address: Rua Bambina, 158 - Botafogo, Rio de Janeiro, 22251-050

Ferreira Viana

phone: +55 21 2205-7396

address: Rua Ferreira Viana, 58 - Flamengo

As long as you don't mind climbing three flights of stairs (no elevator), this is as good a value as any among the budget hotels in the area, with friendly service.

IBIS Botafogo

address: Rua Prof. Álvaro Rodrigues, 313 - Botafogo

phone: +55 21 2547-5422

address: Rua Tenente Marones de Gusmão 85

Well equipped apartments with free internet Wi-Fi available.

phone: +55 21 98809-3456

address: Rua Barao da Torre 125 - Ipanema

4-8 bed dormitories. Breakfast buffet.

phone: +55 21 2225-0121

address: Rua do Catete 160 - Catete

Excellent location and cheap, but the rooms could be nicer.

phone: +55 21 2236-3803

address: Travessa Santa Leocádia 38 - Copacabana

phone: +55 21 3209-0348

address: Rua Barata Ribeiro 111 - Copacabana

Big, airy rooms and great common areas, is staffed with very cool young people who know everything that is going on. They have amazing New Year's and Carnaval events, as well as their own cool bar next door where they have live music.

phone: +55 21 2247-6130

address: Rua Farme de Amoedo 35 - Ipanema

phone: +55 21 2545-7500

address: Rua Dias da Rocha 85 - Copacabana
Mid-range
Astoria Copacabana Hotel

phone: +55 21 2545-9090

address: Rua Republica do Peru, 345 - Copacabana

Good mid-range hotel. Not to be confused with the more upscale Astoria Palace (below), operated by the same owners.

Hotel Portinari

phone: +55 21 3222-8800

address: Rua Francisco Sá 17 - Copacabana

This calls itself a Design Hotel. Each floor has a different style but that is really all the difference to a normal hotel. Top floor restaurant for breakfast and a good view of local favelas.

phone: +55 21 2521-8568

address: Rua Francisco Sá 5 - Copacabana

A boutique guest house on the beachfront, in a 1200-m² penthouse. Beautifully decorated, very comfortable.

phone: +55 21 3202-5500

address: Rua Visconde de Piraja 254 - Ipanema

Affiliated with the nearby San Marco Hotel and Hotel Carlton in Leblon. Very friendly and helpful service.

Che Lagarto Suites Copacabana Anita

phone: +55 21 2256-2776

address: Rua Anita Garibaldi, 87

The Suites has two types of rooms: Private and Private Low Cost. It is 4 blocks away from the beach.

Che Lagarto Suites Copacabana Santa Clara

phone: +55 21 3495-3133

address: Rua Santa Clara, 304

The Suites has two types of rooms: Private and Private Low Cost. Breakfast, public kitchen and Wi-Fi included.
Splurge