Riobamba
Riobamba
is a city in the Andean highlands of
Ecuador
. It is known locally as the "Sultan of the Andes". Riobamba sits in a valley surrounded by several large hills and snowcapped mountains. It's perhaps best known as the former starting point of the train ride to
Nariz del Diablo
, which now leaves from
Alausi
.
Get in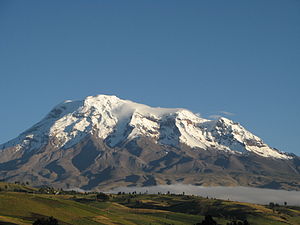 By bus
There are connections to most major destinations in Ecuador, including
Quito
(3 hours),
Guayaquil
(4 hours) and
Banos
(1½ hours).
By train
There are no regular scheduled passenger trains to Riobamba, however
Tren Ecuador
runs excursion trains from
Quito
and
Guayaquil
, and the Tren del Hielo I from Quito to Riobamba. The Naríz del Diablo train no longer runs from Riobamba. The railway station is centrally located at Av Daniel León Borja.
Get around

A bus costs 30 cents. Taxis are plentiful; most trips within town should be $1.50. Minimum fares are $1.20 until 19:00 and $1.30 after 19:00.

See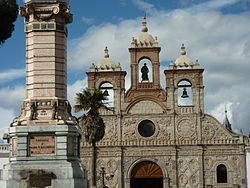 On a clear day don't miss the view of the surrounding mountains. The best views in the city are from
Parque 21 de Abril
, close to the train station.
Do
Hike ChimborazoRiobamba is the nearest city to Chimborazo, Ecuador's highest mountain at just about 6,263 m (20,548 ft). The mountain's peak is Earth's further point from its center, kilometers farther than the Everest's. This is because the Earth is not a perfect sphere but an oblate spheroid, i.e. it is a little bit "thicker" near the equator. To climb to the top of Chimborazo you will need a guide and equipment. There are several tourist agencies in Riobamba where you can get both of these services for a price of about $180 per person for a group of two or more. Climbing solo with a guide will cost closer to $250. Climbs leave at about 01:00 in order to summit at sunrise and make the descent by late morning. A round trip should take about 9-10 hr. Even if you're not a mountain climber or on a budget, you can still visit Chimborazo: buy a ticket from Riobamba's bus station to Guaranda (1 hr, $2.5, every 30 min). Ask the bus driver to drop you off at the Chimborazo entrance (free but you need to register) at 4300 m (14100 ft). Then either hike till the first refuge (3 hr if you follow the road, 1:30 hr if you go straight) at 4800 m (15750 ft) or share a taxi ($15). From there you can hike to the second refuge (Whymper at 5000 m, 16400 ft) and finally to the (very) small lake at 5100 m (16700 ft). You are not allowed to go further without a guide. There are very good chances to see vicuñas (same family as the llamas - nicknamed the "Andes damsels") between the entrance and the first refuge, so it can be a good idea to go back by foot.)

Tours in Chiva Express Train to Devil's Nose . Metropolitan Touring's Chiva Express is a typical, old-fashioned Latin American bus, with plenty of room on the roof for bags of grain, bananas and the odd chicken. In Quito, these buses have taken on a new lease of life as party vehicles with adapted, high-sided roofs. The Chiva idea had been adapted to the historic train ride from Quito to Guayaquil. Passengers will enjoy an exclusive and unique trip through the Andean countryside and the coastal lowlands visiting the Devil's Nose track on board of Chiva Express.
Riobamba used to be the terminus for the most famous train route in Ecuador, the Nariz del Diablo (Devil's nose). It now operates from Alausi, a two-hour bus trip from Riobamba, to Sibambe.
Riobamba is close to Sangay National Park, which contains several mountains and volcanoes including Tungurahua, Sangay and El Altar.
Buy
On Saturdays there is a small artisan market. It seems to be mainly aimed at locals rather than tourists, and is certainly more authentic than
Otavalo
.
Between Pinchincha street and España you can find the best boutiques for people of any age. Or if you like malls, check out
El Mall Del Centro
locate on
Leon Borja
and
la circumbalacion
by
La Plaza de Toros
Eat
Riobamba does not lack for restaurants. No matter what your tastes, check out Calle 10 de Agosto/Calle Daniel Leon Borja (Riobamba's main avenue) for all your dining needs. Lunch costs around $2-5, and dinner is normally from $3-6.
Cake at the Cafeteria Londres on García Moreno between 10 de Agosto and Primera Constituyente.
D'Baggio (Miguel A León y 10 de Agosto) A pizza joint, attempting to look like a quaint Italian eatery, but endearing. The pizzas are completely homemade in an area in the front of the restaurant. As you sit and wait for you meal, you can watch the chef flipping the dough in the air, and whipping pizzas in and out of the wood oven. The pizzas, all made with fresh ingredients, will run you between $2.60 and $5. The restaurant also has a selection of pastas.
San Valentin, a pizza place on 10 de Agosto, is a local gringo hotspot and a good place to grab some pizza or fries and chat with other travelers. Prices are fairly standard, $4-5 for a dinner.
La Andalucia, at Uruguay and Calle 10 de Agosto, is a sandwich place that sells great ham and makes tasty lunches and dinners. Prices are about $4 for a sandwich and Coke. Try the Andalucia.
Pollo Ejecutivo, located on Calle Daniel Leon Borja across from Parque Guayaquil, is the best of the myriad fried chicken places in town. It's greasy, crispy, and delicious. Meals cost from $2-$3.
Drink
"La Avenida" is the teens' favorite spot to relax and de-stress from the week's work. Parties start around sundown and go from El Parque Infantil all the way to La Estación del Tren. And if you're lucky to be around
Las Fiestas del Abril
, or Riobamba's independence day week, they hold a lot of activities and parades all that week just to celebrate another year of freedom.
Drinking in Rio (as the natives call Riobamba) isn't so hard to do. There are many places where you can go and enjoy a good drink. There is the bar
El Tentadero
and for the younger generation,
Las Pipas
. Both are across Plaza de Toros on 10 de Agosto.
Urban Gourmet

address: Loja y 12 de Octubre

If you are looking from a break from the usual bar and reggaeton, you might want to check out this place though it's a bit of a walk (through safe neigborhoods) from the center. The place attracts an international crowd and quite a few travellers have contributed to the interior design of the place.
Sleep
Hotel Metro, Av. León Borja y Lavalle, 03-961-714. Next to the train station. Basic rooms have a tiny private bathroom. The shower takes ages to warm up, if at all. Rooms at the front are noisy, especially in weekends. Price: $5 per person.

phone: +593 3 2960 429

address: Rocafuerte 22-15

One of the cheapest decent hotels in town. Most rooms are shared bathrooms, balconies and large windows.

Hostal Rincon de Castilla

address: Av. Leon Borja y Pasaje El Espectador

This hostel has different sizes of rooms depending on the number of guests. Hot water. Cable TV. Across the street from the train station. Mirelia (an older woman who works there from 12:00-19:00) is gringo friendly and willing to help any tourist find their way through the city.

Hotel Tren Dorado

phone: +593 3 2964890

address: Carabobo 22-35

Modern hotel with a variety of different rooms. Most of cable TV. Good hot water. Nice beds. Wi-Fi. On-site veggie-optional restaurant offers early breakfasts for those catching the train.

Hotel Boutique San Pedro de Riobamba

phone: +593 3-294-0586

address: Av. Daniel León Borja 29-50

Small boutique hotel in an renovated 19th century house, includes a very nice courtyard with restaurant.

phone: +593 3 2944406, +593 3 2944407

address: 1ra Constituyente 37-85 y Brasil

More than 40 bedrooms, a restaurant, lobby and conference hall, internet, free breakfast, cable TV, bilingual front desk, online booking, hot water. Somewhat rundown and loud.
Hotel el Zesus sometimes hosts celebrities and athletes. On 10 de Agosto after the bus terminal and before el Parque Infantil. Rooms start from $40 a night.