Roskilde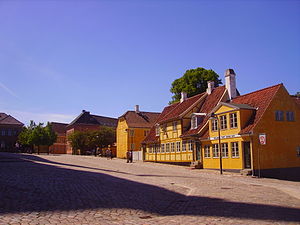 Roskilde
is in
West Zealand
,
Denmark
, 35 km west of
Copenhagen
. Roskilde is an ancient city dating from the Viking age. The most important historical sights are the Viking Museum and Roskilde Cathedral,
world heritage site
. Roskilde is also home to the giant rock music event, Roskilde Festival.
Understand
Orientation
Roskilde is south of Roskilde Inlet with the Viking Museum and some of the accommodation and restaurant options nearby. Central Roskilde is 1 km further south centered on the pedestrian street Algade/Skomagergade and Roskilde Cathedral. The city centre is quite small at around 1 square kilometer bordered by a ring road. The train station is at the southern end of the city centre. Roskilde Festival is 4 km south from the train station along Køgevej.

History
Roskilde was established more than 1,000 years ago, at which time it had a wooden church and a royal farm. In the 12th century, Roskilde Cathedral was built and Roskilde became the seat of the bishop and was also granted the status of a market town. The town was one of the most important in Denmark for the next few centuries until the reformation ended the importance of the church.

Get in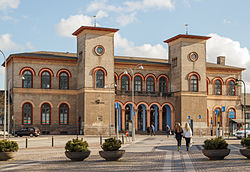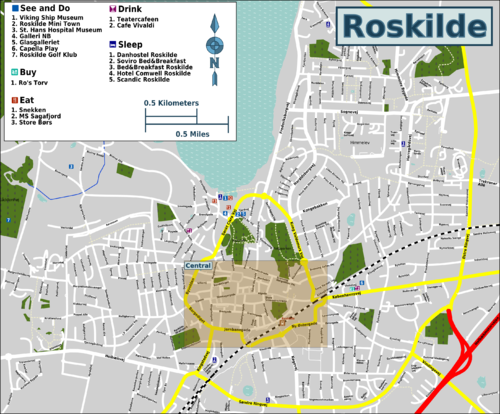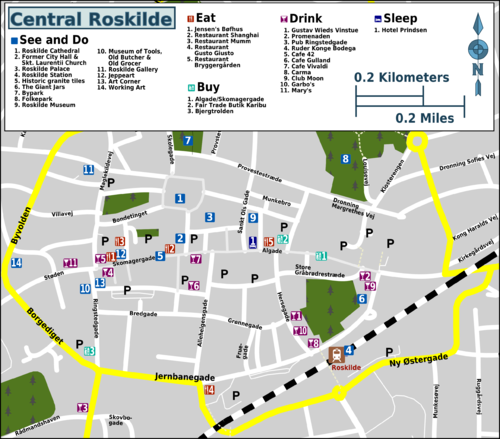 By train
From Copenhagen Central Station (København H), it is about a 25-minute trip. Nearly all trains leaving Copenhagen besides those leaving for Elsinore or Sweden stops in Roskilde. Regional trains bound for
Holbæk
,
Slagelse
,
Ringsted
,
Kalundborg
or
Nykøbing Falster
are your best choices (they are marked with "Re" sign on platform screens). There is also a small branch line with Regional trains from
Roskilde
to
Køge
and onwards to
Næstved
.
Roskilde railway station

address: Jernbanegade 1
By bus
Intercity buses
to and from
Jutland
lines
882
to Fjerritslev and
888
to
Aarhus
/
Aalborg
, makes stop at the Q8 gas station at Darupvej 2, by the highway. It is quite far from the city center, but there are several bus lines connecting from Roskilde Station, e.g. 600S
Important regional buses includes
600S
which runs an arch around Copenhagen proper from
Hillerød
in the north (Frederiksborg castle) to
Hundige
Station in the south.
233
runs between Roskilde and Lejre Forsøgscenter,
234
connects with
Slagelse
and finally
229E
and
239
with
Frederikssund
.
By plane
Roskilde AirportDenmark's premier General Aviation facility with planes taking off or landing, every 5 minutes throughout the day. It is also the main base for un- or semi scheduled taxi flights to the Kingdoms more remote islands; Copenhagen Airtaxi offers flights to Samsø, Læsø and Anholt for between 1,000-1,500 kr, and more or less works as a regular airline, with flights bookable on the company website. Another option is Starling to Ærø.
Get around
You can easily walk from the train station to the main square with the cathedral and from there to the Viking Ship Museum.
There are a few local buses running from the train station.

See
Landmarks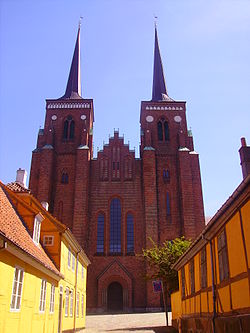 phone: +45 4635 1624

On UNESCO World Heritage List. This is where Danish kings and queens have been buried for a thousand years, 20 kings and 17 queens lay in the four chapels here. Most impressive are the temple like monuments for King Christian III and his wife. A wooden church was built here in the 10th century, the present church was built in early 13th century. Home to the Cathedral Museum.

Roskilde Former City Hall

address: Stændertorvet 1

Built in 1884 in Gothic style. Now home to the local tourist information office.

Roskilde Palace

phone: +45 4631 6565

address: Stændertorvet 3

Home to two exhibitions, the Museum of Contemporary Art and the Palace Wing. A four wing yellow baroque building built in the 18th century. Was home to the king and his family when around.

Roskilde Station

address: Jernbanegade 1

The oldest train station in Denmark built in 1847 in connection with opening of the first railway between Copenhagen and Roskilde.

Historic granite tiles

address: Skomagergade

15 granite tiles in the pavement illustrating the history of Roskilde. Was created by sculptor Ole Knudsen in 2009.

The Giant Jars

address: Hestetorvet

Three five meter high jars created in 1998 by sculptor Peter Brandes. They symbolise life and dead and were placed here to mark the city's 1,000 year anniversary. One of the jars has inscribed a poem by Henrik Nordbrandt.
Parks and nature
Boserup ForestHilly, primarily beech mixed forest. 5-km trekking path.

ByparkEstablished in 1915 by Roskilde's patron, O.H. Schmeltz. Comprises a playground for children, a snake-like walking path and other areas well suited for a stroll or for hanging around. The park is home to cultural events including summer concerts Tuesdays in July. If you walk from the city centre to the Viking museum, this can be done through the park.

FolkeparkConsists of a number of combined parks primarily based on former monastery land. Was first established in early 19th century and found its present form in the 1930s. The park is home to cultural events including performances for children at the amphitheater on summer Thursdays.

phone: +45 4648 0878

address: Slangealleen 2, Lejre

Theme park with reconstructions of a Iron Age village, a Stone Age camp, a Viking market, a 19th century-farm cottages and more.

phone: +45 4648 0038

address: Ledreborg Alle 2, Lejre

Built 1740-45 by Count Johan Ludvig Holstein-Ledreborg and still the family residence. Houses a collection of original furniture and paintings. The baroque park has been restored. Houses an open air concert every summer.
Museums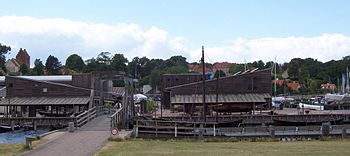 Galleries
Do
Roskilde festival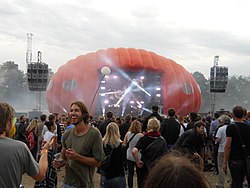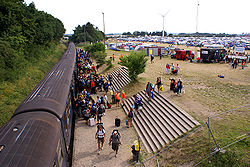 The legendary
Roskilde Festival
is still going strong despite over 40 years of sex, drugs and rock'n'roll! started by a group of friends in 1971 inspired by the Woodstock festival, it has grown from a few thousand guests in its first year, to over 115,000 visitors from all over the world, and is routinely sold out with over half the tickets sold outside of Denmark.
The festival takes place in late June, early July on Roskilde Dyreskueplads south of the city. To
Get in
there are several options; from Monday-Sunday during the festival trains depart from Roskilde Station to the festivals very own station inside the camping area (West) every 30 minutes for 20 kroner. There are also shuttle buses from Roskilde Station to the camping area (East) all day during the festival. When arriving at the festival you exchange your ticket for an armband/bracelet which gives you access to both the camping area, and the stage area.
Many people show up a week before the music starts to get their tents up so they can
sleep
close to the stage area, and limit walking as much as possible as the camping area is huge! A good tip is securing a place as far from trees and fences as possible, since they in essence become one big urinal during the festival. If rain is forecast, you should also attempt to camp as far from the marked walkways, preferably on a slope, since mud quickly becomes and issue.
On the camping grounds there are several service areas with food stalls and supermarkets to stock up with
eat & drink
, some also have first aid, toilets and showers. Inside the stage area there are also many, many restaurants and bars - most of them with a theme, and some of them are really huge and elaborate. There are also many shops where you can
buy
necessities and other rubbish.
Music is playing from
Thursday
-
Sunday
and are usually varied, with some international headline acts, and much experimental and indie music and the smaller stages.
Other activities
Sail in a viking boat on the fjord

phone: +45 4648 0878

address: Slangealleen 2, 4320 Lejre

Become a viking for a day, in this spectacular hands on history museum.

Capella Play

phone: +45 7697 7070

address: Ro's Torv 51A

Indoor playground best suited for children of 2-8 years. Also a café with limited and mediocre food.

phone: +45 4637 0181

address: Margrethehåbsvej 116

18-hole course open for guests from other golf clubs with a handicap of no more than 34.0. 9-hole course open for all.

The Path of the Gods64 km marked path on asphalt, soil and grass. All of the path can be walked and most is also fine for bikes. The path connects Køge Bay near Karslunde Beach with Ise Inlet near Kirke Hyllinge. A large part of the path is in Roskilde Municipality. A great way to experience the local nature and culture.
Buy
From Roskilde festival the nearest supermarket is
Fakta
at Køgevej 108, about 1300 meters (a 15-20 minute walk) due north (past the highway) from the eastern entrance. The downtown area which has a pedestrianized area full of different shops is a further 1½ km away (or 30-40 minutes by foot).
phone: +45 4638 0680

address: Københavnsvej 29

A fairly attractive mall with 90 different stores and a cinema.

Algade/SkomagergadePedestrian street and main shopping street in town.

phone: +45 4637 1509

address: Sct. Peders Stræde 1

Sells handicrafts from Africa, Asia and Latin America including home accessories, cookware, jewelry, baskets, bags, accessories, toys and paper products.

phone: +45 4637 0992

address: Maglegårdsvej 5C

Jewelery and giftware.

address: Ringstedgade 30

Shop and café selling a large selection of beer as well as wine, chocolate, goodies, coffee, organic sweets, handicrafts, clothes, hats, jewelry.
Eat
Budget
phone: +45 4632 2510

address: Skomagergade 38

Discount steakhouse in an old building at the main pedestrian street. Reasonably sized dishes but a bit slow service. Too expensive if you do not go for the special offers.
Mid-range
Splurge
phone: +45 4632 7377

address: Jernbanegade 19

Italian gourmet restaurant. The food is better than the service.

phone: +45 4632 5045

address: Havnevej 43

Seafood restaurant also serving meat dishes.
Drink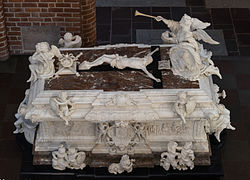 Bars
Gustav Wieds Vinstue

phone: +45 4636 5335

address: Hersegade 11

Traditional Danish bar, but also has a large selection of foreign and gourmet beers.

Promenaden

phone: +45 4635 2475

address: Hestetorvet 4

Pub Ringstedgade

phone: +45 4635 9597

address: Ringstedgade 50

Local place frequented by workers and occasionally by people returning from concerts in the nearby Roskildehallerne.

Ruder Konge Bodega

phone: +45 4636 0415

address: Skomagergade 25

Large traditional bar frequented by locals.

Teatercafeen

phone: +45 4636 9545

address: Sankt Hans Gade 24

In a primarily residential area and primarily frequented by regulars. Has billard and slot machines.
Cafés
Cafe 42

address: Skomagergade 42

phone: +45 4635 0244

address: Borchsgade 6

Cafe Vivaldi
Clubs
address: Jernbanegade 6

Club Moon

phone: +45 4632 4070

address: Hestetorvet 3

address: Hersegade 17

Mary's

phone: +45 4632 4600

address: Støden 9

Combined club and sports café.
Sleep
Budget
Slottes Bed and Breakfast i Roskilde

phone: +45 20 66 10 40

address: Skovbovængets Allé 4

Danhostel Roskilde Vandrerhjem

phone: +45 46352184

Hostel at the harbour next to the Viking museum. Have dormitories and family rooms

phone: +45 2077 4482

address: Skovbovængets Allé 17

Mr. Janny Motel

phone: +45 4635 4385

address: Motelvej 28

phone: +45 2446 9623

address: Langagervej 19A

phone: +4546757996

address: mail@roskildecamping.dk

4 km from the town center, directly at the fjord. The camping site also offers cabins for rent. Open from end of March to end of September.
Mid-range
phone: +45 4632 3131

address: Vestre Kirkevej 12, Himmelev

Rooms with free internet, some with view of Roskilde Inlet.

phone: +45 4632 4632

address: Søndre Ringvej 33
Splurge
phone: +45 4630 9100

Four-star hotel with free internet.
Go next