Rwanda
Rwanda
is a relatively stable
East African
country, and easily accessible from
Kenya
and
Uganda
. It is relatively easy, safe and simple to travel around.
Rwanda is not only the land of a thousand hills, but also a country rich in flora and fauna and stunning natural beauty in its scenic rolling and breathtaking green savannah. The country hosts some rare species of animals like the silverback mountain gorillas as well as unique birds and insects in the tropical forest of Nyungwe.
Cities
(Cities were renamed a few years ago when the administrative structure of Rwanda was re-vamped. The former names refer to old provincial capitals. Expect people to use either name listed to refer to these cities.)
Understand
Rwanda has come a long way since the civil war and genocide of 1994 devastated this tiny country. Shake off your memories of war and expect a warm and friendly welcome to a beautiful country.
History
Hunter gatherers settled the territory in the stone and iron ages, followed later by Bantu peoples. The population coalesced first into clans and then into kingdoms. The Kingdom of Rwanda dominated from the mid-eighteenth century, with the Tutsi kings conquering others militarily and centralising power. The Tutsi and the Hutu shared a common language, religion and culture, and originally referred to different social classes, though Europeans would later introduce the concept of them being different ethnic groups during the colonial era.
Germany colonised Rwanda in 1884 as part of
German East Africa
, followed by Belgium, which annexed it in 1916 during World War I. Both European nations ruled through the kings and perpetuated a pro-Tutsi policy. The Hutu population revolted in 1959. They massacred numerous Tutsi and ultimately established an independent, Hutu-dominated state in 1962. The Tutsi-led Rwandan Patriotic Front (RPF) launched a civil war in 1990. Social tensions erupted in the 1994 genocide, in which Hutu extremists killed an estimated 500,000 to 1 million Tutsi and moderate Hutu. The RPF ended the genocide with a military victory.
Rwanda has begun to recover from the genocide, and since the accession of Paul Kagame as president in 2000, Rwanda has adopted market-oriented reforms and emerged as one of the fastest growing economies in the world. However, concerns remain on human rights due to the authoritarian nature of Kagame's rule.
People
The population is young and predominantly rural, with a density among the highest in Africa. Rwandans are composed of three ethnic groups: the Hutu, Tutsi and Twa.
Climate
Although Rwanda is located only two degrees south of the equator, Rwanda's high elevation makes the climate temperate. The average daily temperature near Lake Kivu, at an altitude of 1,463 m (4,800 ft) is 22.8°C (73°F). During the two rainy seasons (Feb–May and Sep–Dec), heavy downpours occur almost daily, alternating with sunny weather. Annual rainfall averages 800 mm (31.5 in) but is generally heavier in the western and northwestern mountains than in the eastern savannahs.
Holidays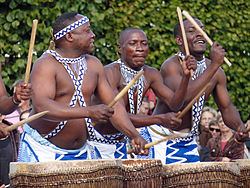 1 January - New Year's Day
1 February - Heroes Day
Good Friday - variable
7 April - Genocide Memorial Day
1 July - Independence Day
4 July - Liberation Day
15 August - Assumption
Eid al Fitr and Eid al-Adha (Islamic holidays that vary with the lunar calendar)
25 December - Christmas
26 December - Boxing Day
Get in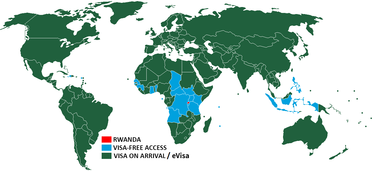 Visa requirements
A passport is required to enter Rwanda though a certificate of vaccination is not required unless coming from a yellow fever endemic country. Citizens of
Burundi
,
Kenya
,
South Sudan
,
Tanzania
and
Uganda
can enter Rwanda visa-free for up to 6 months. Kenyan and Ugandan citizens may use an ID card in lieu of a passport to enter Rwanda.
Benin
,
Central African Republic
,
Chad
,
Democratic Republic of Congo
,
Ghana
,
Guinea
,
Haiti
,
Indonesia
,
Mauritius
,
Philippines
,
Sao Tome and Principe
,
Senegal
,
Seychelles
,
Singapore
citizens can also enter visa-free for 90 days.
Visitors from all countries who do not receive visa-free entry are now eligible for visa on arrival for $30 USD (as of Jan 2019). Payments for the visa may be made on arrival in both cash as well as credit card. Citizens of Common Market for Eastern and Southern Africa countries will receive visas valid for 90 days while other visitors will be granted visas valid for 30 days.
Visa applications and payments for both the standard visitor visa as well as the East African Tourist visa may also be made online on
the government website
. Within a few days you will receive an email with the letter of visa acceptance, which you should print and bring to the border entry point. The East African Tourist visa allows for multiple entry travel between Kenya, Rwanda, and Uganda over a 90 day period. Note that exiting any of these three countries will invalidate the visa even if the 90 day period has not yet expired.
Plastic bags
Thin plastic bags are prohibited in Rwanda. Luggage will be searched at the border and even at police checkpoints throughout the country to make sure you are not carrying plastic bags. Prior to the ban, one-time use plastic bags plagued city streets and threatened the delicate environment. Today, Rwandan cities are almost litter-free and some of the cleanest in Africa
By plane
Kigali AirportWhile most flights are inter-regional, there are flights to Istanbul IST, Brussels-Zaventem and Amsterdam Schiphol
The Rwandan capital is also easily accessible (3 hr by road) from the Goma airstrip in DRC.
By car
By bus
In Uganda, many bus companies make the 8-10 hour journey from Kampala in Uganda to Kigali. As 2015, it costs RWF8,000 from Kigali to Kampala on Horizon. Jaguar charges RWF6,000-8,000 - early buses are cheaper. The most reliable bus company is Kampala coaches, Jaguar and Ontracom from Rwanda.
Tanzania has one open border with Rwanda, but this is a far more difficult way to enter Rwanda due to the remoteness and lack of roads in western Tanzania. A bus runs from Mwanza to Benako (both Tanzania) and from Benako buses run onto Kigali. Another town to consider on this route is Ngara (Tanzania).
Several buses run from
Dar es Salaam
via
Morogoro
and
Dodoma
(they all leave Ubungo bus station around 06:00-07:00) to
Kahama
daily. You will have to spend the night in Kahama and then get a minibus or shared taxi on to the border. From the Rwandan side of the border, there are minibuses to Kigali.
In Burundi, there are two ways to enter from Rwanda, and security in the border areas varies. For the intrepid, there is a daily direct service from Kigali to Bujumbura operated by Yahoo Car, and a "luxury" service operated by Belvedere Lines. If there are security concerns on the Bujumbura - Huye - Kigali route, it is also possible to go along the road bordering (but not entering) DRC. You will probably have to do this in a series of minibuses via Cibitoke, Bugarama (Rwanda) and Cyangugu (Rwanda). With both of these routes, check the security situation with your embassy (the Belgian embassy has the best information).
For Democratic Republic of the Congo, much of the country remains off limits to many tourists due to instability, though Goma and Bukavu can be visited easily from Rwanda.
By train
There are no trains in Rwanda.
Get around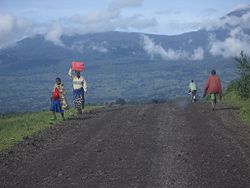 Short distances can be travelled either on foot, or by taxi-velo (bicycle taxi). Taxi-velos are widespread, and are relatively inexpensive but not allowed in urban areas. A taxi-velo driver will cycle, and the passenger will sit rather precariously on the back.
Motorcycle taxis (taxi-moto) are also popular, especially in
Kigali
, a normal journey will cost from USD1-2. If you look like a foreigner and are walking on the main road, drivers will probably come up to you to offer a ride. Most of the drivers speak only very basic English or French, if they speak any.
Taxis are less common, and are best found at taxi stations, by waiting at the taxi sign at bus stops, or by calling them. They are significantly more expensive, even short rides cost
FRw
2,000, and longer rides can be FRw5,000 or more.
Slightly longer distances, indeed the whole country, can be travelled by Matatu (or Twegerane, literally
let get closer
). These white minibuses are found throughout East Africa, and are crammed full of adults, children, and anything else you can think of (bags, chickens).
Talk
Kinyarwanda is an official language and the main spoken language in Rwanda. It is also spoken in the east of the
Democratic Republic of Congo
and in southern
Uganda
. Kinyarwanda is a tonal language of the Bantu language family, closely related to Kirundi spoken in the neighboring country
Burundi
and much more distantly related to other Bantu languages such as
Swahili
.
In addition to Kinyarwanda, Rwanda's three other official languages are English,
French
, and
Swahili
. While French was the former language of administration under Belgian colonial rule, since the civil war the Rwandan government has moved away from the Francophone sphere of influence and and officially switched the primary language of education to English in 2008. As a result of this, older people who were educated in Rwanda tend to have some knowledge of French, while the younger generation will have better knowledge of English. Complicating this is the large number of returned refugees who were educated in neighboring countries. Those educated in nearby Anglophone countries (Uganda, Tanzania, Kenya) tend to know English while those educated in the Democratic Republic of Congo or Burundi will know French.
Swahili
was made an additional official language in 2015 and a required subject in the school curriculum as a result of its membership within the East African Community. Swahili is also widely spoken among traders and returned refugees from
Kenya
,
Tanzania
, and the
Democratic Republic of Congo
.
See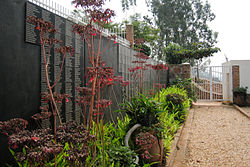 National Museum of Butare

phone: +250 252 553131

In Huye – National Museum of Rwanda
The Genocide Memorial in Kigali – good insight into one of the world's greatest tragedies. It's free to walk around but audio guides are USD10. Tour guides can be hired for small groups. (http://www.safariyako.com/places-to-go/kigali-memorial-center )
The Nyamata Genocide Memorial is a worthwhile complement to the Gisozi Memorial Centre in Kigali. Located in the town of Nyamata, 40 minutes south of Kigali on a newly paved road, the memorial is in a church where over 10,000 people were killed during the 1994 genocide. Visitors take a short tour and see the evidence of the genocide that remains there today - victims' clothing piled on benches, the roof pockmarked with bullet holes, and the open crypts behind the church that hold the remains of over 40,000 people from the area. An extremely moving look into one of the places where the genocide was carried out. If you wish to take photographs of the site, you will need to purchase a permit in Kigali before travelling to Nyamata. It is open 7 days per week and is free to visit. Donations are encouraged as they receive little support from the government.
The Ntarama Genocide Memorial, just 20 minutes away from the Nyamata memorial, is also worth visiting. Like the Nyamata memorial, this site was a church before the genocide, and was nationalised to serve as a memorial after thousands of people were killed within its walls. The church itself is different than Nyamata, with victims' clothing eerily displayed from the rafters of the church as a grim reminder of what happened there. Visitors can see large chunks of the outer wall missing, where grenades were used to force entry. Ntarama also has a peaceful memorial garden and wall of names in the back of its compound. Ask the resident guide for a tour in English or French, and remember to give them a donation for the site afterwards; it gets almost no support from the government. To get there, take the highway from Kigali to Nyamata and follow the signs for the Ntarama memorial, before you reach Nyamata. It is open 7 days per week and is free to visit. Donations are encouraged as they receive little support from the government.
Do
Lake KivuA large lake bordering the DRC, it's a nice place to relax for a week or so.
Rwanda has 3 national parks:
Buy
Money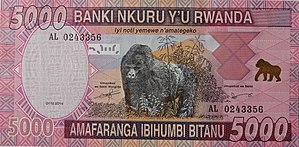 The currency is the
Rwandan franc
(French:
franc rwandais
, Kinyarwanda:
Ifaranga ry'u Rwanda
), denoted by the symbols "
FRw
" or "
RF
" or "
R₣
" (ISO currency code of
RWF
(sometimes displayed as FRw, and possibly RF or R₣).
The smallest-value note is a FRw500 note, which is the smallest note in physical size, as well. There are also notes in denominations of 1,000, 2,000, and 5,000, with the larger notes becoming slightly larger in physical size. There are no generally-circulated notes over FRw5,000, which can be cumbersome since a FRw5,000 note is roughly equivalent to USD8. Since few places in Rwanda accept credit cards, visitors will need to carry a large amount of cash if travelling outside of Kigali, especially if staying longer than a few days.
Coins valued at FRw100 are commonly used. However, smaller coins (FRw50, 20, 10, 5, and 1) are generally not accepted by street merchants and smaller restaurants and hotels. The only place to obtain smaller coins is through a bank or a large store, such as a supermarket. It's common for most businesses in Rwanda, including currency exchangers and gas stations, to round transactions to the nearest FRw100.
You get a slightly better exchange rates by bringing USD50 bills or higher (year 2006 or newer) to exchange for Rwandan francs.
There are ATMs all over Rwanda. Depending on your bank, this can be a much cheaper way to get francs because the ATMs use a much better exchange rate than the money changers.
Mastercard, Visa, Union pay, Amex cards, Diners club, JCB card
are accepted at
Bank of Kigali
,
Equity bank
,
Ecobank
,
Kenya Commercial Bank
.
GT Bank
.
Eat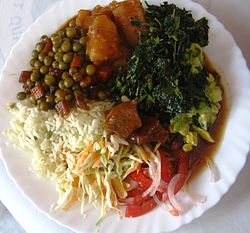 The local "Brochettes" (kebabs) are delicious and are available in most bars and restaurants. Small bars will primarily serve goat brochettes, and goat liver brochettes are often of higher quality to the locals.
Zingalo
is goat intestine, sometimes also served as a brochette. Some locals prefer this and it could be brought to you without asking at very "local" places, so try to see whether other diners seem to be enjoying the spiral looking treat and specify you do not want it when you order ("OYA zingalo") Some restaurants also serve beef and fish brochettes, and a few will serve chicken. Brochettes are usually served with french fries ("frites") or fried or grilled
ibitoke
.
If Rwanda has a staple food, it is ibitoke (sing. igitoke). Ibitoke are starchy, potato-like bananas, which are
not
sweet like plantains. While plantains are available in Rwanda, they are not seen as particularly Rwandan food. Igitoke/banana are served boiled in sauce, grilled, or even fried. You can also refer to them as
matoke
, which is usually easier for foreigners to pronounce. The sweet bananas in Rwanda are delicious but considerably smaller than the matoke bananas. If you want this type of banana, ask for small banana or sweet banana.
In urban areas a local buffet known as "Melange" is sold at lunchtime. This consists of a buffet of mostly carbohydrates such as potatoes, bananas, rice and cassava accompanied with some vegetables, beans, and a small amount of meat or fish with sauce. Rwandan buffets are
not
all you can eat. You may fill your plate only once, and with practice you'll be able to stack your plate high like the locals do. Prices range from just over USD1 to USD5 or even USD10 depending on the grade of the restaurant and the variety of food. Most of the upper segment buffets (USD3 and above) also offer a salad buffet. Many of the cheaper Melange places are unmarked.
Kigali has a much better range of restaurants than the rest of the country including Indian, Chinese, Italian, Greek, French and multi-cuisine restaurants. An evening meal is typically around USD10.
Drink
In most shops you will find milk, water, juices and soft drinks. In most bars the choice is limited to their offering of about 5 different soft drinks and 4 different beers, Turbo King, Primus, Mützig and Amstel. Primus and Mützig are available in small and large sizes, whereas Amstel is available only in 330 ml bottles. Rwandans are known for their fondness for large beers and when you order Amstel, it is common for a server to bring out 2 bottles at a time. Bralirwa in the west of the Rwanda produces most of the beer and soft drinks available in Rwanda. Inyange produces juices and soft drinks.
There are also local banana beer preparations called Urwagwa, normally brewed at home and available only in plastic containers but now also sold in bottles at some shops and bars.

Sleep
Accommodation is usually fairly basic and significantly more expensive than neighbouring
Uganda
and
Tanzania
. Very basic accommodation will cost US$8-20.
A few nice hotels can be found in
Kigali
, the most famous of which is the "Hotel des Milles Collines", as featured in the film
Hotel Rwanda
. Film buffs hoping to stay in the film set will be disappointed though, as the film was produced in South Africa. The hotel is now open after extensive renovation. Most hotels in Kigali cost above are in US$50 per night, although there are a few bargains if you look around.
There is a relatively inexpensive hotel run by Catholic nuns called
St Paul
is in the centre of the city. It's located behind the church by the same name across from the roundabout. Has twin beds, without en suite bathroom.
Lake Kivu: Kibuye:
There is a fairly inexpensive hotel called
Home Saint Jean
(phone number: 0252 568 526) in Kibuye. They have dorms and private rooms.
The
Discover Rwanda Youth Hostel
is
Kigali
is a good place for backpackers.
Stay safe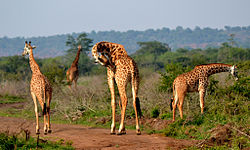 Tourists are usually welcomed warmly in Rwanda, and the country is largely considered safe for visitors. The possible exceptions are certain places along the
Congolese
and
Burundi
borders. Rwandan troops rumoured to be involved in the civil war that still plagues the northeast of
Democratic Republic of the Congo
, mainly due to the presence of Interhamwe who fled after the 1994 genocide.
Gisenyi
and
Kibuye
are considered safe, but the border situation can change at any time: check Foreign Office information and local sources for further advice.
Gorilla trekking near to the DRC border is generally considered safe, due to the large and continuous Rwandan army presence.
While travelling in
matutus
(taxis) in the countryside, don't be surprised if the matutu drives through several police/military check-points. This is done to check IDs, car registration and insurance, so it would be wise to bring at least a photocopy of passport with you everywhere you go in Rwanda.
Stay healthy
Tap water
is not drinkable.
The following is an excerpt from the US State Department's Consular Information Sheet on Rwanda updated on 1 Dec 2006:
Medical and dental facilities are limited, and some medicines are in short supply or unavailable. Travellers should bring their own supplies of prescription drugs and preventive medicines. In Kigali, Americans may go to King Faycal Hospital, a private facility that offers limited services. There is also a missionary dental clinic in Kigali staffed by an American dentist. An American-operated missionary hospital with some surgical facilities is in Kibagora, in southwestern Rwanda. Another hospital with American physicians is in Ruhengeri, near the gorilla trekking area, and a Chinese hospital is in southeastern Rwanda in Kibungo. There is also a very good hospital near Lac Muhazi, where even people from Kigali go to. The US Embassy maintains a current list of healthcare providers and facilities in Rwanda. This list is included in the Consular Section's welcome packets for American citizens. There are periodic outbreaks of meningitis in Rwanda. Yellow fever can cause serious medical problems, but the vaccine, required for entry, is very effective in preventing the disease.
HIV/AIDS is
high
among adults at
9%
or
1 in 11
.
Practice safe sex. Avoid intravenous drug use.
Cope
Respect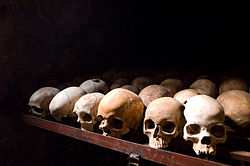 Rwanda is a very conservative society, and most people dress modestly, especially women. Wearing shorts or tight skirts and skimpy tops is likely to get you stared at twice as much as normal.
It is unusual for a couple to make public displays of affection, even though many men walk hand in hand with male friends. Also, Rwandans will generally never eat or drink in public, apart from restaurants. Rwandan women are rarely seen smoking in public or out in bars unaccompanied.
Although there is no smoking ban in most public places like bars and restaurants, generally it's not encouraged. Sometimes people may complain of being disturbed with people's smoking.
Rwandans are very private, reserved people and loud public confrontations (shouting matches) or obvious displays of emotion (such as crying) are also frowned upon. If you feel you are being overcharged by a trader, quietly persisting with the negotiation (or your complaint!) is likely to produce results much faster than an angry outburst.
It is also impolite to make eye contact with an elder.
Please understand that Rwanda is still recovering from a civil war and genocide in which over 800,000 people, perhaps a million, were killed. Many Rwandese lost relatives and friends. Remember to be sensitive to this sad fact when dealing with Rwandese. Most people today are trying to forget the tribal divisions and would rather be referred to as Rwandese than Hutu or Tutsi. It is considered impolite to ask someone about their ethnic origin.
There is not much political discourse in Rwanda, unlike in many neighbouring countries such as Uganda and Kenya where people talk freely about the government and political issues, people in Rwanda will be uncomfortable if asked about their views or even if seated at a table where national politics is discussed.
Connect
Post
Phones
Internet