Ryazan
Ryazan
(Ryah-ZAHN,
Russian
: Рязань) is a city in the
Russian Federation
, the center of
Ryazan Oblast
.
Understand
With its 525 thousand population Ryazan is the 3rd largest city in
Central Russia
after
Moscow
and
Yaroslavl
. Neither the size nor the proximity to
Moscow
(200 km) helps to upgrade the city's image: Ryazan is totally provincial.
As an industrial center and a transport hub, Ryazan is not a major tourist destination. But its history and several attractions make the city a good weekend escape from
Moscow
.
The city was founded in 1095 AD, but its initial site was completely destroyed by Mongols in 1237 - Ryazan was the first obstacle on their way to conquering Russia. Years after the new Ryazan was built few dozen kilometers away from the destroyed site.
Get in
By plane
Ryazan's local small airport
Turlatovo
doesn't operate regular flights and is being used for small aircraft and training. So, the closest air terminals are
Sheremetyevo
,
Domodedovo
and
Vnukovo
of
Moscow
. From those airports Ryazan can be accessed by train, by bus, or by car/taxi.
Of Moscow's major airports, the closest to Ryazan is Domodedovo. A direct bus between Ryazan and Domodedovo runs several times a day. As of summer 2016, the travel time is 3-3.5 hours; the fare, 600 RUR.
The schedule (in Russian)
can be found at the Domodedovo Airport web site.
The new Ramenskoye (a.k.a. Zhukovsky) airport, SE of Moscow, which is being opened in 2016, will also be fairly convenient for Ryazan travelers, as it is near the Moscow-Ryazan railway.
By train
Ryazan is an important transit rail hub. There are 2 train terminals in the city (Ryazan-1 and Ryazan-2). Most trains proceed to the east and arrive at the larger Ryazan-1 terminal, while those going to the south stop at Ryazan-2.
An ordinary ride by
elektrichka
from
Moscow
's
Kazansky Rail Terminal
(Казанский вокзал) takes almost 4 hours and costs 320 RUR (one way).
A faster and more comfortable option is to take an express train from the same terminal. The ride takes a little less than 3 hours, the cost depends on the class of the car. There are 3 express trains daily, going in the early morning, midday and evening.
Except
Moscow
,
elektrichka
commuter trains from Ryazan proceed to the city of
Kolomna
in
Moscow Oblast
and to
Michurinsk
(the 2nd-largest city of
Tambov Oblast
).
Ryazan is also a major stop for many long-distance trains going from
Moscow
to the
Southern Russia
and
Volga Region
. A few trains proceed to
Kazakhstan
,
Kyrgyzstan
and
Uzbekistan
. Key destinations are:
Domestic
International
By bus
From
Moscow
buses to Ryazan departure from
Vykhino
(Выхино) metro station. The buses leave 1-2 times per hour starting from 6-30 AM to 7-30 PM. The price is comparable with
elektrichka
, or even cheaper. Other destinations accessible by bus from Ryazan include:
The Central bus terminal of Ryazan is outside the city center, so you will probably need to get around by local bus, trolleybus, or a taxi. There is also the second and less important
Prioksky
terminal, serving bus routes to suburbs, e.g.
Solotcha
.
By car / taxi
Ryazan is about 200 km from Moscow by M5 federal road. As elsewhere in
Russia
, the road conditions differ greatly from a 4-lines highway to narrow bottle-necks with usual traffic-jams. Depending on traffic situation the way from
Moscow
may take from 2 to 6 hours (beware Friday evenings and Saturday mornings in the summer).
Being unhurried, you may visit on your way to Ryazan the historical cities of
Bronnitsy
and
Kolomna
located on M5 road within
Moscow Oblast
.
Hiring a taxi from Moscow to Ryazan expect to pay 3,000 - 4,000 RUR for one-way journey and use only certified providers.
Get around
You can get around the city by taking a minibus, a taxi or a bus. The public transport system is represented by ancient trolleybuses which are pretty slow.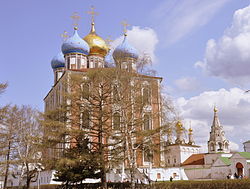 See
Kremlin of RyazanThe city's major architectural attraction with a number of old churches and a very beautiful cathedral. Kremlin is located at a high river bank, and you can enjoy an amazing view from it. The city center here changes into the rural floodplain of the Oka river. There are several museums and exhibitions inside the kremlin, you can also buy local souvenirs there.

Ivan Pavlov's MuseumThe museum of a famous Russian physiologist, Nobel-prize winner

Art MuseumGood collection in an old beautiful building. A lot of good paintings, not typical for regional museums in Russia.
Drama Theater
- beautiful old building
Puppet Theater
- prize winning director Valeriy Shadskiy
Do

Take a 3-hour boat trip from the Kremlin embarkment along Oka-river and back. With Russian pop-music and spontaneous dances on the top deck.
Visit bee and honey museum and horse-breeding institute in Rybnoe.

Sleep
phone: +7 4912 93-69-00

address: Dimitrov square, 4

The largest hotel in the city, but a bit out of the center. Next door to Ryazan-2 train station. Renovated in 2005. wi-fi. Staff may be expected to speak some English.

PriokskayaCosy small hotel right next to the Kremlin on a quiet street in the center. Bar and billiards on the 1st floor. Staff may be expected to speak English.
"New Russian" hotel http://www.monarx-ryazan.ru/ 50-180$.
Go next

Konstantinovo - the estate and museum of Sergey Yesenin, a famous Russian poet. Great views of Oka river and beautiful rural scenery. About 50 km from Ryazan via the town of Rybnoe.