Södermanland County
Södermanland County
,
Södermanlands län
, is located within within the
Svealand
region in
Sweden
, east of
Södertörn
island and
Södertälje
, which belong to
Stockholm County
.
The county is an accessible part of Sweden, with the Stockholm-Skavsta airport, as well as good road and rail connections in all directions. There are many picturesque towns, palaces, and waterfront sceneries at the Baltic Sea and inland lakes.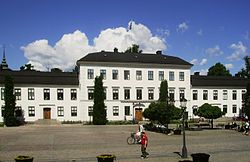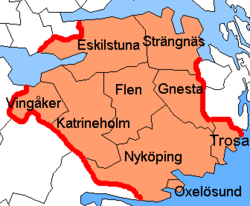 Municipalities
Nyköping - the county's capital and home to the Skavsta Airport, Sweden's third largest by passenger traffic
Eskilstuna - Sweden's "Steel City" of 100,000 inhabitants, with an industrial reputation and wealth often compared to Sheffield, but with a rich history reaching far into medieval times
Flen - holds the world's northernmost vineyard, the age-old market of Malmköping and a particular allure to songwriters who seemingly cannot stop referencing it in (Swedish) songs
Gnesta - a peaceful municipality of just 10,000, used as a refuge by inhabitants of larger cities who often own summer homes there; made famous by the film The Girl with the Dragon Tattoo
Katrineholm - not much of a tourist destinations, but rather an erstwhile industrial hub and today a sizeable commuter town
Oxelösund - one of Sweden's smallest municipalities and most recently (only in 1951) created cities, member of the douzelage, a unique twinning of small towns across the European Union
Strängnäs and Mariefred - the municipality of Strängnäs is best known for the former monastery of Mariefred and the Gripsholms castle which replaced it
Trosa - a small suburb of both Nyköping and Södertälje and another popular place for summer homes and boating trips
Vingåker - a sleepy backwater of a municipality with a museum in the estate of an erstwhile local art collector
While
Södertälje
,
Södertörn
and the southern parts of
Stockholm
and the
Stockholm archipelago
belong to the traditional Södermanland province, they are within
Stockholm County
, and not described by this article.
Other destinations
Understand
The Södermanland County was formed in 1634 and named after the traditional province of
Södermanland
, or
Sörmland
for short. Around that time,
Stockholm
has cemented its leading role and importance for Sweden, and thus it became a separate city, and the lands around it a separate county,
Stockholm County
, carved out of the traditional provinces of Södermanland and Uppland (the rest of latter became today's
Uppsala County
). This 17th-century administrative division proved so effective that it remained in place until today.
Södermanland has, through Lake Mälaren, later the railroads, and at present day the Skavsta Airport, been a gateway between inner Sweden and the outer world. The Industrial Revolution made cities such as Eskilstuna and Oxelösund flourish. Despite the cosmopolitan influences, most of Södermanland is still rural.
The Swedish dialects spoken in Södermanland, especially in
Nyköping
, are said to be the base of the standard Swedish language, which developed in the 19th century.
Get in
Resrobot
is a search engine for all public transport inside Sweden.
By plane
By train
SJ
provides long-distance trains that stop in Katrineholm (or you need a change in Norrköping), and regional trains that stop in Nyköping, Eskilstuna and Strängnäs.
By bus
Swebus
have long-distance buses which stop in Nyköping.
Get around
By train
The
SJ
can in part used to travel inside Södermanland but they go mainly to and from Stockholm.
By bus
Länstrafiken
handle the local buses. They go between settlements, and there are city buses inside the larger cities.
By foot
Most city centres are walkable.
See
Do
Södermanland County is mainly quiet countryside with plenty of lakes, good for
outdoor life
.
Eat
Drink
Blaxsta is the world's northernmost vineyard.
Nightlife is found in Nyköping and Eskilstuna.