Saarland
The
Saarland
is a small federal state of
Germany
, located in the west of the country and forming part of the German border with
France
and
Luxembourg
. Its name is very literal - the state is formed by the territory of the Saar river basin, although not all of it, as the river starts in
France
and flows into the larger Moselle river in
Rhineland-Palatinate
. The Saarland has been heavily industrialised since the 18th century, thanks to its formerly rich coal deposits, but is now often written off as a remote postindustrial periphery. In reality, this compact state holds natural wonders and quite a bit of interesting heritage, and its location at a crossroads of European cultures makes it a worthwhile stop on your trip.
Cities
Understand
Saarland is in fact the second-smallest state by population, ahead of only the Free City of
Bremen
, and has the smallest area of all states but the three city-states of
Berlin
, Bremen and
Hamburg
. Within Germany, it is entirely surrounded by
Rhineland-Palatinate
.
Historically, Saarland as an entity did not exist until the 20th century, although settlements like
Saarbrücken
and
Saarlouis
have been around for centuries - in fact, Saarbrücken dates back to the ancient
Roman Empire
. The territory of today's Saarland has fallen within various spheres of influence and was for most of the time a hash of small parts belonging to various German kingdoms and duchies, as well as to France.
Unified Saarland was created in 1920 by the Treaty of Versailles, which ended
World War I
, as "Territory of the Saar Basin" (or
Saargebiet
) under the auspices of the League of Nations, but under
de facto
French administration. A fixed referendum held in 1935 resulted in over 90% of the local population deciding to join Germany. After the Second World War, the "Saar Protectorate" was created by the victorious Free French, and it existed as a sovereign state under French control between 1945 and 1957, when the protectorate once again voted to return to Germany and became one of its federal states.
The reason for France's interest in the Saar region were the coal mines that provided an important part of Germany's coal production and thus its heavy industries until 2014, when the last mine closed. However at least since the 1980s Germany's heavy industries in both
Ruhr
and Saar had undergone a severe crisis and were highly dependent on government subsidies, which were granted mostly because of political considerations (miners being traditionally social democrats and coal being Germany's only notable domestic resource).
Still even today as a consequence of the Saar's early industrialisation it retains several "classic" industries besides steel production, such as automotive components and ceramics. Nowadays, Saarland is also an important hub of software development. Saarland does not only make cars, but is also the place with most cars per capita in Germany.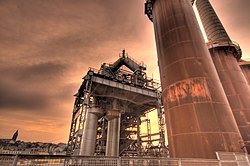 Talk
Locals in Saarland speak
Saarländisch
, a distinct German dialect that is hard to understand even for proficient German speakers. The different variations of
Saarländisch
fall into Rhine Franconian and Moselle Franconian varieties, both of which have numerous differences in grammar, pronunciation and writing for standard German. Moreover,
Saarländisch
is rife with vocabulary acquired from French, although sometimes pronounced in a way the French would not understand either.
Most inhabitants can also speak standard German as well, so if you do, you should get by just fine. The region is also practically bilingual, with
French
being the other language, taught in schools to all schoolchildren as the first foreign language (ahead of English).
Get in
By plane
Airports in or close to Saarland include those in
Saarbrücken
(
SCN
), Luxembourg (LUX) and Hahn (HHN). As Hahn is served only by no frills airlines like Ryanair, and Saarbrücken has only a limited number of scheduled flights, these airports may not be your best bet. If you are flying transatlantically or from even farther away, flying into Frankfurt Airport or Paris Charles de Gaulle Airport might be necessary and thanks to the excellent train connections, making use of a rail air alliance might work out cheaper, more comfortable and even faster than a connecting flight.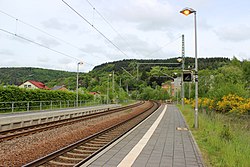 By train
Saarland is well-integrated into the European railway network and at some point it had the most kilometres of railway lines per square kilometre of gross area. As it lies right between the heart of Germany and France, the high-speed ICE/TGV trains between Paris and Frankfurt call at Saarbrücken five times daily. Within Germany, IC and ICE trains can take you to Saarbrücken from Dresden, Mannheim, Munich, Stuttgart to name a few.
Long-distance trains stop in Saarbrücken only for the most part; the only other station that sees the occasional long-distance service is Homburg. All the other stations can only be reached by local and regional trains. Regional trains generally travel beyond Saarland (as Saarland is really small), mostly to Rhineland-Palatinate (e.g. Kaiserslautern, Koblenz or Mainz), but also to Metz in Lorraine, France and even as far as Strasbourg in Alsace.

By bus
Apart from airport links to places such as Hahn, domestic bus lines were de facto illegal in Germany prior to 2012. As such the market is still relatively young and thus volatile, with one high profile merger as recently as 2014. Still prices tend to be lower than for trains (though shopping around is always a good idea, especially for groups) but travel time tends to be longer and service and comfort (such as seat pitch) worse.

Get around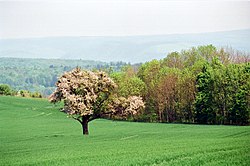 Public transit is provided within the framework of
Saarländischer Verkehrsverbund
(Saarland's Transport Union), referred to as
SaarVV
in short. The SaarVV covers the entirety of Saarland and provides a unified fare structure over the public buses and trams in the region. It also partners with Deutsche Bahn with regard to railway services, so that travelling by local trains within Saarland is also covered by the same fares.
The fare system relies on zones to calculate the fare. Saarland is divided into numerous zones (see
map
), and every journey's cost depends on how many zones you travel through, regardless of your origin or destination, the number of interchanges or the means of transportation used. The territory of the city of
Saarbrücken
(zone 111) counts as two zones.
As of Sep 2014, the cheapest single-zone ticket for an adult costs €2.50, while a weekly card for the entirety of Saarland is €64 (please see the complete rates
here, in German
).
See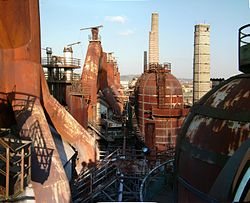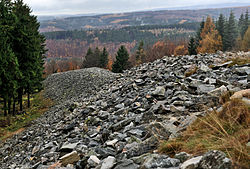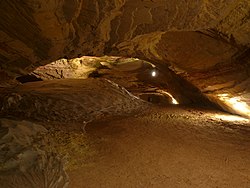 While it doesn't market its industrial heritage as aggressively as
Ruhr
and is indeed not as widely known for heavy industries, there is still a lot that remains from the heydays of coal and steel. This of course means that the originally beautiful nature has suffered a lot, but thanks to strict German environmental laws and the demise of the "dirty" heavy industries, nature is recovering and pleasant to look at.
Do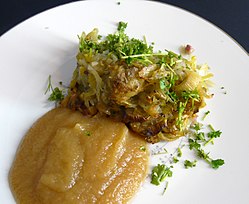 Eat
In theory, the cuisine of Saarland should be a mixture of French and German ones, but in practice you will mostly find typical heavy German dishes prevailing, although under amusing local names. Some local favourites include:
Dibbelabbes - a potato soufflé with bacon
Kappes und Grumbeere - white cabbage and potatoes
Gequellde - potatoes cooked in their skin
Gefilde - dumplings in a creamy bacon gravy
Ringelweck - a Snack with Lyoner in the traditional "Ringel-Form"
Lyoner - a ring of pork sausage is eaten with "Kerschdscher" - raw potato cubes fried in hot lard
Grumbeersalat - potato salad with mustard and a roll
Schwenker - marinated pork cutlets grilled
There is also some French influence in the form of delicacies such as cured veal cheeks with fried goose liver, coq au vin (capon cooked in wine), and slices of turbot stuffed with shrimp.
Drink

There are many drink festivals around Saarland all year long. Merzig has fantastic cider and is honoured at the Viez festival. An entire "wine summer" is dedicated to the grape. The wine of the Saar is made in the upper Moselle valley. The wine is made from Elbling grapes and grapes from Auxerrios and Burgundy vines.

Sleep
The accommodation base is adequate if not quite abundant, and consists of some mid-price to economic chain hotels, as well as small local independent hotels and guest houses. Staying anywhere within Saarland affords good opportunities to visit the entirety of the region, as no destination is ever more than 100 km, or 1 hr 30 min, away.

Go next
Rhineland-Palatinate surrounds Saarland from the north and east and there are good connections between the two Länder.
Saarland borders the French region of Lorraine to the south. Local trains take one hour to get from Saarbrücken to Metz.
Luxembourg shares a short border to the Saarland's west. There are hourly intercity buses between Saarbrücken and Luxembourg City as well as the SaarLuxBus linking the border regions of both states.