Sackville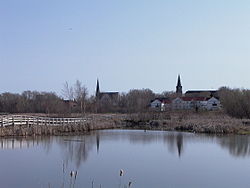 Sackville
is a tiny border town of 5,300 people (2016) in
southeastern New Brunswick
, where it (and the even tinier hamlet
Aulac
) border
Amherst (Nova Scotia)
.
Understand
Sackville is on the saltwater Tantramar Marshes in southeastern New Brunswick. It is home to Mount Allison University, a liberal arts university.
Historically, the area was populated by the Mi'kmaq First Nation (Aboriginals). The
French
-speaking Acadian population settled in the area around 1670. Nearby Aulac (on the Nova Scotia border) was home to Fort Beauséjour, a French fortification defeated in 1755 and now largely in ruins.
Radio-Canada International, the country's former shortwave broadcaster, used Sackville as its transmitter site until it left the air in 2012; the saltwater marshes made an effective reflector at radio frequencies.
Get in
The Trans-Canada Highway main route, NB 2, passes through Sackville and Aulac before crossing into Nova Scotia as Route 104
NB 16, the road to the Confederation Bridge and Prince Edward Island, meets NB 2 in Aulac - some 10 km (6 miles) east of Sackville
VIA Rail's Halifax-Montréal "Ocean" train stops in Sackville
Get around
Sackville Cab

phone: +1 506 364-8000

address: 34 Lorne St

phone: +1 506 536-3118

address: 27 Walker Rd
See
phone: +1 506 364-2574

address: Mount Allison University, 61 York Street

The oldest university art gallery in Canada.
Do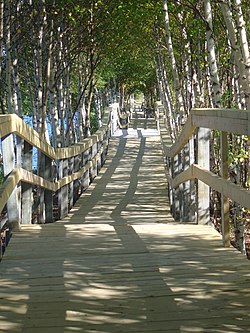 Sackville Waterfowl ParkA public boardwalk circles 22 ha (55 acres) of natural habitat for ducks, muskrats and over 150 species of birds.
Buy
phone: +1 506 536-7378

Small farmers, artisans and street restaurants; 30-50 local vendors.
Eat
Drink
phone: +1 506 536-1344

address: 4 Bridge St.

phone: +1 506 939-7779

address: 26 Bridge St

Sassy's Pub

phone: +1 506 536-2003

address: 166 Main St
Sleep
phone: +1 506 536-0170

address: 55 Bridge St.

1854 B&B heritage inn on 8 acres with open restaurant for breakfast (about $8), lunch ($15-20), dinner ($20-33).
Connect
In Aulac, Wi-Fi and e-mail are available at the provincial travel information office (near the NB 2/16 highway crossroads)
In Sackville, wi-fi and public access computers are available at the Sackville Public Library, 66 Main St. (+1 506 364-4915, fax +1 506 364-4915, open Tu 1-5PM/6-8PM and W-Sa 10AM-noon/1-5PM)
Nearby
Aulac
A tiny New Brunswick hamlet directly on the
Nova Scotia
border (10 km E of Sackville), Aulac occupied a strategic location in the final days of francophone Acadia. Peninsular Nova Scotia was under English control after 1710; New Brunswick remained Acadian until
le grand dérangement
- the forced Acadian exile of 1755. This made tiny Aulac the front line. Fort Beauséjour, a French fortress, was built in 1751 to counter the
British
Fort Lawrence directly across the border in Nova Scotia.
The ruins of Beauséjour are now a
national historic site
.
Tiny Aulac has a restaurant and an Irving truck stop. Before the motorway bypassed the hamlet in the 1990s, the
Trans-Canada Highway
(NB 2) passed directly through the village as Aulac Road.
Fort Beauséjour - Fort Cumberland National Historic Site

phone: +1 506 364-5080

address: 111 Fort Beauséjour Rd, Aulac

A French fortress, Fort Beauséjour was built 1751 to counter the British Fort Lawrence (near the site of the ruined Acadian village of Beaubassin) and control the Isthmus of Chignecto. The British defeated Fort Beauséjour in 1755, using it to house Acadians as prisoners (a group of 80 Acadian captives escaped on February 26, 1756) during a period of mass deportations known as le grand dérangement. Acadian refugees resettled as far afield as Louisiana. British forces occupied the fort until 1835; it was then abandoned. The ruins were only partially reconstructed, with a museum on-site.

phone: +1 506 364-0888

address: 153 Aulac Rd, Aulac

Near the junction of NB highways 2 and 16. Serves German cuisine, reasonably well-known around the Atlantic provinces due to the relative lack of such cuisine in Atlantic cities.
Go next