San Agustin
San Agustín
is a small town in the department of
Huila
in
Colombia
that is famous for its pre-Colombian statues.
The area has many rock carvings depicting animals. In one waterfall a beautifully carved gorilla faces out of the cascading water.
Understand
San Agustín is a
UNESCO World Heritage Site
.
History
Landscape
It's a great place to go with friends and family where you can see beautiful things such as sculpture objects.
Get in
By bus
By motorcycle
It is a rough road from Popayan or Cali to San Agustin. The drive has beautiful views but is not paved at times.
Get around
There different archaeological sites are scattered over a large area. If you have the time walking is the best option, the scenery on the way is amazing and some of the local transportation can help you on your way. It is also possible to rent horses. Several agents run jeep tours to some of the more remote sites.

See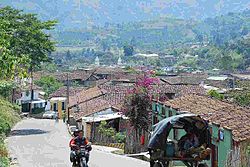 Archaeological sites
Parque ArqueologicoParque Arqueologico is San Agustin's main attraction. It features several ancient burial sites, a lot of statues and a small museum. It's 3 km west of San Agustin and can be reached by frequent minibusses.

Alto de los IdolesIf far less visited, a bit smaller, but equally impressive as the archaeological park. The views from the park amazing. There is no transportation to and from San Agustin, only to San Jose de Isnos.

El Tablon, La Chaquira, La Pelota and El PurutalWithin easy walking distance are the four small sites, El Tablon with several statues; La Chaquira, carved rocks dramatically set overlooking the valley of the Rio Magdalena; La Pelota, with some coloured statues in excellent state and El Purutal. These can easily be visited in one day walking.

ObandoFar north of San Agustin is Obando a small sites with some underground tombs and a tiny museum with some of the excavated pottery. There are carros going to and from San Agustin to Obando.

Alto de Las PiedrasOther archaeological sites are Alto de Las Piedras, Alto de las Guacas, Alto del Mortiño o del Tigre, Granada, El Jabón, Lavaderos o Naranjos and La Parada
Other
El EstrechoEl Estrecho is the place where the Rio Magdalena is at its narrowest.

WaterfallsSalto de Bordones (400m) and Salto del Mortiño are two waterfalls, easily accessible by public transportation from Isnos.
Do
Hiking at El EstrechoTake a carro to Obando and walk the beautiful way back to San Agustín and visit El Estrecho on the way. It's about five hours walking.

Hiking to Alto de los IdolosWalk to Alto de los Idolos and back. Leave early because it is a long walk. You can visit Granada on the way and if you have some energy left take the detour to Alto de las Guacas and Alto del Moriño o del Tigre.

Horse ridingMany of the hostels can arrange riding trips to the archaeological sites and the surrounding countryside.

Jeep tourTo visit the more remote sights in one day, you can take a jeep tour. Usual circuits allow you to see statues at Alto de los Idolos, waterfalls at Salto Bordones and Alto del Mortiño, Tombs and museum in Obando and the estrecho del Magdalena.
Money
There are ATMs in San Agustín, buy they are not very reliable and are out of cash at the end of long week ends. To get money you may have to go to Pitalito. Bring your passport or you might end up in the DAS office in Pitalito.
The only ATM in town does give cash advance on Visa credit cards.

Eat
Donde Richard / Mister CuyBBQ places owned by brothers and located next to one another that serve big plates of the typical asado huilense.
Drink

This region is rich in coffee, drink very common in the rural community, as well as drinks and chicha guarapo alcoholic beverages that are used by the aboriginals ansestros and even today are consumed by local residents.

Sleep
phone: +57 311 271 4802

Run by an extremely friendly Swiss (Rene) and his wife (Paloma), Finca el Maco is a little piece of paradise about 1 km out of the town. Dorm beds and private rooms are available and there is also a restaurant and bar which serves incredible meals.

phone: +57 314 358 29 30

Beautiful views, exquisite breakfasts and dinners prepared by request. Both dorm and private rooms available. Excellent backpacker hangout with all of the amenities.

phone: +57 313 49 37 446

address: Vía Estrecho km 3

Very beautiful farm hotel 3 km of San Agustin near to fascinating archeological sites. Owned by a Swiss (Dominique) and run by a friendly Colombian (Alirio). Beautiful view over the Magdalena canyon. Ample and very comfortable rooms with modern bathrooms. Swimming pond. Camping. Tours. Restaurant. Bar. Shop.

Hostal Alto de los AndaquíesRustic coffee farm, with the best viewpoint of the village and its surroundings, comfortable rooms with private bathroom, hot water, television, restaurant, surrounded by beautiful gardens and nature.

Hotel Cambi

phone: +57 8373357

address: Cra 13 No. 3-36

None of the hotels in town even approach mid-range quality, but this is a friendly, basic, clean place that is also very inexpensive.

phone: +57 837-36-49, +57 313-245-83-73

address: Vía al Parque Arqueológico San Agustín, Huila

Gamcelat is a family run hostal/organic farm. It is a natural place where you can relax in hammocks, be part of the daily work of the field, use one of the prepared tours and explore the incredible archeological sites that the surrounding area has to offer.
Stay safe

Most guidebooks may tell you this area is guerrilla territory, but this is no longer the case. If you are going to Popayan, Tierradentro or Mocoa, it is still best to avoid travellin by night.
Some of the agents organizing jeep tours are more interested in your personal belongings. Set up tours at your hostel.

Go next
Bogotá Coomotor has three daily buses (12 hr, COP$65,000 to 75000), one in the morning (5:00) and two (18:30, 19:45) in the evening, to the capital of Colombia.