San Francisco/Castro-Noe Valley
The colorful
Castro
is the famous gay center of
San Francisco
, a vibrant and historic neighborhood full of businesses geared towards the city's LGBT community. Adjacent to the Castro and sitting beneath
Twin Peaks
to the west is
Noe Valley
, a pleasant neighborhood with lots of lovely restaurants and boutiques to explore. The area is bounded roughly by the Twin Peaks on the west, Dolores/Church Streets on the east, Duboce Avenue on the north and San Jose Avenue on the south.
Understand
Originally an Irish working-class neighborhood of San Francisco, the
Castro
has been transformed for the past 35 years and recognized by many as the gay mecca of the world. Filled with bookstores, clothing outlets, video stores and bars (and practically anything else you can think of) that cater towards the LGBT community, the
Castro
is a required visit for anyone even slightly interested in gay lifestyle and culture, and is truly a local authentic gem of San Francisco.
Noe Valley
is a long gentrified neighborhood in San Francisco with many hip and trendy restaurants and boutique shops. The main commercial corridor is on 24th Street between Church Street and Diamond Street. Walking along 24th Street during the day you will see well-attended coffee shops, chic boutiques and several baby strollers. You can learn more about the goings-on in Noe Valley by reading either the print or online edition of the
Noe Valley Voice
.
Get in
By Muni
This is the best way to get to the Castro. The , , or MUNI Metro underground lines are the quickest way from Downtown, stopping at the Church Street station at Market and Church and the Castro Street station at Market and Castro, with the line also serving trips inbound to Downtown. The
Church
line can also get you to the Castro, although it comes above ground and turns south on Church Street, which runs along the eastern edge of the district. For a more scenic ride, take the historic
Market
streetcar line from
Fisherman's Wharf
, the Embarcadero and Downtown down Market to Castro Street.
MUNI bus lines which serve the area include
24-Divisadero
, which runs along Castro Street through most of the district, heading north to
Pacific Heights
and southeast to
Bayview-Hunters Point
, the
33-Ashbury/18th
, which runs east-west along 18th Street, the
48-Quintara/24th Street
, which runs east-west along 24th Street, continuing east to
Potrero Hill
and west past Twin Peaks, West Portal and into
Sunset
, and the
35-Eureka
and
37-Corbett
neighborhood lines.
The
BART
system runs through the nearby
Mission
neighborhood, where you can either get off at the 16th Street station and transfer to the 33 bus line, or get off at the 24th Street station and transfer to the 48 bus line.
By car
Don't drive into the area. Use public transit instead. There is a public parking garage on Noe just north of Market, but it is small. Street parking is very hard to find, especially on the weekends. If you park at the Safeway on Market and you don't go exclusively there, you will be towed. There are some metered spots along 18th between Sanchez and Eureka, but these are hard to come by. On weekends, parking is better as the 2-hour neighborhood permits don't apply. Noe Valley has one small public lot, but you will likely need to find street parking, and this can be particularly scarce on weekends during brunch and dinner times.
See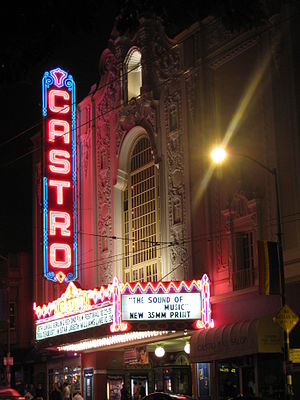 phone: +1-415-621-6120

address: 429 Castro St

A lovingly restored Art Deco jewelbox of an independent movie theatre, with a Wurlitzer organ and splendid organist, special sing-along showings, and more. A "rep house" or repertory theater, it tends to screen a wide variety of classic or obscure but worthwhile films, and be a venue of choice of local film festivals.

phone: +1-415-621-1107

address: 4127 18th St

A GLBT history museum, with exhibits that take you from the bedrooms and back rooms to the bookstores and bars, from Harvey Milk's victories to transgender sex workers' riots, from social movements to secret fantasies.

phone: +1-415-554-9600

address: 199 Museum Way

A small but fun children's museum with several interactive exhibits, including live animals, a science exhibit, a toddler play area, and a railroad exhibit which includes a model railroad layout which is open on Saturdays. The museum is perched on a hill, offering great views of the San Francisco skyline.

Michael McClure house

address: 264 Downey St

Former home of the Beat-era playwright and poet.
Do
There are several major cultural festivals and events in the Castro annually.
Pink SaturdayA street party, organised by the Sisters of Perpetual Indulgence.

phone: +1-415 841-1824

Vendors, dancing, fundraising for community groups.
Buy
Eat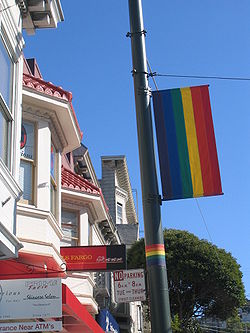 24th Street Cheese Company

phone: +1-415-821-6658

address: 3893 24th St

Carries hundreds of cheeses where you can taste before you buy.

phone: +1 415 282-0919

address: 1500 Church St

California Chinese cuisine (e.g.: many vegs are fresh, white or brown rice, mu shu comes with grilled flour tortillas) with a nod towards Hunan and Mandarin styles. Tasty food in a bustling place. Accessible, vegetarian friendly, beer and wine. Minimum charge of $8 per person.

phone: +1-415-821-7652

address: 4288 24th St

A favorite neighborhood restaurant among locals with creative home cooking and friendly service. Vegan and gluten-free options. Not usually too noisy. Reservations recommended, especially on weekends.

phone: +1-415-647-1929

address: 3881 24th St

A neighborhood favorite with a full menu with many choices for various diets.

phone: +1 415 621-2350

address: 407 Castro Street

Bakery known for their macaroon cookies distinctively shaped like a piece of male anatomy.

phone: +1-415-621-6940

address: 4001 18th St

Indian food in a casual setting emphasizing from-scratch cooking with fresh ingredients.

phone: +1-415-550-8114

address: 291 30th St

Gourmet Sardinian food, Italianate but often surprisingly spiced. Large list of unusual Sardinian and other Italian wines.

phone: +1-415 648-5895

address: 1351 Church St

Combination antique store and one of the best places to have a cosy high tea in the city. Pub fare also served. Minimum charge $12 per person.

phone: +1-415-550-1405

address: 4073 24th St

Considered one of the best local bakeries in the area. They supply some of the better SF restaurants as well as neighborhood demand for baked goods.

address: 1793 Church St

Small, quiet restaurant with an affordable variety of international dishes.

phone: +1-415-626-1250

address: 517 Castro St

An Italian restaurant that's larger than it looks from the outside, extending back into the middle of the block. Delivery.

Savor

phone: +1-415-282-0344

address: 3913 24th St

A popular brunch spot.

phone: +1-415-626-8666

address: 242 Church St

Delivery. Full-on diner fare, good salads and baked items.

phone: +1-415-864-5000

address: 599 Castro St

Excellent Thai food in a gay atmosphere, with some dishes that are not on the menu of most American Thai restaurants, such as Kao Soy, chicken with soft and crispy noodles in mustard sauce.

phone: +1 415 282-8999

address: 1599 Sanchez St

Good, not fanciful Chinese food, and quiet enough that you can talk to your dinner companions.
Drink
Sleep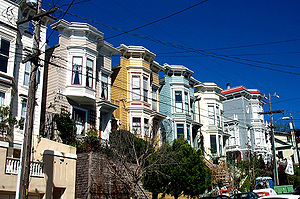 phone: +1-415-861-0321

address: 321 Castro St

An upscale bed and breakfast in a restored house.

phone: +1-415-621-3222

address: 520 Church St

A gay owned and operated hotel in a very pretty old building.

Twin Peaks Hotel

phone: +1-415-863-2909

address: 2160 Market St

Not the Ritz but a cheap budget hotel option
Connect