San Francisco/Civic Center-Tenderloin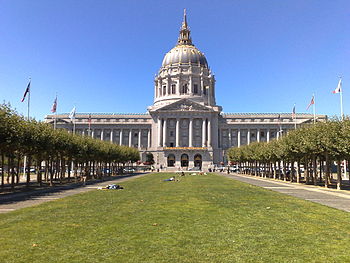 As the name implies, the
Civic Center
is the primary center of government within
San Francisco
, housing many important civic institutions. Aside from its official duties, it also moonlights as a cultural center with many fine museums, theaters, opera houses, and symphony halls located here. Over the years however, it has developed a reputation for attracting many of the city's drug-addicted and homeless to its open plazas. Next door is the
Tenderloin
, one of San Francisco's lowest income neighborhoods with an unfortunate reputation for poverty, drugs, and crime, particularly violent street crime. However, it also has a rich history and an eclectic community, with treasures for those who know where to look. The Civic Center-Tenderloin area is bounded roughly by Market St to the southeast, Taylor St to the east, Franklin St to the west, and Sutter St to the north.
Understand
Civic Center
The Civic Center is on Van Ness Ave, north of its intersection with Market St. The city began developing the area in 1913, and most of the buildings there are of a "Classical Style", with their development being heavily influenced by the "City Beautiful Movement". Most of the city's integral governmental institutions are located here; like City Hall which dominates the Civic Center with its impressive "Beaux-Arts" style dome. There are two main plazas in the area; Civic Center Plaza and United Nations Plaza. The Civic Center Plaza (in front of City Hall) has been a popular place for holding rallies, protests, and festivals. As well as being a hub for city government, the area is also a serious cultural center. "Culture vultures" flock here at night to see performances of the San Francsico opera, symphony, and ballet, as well as to attend theater, galas, concerts, plays, and special events. During the day you can get your "culture fix" by visiting one of the many excellent museums and galleries such as the Asian Art Museum, San Francisco Performing Arts Library and Museum, and the San Francisco Arts Commission Gallery. There are also several other smaller private galleries in the area.
Architecture aficionados will be happy to know that some of the most beautiful buildings in the city are cloistered within a few square blocks here. Examples include the War Memorial Opera House, the Asian Art Museum, the Bill Graham Civic Auditorium, Louise M. Davies Symphony Hall, and the War Memorial Veterans building with the Herbst Theater (where the United Nations charter was signed in 1945).
There is also a popular farmers market held twice weekly in United Nations Plaza.
Tenderloin
Many guidebooks will tell you to avoid a large part of downtown — the
Tenderloin
. It's true that this "bad neighborhood" is rife with panhandlers, adult bookstores, and massage parlors, but it's also full of good, cheap ethnic restaurants and colorful dive bars. The 'Loin is probably the last area of downtown to experience real gentrification, a process that seems to be taking its time, but the early signs are already here. Culture vultures will find several cutting edge, alternative/experimental theaters and high-culture galleries, which are attracted by the neighborhood's low rents and proximity to downtown. Sleek lounges and trendy clubs are also increasingly making a home in this eclectic neighborhood, side by side with the traditional dive bars it has always been known for.
The name "Tenderloin" comes from the overall shape of the area's boundaries: triangular, like the cross-section of a tenderloin steak. According to a different explanation the area was originally called "The Tenderloin" by the police officers, since they were paid more to work there — the most notorious part of the town. There are many different ways to define its boundaries; the official and original three corners (making a Tenderloin shape) may be delineated by Market St and Larkin St to the south, Geary St and Larkin St to the northwest, and Market St by Geary St to the northeast. Today the area would be more better defined between Polk St, Sutter St, Mason St, Market St, and Golden Gate Ave.
Although it has a reputation as one of the tougher parts of town, in reality the Tenderloin is quite variegated and can change drastically from block to block. There are many different sub-neighborhoods within the 'Loin. Much of the area on the east side of Mason St (above O'Farrell St) is high-rent and more properly considered part of downtown
Union Square
. The western area around Hyde and Larkin Sts, from Turk St to O'Farrell St, is a colorful Vietnamese neighborhood known as
"Little Saigon"
.
Geary St, Post St, and Sutter St, especially the blocks west of Jones St, are part of the so-called
"Tendernob"
,
"Lower Nob Hill"
, or
"Tenderloin Heights"
bordering
Nob Hill
; sometimes this definition also includes southern Nob Hill as far north as California St or Sacramento St (especially the western blocks around Polk St). The Tendernob (at least on the 'Loin side) is considered a nightlife hotspot by some folks who like their drinking milieu a bit rough around the edges. It connects with Polk St on the western edge of the Tenderloin. Known variously as
"Polk Gulch"
,
"Polk Village"
, or the
"Outer Tenderloin"
, this very lively area of Polk St, from Geary St to Union St, is populated with all types of restaurants, cafes, bars, venues, bookstores, and other shops. Finally, an area bordered by O'Farrell, Geary, Leavenworth, and Taylor Sts, is sometimes called the
"Tandoor-loin"
because of the high concentration of excellent and affordable Indian restaurants.
Dashiell Hammett's novel,
"The Maltese Falcon,"
was set in the Tenderloin, and the 1941 movie adaptation for the Maltese Falcon, starring Humphrey Bogart as Sam Spade, was also set in the Tenderloin.
Get in
By car
Directions for driving to the Civic Center are marked on the freeways. Once inside the City limits, two main arteries serve the area — Van Ness Ave and Market St.
There are several garages, such as the Performing Arts Garage at Grove St and Gough St, an underground garage under the Civic Center Plaza (entrance on McAllister St), open from 6AM to midnight, or 24-hour valet parking at Opera Plaza on Turk St just off Van Ness Ave. Where the freeway was prior to 1989 earthquake (between Grove St at Gough St and Turk St at Franklin St) there are several smaller open air lots, which will charge about $10 for all day or $6 for an evening. Those lots are gradually being displaced by new construction. Street parking in the Tenderloin is extremely difficult to find, but parking garages are plentiful.
By MUNI
The neighborhood is well-served by public transit, provided by
MUNI
in the form of the Metro system, the
F-Line streetcar
and various bus lines. All of the MUNI Metro lines () serve the
Powell/Market
and
Civic Center/United Nations Plaza
stations under Market St along with the BART line. The MUNI Metro also serves the
Van Ness/Market
station, which is part of the same subway tunnel but is not shared with BART.
The historic
streetcar line
runs on Market St between Castro St and the Ferry Building (where it turns north on The Embarcadero to Fisherman's Wharf), passing by both the Civic Center and the Tenderloin.
From the Caltrain station the
47-Van Ness
bus takes you to along the western border of the area (Van Ness Ave) to City Hall. Other frequent MUNI bus lines serving the area are:
49-Mission/Van Ness
,
9-San Bruno
,
31-Balboa
,
5-Fulton
,
19-Polk
,
21-Hayes
and
38-Geary
.
By BART
BART
runs under Market St with two stops in the area; both the
Powell/Market
and
Civic Center/United Nations Plaza
. Both BART stations will put you well within walking distance of any Tenderloin attraction; the latter is the most convenient BART stop for the Civic Center.
By cable car
One or other of two
cable car lines
— either the
Powell/Mason cable car
line or the
Powell/Hyde cable car
line — can take you from
Fisherman's Wharf
,
Chinatown
,
Nob Hill
, or Russian Hill to the intersection of Market St and Powell St in
Union Square
— near the
Powell/Market
BART and Muni station. From here it's just one block to the Tenderloin.
On foot
Given that the area is centrally located downtown, it is extremely accessible on foot. From the
SoMa
area walk northbound on anywhere from Fifth St to 11th St. Market St forms its broad southern boundary and makes the area easily accessible from either the east (
Union Square-Financial District
) or west (
The Castro
), and from the north (
Nob Hill-Russian Hill
) it's just a 10-20 minute walk directly due south.
Get around
As this is a relatively small area, the best way to get around is on foot.

See
Little SaigonA tiny two-block strip of Larkin St houses an active Vietnamese American community where the vast majority of shops and restaurants are Vietnamese-owned and -operated. Little Saigon functions as a both a Vietnamese commercial and cultural center, and there are some excellent restaurants and stores here.
Museums and galleries
Parks and monuments
Civic Center PlazaThis grassy plaza is at the heart of the Civic Center and its tree-lined central avenue visually draws the eye to the imposing structure of City Hall. Protests and demonstrations of all political persuasions are frequently staged here. There is a parking lot underneath the plaza.

James Lick (Pioneer) MonumentThe monument is a tribute to California and its early pioneers like Sir Francis Drake. Atop sits a bear and a man carrying both spear and shied — all three objects are imagery that represent California.

Large Four Piece Reclining Figure

address: 201 Van Ness Ave

This bronze sculpture was created by English artist Henry Moore in 1973. It poses happily outside Louise M. Davies Symphony Hall.

Sgt. John Macaulay ParkNamed in honor of a police sergeant who died on duty, this vibrantly colored park and playground only allows adults in if they are accompanied by kids. It has become a bit of an urban oasis set amidst the grittiness of the Tenderloin.

United Nations PlazaThe UN Charter was signed in the Civic Center in 1945, and this plaza was constructed in honor of its ideology and is ironically over the site of the original San Francisco City Cemetery. Designed by architect Lawrence Halprin, and completed in 1975, this is a three acre red-bricked pedestrian plaza. Brick columns inscribed with UN members country names line the plaza, and the UN Fountain sits at its center. Intended to be a visual gateway to the Civic Center, it is often habituated by the city's homeless, but has a compact and diverse Farmers' Market on Wednesdays and Sundays.
Architecture
The Civic Center with its "classical" architecture was declared a national landmark in 1978. It has several buildings that are of architectural interest including the Asian Art Museum, listed under
Museums and galleries above
, as well as the Bill Graham Civic Auditorium, the buildings that comprise the San Francisco War Memorial and Performing Arts Center (SFWMPAC), the Orpheum Theater, Golden Gate Theater, the Curran Theater, and the interior of the Great American Music Hall, which are all listed under
Performing arts below
. Other architectural points of interest include:
Alcazar Theater

phone: +1-415-441-4042

address: 650 Geary St

Built in 1917 in honor of the Shriners (Ancient Arabic Order of the Nobles of the Mystic Shrine); this Byzantine-style Islamic temple (now a 500 seat theater showing Broadway and off-Broadway shows), is now a historical city landmark. The architect was T Patterson Ross.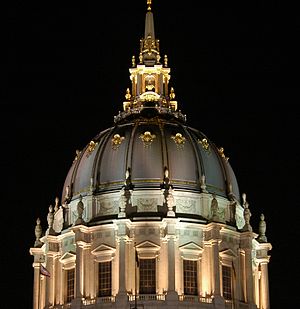 phone: +1-415-554-4933

address: 1 Dr. Carlton B. Goodlett Pl

Designed by Arthur Brown Jr., and opened in 1915, the architecture of the building was heavily influenced by the "City Beautiful Movement," which in turn reflected the American Renaissance style of the time. Its "Beaux-Arts" dome (the fifth largest in the world) was modeled after that of St. Peter's Basilica in Rome, Italy. The building itself is huge, 393 feet long, by 273 feet wide, and 307 feet high — occupying a full two blocks of San Francisco's downtown real estate. It is considered by many admirers to be the most impressive building in the city. Inside, it features a large rotunda with a grandiose staircase leading up to the second floor. The walls are adorned with oak paneling and the ceilings with crystal chandeliers. City Hall is the site of much history — In 1954 Joe DiMaggio and Marilyn Monroe wed here. In 1978, Mayor George Moscone and Supervisor Harvey Milk were assassinated here.

Federal Office Building

address: 50 United Nations Plaza

Architect Arthur Brown Jr., who also designed City Hall and several other Civic Center landmarks, designed this building. It was completed in 1936, making it the last building to be completed in the seven-building complex of the Civic Center. It is an interesting 6-story, D-shaped, "Beaux Arts" building. It also has a interior courtyard and many of its features such as the lobby and main stairway are subject to historical preservation laws. The building is closed and can only be appreciated from the outside.

San Francisco Public Library - Main Library

phone: +1-415 557-4400

address: 100 Larkin St

Completed in 1995 at a cost of $109 million, the main library branch is over of modern architecture. It has seven floors, over 2,000 seats, and an impressive foyer that has a five story high atrium. At the top of the atrium is a bright sky-light and a roof terrace.
Do
Performing arts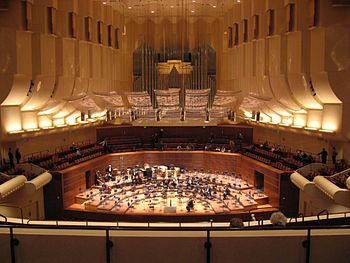 The Civic Center is the center of opera, ballet, symphony, and theater in the city. Even if one hasn't bought a ticket in advance, there are often returned tickets available at the box offices before a performance. Make a night of it when you are here; take a walk around the Civic Center, enjoy the architecture, sit for dinner, or just have a cappuccino in one of the cafes before the overture.
The Bill Graham Civic Auditorium

phone: +1-415-974-4060

address: 99 Grove St

This four-story tall, "Beaux-Arts" style building occupies an entire city block in the heart of the Civic Center and has 7,000 seats inside. Large and small bands, exhibits, concerts, and galas are all hosted at the Civic Auditorium. Check Ticketmaster to see what's playing.

phone: +1-415-626-2060

address: 80 Turk St

This hybrid theater is a hub for experimental art and activism. Online calendar boasts new and eclectic events year-round.

phone: +1-415-673-3847

address: 156 Eddy St

EXIT Theatre is a no-frills experimental/alternative theater in the Tenderloin. There are two performance spaces inside: Exit Theatre and Exit Stage Left; they have another theater "EXIT on Taylor" which is located at 277 Taylor St. They host productions like "Waiting for FEMA" and "Babylon Heights" by Irvine Welsh. They also host the Fringe Festival (listed under Events and festivals below), which is the largest grass roots theater festival in the San Francisco Bay Area.

phone: +1-415-885-0750

address: 859 O'Farrell St

Reputed to be the city's oldest nightclub, this ornate 600 capacity music venue presents hip music acts, some well-known among the cognoscenti, some so cutting edge that there's blood on the pavement. In the 1930s, this was fan-dancer Sally Rand's "Music Box." The interior, which was designed by a French architect, is known for its ornate balconies and columns.

The New Conservatory Theatre Center

phone: +1-415-861-8972

address: 25 Van Ness Ave

The three small New Conservatory theaters present novel, musical, comic, and educational plays.

San Francisco War Memorial and Performing Arts Center

phone: +1-415-621-6600

address: 401 Van Ness Ave, Room 110

This 7.5 acre complex comprises the War Memorial Opera House, Memorial Court, the War Memorial Veterans Building (including Herbst Theatre and the Green Room, which is a classically styled reception hall), the Harold L. Zellerbach Rehearsal Hall, and Louise M. Davies Symphony Hall. The opera house and the veterans buildings (which are for the most part identical), along with the court, were intended to be appreciated in unison, and to compliment the surrounding architecture of the Civic Center. Their "Beaux-Arts" structures employ the Roman Doric Order and were designed by architect Arthur Brown, Jr. Both buildings were completed in 1932. Guided tours of the buildings are available.
phone: +1-415-392-4400

address: War Memorial Veterans Building, 401 Van Ness Ave

Herbst Theater, next to the Opera house in the similarly-styled War Memorial Veteran's building is host to a wide variety of activities. One can find plays, readings by well-known authors, chamber music, jazz performances, etc throughout the year. The monthly Friday evening talks of the Long-now Foundation, projecting the far future, are presented here or in the Fort Mason Center. Inside the theater it has impressive foyer, chandeliers, beaux-arts murals (symbolism for the different aspects of mankind), and over 900 seats. The UN Charter was signed here in 1945.

phone: +1-415-861-5600

address: War Memorial Opera House, 301 Van Ness Ave

The repertory season begins in January and continues through May.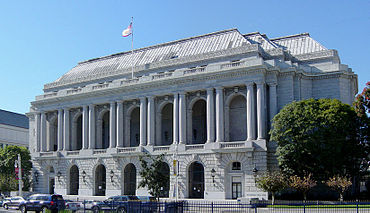 phone: +1-415-864-3330

address: War Memorial Opera House, 301 Van Ness Ave

There are Fall, Spring, and Summer seasons. The summer season focuses on lighter and popular operas. Performances are in the War Memorial Opera House on Van Ness Ave which has over 3,000 seats. The interior has a grandiose entrance hall with marble floors and a 38 foot high barrel vaulted ceiling. Two wide marble stairways at either end of the foyer, take you up to the main floor. The proscenium arch inside the theater is ornately decorated with gilded sculptures. In December and late spring the Opera House is used by the San Francisco Ballet.

phone: +1-415-864-6000

address: Louise M. Davies Symphony Hall, 201 Van Ness Ave

San Francisco has an excellent symphony orchestra, with Michael Tilson Thomas (MTT) as the principal conductor. The Season goes from September to April, with a break in the middle of December and January. When the San Francisco Symphony is on tour, other orchestras visit to fill the void. In July there is a "Summer in the City" program of light music; August is quiet. Opened in 1980, the building's sweeping wraparound architecture was elegantly designed to compliment the other buildings in the War Memorial complex. Inside, the building was designed to maximize acoustical tones with the exterior glass wall being used as a backdrop to capture sound. To further enhance and refine the sound it has adjustable acrylic acoustical panels around the stage area. There are circa 2,700 seats inside.
phone: +1-415-551-2000 (recorded information) or +1-415-551-2075

address: 1192 Market St

SHN runs three theaters in the area (two in the Tenderloin and the Curran near Union Square) that focus on the usual Broadway classics like A Chorus Line, Grease, and of course The Phantom of the Opera.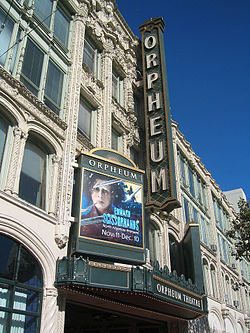 Golden Gate Theater

address: 1 Taylor St

Built in 1920 and influenced by the "Art Deco" and "Gothic Revival" styles, this theater has over 2,800 seats. It was designed by architect Gustave Albert Lansburgh.

The Orpheum Theater

address: 1192 Market St

Over 80 years old, this official historical landmark theater received another facelift in 1998; it now has over 2,400 seats. The theater has hosted everything from silent films to Broadway theater, and special shows such as "Late Night with Conan O'Brien." It is modeled in the style of a 12th century Spanish Cathedral, being heavily influenced by both "Spanish Moorish" and "Spanish Baroque" architecture. It has ornate architectural detailing inside and was designed by architect Benjamin Marcus Priteca.
phone: +1-415-567-2060

address: 982 Market St

This historic theater on Market St has a balcony and approximately 2,700 seats. Built in the 1920s, it was renovated in 1969 and today it is as popular as ever hosting some major acts like Velvet Revolver and Bill Maher.
Events and festivals
phone: +1-415-864-6000

address: Civic Center Plaza

If you have the budget, why not "hob-nob" at San Francisco's classiest party? Taking up four entire blocks of the Civic Center, this ball attracts a well-heeled crowd, as well as those who are just splurging. The ball began in 1956 and features several high profile bands (the Grateful Dead played here in 1969), and includes a performance by the San Francisco Symphony orchestra. $200 gets you in the door, feeds you, and lets you enjoy the music, dancing, and entertainment. If you want to formally dine at the Patrons Dinner, you'll have to shell out a lot more.

address: 156 Eddy St

This bohemian 10 day festival is all about theatrical experimentation and having fun... even if you don't know what you're doing exactly. Chaos rules here; even the list of performers are selected randomly at the last minute and participants are effectively given "carte blanche" to be as artistically free as possible. This leads to a lot of wackiness and of course a healthy dose of good old nudity! It takes place in several theaters but it is run by the EXIT Theater in the Tenderloin.

phone: +1-415-864-3733

Known as "San Francisco Pride" for short, it's one of the largest gay pride festivals in North America, a huge, happy, chaotic celebration of diversity, politics, sexuality, and San Francisco wackiness. The two day festival grew up around the parade (below) which takes place on Sunday. Some seven city blocks between City Hall and Market St are closed to vehicles, and about a dozen stages and spaces offer everything from square dancing to hip-hop, from a family garden to Leather Alley. Hundreds of businesses, community groups, non-profits, and political groups attempt to connect with hundreds of thousands of celebrants. It's a movement, it's a market, and it's a party. Car and bus traffic is interrupted during the celebration, and parking is even worse than usual; take BART or Muni trains (which run underground, and put on extra cars to carry the load) instead. Both parade and celebration are for everyone — straight as well as gay are welcome.
phone: +1-415-864-3733

San Francisco's annual "Gay Pride Parade" long ago grew into a two-day "Lesbian, Gay, Bisexual, Transgender Pride Celebration" (see above). The parade itself, which takes place on the Sunday, features over a hundred contingents, and takes over four hours from start to finish. Hundreds of thousands of people line the parade route to watch. If you want a good spot, arrive two hours before the 10AM start, and set up closer to Beale St than the Civic Center. Be careful about climbing on bus shelters, scaffolding, or light poles to get a better view: people do fall and injure themselves. The only thing better than watching the parade is marching in it. If you can make contact in advance, you likely can find some contingent with affinity which will welcome you.
phone: +1-415-351-1038

address: Larkin St and Ellis St

Celebrate New Year's Vietnamese style at this festival. It attracts almost 30,000 each year to the area. It's mostly Vietnamese-Americans in attendance, but everyone is welcome and it's a great opportunity to sample some of the delicious Vietnamese dishes that they have in the Tenderloin, and of course to throw around some "lucky-money."
Buy
There are very few chain stores here and limited shopping opportunities. This has probably got more to do with socio-economic reasons than anything else. If you are looking for your more recognizable stores try its glamorous neighbor
Union Square
, and on the other side of Market St in the
SoMa
neighborhood, you'll find plenty of large shopping malls. What this area does have however, is a varied collection of smaller esoteric stores.
phone: +1-415-749-0554

address: 814 Post St

"Specializing in vintage collectible paperbacks from the 1940s to 1970s and esoteric books of all persuasions... " They have a large stock of rare and out of print books, many of which are of the lurid and sleazy persuasion.

phone: +1-415-771-2887

address: 415 Taylor St

Well known wine store featuring hard to get and small production wines.

San Francisco Antique and Artisans Market

phone: +1-415-255-1923

address: United Nations Plaza

Three times a week, over 100 vendors come together to sell antiques, gifts, and keepsakes from all over the world. Appropriately, the market is held at UN Plaza.
Eat
Given the grittiness of the area, much of the food is very affordable. Vietnamese, Thai, and Indian restaurants are well represented in the Tenderloin. One of the best options for a cheap lunch is picking up a "Vietnamese sandwich" from any of a number of corner delis in the area (they're packed especially thick along Larkin St). For about $2.50 you can expect to get a generous helping of your choice of meat and shredded vegetables sandwiched into a quarter of a baguette and dressed with a thin, tangy sweet and sour sauce. Be sure to bring cash, as these places don't take any credit cards. There is actually a decent selection of restaurants in the area, but if you are not satisfied, there are many other excellent eateries just west of the Civic Center, around
Hayes St
, and northeast of the Tenderloin around
Chinatown
and North Beach. Generally speaking, for mid-range to high-end restaurants in the area, seating is easier around 8PM, when opera and symphony patrons depart.
Budget
phone: +1-415-621-1994

address: 1298 Market St

This vegetarian restaurant is a little different as it's run by an Indian religious order called 'Sri Chinmoy'. Ananda Fuara means the "Fountain of Delight" and their food is intended to harmonize you both inside and out.

phone: +1-415-928-2772

address: 791 O'Farrell St

This tiny hole-in-the-wall serves up some of the best darn Thai food this side of the Mekong River. They have 12 categories of dishes from which to choose. Sit down, order, and watch as delicious food is cooked before your eyes.

phone: +1-415-931-5541

address: 511 Jones St

Affordable and excellent selection of authentic Indian food. Speedy service and filling portions, and free Chai tea for all customers. A recent addition and a neighborhood favorite.

Joey's Laundry

phone: +1-415-567-4401

address: 517 O'Farrell St

What is a laundry doing under 'Eat'? Joey's serves Mitchell's Ice Cream, widely recognized as the best in the Bay Area. If you're bored with chocolate, strawberry, and vanilla, try the green tea or macapuno ice creams. For the launderer seeking more solid sustenance — or if you get hungry while using their internet access ($7.50 per hour) — there are breakfast pastries, pizza slices, and coffee.

Moulin Rouge Breakfast Cafe

phone: +1-415-928-0158

address: 887 Geary St

If you can't stomach the line (or the hipster clientele) at Dottie's, the Moulin Rouge Breakfast Cafe around the corner on Geary offers solid grub at much cheaper prices. The elderly couple who run the place are always friendly and never hurry you, and the shabby faux-French decor is weirdly charming despite liberal amounts of duct tape holding the place together.

Olympic Flames Cafe

phone: +1-415-885-0984

address: 555 Geary St

Spacious, affordable and home-cooked breakfast joint. Excellent omelettes. This is a viable alternative of Dottie's True Blue Cafe which almost always seems to have a line.

phone: +1-415-255-2440

address: 501 O'Farrell St

Pakistani food featuring curries, tandoori fish, and piping hot naan. Unlike some of the local eateries in the "tandoor-loin," the seating is clean, comfortable, and fairly new (possibly the results of some other restaurant's going-out-of-business sale). The restaurant tends to be comparatively quiet, as well as offering an excellent view of police actions on Jones St.

Shalimar

phone: +1-415-928-0333

address: 532 Jones St

Northern Indian/Pakistani food, they have a tandoor (clay oven) which means excellent naan (flat breads) and murgh boti (barbecue chicken). The curries and rice pilaf are also worth checking out for their unique combination of spices.

phone: +1-415-775-4216

address: 1101 Geary St

Open since 1947, Tommy's is a classic San Francisco eatery and bar. You can't miss this place — on both the inside and out it's colorful and quirkily decorated. They serve wholesome, filling food like "hand-carved" sandwiches, stews, and mash potatoes.
Mid-range
phone: +1-415-921-1218

address: 607 Larkin St

In Vietnamese Bo-de-ga in Vietnamese means beef-lamb-chicken — all popular Vietnamese dishes. The menu also draws equal inspiration from French cuisine making this an unusual dining experience.

phone: +1 (415) 673-2332

address: 345 Taylor Street

Restaurant with well-stocked bar and simple pub fare. Italian Hoagie on the menu strives for authenticity the Douglas Room insists on importing Amoroso Rolls from Philadelphia for their hoagie.

Kim Thanh

phone: +1-415-928-6627

address: 607 Geary St

Check out the aquariums in the window if you want to know what's for dinner. If you've never seen a geoduck, you will not soon forget it.

phone: +1-415-351-1234

address: 1233 Van Ness Ave

With the multitude of sushi places it is hard to say which is best, but this one rates at the top for taste, freshness, and authenticity.
Splurge
phone: +1-415-292-0101

address: 501 Geary St

With 30-foot high ceilings supported by pillars, sunken tables, sculptures, and artwork adorning the walls, it's not hard to see that this place was once an elegant ballroom. Today it's an elegant dining room where they serve excellent French cuisine.

phone: +1-415-771-7300

address: 601 Van Ness Ave

The California version of a New York deli.

phone: +1-415-345-3900

address: 580 Geary St

This is an environmentally friendly vegetarian/vegan restaurant that does its best to source local, organic and non-genetically modified food. If you're one of those people who think veggies can't be tasty... you need to go here, the food is delicious — very pricey — but delicious!
Drink
These days the Tenderloin is on the "up-and-up," and with this urban gentrification has come a surprisingly eclectic and artistic nightlife scene. It now has a decent selection of trendy lounges and hip clubs, as well the musical venues (many of which are listed under
Performing arts above
), strip-clubs, and "dive bars" that were the more traditional staples of the area. In fact, many of the modern "faux-dive" and "dive bars" used to be illegal
speakeasies
during the prohibition era of the 1920s. Given the area's long and storied association with the Gay, Lesbian, Bisexual, and Transgender community (the "Polk Gulch" was the city's first openly gay neighborhood, before the emergence of the Castro in the 1970s), many of the bars, clubs, and entertainment are geared toward this crowd, although typically everyone is welcome.
Bars
phone: +1-415-567-1918

address: 1121 Polk St

Upscale, lush, candlelit bar in the Polk Gulch. It's dark and romantic and they have a good selection of cocktails... try the strawberry margarita. They also have free pizza on Monday nights.

phone: +1-415-673-1921

address: 501 Jones St

This hard to find cocktail/spirit themed bar is a throwback to the prohibition days of the 1920s — this address used to be an thriving illegal "speakeasy" known as the "JJ Russell's Cigar Shop." Inside it's ornately decorated with dark woods giving the place a real cozy feel. It being a prohibition themed bar, they also have some strange house rules posted on the walls like "no photography" and "Please speak easy" They have an exhaustive selection of spirits and cocktails.

phone: +1-415-885-4074

address: 950 Geary St

Expatriates from the British Isles are often to be found at this Scottish pub, which on Thursdays through Saturdays becomes a hipster mecca. The interior is warm and shadowy, a comfortable place of dark wood and golden lantern light, and the beer selection is good; you can get pints of Belhaven or Newcastle as well as the ubiquitous Guinness, and it's all available by the pitcher. The Edinburgh Castle also has a relationship with a local fish and chips fryer, so you can order from their menu and have it delivered to you at the pub. The jukebox is well stocked with punk rock, Irish folk/rock, and American roots music, and live bands also play regularly (which can unfortunately make it impossible to carry on a conversation). A trivia contest is held on Tuesday nights. And on Burns Night (January 25th), the Edinburgh Castle is the place to be, with ribald poetry readings, music, and a public haggis.

Hanaro

phone: +1-415-928-4066

address: 939 Geary St

Just across from the Edinburgh Castle is a shadowy hole-in-the-wall festooned with Korean lettering: Hanaro. Though the bar is wallpapered with "No Smoking" signs (as California law demands), you need only loiter outside the bar for a few minutes with a cigarette before you are beckoned inside and offered an ashtray. In fact, Hanaro's great charm is it that it's accommodating in every respect; stay for a bit and you will be offered various bar snacks, and there is usually a hostess on hand whose only job is to chat with the patrons. This is done, however, with taste and tact; if you wish to drink in silence, you won't be disturbed. The jukebox is stocked with Asian pop singles.

Ha-Ra Club

phone: +1-415-673-3148

address: 875 Geary St

Standard but friendly dive-bar in the Tenderloin that serves cheap drinks. It was co-founded by pro-wrestler Hank Hanastead and boxer Ralph Figari. Great place if you're into the 'Loin's no nonsense dive bars.

phone: +1-415-776-9814

address: 743 Larkin St

Stylish cocktail bar in the Tenderloin. It has reasonably priced drinks and food (pizza, tapas and the like) in an informal yet trendy atmosphere. Not surprisingly they specialize in martinis, like the "Ultimate Olive Martini."

phone: +1-415-776-9344

address: 601 Post St

A small, quiet upscale bar that's great for conversation and relaxation after a long day of wandering around San Francisco. What used to be a dive bar with walls adorned with tacky owl memorabilia, is now another upscale watering hole in the 'Loin, where cocktails have replaced draft beers as the drink of preference. There's still a mosaic owl on the outside though.

address: 441 Jones St

A dive bar (originally the 441) which was bought and renovated by the same people who own Bourbon & Branch. Featuring house made alcohols and unique mixes, while not cheap, it's a unique experience in a classy wood paneled environment.

Union Square Sports Bar

phone: +1-415-345-8484

address: 115 Mason St

Crowded and loud, but you can catch just about any game here. This place thinks flatscreen TVs are a type of wallpaper. Food offerings are limited to hot dogs and potato chips.

Vertigo Bar

phone: +1-415-674-1278

address: 1160 Polk St

Fun and trendy bar in the Polk Gulch. It's exotically decorated and attracts mostly partying twentysomethings looking to get enebriated on strange cocktails. They have DJs, dancin, a smoking patio, and are known for their lengthy happy hour which runs until 9PM.
Entertainment and clubs
phone: +1-415-441-2922

address: 133 Turk St

If you haven't already guessed from the name, "Aunt Charlie's" is a transvestite dive bar. It hosts a wide variety of entertainment shows and drag shows that are popular with gays, lesbians, transsexuals, and indeed straight patrons. Cheap, stiff drinks accompanied by endearing, harmless, and vocal co-drinkers, provides for fantastic people-watching.

phone: +1-415-474-3482

address: 1081 Post St

This colorful transexual nightclub/bar has three floors of bars, drag shows, and erotic dancing. It attracts a lot of transgender people and that is what the shows predominantly showcase, but everyone is welcome. It advertises itself as "the premiere transgender nightclub on the West Coast."

Mitchell Brothers O'Farrell Theater

phone: +1-415-776-6686

address: 895 O'Farrell St

Tourists have flocked here for live, nude girls and dirty movies since 1971, when porn star Marilyn Chambers followed her performance in a Mitchell Brothers' film by becoming an Ivory Snow model. The venue is large, clean, and the biggest rip-off in adult entertainment this side of Paris. If possible, avoid this over-priced, over-hyped tourist trap for the Crazy Horse on Market (next to the Warfield) or any of the clubs on Broadway in North Beach.
Coffee
Due to the lower rents and what was a general lack of options, there has been a recent revival of the coffee shops in the Tenderloin. The new, charming cafes provide relaxing shelter from the general hustle and bustle of the neighborhood.
Sleep
Many "hotels" in the Tenderloin do their major business as single-room occupancy (S.R.O.) lodgings for permanent residents, many of whom live from welfare check to welfare check. These hotels also rent rooms to frightened-looking tourists lured by bargain rates
"just off Union Square."
Both the rates and the location are true: the management merely neglected to mention the urine-stained mattresses or the drunk lurching in the lobby. Use caution: if a rate seems too good to be true, it probably is. There are more normal hotels in the area as well, ranging from large chains to tiny boutique hotels with fashionable decor and chi-chi prices. If you plan to park a car, scrutinize the hotel listing for parking information. Free parking is not a given, and at peak times, even paid garages overflow onto the sidewalks. There are also several backpacker's hostels in this area, particularly on Taylor St., that attract both backpackers and those traveling on a budget.
Budget
phone: +1-415-359-1915

address: 5 Isadora Duncan Ln

This is a popular backpacker hostel just two blocks from Union Square.

Hostelling International-City Center

phone: +1-415-474-5721

address: 685 Ellis St

Clean, cheap, safe, fun. The hostel has 75 beds in total, some are 4 or 5 bed dorms and others private rooms. All rooms have their own private bathroom. They offer a free breakfast and free wi-fi.

phone: +1-415-673-4711

address: 1050 Van Ness Ave

An elegant 5 story hotel that was built after the 1906 earthquake, it has 164 guest rooms. They have a gym, laundry facilities, and all access to free wi-fi.

phone: +1-415-474-4374

address: 860 Eddy St

This is a pretty standard but comfortable inn near Van Ness. They offer some free limited parking and a complimentary breakfast.

phone: +1-415-775-0780

address: 615 Taylor St

This is an older building and the rooms are in need of paint, but it's relatively clean. There is a nice Indian couple who runs the place, they have wireless internet and a community computer in the lobby and a continental breakfast each morning. It's in a great location, just 2 blocks from Union Square.

phone: +1-415-440-5600

address: 711 Post St

Great hostel operating in two buildings just off Union Square. All rooms have their own bathrooms.
Mid-range
Splurge
phone: +1-415-775-5000

address: 550 Geary St

A luxury boutique hotel featuring a fresh design that bridges its Spanish Colonial Revival architectural roots to a clean and contemporary design aesthetic. 2½ blocks away from the Powell St Cable Car line, 6 blocks from the Moscone Convention Center.

phone: +1-415-292-0100

address: 501 Geary St

A fun and hip boutique hotel. This is part of Kimpton Hotels, a San Francisco based hotel and restaurant company.

phone: +1-415-885-2500

address: 405 Taylor St

This is a deluxe boutique hotel in a 17-story Spanish Revival building. They have free high speed internet and a wine appreciation hour every evening.
Connect
Stay safe
The Tenderloin is one of San Francisco's lowest income neighborhoods and has all the socio-economic problems that stem from this including crime, homelessness, and drug addiction. In particular there is a lot of violent street crime like assault and theft. Parts of the Tenderloin are considered the most dangerous areas in San Francisco, with the exception of Hunter's Point and possibly a few areas in the
Mission
(such as Mission between 16th and 17th Sts). Turk St and Taylor St might be considered the heart of the "true" Tenderloin; the sidewalks teem at all hours with the homeless, people openly selling crack or heroin, derelicts, hustlers, and the mentally ill. This area spills directly into Mission St on the other side of Market St; Mission St between 8th and 5th St may be considered part of this truly seedy "core Tenderloin" area. Travelers should be aware of their environment and take an appropriate amount of care. The area is lively and safe until about 2AM (when the bars close); after that, it does get sketchy, and is best avoided by travelers walking alone.
Go next
Hayes Valley
— If you are an art lover and liked the formal galleries in this area, then why not continue into neighboring Hayes Valley where you will find many smaller urban chic galleries.
Union Square
— There are also many other smaller and more exclusive art galleries in Union Square that focus on selling the artwork of high profile artists like Renoir and Chagall. Union Square also has a good selection of galleries that exhibit the work of local and up-and-coming artists.