San Francisco/SoMa
SoMa
, short for
South of Market
, is San Francisco's urban renewal district and an extension of downtown
San Francisco
, with brand new condominiums, office buildings, and a thriving club scene, the result of real estate speculation and the Bay Area's technology sector. Some of the city's newest attractions can be found here, including several museums, the convention center, and the ballpark for the San Francisco Giants, which has only furthered the gentrification of the area. The neighborhood is bordered roughly by Market Street on the northwest, the 101 Freeway (from Market Street to I-80) and 16th Street (from 101 to the San Francisco Bay) on the south, and the San Francisco Bay on the east.
Understand

Once home to warehouses and dilapidated Victorian houses, SoMa saw an artistic and club culture revival in the 1980s. By the time of the Internet boom of the 1990s, the "live-work" buildings of this area had become prime real estate, and the artists and musicians who had made it cool could no longer afford the sky-high rentals.
With the burst of the dot.com bubble, SoMa has become somewhat more affordable, but has also lost many of the businesses that made the area attractive during the boom. Some of the best clubs are still in SoMa, but a taxi is recommended for getting around, especially after dark as some areas are still a bit dangerous.

Get in
Being at the San Francisco end of the Bay Bridge and the heart of San Francisco's public transit network, there are extensive transit options to this district.
By rail
Caltrain
, a commuter rail line between San Jose and San Francisco, terminates at the at 4th & King Streets, just down the street from Oracle Park.
Bordered by Market Street on its northwest side, SoMa is within easy walking distance of all
MUNI Metro
lines and the several
BART
lines which run under Market Street. Running on Market Street is the
F-Line Streetcar
which stops frequently on its route from the
Castro
to the Ferry Building, then north on the Embarcadero to
Fisherman's Wharf
.
Additionally, the MUNI Metro T-Third and N-Judah lines emerge from the Market Street subway and travel through the SoMa district, stopping at a few places along the Embarcadero south of Market, including Oracle Park. The N line stops at the Caltrain station, while the T line continues south down 3rd Street into
Southeast San Francisco
.
By bus
MUNI
offers extensive bus service through SoMa, with nearly every street having a bus line of some sort. Routes
10-Townsend
,
12-Folsom/Pacific
,
30-Stockton
,
45-Union/Stockton
and
47-Van Ness
are the best bets for getting down from the neighborhoods to the north, like
Chinatown
and Fisherman's Wharf. Routes
1-California
,
5-Fulton
,
6-Haight/Parnassus
,
38-Geary
and
7-Haight/Noriega
are some of the best for getting in from eastern neighborhoods like
The Avenues
, while routes
9-San Bruno
,
12-Folsom/Pacific
,
14-Mission
, and
27-Bryant
come up from Southern San Francisco through the
Mission
district.
Nearly all intercity bus service into San Francisco runs into SoMa, including
Greyhound
, MUNI, and various other Bay Area transit services (
AC Transit
,
samTrans
,
Golden Gate Transit
, and
WestCAT
). Due to the reconstruction of the Transbay Terminal, all this service is going to the
Transbay Temporary Terminal
at Main and Howard Streets. Facilities are minimal, with bus bays for Bay Area service on the Howard Street side of the terminal and on the streets surrounding the site, and Greyhound service on the Folsom Street side of the terminal.
By car
The San Francisco-
Oakland
Bay Bridge, which is part of Interstate Highway 80, offers a direct connection from the cities of the East Bay area (such as Oakland) to SoMa. After getting into San Francisco, any of the first three exits (Fremont/Folsom, 5th Street, 8th Street) will lead you into SoMa before I-80 terminates at US-101.
From the south, there are two freeways running into SoMa: I-280 dead ends near the Caltrain Station - stay in the right lanes to get onto 6th Street, or stay in the left lanes to get onto King Street and past the Caltrain Station and Oracle Park. US-101 comes up from the south to merge into I-80, where you can get off onto I-80 and take one of the two eastbound exits into SoMa, or stay on US-101 (stay in the left lanes) and exit at 9th Street or Mission Street before the freeway terminates at Market Street (US-101 continues north as Van Ness Avenue).
SoMa is also well-connected to other San Francisco neighborhoods by surface streets. From the north, The Embarcadero is the best one for getting down from Fisherman's Wharf, while Van Ness Avenue is the best for getting from the
Golden Gate
area. Between those two are a number of other major thoroughfares, such as Montgomery, Stockton and Hyde Streets, which will also do nicely. From the south and southwest, 3rd Street, Mission Street and Market Street all work well.
Parking here, as anywhere else in San Francisco, can be a challenge, but there a number of parking garages in the district, including a large one at Mission between Fifth and Fourth streets for the Moscone Center. People driving to a Giants game are advised to park at the large parking lot along 3rd Street just south of Oracle Park, just across the canal.
By boat
In addition to the regular ferry service provided to the
Ferry Building
at the foot of Market Street in the adjacent
Financial District
, two ferry companies offer special ferry service to Giants home games at Oracle Park:
Golden Gate Ferry
from
Larkspur
, and
San Francisco Bay Ferry
from
Alameda
,
Oakland
, and
Vallejo
.
See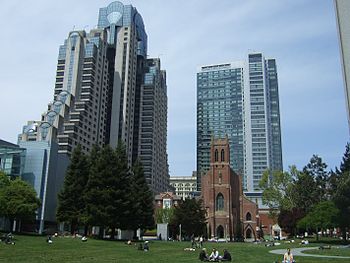 LeRoy King CarouselOn the premises of the Children's Creativity Museum is this beautiful carousel dating back to 1906, now fully restored and open for rides.
phone: +1-415-863-1414

address: 934 Brannan St

An locally focused contemporary art venue and public garden. Rotating monthly exhibits, performances, and film screenings.
San Francisco Museum of Modern Art (SFMOMA)

phone: +1-415-357-4000

address: 151 3rd St

A gigantic and innovative art museum with multiple floors of galleries featuring changing exhibitions as well as permanent displays featuring the works of some very famous 20th century artists, including Georgia O'Keeffe, Pablo Picasso, Salvador Dalí, and many others.

phone: +1-415-227-8666

address: 655 Mission St

A unique museum dedicated to cartoon art in all its forms.

California Historical Society Museum

phone: +1-415-357-1848

address: 678 Mission St

Changing exhibitions showing the history of the state.

Museum of the African Diaspora

phone: +1-415-358-7200

address: 685 Mission St

A museum dedicated to the diaspora of Africans.

phone: +1-415-655-7800

address: 736 Mission St

Dedicated to Jewish history, art, and culture.

Museum of Performance & Design

phone: +1-415-741-3531

address: 893B Folsom St

The museum is dedicated to celebrating all aspects of the performing arts in San Francisco, from the mid 19th century to the present day. It hosts exhibitions and lectures by leading artists to encourage an appreciation of the diversity of the performing arts.

South Park

address: along Park Street between 2nd and 3rd Streets

This is a charming quiet park in the middle of the hustle and bustle of industrial SoMa. Eat at any of the small restaurants around the edges, they are all pretty good. Not very nice at night since homeless use the park to sleep.

Treasure IslandAn artificial island half-way between San Francisco and Oakland connected to Yerba Buena Island which the Bay Bridge passes through. The island has excellent views of the San Francisco and Oakland skylines and quirky structures from the international fairground turned-navy base-turned neighborhood. Accessible by Muni bus line 25 from the Transbay Terminal in SoMa. If you travel by car, there is no toll between Treasure Island and the rest of San Francisco.

phone: +1-415-255-5971

address: 1007 Market St

They organize exhibitions, performing arts events, arts education, and public art programs in order to encourage and facilitate the flow of artistic ideas between the different cultural and socio-economic stratums in society. They also host exhibits at the Luggage Store Annex (a.k.a. 509 Cultural Center) at 509 Ellis Street (near Leavenworth St).
Do
Buy
phone: +1-415-495-2992

address: 50 2nd St

A large independent bookstore with three floors of thousands of new books.

phone: +1-415-621-8187

address: 637 Minna St

Thousands of beads and bead-based products for any bead and jewelry lover.

phone: +1-415-369-6000

address: 135 Fourth St

Metreon is a restaurant-centric shopping mall offering a recently renovated, modern and unique experience which includes dining, movies and shopping. The space is next to the Target at the intersection of 4th and Mission St in Downtown San Francisco, California.

phone: +1-415-346-1300

address: 1 Saint Francis Pl

A charming and long-standing floral shop.

Rincon Center

phone: +1-415-777-4100

address: 101 Spear St

This is mostly for dining but there are also many shops here as well.

Westfield San Francisco Centre

phone: +1-415-512-6776

address: 865 Market St

This massive nine-floor Westfield-owned complex contains around 400 shops and restaurants, including some upscale places. Anchors for the mall include a Bloomingdale's, a Nordstorm, a Bristol Farms grocery, and a movie theater.
Eat
In addition to the numerous restaurants listed below, there are also food courts in the Metreon and the San Francisco Shopping Center, both of which are large and offer a variety of restaurants; although in the case of the Metreon, be sure to avoid the food court during lunch hours of any major convention, when the lines for each restaurant will get very long.
Budget
phone: +1-415-885-2767

address: 28 6th St

Top-rated breakfast cafe and a top contender in San Francisco proper. Affordable food with friendly service; comfortable, intimate atmosphere, and excellent food. Arrive early to stand in line with all the other admirers.

phone: +1-415-777-5626

address: Pier 30

Have the hamburger, fries and an Anchor Steam combo.
Mid-range
Splurge
phone: +1-415-543-0573

address: 570 4th St

phone: +1-415-781-1111

address: 101 Spear St

This is the place for dim sum, and thus you might need to wait 30 minutes (at most) to have a table. You do not need a menu to order your food; the staff lets you choose what you want to eat from carts pushed around from the dining room. The shrimp, dumplings, and duck here are delicious. The setting of the restaurant is also wonderful.

phone: +1-415-487-4414

address: 1231 Market St

Serves up Asian and Italian inspired dishes using fresh American ingredients in an ornately decorated dining room. They also have live piano playing most nights of the week.
Drink
21st Amendment

phone: +1-415-369-0900

See above under Eat.

phone: +1-415-296-8383

address: 83 1st St

This narrow lounge sits precariously between a Walgreens and a Wachovia. Friendly bartenders will concoct any type of drink you desire, which makes it great for a quick, after-work drink or late-night cocktails. 83 Proof is also well-suited to group outings with its cozy atmosphere and chill vibe. Along with the DJ, weekend nights can get pretty loud sometimes.

phone: +1-415-503-1033

address: 1168 Folsom St

Your best bet for beer to go.

phone: +1-415-896-2120

address: 216 Townsend St

Old furniture store converted to the latest wine-bar in SoMa.

phone: +1-415-546-6300

address: 500 4th St

Popular brewery.

phone: +1-415-369-6100

address: 175 4th St

This upscale sports bar has a huge video wall great for watching sports. There are also 8 well-kept pool tables for something to do. This bar becomes a dance club on Friday and Saturday nights with a strict dress code nice shoes required.

phone: +1-415-744-5000

address: 20 Yerba Buena Ln

This bar focuses on wine, with some of the finest from the nearby Wine Country. Sneak a peek at the wine cellar, and don't be surprised if you're super critical of the next glass of wine you drain outside the Press Club. Be prepared, however, to put a dent in your credit card or wallet by the end of the night.

phone: +1-415-974-0905

address: 661 Howard St

An upscale brewpub/restaurant and favorite expense-account spot for the trade show crowd from nearby Moscone Center. The cask-conditioned ale is satisfying, but the place can get crowded.

Tres Agaves

phone: +1-415-227-0500

See above under Eat.
Clubs
Many of San Francisco's best dance clubs are in SoMa.
Sleep
Budget
phone: +1-415-863-7775

address: 509 Minna St

Clean and comfortable hotel.

Civic Center Hotel

phone: +1-415-861-2373

address: 20 12th St

Furnished rooms with a sink in each room (no televisions). Only metered street parking is available at the hotel.
Mid-range
Splurge
Connect