San Francisco/Western Addition
A mostly residential area of
San Francisco
,
Western Addition
stretches west from downtown's
Civic Center
area to Arguello Boulevard north of the Panhandle parkway. Here you'll find some of the more notable examples of Victorian architecture in a city full of them, namely the "Painted Ladies" of Alamo Square, one of the city's most famous landmarks, as well as the historical centers of the city's Japanese and African American communities, with lovely shops and restaurants reflecting the area's heritage.
Understand
Nihonmachi
Nihonmachi
, also known as
Japantown
, the
Japan Center
, and
Little Osaka
, is a neighborhood of the Western Addition that is roughly within the confines of Sutter Street to the north, Geary Street to the south, Fillmore to the west and Laguna to the east. It is one of only three
Japantowns
left in the continental
United States
— others are in
Los Angeles
and
San Jose
. Nihonmachi was formed after the 1906 San Francisco earthquake and fire. Most Japanese immigrants entered the United States through San Francisco and many settled either south of Market Street or in the Chinatown area. With the 1906 earthquake, Nihonmachi, for a time, became home to the largest Japanese-American community in the United States.
When the U.S. entered World War II, the government took Japanese Americans into custody and interned them in concentration camps. As many large sections of the neighborhood remained vacant, the void was quickly filled by thousands of African Americans who had left the South to find war-time industrial jobs in California. Following the war, some Japanese Americans returned, and the city made efforts to rejuvenate the neighborhood. Most former Japanese-American residents of San Francisco chose not to return after the World War II related relocation, and the largest Japanese-American community in San Francisco today can be found in the
Sunset
neighborhood.
Japantown was also negatively impacted by redevelopment in the 1950s with the widening of Geary Boulevard resulting in the destruction of dozens of Victorians. During the massive redevelopment initiated by Justin Herman in the Western Addition in the 1960s through the 1980s, large numbers of African Americans were pushed west towards the Fillmore neighborhood, east towards the Tenderloin, or south towards Hunters Point where the majority of the city's African American population resides today. Some Japanese returned, followed by new Japanese immigrants as well as investment from the Japanese government and Japanese companies. Nihonmachi remains a social and shopping center for the city's Japanese-American population.
Hayes Valley
Hayes Valley
is generally considered to be the area around Hayes Street from Fillmore Street on the west to Gough, Franklin, or Van Ness on the east. Northward and southward, it extends a few blocks away from Hayes Street in either direction.
Hayes Valley is getting rapidly gentrified. It has a curious mix of boutiques, high end restaurants, hip stores, condominiums, and Victorians coupled with public housing and some mixed, probably one-time rough, neighborhoods.
At one time the Central Freeway ran though the neighborhood, but it was closed and later demolished after the 1989 Loma Prieta earthquake. In 2005, a section of the freeway branch from US 101 was rebuilt to exit at Market Street, with a boulevard running north from the exit at Market Street through the Hayes Valley along Octavia Boulevard to Hayes Street.
Get in
By car
This part of town is very accessible by car and public parking lots are abundant compared to the surrounding neighborhoods. When coming by car from U.S. 101 towards the Golden Gate Bridge one gets on Octavia Boulevard after Market street. It is important to escape the main traffic flow by turning east or north. There are also taxis readily available at almost all hours on Fillmore and Geary Streets. Though street parking can be slightly easier to find than many other areas of the city, you should still allot 5 or more likely 10 minutes to your search for a space. There is abundant public paid parking at the Kintetsu Mall garage (discount with validation from mall and Japan Center merchants) - and limited street parking. To park your own car it may be wise to go a few blocks further to the Civic Center just to the north and east, where there some parking garages and lots. A few busy restaurants provide valet parking.
By Muni
Several
bus lines
from Downtown run through Western Addition, including the
2-Clement
,
3-Jackson
,
5-Fulton
,
21-Hayes
,
31-Balboa
and (most frequent of all) the
38-Geary
. Running north-south through the neighborhood are the
22-Fillmore
,
24-Divisadero
, and
43-Masonic
lines.
See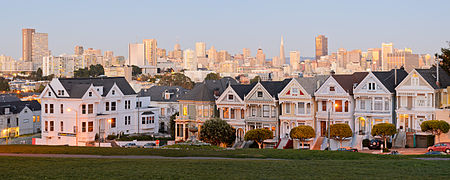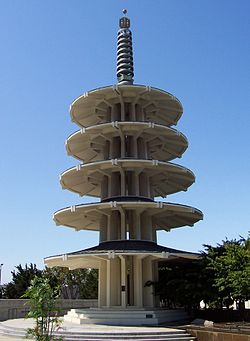 phone: +1 415 218-0259

This park is best known for the famous Painted Ladies row of Victorian houses on its east side along Steiner Street, which is often the subject of many a San Francisco postcard. There are also many other pretty Victorians encircling the lovely park. The 21-Hayes bus route goes along its south side, the 5-Fulton bus passes by a block north of the park, or if you enjoy walking and don't mind modest grades you can get there by walking west from Hayes Valley or north from the Haight.

African American Historical and Cultural Society

phone: +1-415-292-6172

address: 762 Fulton St

Displays historical and contemporary African-American arts.

JapantownPeace Plaza and shopping mall; Ruth Asawa's incredible wrought and cast bronze origami fountains on the Nihonmachi Pedestrian Mall. At the center entrance to the Japan Center is a five-tiered Peace Pagoda, it was designed by world-famous Japanese architect Yoshiro Taniguchi. The Center opened in 1968.

phone: +1-415-346-3243

address: 1881 Post St

Home to the annual San Francisco Asian American Film Festival, this state of the art theater features foreign and independent films, with beer and wine served in two of the theaters, and a bar with appetizers on the top floor. The Kabuki is at the western most end of the Japan Center mall, and the Kabuki Springs and Spa is at the other end, just a block from the Fillmore Auditorium on the other side of Geary Boulevard. Hotel Kabuki at Post and Laguna has a picturesque Japanese garden.

Webster Bridge

address: Webster Street

The bridge's design was inspired by traditional Japanese pedestrian walkways. In addition to providing a safe passage over the traffic on Geary Boulevard, the arched bridge has views of Japan Center and Western Addition.

address: (between Fell and Oak, Steiner and Baker streets)

This long narrow park is the main entrance to Golden Gate Park, which goes for another 40+ blocks to the west (and the Pacific Ocean). The Panhandle also includes the most famous bicycle route in the city, the Wiggle, which follows the easy grades of a former creekbed to connect Market Street with the Fillmore, Haight, Golden Gate Park and the Avenues. You'll find a playground, basketball courts, dog walking, weekend barbecues and picnics. It's an easy two block walk to the Haight Street shopping district, or three blocks to the University of San Francisco's hilltop campus and its imposing St. Ignatius Cathedral.
Do
Buy
Soko Hardware

phone: +1-415-931-5510

address: 1698 Post St

Has everything from copper rain chains and iron cabinetry findings, fine woodworking tools to bulk nails, porcelain to everyday kitchenware; just what you want in a longstanding hardware store.

phone: +1-415-567-8901

address: 1581 Webster St

Has a huge collection of washii decorative papers that is only surpassed by their incredible collection of pens, stationery and gift items.

phone: +1-415-567-7625

address: 1581 Webster St

If you're into Japanese books, magazines, or comic books (otherwise known as manga), then this is your place to be. The only San Francisco branch of the famous Japanese chain, Kinokuniya carries thousands of titles, including dozens in English. So a crash course in Japanese is not essential to shop here.

Vino!

phone: +1-415-674-8466

address: 2425 California St

They have a great selection of wines (circa 300 varieties) to suit every budget.
Eat
There are many, many noodle shops and restaurants to explore in Japantown. There's also some fabulous BBQ along Fillmore Avenue south of Geary, in this traditionally multicultural part of town. The Japan Center is packed with restaurants, particularly in the Kintetsu Building. More Japanese restaurants can be found along Post St and in the Buchanan Mall, across Post Street.
Budget
Mid-range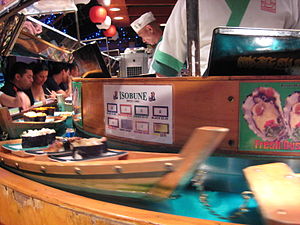 Splurge
Drink
Absinthe

address: Hayes and Gough

Has fine French wines, that can be tasted in its bar or on its sidewalk tables, and also can be purchased next door.

address: 424 Octavia St

Do not expect a picturesque Bavarian scene but you will find familiar beer and food.

address: 1601 Fillmore St

A super fun bar with live blues, rock and funk bands.

Suppenküche

address: Hayes and Laguna

Has a busy bar where German beers dominate.

phone: +1-415-655-5600

address: 1330 Fillmore St

The newer version of the famous Oakland club, featuring famous jazz performers as well as hip hop and latin music. Yoshi's restaurant serves excellent though unusually expensive Japanese food in an elegant setting.

phone: +1-415-921-1000

address: 2020 Fillmore St

Good neighborhood bar in Pacific Heights with a casual atmosphere. Popular with local professionals.
Sleep
Connect