Sandakan
Sandakan
is in
Sabah
,
Borneo
. It is the gateway to
Sepilok Orangutan Sanctuary
and the Labuk Bay Proboscis Monkey Sanctuary.
Understand
Sandakan was the former capital of British North Borneo until 1946.
The town prospered in the early days due to its port with visiting traders from around the world.
Sandakan is an important town to Australian and British WWII history with the infamous Death Marches commencing here in 1945 and ending in Ranau. After WWII the capital moved to Jesselton (now
Kota Kinabalu
).
"Sandakan" is derived from the Suluk word "sanda", meaning to pawn, and "kan" being the suffix. So "Sandakan" means the place that was pawned. Who pawned it, and to whom, remains a mystery.
Talk
Sandakan has always been a predominantly Chinese town. Unlike most other parts of Sabah, the main Chinese dialect in use among Sandakan's Chinese is
Cantonese
. However, the most widely spoken Chinese dialect in Sabah,
Hakka
, is also widely spoken and understood, as is
Mandarin
. Among locals of different ethnicities, the
lingua franca
is
Malay
. Most residents are able to understand and speak at least basic English. Other races, such as the Bajau and Suluk, may be able to speak their own native languages but generally these native tongues are not in common use as a lingua franca within the community.
Get in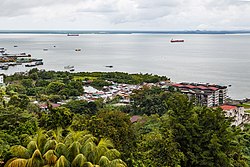 By plane
Daily direct connections with
Kuala Lumpur
(by
AirAsia
) and to
Kota Kinabalu
(by
Malaysia Airlines
and its subsidiary
MASWings
). MASWings also has connecting flights with
Kudat
,
Lahad Datu
, and
Tawau
.
phone: +60 89-667 782

address: Balai Bomba Lapangan Terbang
By bus
From Kota Kinabalu
: several bus companies depart between 7AM-2PM, and 8PM (~5hrs, 33MYR).
Tung Ma Express (Tel: +60 19-8827334 Mr Shim)-(buses from KK at 7AM, 8AM, 10AM, 12:30PM, 2PM, 8PM.
Sida Express (Tel: +60 12-816 5524 Ms. Sanita Binte Sapena) has departures from KK at 7:30AM, 9:30AM, 11:30AM, 2PM, 8PM.
Bunga Raya Express (Tel: +60 19-8999142 Ms. Suraidah Mohd) has departures from KK at 7:30AM, 9:30AM, 1:30PM, and 8PM.
The bus will pass the junction to Sepilok Orang-Utan Rehabilitation Centre and you can ask to be dropped off here. The centre is about 4 km down the road and costs 3-5 MYR pp by taxi to get to (drivers will be waiting at the bus drop-off).
To get to KK North Bus Terminal in Inanam get on a public bus (go to the bus station on Jalan Padang across from the State Library ) or by taxi (~20 MYR).
To Semporna
: buses leave from the express bus terminal for Semporna at 730am, 8AM, and 2PM.
All express buses arrive at one of the express bus terminals, which are still 15 minutes from downtown, and a taxi ride to downtown should cost RM 15.
By boat
Aleson Lines runs a ferry from
Zamboanga
every Monday at 13:00.
Get around
By taxi
Travel by taxi out to places such as Sepilok or the War Memorial is easy, however fare negotiation will be required as meters are not commonly available. Taxi to Sepilok wait and return 40myr. Proboscis Monkey Sanctuary 180myr. Airport from downtown 28myr.

By bus
There are buses and vans going everywhere in the areas around Sandakan, to the airport, Sepilok, Buli Sim Sim etc.

By boat
There is a water taxi from Buli Sim-Sim to Pulau Berhala. For individual explorations of the islands within Sandakan Bay, it is highly recommended to book local boats only via tour agencies or experienced guides.

On foot
Sandakan is only a small town and it is easy to walk around. There is a walking trail which covers all the main sites.

See
In town
Sandakan Memorial Park - 12 km from the city, the memorial park is situated on the original site of the Japanese Prisoner of War camp. The memorial park is dedicated to the men who lost their lives in the Borneo Death Marches during the Second World War. A small museum in the centre of the park provides a sombre look at the atrocities which occurred. Negotiate a taxi to take you there (15 min), and expect to pay around RM 30 including waiting time. Entry is free.
Puu Jih Syh - a Chinese temple on top of a hill behind Sandakan where you can get beautiful views of Labuk Bay. Open 8-4.30. Free entry. Home to lots of Buddhist swastikas.
St Michael and All Angels Cathedral - erected in the late 19th century, it is one of the oldest stone buildings in Sabah. Entry fee is RM 10.
Buli Sim Sim - a picturesque water village on stilts, 3 km east of town past the big mosque. Mini vans go there from Sandakan.
Agnes Keith House and Museum - former home of author Agnes Newton Keith, now restored as a museum. Entry fee is RM 15. Same ticket as the Sabah State Museum in Kota Kinabalu, so if you can cross Sabah in a day you can visit both for RM 15.
Further afield
Gomantong CavesThe massive cave is home to swiftlets and their nests are harvested as a Chinese delicacy. The harvesting processes involves people climbing to the roof of the caves with bamboo poles and ladders. Getting there/away: The easiest way to get to the caves is by car from Sandakan about 100 km away. Using public transport is difficult. The caves are on the itinerary of some tour companies. Wear closed shoes as the raised footpaths are covered in bird and bat dropping. There are facilities to wash your shoes afterwards.

Labuk Bay Proboscis Monkey Sanctuary

phone: +60 88-317 316

address: Off Jalan Labuk

You are guaranteed a sighting of these monkeys from a wooden balcony built in the middle of the mangrove forest, as well as silvery lutungs (another species of monkey) that often come into close proximity with visitors. If you're lucky, you might even get to see some oriental pied hornbills. It is definitely worth a visit, and can be arranged easily by a day tour. Closest accommodation is at Nipah Resort (domitary RM35 per bed, chalet RM180+). Getting there/away: The journey to Labuk Bay is very rough and will take about half an hour from the main road, but it is worth it. There's a bus departing from Hotel Sandakan at 9:30AM for 20 MYR (ask at the Tourist information office in Sandakan for more details), private van will cost 80 MYR one way.
Do
River cruise on the Kinabatangan - The 560 km Kinabatangan River, the longest in the state, flows pass some of the richest ecosystems on earth, especially just before it meets the sea. The Lower Kinabatangan and Sukau areas are known for its mangrove swamps and flood plains, and is home to its most famous inhabitants, the proboscis monkeys. Up river, you will go past interesting villages where the river is still the main highway. There are also opportunities to view wildlife, including elephants. The best way to do this is through tour companies from Sandakan and even Kota Kinabalu.
Buy
Fancy "Salted Fish"? Prawn crackers & dried shrimps are tasty and available at the local market.
Dried "Ikan Bilis" is also a locally produced product available at most shops and even at the Airport; available to bring back as gifts.

Eat
Sandakan has good and fresh seafood.
Restoran Ajmeer Located at mile 3 (Hing Lee) and mile 4 (Bandar Prima). Specialize in South Indian food and Malay-styled fried food. Also serve lamb briyani, fish head curry, dosai, idli, vadai and other Indian traditional food. They have been awarded as Cheap and Best Restaurant in town by Ministry of Domestic Trade and Consumer Affairs.
Sandakan Curry House, Beside Hotel Indah, Mile 4, Bandar Indah. Indian and local food. Excellent Fish Head Curry.
Habeeb Restaurant, at the third avenue in the town. Serve nice Indian and local food. Taste the Roti Cobra here.
Imperial Bay View, in the newly developed Harbour Square. Serve nice Chinese food with reasonable prices.
Ocean King Seafood Restaurant at Pasir Putih was once a famous seafood restaurant. It was closed down in the aftermath of a kidnapping incident in April 2015. The pier-like structure over the water, with indoor and outdoor seating is still there. An alternative are the seafood restaurants at Kg Buli Sim-Sim.
Restaurant 2020, serves non halal Chinese cuisine, but is considered expensive by local standards. Located at Bandar Kim Fung, Mile 4.

phone: +60 89-222 544

address: Mile 1 of Jalan Utara

Nice ambience and serve traditional English Food. Serves excellent English high tea in the afternoon.
Also, don't forget the steamboat at the Trig Hill; it's very tasty and the seafood is very big. The price is also very reasonable.
Tomato Sandakan. A casual restaurant serving local and western food. The menu is extensive and prices are very reasonable. Popular with locals and centrally located in town.
Several famous hawkers' centre in Sandakan. There are a few hawkers' centres at Sandakan located at Central Market (2nd & 3rd floor), Bandar Kim Fung Market, and Mile Eight Market. They provide you with delicious foods (mostly Chinese & Malay Cuisine) and the prices are very reasonable. After you've finish your foods there, do not forget to buy some kuih (something like small cake) in the market in the same building (market).
About seven kilometres outside of town in a few shoplots, there are a number of entirely or partially Chinese vegetarian restaurants serving mock meat dishes. It's a good place to stop on your way back from the Memorial Park.
Drink
address: on the 8th floor of NAK hotel

With panoramic views of the coastline and the entire stretch of town, its one of the best places to catch the Sandakan sunset and festive firework displays. Tropically designed, it has a mixed assortment of seating and chill-out corners; making the Sandakan-night sky your personal kaleidoscope. An innovative dining experience to follow. Try down along the waterfront as this area is being developed with new places opening all the time.
Sleep
Hotel City View at 60myr per standard room with a/c is great value. The hotel is in the town centre and the associated Hawaii Restaurant has a huge choice of excellent meals for 5 myr, popular with locals.

phone: +60 89-216366, +60 89-216371

address: Lot D1-D2,Block 10, Jalan Empat

In the heart of the city is a great deal for budget traveller. The room is clean and beautiful as it is newly renovated though some rooms have ventilation problems giving damp bathrooms after showers. Free WiFi. Simple breakfast (toast and instant coffee) is served in the pleasant rooftop garden. Other facilities include tour arrangement, internet access corner, all rooms are ensuite and have satellite channel (DVD player upon request) and the hotel has a backup generator in case of power outage.

phone: +60 89 222 233

address: Block 43, Fourth Land, Leila Rd

Located 5 mins walk to the water front. This hotel offers modern, clean and comfortable rooms suitable for the independent traveller wanting something mid-range. Internet is available in the foyer. Bookings can made via the website. Note that the hotel is 4 storeys and there is no lift.

phone: +60 89 272988

The oldest, purpose-built hotel in Sandakan. Family run since 1966. A mix of history and the contemporary. Recently refurbished. Some rooms are thematically designed, with views of the sea. Others are not.
PAT'S Bed and Breakfast Lodge, Mile 1½ North Road, between bus station and city. Tel: 60 019 5843895 or 60 016 8345488. Manageress: Patricia Pascua. Family home atmosphere, clean dormitory rooms with fan or A/C. RM29 per pax. Comfortable living room and nice balcony. Kitchen for your own use. Laundry service available.
Sandakan Backpackers. Backpacker guesthouse with small dorm rooms at R25 and private rooms starting at R55. All with harbor views. Laundry runs at an expensive RM15 per kilo. Run by the owner, Zaina, who doubles as a travel agent. On Harbor Square near Gentingmas Mall, near the KFC.

phone: +60 89-229 601

address: Lot 126, 1st Floor, Harbour Square 14

Clean, quiet and safe.

Tai Lee Hotel

phone: +60 89-210220

address: Block A, Bandar Kim Fung, Mile 4

It is completed with WIFI, aircon and two channels of Astro (including Astro Sports, and Wah Lai Toi). Besides, there are shoplots including restaurants, pharmacies, supermarkets, etc.

WinHo Lodge

address: Off Lebuh Dua, Town centre

Comfortable beds and decent sized rooms for all budgets including dorms. Double rooms, come with A/C, free wifi, ensuite and TV, and start at RM55, possibly cheaper if booked through a hostel site.

phone: +60 89 240 888

address: HS12, Sandakan Harbour Square

New hotel, located right on the waterfront esplanade. 138 trendy and compact rooms, all with A/C, free wifi and LCD TV.
Stay safe
Turtle eggs, while illegal, are obtainable at the local wet market at a very cheap rate. Bringing it out, or even buying it, when found by the custom officers or wildlife officers can really ruin your trip as they will press charges again you. Do not try!
Do not get caught with turtle eggs in your luggage as police and customs officials will take a very serious view of this.
Due to the ongoing kidnapping actions/threats posed by pirates from the southern Philippines, there is a large military/police presence in Eastern Sabah coastal waters and a night time curfew on all vessels.(October 2017)

Go next
Sepilok - The Sepilok Orang Utan Rehabilitation Centre is where orang utans rescued from plantations and also from being kept as pets are re-adapted to living in the jungle. Most popular are the twice daily feeding times when the orang utans come out from the jungle. Besides, there are surprisingly good Botanical Gardens near Sepilok, where one can learn about Palm Oil and the rain forest, enjoy walks and boats.
Turtle Islands Park - Three islands in ths Sulu Sea where you can see turtles laying eggs and also turtle conservation at work. You can only stay on Selingan Island. Overnight stays on Turtle Island are now offered at MR630 per person including flights and transfers from K.K.(2017).