Santiago de Chile/Bellavista and North
The
northern
part of
Santiago de Chile
starts from Bellavista and ranges out to the city borders in the north comprising the municipalities of Recoleta, Independencia, Renca, Quilicura and Huecuraba. These areas north of Mapocho river, was known in colonial times as
La Chimba
. The area was known for its many convents and cemeteries, and today they've been joined by hospitals and health centers. Traditionally a low and middle class part of the city, nowadays this urban sprawl also contains some high class residential areas like Hurchuraba and Chicureo.
Closer to downtown, wedged between San Cristobal and the river, Bellavista is full of eating and drinking places for all tastes. There are also theaters, karaoke bars, LGBT clubs, and artisan and jewellery shops.
Get in

Bellavista can be reached by walking across the Mapocho River from Plaza Italia/Metro Baquedano (Lines 1 and 5).
Further out line 2 of the metro covers some of the northern suburbs (along Av. Recoleta) and in 2016, line 3 is scheduled to open (along Av. Independencia). However, most areas are accessible by bus. As otherwise with suburban Santiago, avoid rush hours.
You can of course also take a taxi. They are best found at highly trafficked places such as metro stations and malls. While some taxis are circulating in the area, chances of finding one is rather low, especially at nighttime. However in the partying district of Bellavista taxis are more easily found also during the night.

See
Buy
Barrio Patronato – founded by immigrants who opened textile companies here, this is a good place for finding both fabric and clothes from all over the world at low prices. Take the metro (line 2) to Patronato and walk towards east along the barrios shop-lined streets.

Arauco Premium Outlet BuenaventuraIts a little far from Santiago, but there are plenty of stores there. You can find Lacoste, Zara and others trademarks's store. You can go there by car, by bus and metro or by taxi. If you are taking the metro, go to the Vespucio norte station at orange line. Then, exit the station and cross the road to catch the bus. The bus number is B05. Make sure that your Bip! card has enough funds for you to come back to the station, because using the card is the only way that you can catch a bus in Santiago and you can't recharge the card in the outlet. It's very hard to catch a taxi when you are returning because this outlet is far away from the city and no taxi driver wants to pick you up there. It's better to just take the bus to the Vespucio Norte Metro station and travel by metro to your hotel.
Eat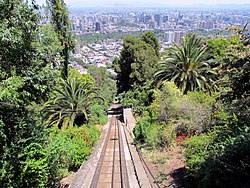 The eastern part of Bellavista, on calle Constitución between Dardignac and Antonia López de Bello, has many different types of restaurant. The same goes for the alleys near Mallinkrodt and Dardignac.
Drink
Bellavista
has a wide range of choices from popular places to upscale, such as a jazz bar. In addition, there are discos with all kinds of music, from contemporary eletro-pop to salsa and merengue. This is probably the only barrio where you can find a disco that has a predominately gay audience. It is a fun atmosphere and features drag-queen shows during Saturday nights. Moreover, Bellavista is the area that lasts the longest during Friday and Saturday nights, with most places closing at 4-5AM, and a few places (so called "after hours") run until 06:00-07:00.
Pio NonoPio Nono in Bellavista has an intense feeling, bars line the street on either side. The area has a very youthful quality but older visitors shouldn't be intimidated. One of the most lively areas of the city at the weekend.

La Casa Club

phone: +56 2 27350503

address: Santa Filomena 11

Five-level club with each floor catering to different musical tastes, laser show, bar and special events, highly recommended.

Patio Bellavista

Maestra Vida

address: Calle Pio Nono 380

A place to learn and see performances of salsa and other Latin dances while having a drink.
Sleep
phone: +56 2 27327196

address: Dominica 24

This restored old house was especially designed to accommodate travelers. Full of common spaces and practically-designed dorm rooms. Located steps away from Cerro San Cristobal.

Hostal del Barrio

address: General Ekdhal 159

Hostel in a quiet area but nonetheless quite near to the hotspots of Barrio Bellavista. The rooms are not huge but very clean, including the bathroom. The German owner cares ver much about his clients. Breakfast is included and is rather large for Chilean hostels.

phone: +56 2 27328737

address: Dardignac 184, Barrio Bellavista

Hostel located in a great area for dining out and nightlife but can be loud on the weekends. The staff is friendly with some glaring exceptions. There are several computers and free Wi-Fi, a large common room equipped with a TV, DVD player, plenty of seating, pool table and a guitar. Very popular with young international backpackers and independent travelers.

phone: +56 2 27358978

address: Ernesto Pinto Lagarrigue 262

Small award-winning budget with friendly staff and great facilities. Near Metro Baquedano, La Chascona, Cerro San Cristobal and the city's best bars and restaurants.

phone: +56 2 4294420

address: Pio Nono 5

Boutique hostel with cool wall art, a sunny common room, and a huge roof deck. Walking distance to all the great places in Bellavista.

Hotel Sheraton

phone: +56-2-22335000

address: Avenida Santa María 1742