Santiago de Chile
Santiago
is the capital and economic center of
Chile
. With its many museums, events, theaters, restaurants, bars and other entertainment and cultural opportunities, it is also the political and cultural center of the country. Its central location in the country makes it a great base for visiting other areas, and it is possible to ski in the nearby Andes and later be on the beach in the same day.
Districts
Understand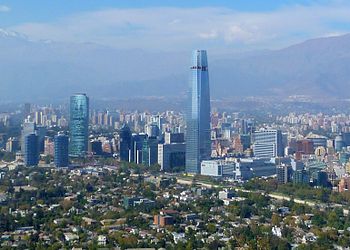 Santiago is a fast-growing city in the Santiago Región Metropolitana, in the central valley of Chile between the Andes mountain range to the east and the Coastal Range to the west. The metropolitan area has about 7 million inhabitants.
Founded in 1541 as Santiago de Nueva Extremadura by the Spaniard Pedro de Valdivia, it has been the heart of the country since colonial times and has evolved to the cosmopolitan city it is today. For visitors it's both the gateway to the country and a destination in its own right with an eclectic architecture, a vibrant culinary and cultural scene, surrounded by the mighty Andes welcoming skiers, trekkers and friends of wine.
History
The Santiago valley has been inhabited for thousands of years by different tribes. The Inca empire, and with them the Inca road network, extended here in the late 15th century. Not long after emerged the Spanish conquistadors, and on February 12, 1541, Pedro de Valdivia founded "Santiago de Nueva Extremadura" as the capital of the Captaincy General of Chile. During the following centuries functioned as the headquarters of the Spanish for their wars against the native Mapuche people further south, during which time the city was ruined two times by earthquakes.
From the 19th century onwards, Santiago followed a similar path as many other South American cities. Independence was followed by rapid expansion and modernization and many of the city's major buildings, cultural institutions and parks were established at this time. Also the railway network to other parts of the country was greatly expanded. European immigration was from the 1930s onwards followed by immigrants from rural Chile and the city already had 3 million inhabitants by the middle of the 20th century.
The next major event in the city's history took place in 1973, when Marxist president Allende was ousted in a military coup. The military dictatorship that followed lasted until 1990. Today, Chile is a safe, democratic and stable country and one of the richest in Latin America.
Geography
Santiago sits in the middle of the Maipo river valley, at the place where it is joined by its tributary Mapocho, and the city is surrounded by mountains of various elevations, the highest of them Tupungato (6,570 m). Many of them are active volcanoes, and the soil has been covered in ash for millenia making it very fertile and high-quality grapes and other fruits are widely grown just outside the city.
The city sits between 400 and 540 meters above the sea level, but with many "hill islands" here and there including Santa Lucia, Cerro Calan and Cerro San Cristobal, the most emblematic top of the city. The Andes on the east side are noticeably higher than the Chilean Coastal Range on the west, wherefore east and west are often referred to as "up" or "down" by locals.
The administrative conurbation of Santiago is made up of 37 municipalities, of which the most important is Santiago Centro, where the main public institutions of the country and the old town are found. The east of the city is the financial center of the country.
Climate
Like most of the central part in the country, Santiago has a typical Mediterranean climate. The climate is chilly and rainy in the winter, and temperatures can fall to around 0°C at night. It very rarely snows in the city itself, and during the winter it will more likely be raining with snow falling to the east up in the Andes. It gets progressively hotter towards the summer. Summers are fairly dry although you may experience some humidity at times, and temperatures can surpass 35°C. Due to the relative lack of vegetation in the region, temperatures fluctuate wildly between day and night year-round. It is not uncommon to suffer from the heat in shorts and a short-sleeved shirt during the day but require a jacket at night.
Santiago is notorious for its poor air quality, which is due to the inversion effect in the basin and other factors. The air quality can be unhealthy in large part due to high concentrations of particulate matter (especially in the winter).
Visitor information
phone: +56 2 27318336 and +56 2 27318337

address: Av Providencia 1550

The main visitor information office.
Get in
Upon entry, all tourists are issued a tourist card good for 90 days. Take care not to lose the stamped tourist card as it is required to exit the country. If you happen to lose it you must get it reissued by the PDI (
Policía de Investigaciones
) before attempting to leave the country.
By plane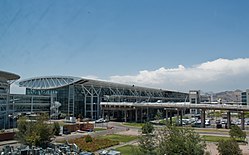 Travelers from Albania, Australia, and Mexico, must pay a reciprocity fee upon entry to the country by air. This is in response to these same countries' visa fees for Chilean citizens. The one-time charge must be paid in cash (USD) or credit card before passing through immigration and is valid for the life of the passport. The fee for Albanians is US$30, US$117 for Australians, and US$23 for Mexicans. There is no fee to enter by land. If paying by cash be aware that the bills must be in near "perfect" condition, no ripped bills.
There is no public transportation from Santiago airport. There are however
airport buses
running on two slightly different routes to the city center:
CentroPuerto
(CLP$1,800 one-way, CLP$3,200 return) runs every 10 min, and
TurBus
(CLP$1,800 one-way, CLP$3,200 return) every 30 min. CentroPuerto's buses are blue and single level; Turbus's buses are double-decker. Both buses can be caught by walking outside the terminal at exit 5. Both buses have booths after immigration that will accept credit cards, otherwise tickets can be purchased on the bus in cash. They can get very crowded and will allow people to stand in the aisle. Both buses stop at the Pajaritos Metro station en route. Due to the heavy traffic east of Pajaritos it is a good idea to get off here and take the Metro line 1 towards Los Dominicos to the city center (15-20 min).
Transvip
runs a shared-ride shuttle service and have a counter immediately after customs, before you exit into the main terminal. A ride to the city center (as of March 2016) runs CLP$7,000. Beware of people posing as Transvip staff (even with official looking lanyards) who insist you have only paid for a "reservation". They will attempt to scam you by taking you to an ATM, withdrawing money and then charging CLP$200,000 for a private shuttle ride.
Private taxis
will charge about CLP$21,000 for a trip to downtown or Providencia. Unofficial taxis may take advantage of unknowing foreigners and charge as much as CLP$200,000 for a trip to downtown or Providencia. It is easy to identify unofficial taxis, most drivers will not have any type of identification and will insist on taking you to the ATMs around the airport where they will convince you to take out the highest allowed amount (CLP$200,000). Common sense and sticking to official taxis will get you to the city with no problem.
From Europe, British Airways operates to London (14 hours), Air France operates to Paris (14 hours), Iberia to Madrid (13 hours), and LATAM to Frankfurt with a stop in Madrid (18 hours). Air France uses Boeing 777-200ER aircraft, Iberia Airbus A340 aircraft, and both LATAM and British Airways use Boeing 787 aircrafts.
From Latin America, LATAM has the most extensive network to and from Santiago, with flights from Buenos Aires, Rio de Janeiro, Lima, Sao Paulo, Quito, Guayaquil, Bogotá, Caracas, La Paz, Santa Cruz, Mexico City, Havana, Punta Cana, among others. LATAM has direct flights from Sao Paulo and Rio, and Copa Airlines operates three daily non-stop flights from Panama City. Also Aerolineas Argentinas, Gol, Varig, Aeroméxico and Pluna operate from Santiago.
From North America, American Airlines and LATAM operate flights from Miami, New York, Los Angeles, and Dallas. Some flights have layovers in Guayaquil or Lima, but all of them offer non-stop services. Delta Air Lines operates direct flights from Atlanta. Air Canada operates a flight from Toronto six days per week. Many of these flights are overnight, and most use widebody aircraft such as the Boeing 767.
From Oceania, Qantas operates a direct flight from Sydney four times a week using a B747. LATAM also operates one daily flight from Sydney to Santiago via Auckland. It's at least 12 hours each way. LATAM also operates a Tahiti-Easter Island-Santiago route.
Travelers from Asia and Africa will have to transfer at least once. Santiago being antipodal to central China, you're in for an extremely long trip from most parts of Asia; depending on where you're starting the shortest route may be via the North American west coast, Oceania, Europe or a combination of the Middle East and Brazil. Some East Asian airlines fly to Sao Paulo, but these flights include a stop —
often in the United States
. From most of Africa, the shortest route would be flying to Sao Paulo and transfering there.
Being one of the longest countries in the world, flying is by far the fastest way for getting in from elsewhere in Chile. You'll in most cases have two airlines to pick from; LATAM and the semi-low-cost
Sky Airline
with a slightly smaller network.
If you are renting a car, the rental car company counters are all together to your left after clearing customs in the international terminal. There is a separate set of rental car counters before customs (so you can rent a car while waiting at the baggage claim), but they are not always staffed. After you get your contract, you have to walk outside, turn left, and walk east, then cross the street to the south to a small lot where the rental cars are kept and present your contract to the attendant on duty to obtain your rental car. When you return the vehicle, you must return to the same lot. Because the airport rental car lot is far too small, traffic jams and delays are frequent, so arrive early. At return, the attendant inspects the vehicle and fills out a return checklist form in carbon copy, then gives you one of the copies, which you bring back to the inside counter to close out your contract.
By train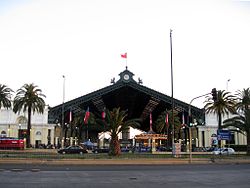 Trenes Metropolitanos
provides multiple commuter and interregional trains from the train station (Metro Estación Central, Line 1) to the vast wine and agriculture valley to the south. The central station, designed by Gustave Eiffel, used to be the center of an extensive passenger railway network, which has been closed down just like in the rest of South America.
Metrotren is a commuter rail that runs to San Fernando by way of Rancagua with five departures daily, prices up to CLP$1,950.
TerraSur runs to Chillán with three departures daily. It is recommended to book ahead during the high season (Austral summer) as seats fill up quickly. Prices are up to CLP$22,000 for first class and CLP$10,800 for second class.
Expreso Maule runs an interregional express service to the sixth and seventh regions (O'Higgins and Maule) once daily, prices up to CLP$3,850.
By car
Entering Santiago by car, you'll probably find yourself on the Autopista Central (Ruta 5), the Chilean leg of the
Pan-American Highway
. To use this freeway you need a "TAG" toll transponder, or a day pass which you can buy from service stations. One day passes are CLP$4,400. You can also buy it after accidentally passing through it without one.
If you rent a car at the airport or anywhere in Santiago, the rental car company is required to include a TAG toll transponder in the vehicle and charge you for it.
By bus
Buses are the main mode of transportation between cities, and most cities in Chile have a bus connection to the capital. For some close, large cities, like Valparaiso or Viña del Mar there may be a bus departing as frequently as every 15 minutes. Prices of bus tickets vary according to demand and type of seat (regular seat, semi-bed or bed). Buses are in general clean and comfortable, but this may not always be the case with the toilets on board. There are several bus terminals in the city, the biggest being Terminal Santiago.
The bus ride between Santiago and
Mendoza
in
Argentina
has beautiful views and takes about eight hours, depending on the time spent at the Cristo Redentor checkpoint. The border crossing is at about 2,800 m in the Andes. Fruit, vegetables or animal products are not allowed in either direction; all luggage will get checked at the border. One-way fares are listed at around CLP$21,000 (semicama) CLP$25,000 (cama) in high season, but are often cheaper if booked in advance and in the off season. There are also buses to and from
San Juan
(one way fares listed at around CLP$19,500) and
Neuquen
, Argentina. One-way fares to Lima are listed at around CLP$85,000.
phone: +56-2-23761750, +56 2 23761755

address: Avda. Lib. Bernardo O'Higgins 3850, Alameda 3848,

Bus companies serving international and domestic destinations are in the Terminal Santiago. In the terminal there is a food court with local fast food restaurants and a McDonald's. May be extremely overcrowded prior to and on national holiday. Not dangerous, but be beware of pickpockets and people trying to sell you stolen goods (iPods and cell phones are a common target).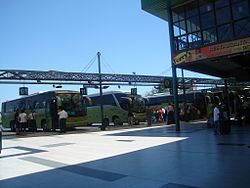 Terminal Alameda

phone: +56-2-22707425, +56 2 27762424

address: Avda. Lib. Bernardo O'Higgins 3750

Turbus and Pullman operate at this private station for domestic and international departures. There is a hotel and a few convenience shops in the terminal.

Terrapuerto Los Héroes

phone: +56-2-24239530, +56 2 24200099

address: Tucapel Jiménez 21

A few kilometers east of the main terminals is the Terminal Los Héroes. Services to the north and to Mendoza. Of note here is the bus line Cruz del Sur, which is one of the few companies with regularly scheduled departures to towns in Argentine Patagonia and Punta Arenas.

Terminal San Borja

phone: +56-2-27760645

address: San Borja 184

Services to the north of the country, Litoral Central and the western part of the Santiago region.

Terminal PajaritosServices to Viña del Mar, Valparaíso and the airport.
Get around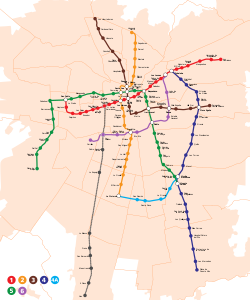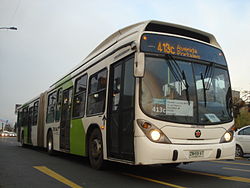 Transantiago
Transantiago
runs the metro and main bus lines in the city. Fares on public transport can be paid only with a bip! card. Bip! cards can be bought and recharged at any metro station (CLP$1,500 for the card, minimum recharge CLP$1,000) or at a
Centro bip!
. They are good for both the metro and bus and allows you unlimited transfers between the two within a two hour period — you still have to swipe your card when boarding the next metro train or bus, but there is in general no deduction. In the peak period, when traveling with a ticket activated on a metro and you're transfering to a bus (or the other way around) there will be a small deduction.
You
cannot
return the card nor get a refund, think twice before adding too much money. However, you can use the card for several people, you just have to swipe for the second person as well. So, you might decide to only get one instead of two if you are traveling together. The free transfer between metro and bus for the other person does probably not work then.
The fare depends on when you've started your journey; tickets cost CLP$740 for trips commenced during the peak periods (7-9AM, 6-8PM), CLP$660 for shoulder periods (6:30-7AM, 9AM-6PM, 8-8:45PM) and CLP$640 for low periods (before 6:30AM and after 8:45PM).
By metro
The
Santiago Metro
system is the second largest in Latin America and has seven lines and 136 stations, with many holding rotating art exhibitions. The lines 1, 2 and 5 pass through the historical center and 4 and 4A mostly serve the east of the city. As it is a very popular mode for getting around, the metro can be crowded during rush hours.
Trains run between roughly 6AM and 11PM; each station posts the exact hours above the staircases leading down into the stations. Buses run parallel to subway lines after hours.
By bus
Transantiago buses are mostly modern and run around the clock on the main lines. If you know a little Spanish, you can find route information on the Transantiago website.
On Sundays between 10AM and 6PM, Transantiago operates a
"cultural circuit"
, where a specially-marked bus runs between major tourist and cultural destinations for the normal fare.
By taxi
Taxis are a relatively inexpensive and safe way to get around the city. Flag drop costs CLP$300 plus CLP$120 for every 100 meters. Official taxis are black and yellow and easily identifiable. Radiotaxis are also common and a good idea late at night. Suburban areas are sometimes served by taxis operating fixed routes and fixed rates. There are many Uber taxis, but they are not officially licensed in Chile, and Uber drivers will not want to pick you up or drop you off where either police or licensed taxis can see them. Getting to/from the airport by Uber is particularly awkward. Official taxis are a similar rate anyway.
By bike
Santiago has a rapidly-growing network of bike lanes and paths.
Bicineta
has an up to date map of bike routes.
BikesantiagoBike sharing program with monthly and annual memberships. Must register to use the service.
By tour bus
Turistik Santiago Hop on – Hop off

phone: +56 2 28201000

A red double-decker bus that passes through the main tourist attractions of the city, including the Central Market, Plaza de Armas, Bellavista, and Parque Metropolitana, among others. Pass is good for the day with departures every half hour during operating hours.
See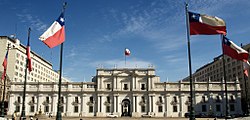 The Historical Center is the place to go for historical sights. For over five centuries this has been a governmental seat, and you can find buildings of great historical significance here. One of them is the modernist colonial
Palacio de la Moneda
, built for minting of coins. From the mid 19th century it has also been the residence of the president until the coup of 1973 when it was bombed. The damage was repaired and it's still the residence of the president today.
South of the palace is
Alameda
, the main drag of the city with the
central university building
(Casa Central de la Universidad de Chile), the
San Francisco church
and the
Santa Lucia hill
with great views of the old town.
Plaza de Armas
opposite the university building is the most lively area of the downtown and in addition to vendors you can often find artists, comedians and singers performing here. Nearby you can find the
Metropolitan Cathedral
, the
Palace of the Royal Court
(nowadays a museum) and the
mayor's residence
.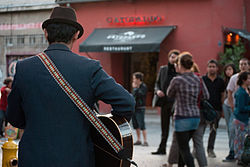 Going north from Plaza de Armas you'll come to the
Mercado Central
, with plenty of restaurants. East along the Mapocho river's southern bank you'll be at
Parque Forestal
and
Museo de Bellas Artes
as well as the vibrant neighborhood of
Lastarria
with plenty of cafés, restaurants and art galleries.
Bellavista
north of the river is a nightlife hotspot and there you can also visit the mythical home of the poet Pablo Neruda. You can also take the funicular or walk up the
Cerro San Cristóbal
for some of the best views of Santiago and the Maipo Valley. Southeast there is Providencia where you can find trendy shops and further away
Sanhattan's skyscrapers
including Gran Torre Santiago, the tallest in Latin America and second tallest in the Southern Hemisphere. Westwards there's
Quinta Normal
, a huge park surrounded by museums.
Do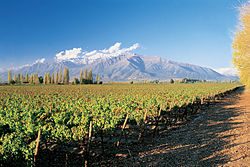 Santiago is known as a cultural hotspot. Among other things, the city is home to an impressive jazz scene, with several intimate clubs scattered throughout the city, a famous one being Club Jazz in the Nuñoa district. In the Providencia district a jazz festival takes place each January with both local and foreign bands playing. For current theater, dance, and concert listings can be found in the El Mercurio newspaper. For a broad variety of art and culture, visit one of several cultural centers around the city, featuring exhibitions, performances and workshops. At some of these you can buy local art and handicraft too (refer to the Buy section for more shopping).
You can also take a pleasant walk in one of Santiago's many parks. Some of these, like Cerro Santa Lucia and Parque Metropolitano offer great views over the city. If you want something more than just hiking or taking the cable car up a little hill, take on the higher "hills" outside the city. Contact one of the local mountaineering clubs and go on a trek to some of the highest mountains in the world outside Asia, or if you like skiing, hit the slopes of El Colorado (Chile).

VineyardsWhile you are outside downtown, Central Chile is also famous for its wines and wineries. Some noteworthy ones are Cousiño Macul and Concha y Toro. Casablanca Wine Valley (e.g. Viña Emiliana) is only about 1 hour to the west of Santiago and home to the best white wine in the country.
Viña Cousiño Macul

Viña Concha y Toro

Viña Emiliana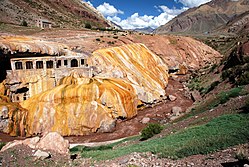 Paso de Uspallata (between Chile and Argentina)Rent a car for 1 or 2 days from Santiago and go visit the wineries near Los Andes, the beautiful Uspallata Pass with Monumento del Cristo Redentor, the Aconcagua Provincial Park for some hiking, the impressive El Puente del Inca and/or even laid-back Mendoza and its vineyards. The pass road itself is gravel road and a detour from the tunnel which most people use between Chile and Argentina. The views from the pass into Chile and Argentina are breathtaking, and the drive itself is exciting (not just along the gravel road). If you rent the car at around 16:00 and start in the morning near Los Andes or even closer to the pass, it might be better due to lesser clouds in the morning. Note, the border crossing into Argentina, which is 10 km or so behind the actual border, can take 2-6 hr with cars queuing for many kilometres before the tunnel underneath the pass. Since you actually do not want to take the tunnel, you should find a way to pass the waiting cars, maybe with the help of a local border police car. The gravel road to the pass starts about 100 m before the tunnel. If you just go to the Uspallata Pass and return to Chile without entering Argentina, do not tell the customs office on the way back that you went to see the Christ statue—it seems that the statue is on the Argentinian side. On the way back, you will be checked by customs for not allowed goods and food, even if you did not cross into Argentina—so, best to leave everything (even the wine) in Chile before you go to the pass.
Work
In order to work legally in Chile, a working permit needs to be obtained, which can be accomplished with the sponsorship of an employer. Many people work illegally, but it is definitely best to have a permit.

Buy
Santiago has a lot of shopping malls all around the city. In the malls you can find a variety of retail stores and Falabella, París and Ripley, the most famous department stores in Chile.
Downtown and Providencia
For shopping in central Santiago, head to Paseo Ahumada, a section full of different shops between the main street Alameda and Plaza de Armas.
If you prefer buying handcrafts, the ones in the
Centro Artesanal Santa Lucia
are good and relatively cheap compared with other handcrafts stores. Other handcrafts centres are in Bellavista (though a bit more expensive).
Providencia has a large selection of shops along Avenida Providencia.
East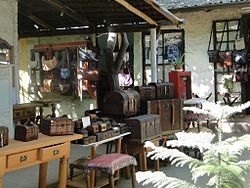 The largest malls are Parque Arauco and Alto Las Condes, both have good restaurants and the former also has free music and shows. You can get to Parque Arauco from Metro Escuela Militar (Line 1) and to Alto Las Condes from Metro Los Domínicos (Line 1); ask locals for directions if you're unsure of how to take buses.
Alonso de Córdova Street and Nueva Costanera Avenue are very exclusive areas where you can find high fashion and luxury stores like Louis Vuitton, Hermés or local designers. In this area you find great restaurants and art galleries.
Steps from Metro Los Domínicos (Line 1) is Pueblito Los Domínicos. It is more expensive but has a wide variety of local handcrafts and antiques, as well as a small exhibition room and a bonsai exhibition behind it. It is very pretty with an artificial stream in a colonial-looking atmosphere. Half of the people there are usually tourists during the summer, so you won't be alone!
Plaza Nuñoa has some small shops in the plaza where you can buy books from Latin America (Neruda, Allende, Cortazar) and also handcrafts.
North
If you're already kind of familiar with Santiago, you can also go to Barrio Patronato which is near the downtown area and it's easy to reach by metro (Metro Patronato, Line 2). There you'll find cheap clothes, food and products of all kinds, as well as some foreign stores (mainly Chinese, Koreans, Peruvians and from the Middle East), thus allowing you to save quite a bit of money. It would be better to go alongside a local, though, since it's easy to get lost due to the very short and slim streets and the
very
high quotient of visitors. Beware of pickpocketers.
South
Similarly, those who want more surprises and know the basics about Santiago can go to the famous
Persa Bio Bio
in the Franklin area, also not too far from downtown and near to Metro Franklin (Line 2). It can be described as a giant flea market that opens every weekend and offers antiques, tools, handmade furniture,
many
food stores, etc. Again, it's not a place for novices: a local's presence would be desired.
Eat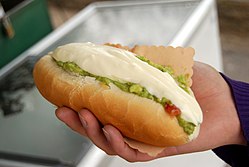 In downtown and the east of the city you can find both global and domestic fast food chains. Why not opt for the latter and have a
completo
, the Chilean version of the hot dog with tomato, mayonnaise, sauerkraut or a
italiano
hot dog with tomato, avocado and mayonnaise. In addition there are small sandwich places known as "picadas" serving different kinds of sandwiches (some of them with huge steaks) and pies. There are also
street food
carts where you can find local specialties like sopaipillas (buns) stuffed with fried pumpkin and
mote con huesillo
, a
soft drink
with peaches and wheat.
The traditional cuisine of central Chile is centered around barbecued meat (beef or pork) with tomatoes, potatoes or corn. Local specialties include
cazuela
(a soup),
porotos con riendas
(beans with pasta),
porotos granados
(a vegetarian bean stew),
charquicán
(stew of beef and potatoes, topped with an egg),
pastel de choclo
(corn pie) and as we're in southern South America —
asado
(barbecued meat). Seafood is not as common in Santiago as you might expect, though if you want some, the restaurants at the central market are the place to go.
Drink
Nightlife choices vary widely across the city and their location usually reflects their price and style.
Barrio Bellavista and Barrio Brasil are popular spots close to downtown. The Bohemian Bellavista can be reached by Metro to Baquedano, or by bus to Plaza Italia. Cross the bridge will bring you to Pio Nono, which probably has highest density of bars, pubs, and clubs in Chile, including some LGBT places. By law, everything closes down at 5AM, though you may be able to join people for afterparties elsewhere.
Barrio Lastarria has more sophisticated and relaxed bars, pubs, cafés, many of which have an interesting history. It's also a district for fine dining.
The historic center likewise has many traditional places to have a drink, some of which have retained an ambience from the early 20th century. One of them is La Piojera, with its signature terremoto (earthquake) drink with wine, Fernet and pineapple ice cream.
Plaza San Enrique is a park in Lo Barnechea (at the far northeast of the city) which is surrounded by nightclubs. The most popular one is Sala Murano (it can get very crowded!) People who attend are mostly aged 18-25 and it is one of the safest places to party. Most people there are from upper-middle to high class, so it is more expensive than other neighbourhoods. Typically, women get in for free, while men pay around CLP$3,000-5,000. You can get there by buses, but though buses do pass later on, you might have to wait up to an hour for it.
Plaza Ñuñoa is a district east of the central area and is another popular spot nightlife spot.
Vitacura is pretty far east (towards the Andes). It is composed of bars and some places where you can dance. The places are nice and although they certainly lack cohesiveness as nightlife (since bars only recently started opening there) it can be fun to go. It is more expensive that other areas of Santiago and frequented by people that live in the eastern (wealthier) side of the city. Although you can get there by bus, it will be hard to leave on anything but a taxi since buses don't run late.
Sleep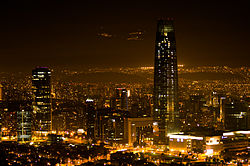 All types of accommodation, from top class hotels to backpacker hostels are available. As a general rule, lodging gets more luxurious and expensive the further east you travel.
Classic, mid-range hotels can be found downtown, and in the nearby residential areas such as Barrio Brasil you'll find more affordable accommodation like youth hostels. Lastarria just east of downtown features small boutique hotels. In the eastern part of the city you can find hotels of international luxury chains and apartment hotels, catering to those who attend business meetings, conferences or trade shows. Still further east, outside the city and up the mountains there are the upscale ski resorts.
Stay safe
Santiago is infamous for its
smog
, which is worse during the winter (May–September). The locals welcome the rain which falls during winters as it cleans the air. Be sure to carry bottled water with you during the summer. Be prepared for sauna-heat on the metro during summer.
When getting around
By South American standards Santiago is a safe city, but visitors should be aware of
pickpocketing
and other petty crimes (Chileans derogatorily refer to the pickpockets as "lanzas", from the verb "lanzar", "to throw upon" in English). Avoid parks at night and don't wear expensive looking jewelry or watches even during the day, unless you are in Las Condes or Vitacura. If you're alone, avoid large crowds of people, especially downtown.
If you happen to have bad luck and get robbed, do as you're told by the criminal and if you don't understand Spanish, give away the wallet. Not doing so can provoke an attack until you give away your wallet. Don't try to stand up to them and once again: do as you're told.
Keep your camera concealed, use it to take a photo and then hide it while not using it. If you're getting robbed and the criminal has spotted the camera expect to give it away too if you want to stay out of trouble.
If someone approaches you on the streets and promises to get you better chances at changing your dollars or euros into Chilean pesos,
never
accept their deals. They're con-people who take advantage of foreigners not knowing the details about currency and confuse them with big words to take their cash away. Only change your money in legal currency exchange centers, which may take more time but are much more trustworthy. There's one in the airport, but they are also easy to find in the downtown and financial areas, or in the malls.
Overall, Santiago is very safe if you travel by car.
The metro is regarded as safer for travelling amongst the locals, even though security has increased in the buses after the introduction of TranSantiago. But some locals still prefer using the metro especially when it gets darker, since almost all the stations have guards. Don't expect the staff to speak much English. In peak hours the metro runs
really
full so try to keep your backpack on the front and belongings in front pockets.
Dangerous areas
There are some neighbourhoods/barrios that should be avoided. The few carabineros and locals that speak English will know which areas are to be avoided since some of them can actually be accessed by metro. Some people at local Starbucks are more likely to speak English.
If you see fewer tall buildings and more houses with locked windows and entrances, then turn back. The changes happen very slowly, unlike some other Latin American cities, so you'd have to travel quite a lot from a wealthy safe neighbourhood to a dangerous ghetto. Avoid especially La Legua (not to be confused with La Ligua in the V Región) which is famed in Chile for its high crime rates. Single police cars won't even enter the area.
Try staying away from the following comunas: Lo Espejo, La Pintana, Puente Alto (especially the Plaza de Armas), La Cisterna, San Joaquín, El Bosque (not to be confused with the avenue and neighbourhood around Metro El Golf, which is in Las Condes), San Ramón, Pedro Aguirre Cerda and La Granja unless you know exactly where you're going. Though these places are not completely unsafe for the most part, they can have a few unsafe spots and don't have much touristic significance.
The safest comunas are Providencia, Vitacura and Las Condes. All of them have lots of local security guards, besides Carabineros, and locals are more likely to speak English, especially young people. They are not completely safe, though: petty theft still takes place, so keep your eyes open in the streets. Lo Barnechea can be tricky as it is the only comuna that has both extremely wealthy and extremely poor neighbourhoods ever since Pinochet's dictatorship; "La Dehesa" is wealthy and safe, "Cerro Dieciocho" is as dangerous as La Legua.
Football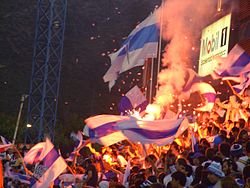 If you are going to see a football match, be careful with the "barras bravas" who are the most fanatic but also dangerous fans. They are often involved in troubles with the police both inside the stadium and outside. Avoid buying tickets in the sections where the bravas dominate, which are often behind the goals. The middle section is the safest but if you have a friend who wants to support Colo-Colo and another Universidad de Chile for example, avoid showing it. Even if the middle section is safe, showing different shirts can cause you trouble. Either go with the same shirts or dress neutral. Other football matches not being the "Superclásico" between Universidad de Chile against Colo-Colo should be pretty safe.
Walking to the stadium you will find people begging for some pesos so they can see the match. Avoid giving them if you want to stay out of trouble.
The barrio around the Estadio Nacional is normally peaceful, but you have to walk purposefully and keep your eyes on other people when it's crowded. It's better to take a taxi to the arena, or a rental car if you can find a place to park it.
Other
Never
join a protest, because it can end badly. If you are caught in one, don't hesitate to hide in a restaurant, shop or something similar.
Chilean Police (Carabineros) are in general trustworthy, at least in comparison to other Latin American countries. Although you can hardly find one who can speak English, they will try to answer your questions, solve your problems or give you directions.
Never attempt to bribe
a police officer; Chile has the least corrupt police force of Latin America.
However remember that the Chilean police is a militarized police. Therefore the police special forces can be violent or unreasonable if they think you have done or will do something illegal or inappropriate, so be careful.
Connect

If you wish to mail a letter or postcard, the largest post office is the Correo Central on the north side of Plaza de Armas, a Neoclassical building with French influences. There are several smaller post offices around the city, often close to the larger avenues.
However, Chilean mail has become infamous for not getting things delivered or mailmen opening the letters trying to find money or any valuable items (mostly on mail coming from abroad).
The largest and most trustworthy private mail company is Chilexpress, which has agencies in almost all mid-sized cities. Prices are a bit higher, though.

Cope
Go next
Mountains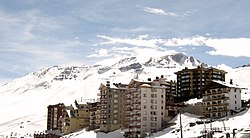 The mountainous outdoors with nature reserves and ski resorts are just around the corner. The skiing season is from May to August.
Ski resorts northeast of Santiago reachable by car within a hour and a half include Farellones, Valle Nevado, La Parva and El Colorado.
Rancagua is 85 km to the south and has some thermal springs and hiking opportunities nearby.
Cajón del Maipo, beautiful in spring, some 75 km south east of Santiago, day trip. Some nice places for lunch and tea; many of them only open on weekends.
Sierras de Bellavista (150 km south of Santiago) is a wonderful little mountain village, especially after a rainy day. Alpine scenery.
Other nearby nature reserves include Monumento Natural El Morado, Reserva Nacional Río Clarillo and Santuario de la Naturaleza Yerba Loca
The villages and towns in the surrounding Maipo valley is also a great place for seeing the Chilean way of life, buying handicrafts, tasting wine and savoring local cuisine.
The coast
The Pacific Ocean is less than 100 km from Santiago, and easily accessible.
Vina del Mar, 90 minutes away is the beach capital of the country, and it also has nice parks, gardens, restaurants, cafes and casinos.
Valparaíso, next to Vina del Mar is one of the largest ports on the Pacific, but certainly not a dirty industrial behemoth. It's also a famous for its world heritage listed and very Bohemian old town on the mountain sides.
Isla Negra, a village on the coast, south of Valparaíso. The main and most beloved house of Pablo Neruda is there. This is probably the most interesting of his three houses to visit and the best conserved as it is the only one that the military didn't sack during the coup d'état in 1973. To get there, you can take the Pullman bus (CLP$3,700, 2 hr) from Terminal Alameda (Metro Universidad de Santiago). You can also take the Turbus bus to San Antonio (CLP$1,000-2,000, 1.5 hr) from Alameda as well, and then take a local bus in front of "laPolar" (CLP$450, 30 min) that goes along the beautiful coast. Tours of the house cost CLP$3,000 and last a half an hour. Then you can go to the beach.