Santiago de Chile/Providencia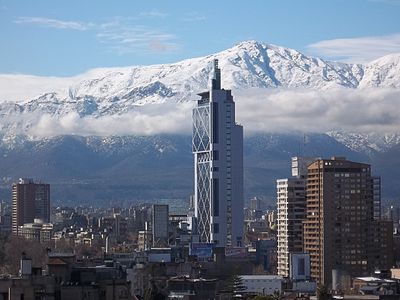 Providencia
is in
Santiago de Chile
. It's one of the commercial and gastronomical hotspots of the city, in particular along Avenida Providencia. Here you can find culturally interesting barrios like Bellavista and Italia, and in the east, towards Sanhattan, some of the city's skyscrapers. Cerro San Cristobal, one of the city's most famous hills, is located here as is the part of the Mapocho river and the parks on the bank of it.
Get in
By foot
If you like walking, you can get in from downtown on foot, it's about 2 km to Parque Bustamente and longer elsewhere. One nice route is through Parque Forestal along the Mapocho river.

By subway
With several lines crossing through and several stops, it's easy to get in and around Providencia by subway. Providencia is easily accessible by Metro Lines 1 and 4 as well as the many buses which run along Avenida Providencia.

See
Torre Telefónica

address: Providencia 111

Until 2010 Santiago's highest building, now surpassed by Torre Titanium La Portada and Gran Torre Santiago.

Plaza BaquedanoThe lively little square in the intersection of the two most important avenues of Santiago, Alameda and Vicuña Mackenna is also frequently the place for public meetings such as celebrating sport successes and political demonstrations.

address: Avenida Matucana 464

Santiago's modern art museum is part of the university's faculty of art. Next to the façade there's a statue by the Colombian artist Fernando Botero.

address: Av. Andrés Bello 2425, Providencia

South America's highest building with a viewing platform on the top floor.
Do
Festival de Jazz de ProvidenciaA very good jazz festival takes place during summer (typically each January) in Providencia. The Festival de Jazz de Providencia takes place each year in Mapocho's riverside and showcasts the best local bands and some international guests. A good budget-conscious alternative for summer nights.

Federación de Andinismo de Chile

phone: +56 2 2220888

address: Almirante Simpson 77

The mountaineering foundation founded in 1947 organizes excursions and competitions, as well as offers courses in mountaineering, first aid, and orienteering through its affiliate, the Escuela Nacional de Montaña.

address: Arrayán 2735

Founded in 1924, this mountaineering organization offers trekking, bouldering, and climbing excursions and workshops.

Parque Metropolitano de SantiagoOne of the city's landmarks, this hill has walking paths, gardens, viewpoints and the Metropolitan zoo.

Parque de las esculturas

address: Avenida Santa María

A place to relax with many sculptures and good views to the skyline of the financial district.
Buy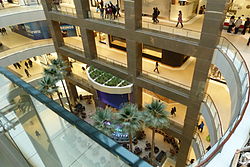 Avenida Providencia, between Manuel Montt and Tobalaba is full of shops selling things like fashion, jewellery, crafts as well as larger department stores. More of the latter can be found near Portal Lyon.
address: Avenida Andrés Bello 2425

The first six floors of the Gran Torre Santiago hold the newest mall in Santiago. A gigantic food court, movie theater, supermarket and stores like Banana Republic, H&M, Zara, NTS. Also restaurants and cafes like Crepes&Waffles, Hard Rock Cafe, and Applebees.

address: Av Nueva Providencia 2155

Close to Los Leones station, this mall has a bit of everything from ice cream to shoes.
Eat
Numerous restaurants can be found here, especially in Barrio Bellavista, Barrio Italia and the side streets of Avenida Providencia. Thanks to the presence of banks and offices in the area, there are often fixed menu lunch deals for about CLP$2000-4000, available at about 13:00-16:00. Fast food places and pizzerias are not different to find either.
phone: +562 2410 6200 or +569 4252 5649

address: La Concepción 236

Seafood is this restaurant's specialty and its menu has a wide variety of fish and shellfish to choose from. There are a number of other dishes for the non-seafood lover as well.

address: Av. General Bustamante 50

phone: +56 2 22318897

address: Tobalaba 1213, Providencia

A very good place to eat a generous sandwich (try the "Holanda") or a big Chorrillana, and a great variety of national and imported beers.

Baco

phone: +56 2 22314444

address: Nueva de Lyon 113, Providencia

A relaxing French restaurant in Providencia, with one of the best wine list of the city.

phone: +56 2 23354593

address: Los Leones 40

A veritable fast food boutique that sells hot dogs of many different meats and plenty of toppings to choose from.

phone: +56 9 8584 6257

address: Fresca 529

Phenomenal vegan sandwich place with a feminist flair. English menus available.
Drink
Barrio Manuel Montt has a small and unique atmosphere with mid-range prices. It can be reached at Metro Manuel Montt (Line 1).
El Candil

address: Providencia 1421

A quiet bar/restaurant in Providencia. The traffic outside is noticeable but not excessive and drinking outside here has a genuinely pleasant urban flavour. If you fancy making a night of it, Bar Liguria is practically next door.
Bar Liguria

address: Providencia 1373

This bar looks like a 1950s American diner and plays music ranging from classic 1950s rock to what you'd hear in a mid-2000s London pub. For all that, it's clearly no tourist trap and the clientele are mainly local. At the weekend the bars on Pio Nono are probably a better bet, but for a mid-week drink this is well worth a visit. It is also a great restaurant during the day! It serves many local dishes and drinks, including great wines.
Suecia is roughly located at Providencia and Suecia, in between Metro Tobalaba (Lines 1 and 4) and Los Leones (Line 1). It is a boulevard of bars and discos about three blocks long. It used to cater to a foreign and upscale audience, but it seems now that the most entertaining bars moved to Manuel Montt.
Boomerang

address: General Holley 2285

High scale pub and cocktail bar.
phone: +56 2 23356135

address: Providencia 2548, Local 42

An Australian-owned gastropub which offers a wide selection of domestic and international microbrews and cuisine. Watch sports on the multiple TVs inside or enjoy watching the day go by in the tree-shaded terrace. Happy Hour until 22:00 everyday.
Sleep
Budget
Hostal Romandia

phone: +56 2 28913188

address: Román Díaz 1403

Located in a quiet residential district, the Hostal Romandia is a central bed and breakfast style accommodation perfect for business travelers, students, or guests who want to get a good night's sleep in order to discover the fascinating city of Santiago's attractions during their stay.

phone: +56 2 22264201

address: Roman Diaz 130

Hostel is close to bars, restaurants, clubs and both the bus and subway station. Newly remodeled rooms are cozy and colorful, large common room with lots of places to hang out and TV and DVDs, the terrace is a great place for a BBQ and views of the city. The water temperature in the showers here can be a bit temperamental.

Footsteps Backpackers

address: Almirante Simpson 50

A nice little hostel not too far from the trendy area of Bellavista.

phone: +56 2 28933350

address: Maria Luisa Santander 329

Opened by a California surfer in January 2012, this hostel is located a short walk from everything, but the neighborhood is safe and quiet. Private rooms, shared dorms, surfing trips, in-house Spanish classes, and student housing in Santiago are available.

phone: +56 2 26352536

address: Vicuña Mackenna 92-A

Rooms with private and shared bathrooms in a house with an antique Chilean style with a modern twist. Staff is very helpful. Breakfast, BBQ, common areas with free internet and Wi-Fi, cable TV, books and DVD library. A three minute walk from Metro Baquedano, Plaza Italia and walking distance to Bellavista neighborhood.

phone: +56 2 28950768

address: Claudio Arrau 340, Providencia

Chilled out hostel but there's always something going on. Good location with friendly staff who always go the extra mile and are great fun to hang out with. Pool, free internet and WiFi, continental breakfast included, Friday night BBQs, Wednesday free wine nights. Duvets in the dorms.
Mid-range
Furchi E.I.R.L -Furnished Apartments-/ Bilbao3561

address: Francisco Bilbao & San Juan de Luz

Furnished two-bedroom apartment, 58 m² that sleeps up to four people. Includes full kitchen, washing machine, LCD TV , Cable, Desktop Computer with Internet, WiFi, DVD player, stereo, Chilean Cell Phone and free phone (local, national and international calls). The service also includes local access numbers in many cities around the world to call directly to the apartment as a local call. Other apartments also available in Santiago.

phone: +56 2 83927177

address: Pedro de Valdivia 263

Nice views over the city, towel changes must be asked. The apartments have complete kitchens with microwave, oven and hob but no meals or breakfast are provided, although there are many restaurants and cafes like starbucks nearby. Internet access (wi-fi) is included in the price. Furniture are modern and well conserved as are the bed and pillows. There are cable TV and LCD monitors. A good deal and location in the city.

address: Condell 40

Elegant hotel located in the centre of the city, a short distance from the primary metro line. The hotel contains 122 suites with private bathrooms, and separate bedroom and living room. Rooms contain sofa, minibar, television and Wi-Fi while the hotel itself offers a gym, sauna, and swimming pool.
Splurge
phone: +56 2 22353659

address: Santa Beatriz 256

Five double rooms and two singles with private bathroom, satellite TV and Wi-Fi. There is also a loft with room for five.
Connect