Santiago de Chile/Sanhattan and East
Eastern Santiago
is in this article defined as the municipialities of Ñuñoa, Macul, La Florida, Penalolen, La Reina, Las Condes, Vitacura and Lo Barnechea.
Formerly composed of ranches and farms, in the middle of the 20th century, affluent Santiagoans started to move here from downtown. From the 1970s on, the area east of Providencia started developing into a business hub, eventually it was connected to downtown by the metro and today it has become the collection of high-rise office and residential buildings that is unofficially known as Sanhattan. Being the city's new financial district, it's name is made up of Santiago and
Manhattan
.
Ñuñoa and Macul are the more "bohemian" and artsy neighborhoods in Eastern Santiago, while Vitacura, Las Condes, La Reina and Lo Barnechea contain more of the swanky pubs and nightlife.
In addition to the high buildings, you can also find parks here (both urban and natural), places for shopping from large malls to luxurious boutiques as well as the national stadium. As the most upscale sector of Santiago, its relatively tidy appearance with new or well-maintained old buildings, wide streets, shops and parks, sometimes gives the impression of being in Europe rather than in Latin America. Geographically closest to the Andes, which makes it a convenient location for skiers, since there are three major ski centers in Eastern Santiago: La Parva, El Colorado and Valle Nevado. The easternmost suburbs are built on the foothills themselves that rise thousands of meters above the valley and Santiagoans refer to going to this part of the city as "going up".
Get in

In general, locals prefer to get in and around by car and there are highways from both north, south and west leading here. Parking is not such a problem as in downtown.
The areas closer to downtown can be accessed by metro (lines 1 and 4). Bus coverage varies in the eastern part of the city, with worse service in affluent neighborhoods where practically everyone has a car. Taxis and shared taxis cover the eastern part of the city well.

See
Parque Bicentenario

address: Av. Bicentenario

A beautiful park, still under construction. Large extension of grass, children games, dog games, a very nice pond with black neck swans. There is also a restaurant, a café (Le fournil) and Vitacura's city hall. Trails for walking and biking.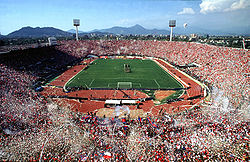 address: Av. Grecia 2001

This is the site of sports events (both football and others), concerts and social events including the yearly Teletón charity event. A National Historical Landmark opened in 1938, the World Cup finals were player here in 1962. A decade later, people opposing the dictatorship, were interned here.

Cerro CalánThis hill also hosts the astronomical observatory of the University of Chile, which is open to visitors.

Parque Padre Hurtado (ex Intercomunal de La Reina)One of the largest activity parks in Chile, popular among young adults and families on the weekend. Large green expanses, a lake with boats, barbecue grills and there are often unofficial cultural and sports events taking place.

Parque por la Paz Villa GrimaldiThe site of Villa Grimaldi, infamous as a torture center during the Pinochet dictatorship, has now been turned into a memorial park. In 2004 it was listed as a national monument.

Pueblito Los DominicosArtisan village next to the mountains, also featuring a beautiful Dominican church. It's a great place to see and buy traditional crafts.
Select neighborhoods and muncipalities
Sanhattan, an unofficial district which also stretches into Providencia is known for its skyscrapers.
Ñuñoa, southeast of Providencia, is a multicultural part of Santiago, featuring the city's only mosque and a slew of churches of different denominations. A large part of the population are immigrants from Europe, the Middle East or North America.
Vitacura in the northeast is one of the most upscale municipalities of Santiago.
The gargantuan Lo Barnechea comprises about half of the area of the whole Santiago province and stretches almost to the Argentinan border. It's home to on one hand the richest families in the country and on the other, poor inhabitants of mountain camps who don't even have a reliable access to drinking water. Geographically Lo Barnechea is part of the Andes and you can even see glaciers here. It's also where the ski resort El Colorado is.
Do
address: Av. Ossa 123

The Club de Jazz de Santiago is arguably the best of the city's many jazz clubs. Located in the northern part of the Ñuñoa neighborhood, this small club routinely brings in some of the best local, national, and international artists specializing in everything from Latin Jazz to Blues to Bossa Nova.
El Colorado ski resort is located in the Andes.
Buy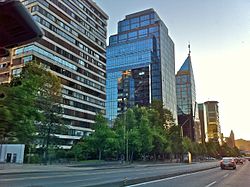 Alonso de Córdova - A street in the upscale district of Vitacura lined by shops specializing in luxury brands goods, like Emporio Armani, Salvatore Ferragamo and Louis Vuitton.
Malls
Many of the city's largest malls are located here.
address: Av. Pdte. Kennedy Lateral 9001

Located at the junction of Presidente Kennedy and Padre Hurtado, it's accessible by bus. It's one of the largest malls in Santiago with 5000 parking spaces, 200 stores, medical center, supermarket and movie theater.

address: Avda. Presidente Kennedy 5413

A large mall both by area and sales, accessible by bus. It has large department stores, a medical center, a food court and plenty of restaurants.

address: Manquehue Sur 31

At the junction of Avenida Apoquindo and Manquehue Sur, it features chain stores, restaurants and services for kids.
Eat
Two clusters of restaurants in eastern Santiago are along Avenida Vitacura and Ñuñoa Square.
Isidora GoyenecheaA very nice and safe neighbourhood with plenty of high end restaurants.

Temple Asian Lounge

phone: +56 2 23942463

address: Vitacura 2825, Las Condes

One of the best kept secret in Las Condes, this Japanese restaurant offers incredible dishes, like the Karaage or the Onigiri. Great atmosphere, too.

phone: +56 2 29538893

address: Nueva Costanera 3467, Vitacura

Frequently named as the best restaurant of the country, this innovative place offers "Chilean haute cuisine", using only local and rare ingredients in its dishes.

Anakena

phone: +56 2 23633177

address: Av. Kennedy 4601

Designed to look like an outdoor market with a number of dishes that combine Asian, European, and South American cooking styles.

Café Dante

address: Jorge Washington 10

A meeting point for friends, with a lot of history and nice service.
Drink
Plaza San Enrique (Lo Barnechea) - Different entertainment venues, especially catering to a younger crowd. Two popular clubs here are Sala Murano and Static.
Plaza Ñuñoa (Ñuñoa) - A traditional neighborhood of Santiago with restaurants, bars, music halls and theaters. Patrons include students from three large university campuses.
Paseo San Damián (Las Condes)

La Leyenda

address: Doctor Sotero del Río 474

This Peruvian restaurant/bar plays music from all over Latin America at weekends until 5AM to a diverse crowd of locals with roots all over South America. Unpretentious and entertaining.

phone: +56 2 22747096

address: Jorge Washington 52

A good spot to see mainstream Chilean rock and metal bands, although it is expensive by Chilean standards.
Wineries of Maipo
There are many wineries in the southeast of the city, both inside and outside the city borders. Many offer tours to visitors, wine tasting and on-premise restaurants.
address: Calle Quilin 7100, Penalolen

phone: +56 2 2380367

address: Calle Til Til 2228

Founded in 1875, it's now listed as a national monument. Tours are available for 10 persons or above, call them at least three days in advance. The tour goes through houses and cellars and includes wine tasting. The entrance is approximately 600 m from the Rodrigo Araya metro station.
Sleep
Most hotels are upscale and exclusive, but there are still some budget alternatives around Sanhattan.
phone: +56 2 24708500

address: Calle El Alcalde 15

A very nice hotel in an orderly and modern neighborhood. There are restaurants and bars nearby, a small park across the street and the neighborhood is modern and organized.

phone: +56 2 27700000

address: Isidora Goyenechea 3000, Las Condes

Located in the heart of Santiago's business district, the hotel is very close to South America's tallest skyscraper: the Costanera Center. It has a great bar/restaurant, one spectacular gym and spa (The O2), and plenty of fine restaurants in Isidora Goyenechea street.

phone: +56 2 29501234

address: Av Presidente Kennedy 4601

Has a 90-m² (1000 sq ft) lagoon-style pool, health club, and several restaurants.
phone: +56 2 22462000

address: Av Presidente Kennedy 5741

A popular business hotel in Las Condes, near excellent dining and shopping. Offers comfortable accommodations, a Lobby Bar, two first-rate restaurants, meeting space, and other modern amenities and services.