Santiago de Cuba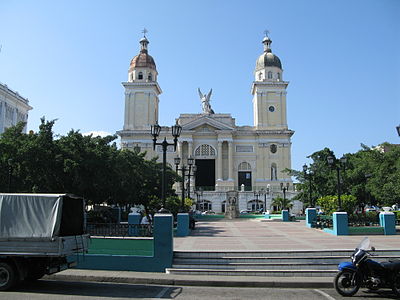 Santiago de Cuba
is the capital of the Santiago de Cuba province in south-eastern
Cuba
.
Understand
Santiago is the second city of
Cuba
. Fidel Castro started the Cuban Revolution from here in the 1950s.
Get in
By plane
Cubana flies in from
Havana
several times daily for $110 each way.
There is also a weekly Service from
Montego Bay
, and a twice weekly service from
Kingston
, Jamaica on Air Jamaica Shuttle . The Cost of a return journey is approximately US$360 (June 2012)
Sunrise airlines flies to Santiago de Cuba from Port-au-Prince some 3 times per week for about $400 (round trip) (June 2015)
By train
Overnight train service along the main line from
Havana
via
Matanzas
,
Santa Clara
, and
Camagüey
runs 2 of every 3 days. The
Tren Francés
, running every 3 days with refurbished coaches from the old Paris-Amsterdam service, is Cuba's premier train, and the most reliable train in Cuba (which is not to say it is reliable). It theoretically departs Havana at 6:27 PM and arrives in Santiago the next day at 9:12 AM, stopping overnight in Santa Clara and Camagüey. The other train is a simple express with a few more stops and also runs every three days. One-way from Havana on the
Tren Francés
costs $73 CUC in first class (which is well worth it) and $50 CUC in second class (called
especial
), while
especial
on the other train costs $30 CUC. Note that unlike Víazul, students studying in Cuba pay in pesos. There are other services, such as a daytime train to
Camagüey
and
Santa Clara
on Thursdays and Sundays, returning on Mondays and Fridays. Local train service to Holguin has been suspended due to poor track conditions. As elsewhere in Cuba, check in advance before planning train travel–the schedules are always in flux. And expect to arrive late, maybe by more than 10 hours, even on the
Tren Francés
.
Santiago's is on the relative outskirts of town, so you'll want a taxi or bici-taxi to your accommodations.
By car
Taxi fare from/to Holguin Airport is $30CUC/person.on a shared ride.
By bus
Viazul busses depart from the train station. Four daily
Viazul
buses run to/from
Havana
, three local and one express (stopping in
Camagüey
only). There is also a daily bus to
Baracoa
, another to
Trinidad
(which runs daytime to Santiago and overnight to Trinidad), and a daily overnight from
Varadero
. From Havana, the price is $51 CUC.
The local is (too) relatively remote from the city center, so you'll need a taxi to get to/from there. A fairly nice plaza right next to it can be used, if you need to spend 1/2 hour or so.
Getting to Santiago from Havana takes about 15 hours on the local bus, and 12 hours on the express overnight.
By boat
Get around

Most of the historical center is accessible by foot, in fact for tourists it's the only reasonable option.
To get farther away, taxis in the city will "happily" take you for a ride for the whole day, for a price. Plenty of them can be found standing between Plaza de Marte and Parque Cespédes.

See
Parque CéspedesA kind of central park, picturesque part of the city - with the cathedral Catedral de Nuestra Señora de la Asunción, few museums and pubs around. Castro announced victory here in 1959 from the town hall. The place is quite noisy, as it serves as an intersection for the traffic. Additionally, be prepared for street sellers, street music and especially in the evening jineteras.

Plaza de MarteA small park on the other side of the historical center of the city than Parque Céspedes.

Museo Provincial "Emilio Bacardí Moreau"

Balcon de VelazquezA terrace with a nice view of the bay.

San Juan HillA park, originally a place of fight in the Spanish-American War. Good views, displays of various monuments and old canons, souvenirs.
Outside the city:
San Pedro de la Roca castleInscribed on the UNESCO World Heritage List, easily combined with the following in a single day.

Baconao nature park.
Valle de la PrehistoriaIn-line with similar "attraction" in Vinales, this somewhat remote and bizarre theme park displays statues of dinosaurs, mammoths and such. A cafe in Fred Flinsone style is also present.
Do
Casa de la TrovaA famous music club, with (probably) nightly live music, with drinks available too. You can expect it being very full, esp. of 1-day and elderly tourists.
Learn
If you want to learn Spanish during your stay in Santiago de Cuba you can take an Intensive Spanish course from one week up to four weeks. The classes are held 4 hours per day and give you the opportunity to improve your Spanish quickly during a short time period.
Babylon Idiomas offers a wide range of affordable and high quality Spanish courses for all levels with experienced native teachers. Cultural and social activities are included in the programme. The school is located in the heart of the city in the district "Reparto Sueño" close to the Céspedes Park. New students can start on any Monday of the year.
Buy
José Antonio Saco streetA quite busy souvenir shopping street, esp. by Cuban standards.
Eat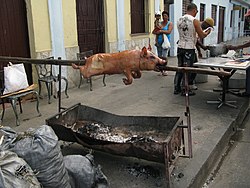 Budget
Every Saturday and Sunday, a street fair full of vendors of cheap eats starts up on Avenida Victoria de Garzón. This is a good place to try local specialties, including lechón or whole roast pig, Cuban-style fried fish, Cuban-style fried chicken, and chichurrones or fried pork rinds. Prices are in pesos and amazingly low. Probably Santiago's cheapest eats overall.
Paladar (private restaurant) "Salon Tropical." The best place to eat in Santiago.
Mid-range
Splurge
Drink
Hotel Casa GrandaOne of the most notable buildings, built in 1914 for Cuban Railroad Company. Drinks on the 6th floor roof top give you a spectacular view of the city at night, but also a normal bar and restaurant is available at the 1st floor.
Sleep
New in June 2015: AirBnB.com offers now peer-to-peer lodging, typically around US$35 per night. There are also many other AirBnB-like reservation websites, search for "casa particulates in XYZ".
Budget
Casas Particulares
As is generally the case with booking
casas
in Cuba, don't assume the email works! It's often best to make a phone call once in Cuba.
Casa Elma & David

phone: +53 22 62 06 56, +53 58 814996

address: Rey Pelayo #6

Centrally located, a few blocks away from Parque Céspedes. Extremely clean and spacious room, recently refurbished with two double beds, air-conditioning and balcony. The host Elma and her son David are honest and well-mannered. CUC 30 including breakfast.

Hostal Las Terrazas Santiago de Cuba

phone: +53 22 620522

address: Diego Palacios 177

Lovely hostel in the heart of the old city and four blocks away form the central park and the cathedral. The terraces and the roof garden are lovely, with exotic plants and an amazing view of the harbour and Sierra Maestra mountains. The food is delicious and the service is spectacular. They speak four languages: Spanish, French, Italian and excellent English.

Casa Colonial 'Maruchi'

phone: +53 22 22-07-67

address: Hartmann 357

A lovely colonial house that feature a large open atrium that is filled with all number of tropical plants. The rooms are small and a bit dark, but quite made up for by the rest of the cada. Maruchi is a wonderful cook and also something of an animal lover, with roughly 5 animals plus a fish tank at any given time. She'll send someone to pick you up at the bus station for 3 CUC

Sres. Odalys López Rodrígez Miguel Angel (Chichi)

phone: +53 22 65 72 15

address: Avenida Marti No. 159

Casa colonial, clean casa, three room, very friendly hosts, excellent food with best coffee in Cuba, security, comfort, air condition

Sra. Vilma de los Milagros Román Jaén

phone: +53 22 623315

address: Trinidad (General Portuondo) No. 159

Clean Casa, only one room, very friendly hosts, English spoken, air conditioning

Ing. Ruben Camara Pascual y Lic. Caridad Arafet Arafet

phone: +53 22 620 305

address: Jose A. Saco No. 515

Air Conditioned, Cold & Hot Water, Private Bathroom, Excellent Food, Security, and Comfort
Mid-range
Splurge
Hotel Casa Granda

address: 201 Heredia

Dating from 1914, this hotel right on the main square was a favorite of Graham Greene, who used it as a setting in his Our Man in Havana
Connect
The local newspaper is
Sierra Maestra
.
ETECSA

address: Cnr. Hartmann and Tamayo Fleites

This ETECSA is the only place in Santiago where tourists can get internet. As usual, no wifi is available, and the terminals here are particularly slow.
Cope
More so than most other places in Cuba, Santiago is full of touts. The touting starts right at the bus or train station (arrange a ride to your casa or hotel in advance, if possible), but no matter where you go you'll constantly hear calls of ¿Quieres un taxí?.

Go next
El Cobre
, home to the holiest virgin in Cuba, is a worthwhile day trip from Santiago.
The usual next stop on the Eastern Cuba tourist trail is
Baracoa
, though some travelers head west to
Bayamo
and the attractions of
Granma Province
instead.