Sarnath
Sarnath
is a small village in
Uttar Pradesh
,
India
, about 13 km north-east of
Varanasi
. It's famous as the site of the deer park where Gautama Buddha first taught the
Dharma
and also where the original
Sangha
was formed. Consequently, it is one of the 4 main
Buddhist pilgrimage destinations
.
Within the deer park complex is the large Dhamekha Stupa, constructed by the Emperor Ashoka in 249 BCE, and several other Buddhist structures that were added between the 3rd century BCE and the 11th century CE.
The town is relatively peaceful and green, and provides a welcome accommodation alternative to those wishing to visit Varanasi but not be immersed in it 24 hours a day.
Get in
By plane

Varanasi Airport (VNS) is 24 km from Sarnath and is the nearest airport.

By train

The nearest major station is Varanasi Junction. (6 km), which is connected to most major cities in the country. Sarnath does have a small with local trains from Varanasi serving every 2-3 hr, but most trains terminate in Varanasi City (instead of Varanasi Junction) station. A few express trains also stop here.

By bus

Long distance buses usually arrive at the station across from the Varanasi Cantt train station, where you can transfer to a local bus to Sarnath, or take a taxi or rickshaw.

By taxi/rickshaw

The town is easily reached by taxi or auto rickshaw from Varanasi. If you're non-Indian and arriving in Varanasi by train, a taxi driver will probably descend on you before you leave your train platform. Make no commitment there! You can negotiate a better rate with an autorickshaw driver, outside the station. If you have tons of luggage though, go with the taxi it won't fit in the rickshaw. The route, though once somewhat rural, is now noisy, busy, and almost completely built up till you're on the road just outside Sarnath.

See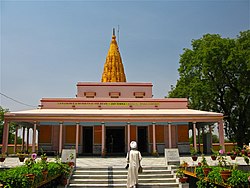 Ashoka PillarOnly the base remains.

Chaukhandi Stupa

address: Rishpattan Rd

Constructed in the 5th century, the stupa marks the spot where the Buddha met the five ascetics. The octagonal tower is of Islamic origin and a later addition.

Dhamekh StupaConstructed by king Ashoka in 249 BCE to commemorate his pilgrimage to the Deer Park. It is believed that the stupa marks the exact spot where the Buddha taught the five ascetics the Four Noble Truths, his first teaching after attaining enlightenment.

Mulagandhakuti ViharaThe ruins of the temple where the Buddha spent his first rainy season.

address: Dharmapala Rd

A small, but impressive collection of artifacts excavated from the site. The sculptures are particularly of interest, including the Lion Capital of Ashoka- the national emblem of India.

Sri Digamber Jain Temple

address: Dharmapala Rd

A Temple near Dhamekh Stupa. Accessible by main road that runs along Dhamekh Stupa. Learn about Digambara monasticism, a branch of Jain Dharma.
Thai Temple, Japanese Temple, Chinese Temple, Burma Mandir, Indonesia Temple are other attractions
Eat
Highway Inn Restaurant

phone: +91 94541 62836

address: Ashapur crossing

Recommended for tasty masala lovers and eaters. Dal fry and Aaloo jeera are also fine

Holiday Inn

address: Main road

One of 2-3 restaurants in Sarnath. Good food and reasonable prices. Opening hours limited and closed for holidays, weddings, funerals etc.
Sleep
Budget
Jain Paying Guest HouseCheap and spartan, but with great family hospitality. ₹300 per night, possibility of eating breakfast and lunch with the family (and Buddhist guests passing by).

Mahabodi Dharmshala Temple, Thai Temple and the Burmese Temple. All of these temples offer very cheap but spartan accommodation.
UPSTDC Rahi Tourist Bungalow

phone: +91 542 2595969

address: Sarnath Station Rd, Ashok Rd crossroad, Baraipur

A government run establishment - drab and uninspiring, but conveniently located.

Chinese Temple

phone: +91 5422595280

This temple is nearby the main areas of visit, around 5-10 mins walk to Dhamekh Stupa. Offers small room or big bunk room, depending on availability. Costs 200/300 Rupee per bed or room. Clean and simple stay.
Mid-range
The Golden Buddha Hotel

phone: +91-993-503-9368, +91 98074 74018

address: Sarangnath Colony

Probably the best hotel in town. Offers such facilities as Ayurvedic massage, a restaurant serving fresh Indian dishes, a peaceful lawn, and outdoor hot tub. Special rates for backpacking groups. Its walking distance from the main temple. The hotel can arrange a taxi to pick you up from the train station or airport.
Respect
In the vicinity of
sacred sites
:
Wear clothing that expresses respect for the sacred nature of the site.
Circumambulate the stupa and other sacred objects in a clock-wise direction.
Preserve the peace and tranquility.
Do not climb onto statues or other sacred objects.