Sault Sainte Marie (Ontario)
Sault Ste. Marie
is a city of approximately 78,000 people, in
Northern Ontario
. Directly across the St. Mary's River and the
Canada
/
US
border -- is its twin city,
Sault Ste. Marie
,
Michigan
.
Understand
The
twin cities
of Sault Ste Marie (Ontario) and
Sault Ste Marie (Michigan)
straddle the international border between
Canada
and the
United States of America
; they are connected by a bridge across the St. Mary's River.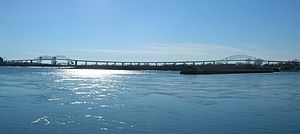 The area boasts rugged shores, sandy beaches, untouched forests, winding rivers, and two Great Lakes.
Ontario Travel Information Centre

address: 261 Queen St W
History
The history of the area involves an eclectic mix of cultures; once called "The Meeting Place", it drew inhabitants from all over Europe and from North American tribes.
The Ojibwe natives originally called this area
Baawitigong
, meaning "place of the rapids." The rapids long represented an obstacle to voyagers heading westward to Lake Superior; since at least the era of the French
coureurs du bois
, traders needed to portage here. In the 1600s, Sault Ste. Marie was established as a fur trading post. From 1668 to 1817, Sault Ste. Marie was a single settlement on the St. Mary's River in
North America
's
Great Lakes
region from 1668-1817. Later, it was divided by the establishment of the
Canada
-
US
border to form the twin cities.
In the
War of 1812
, while the city was still a single settlement, it was a strategic point on the frontline due to its control over access to Lake Superior. Later in the 1800s, canal locks were constructed on both sides of the boundary to bypass the rapids. During the 1900s, Sault Ste. Marie was a site for steel making.
Today,
Recreational craft
and tour boats in the area use the
Sault Ste. Marie Canal
, on the Canadian side of the border. Large, ocean-going cargo vessels use the
Soo Locks
on the American side.
Get in
By plane
phone: +1 705-779-3031

address: 475 Airport Rd

Sault Ste. Marie Airport is 20 km from downtown on the western outskirts. Airlines serving the airport include: Air Canada Express with frequent daily flights to Toronto-Pearson, Porter Airlines to Toronto Downtown Airport YTZ, Bearskin Airlines to Ottawa (via North Bay and Sudbury) and Thunder Bay, and Sunwing Airlines (seasonally) to Varadero, Cuba.
There is no bus service from the downtown area to the airport. Taxis and limos provide flat-rate service between the airport and anywhere in the city. Taxi: 7500 Taxi, +1 705-945-7500. Car rental is available from Avis and National.
Also airports on the Michigan side: Chippewa County (
CIU
) and Sault Ste. Marie Municipal (Sanderson Field, SSM).

By car
Highway 17, which is part of the Trans-Canada Highway system, connects the Sault with Thunder Bay to the northwest and Sudbury to the east. The International Bridge crosses the St. Mary's River and connects with the beginning of the Interstate 75 freeway in Sault Ste. Marie, Michigan, USA continuing further south to Saginaw, Flint, Detroit, and eventually Miami, Florida, USA. A new limited access truck route known as Carmen's Way (after the late MP Carmen Provenzano) provides easy access to main roads and Hwy 17. Plans are under way to connect Second Line to a four-lane section of Hwy 17.

By bus

Ontario Northland provides bus service to and from the Sault. Eastbound buses go to Sudbury, where onward connections are available to Ottawa or Toronto. Westbound buses follow the Trans-Canada Highway through Wawa to White River.

By snowmobile
There are approximately 400 km of snowmobile trails in the Sault area and 1,000 km of trails in the Algoma district with connecting trails to Sudbury. Trails are maintained by the Sault Trailblazers Snowmobile club and the Ontario Federation of Snowmobile Clubs (OFSC) and they operate on a user-pay system that requires users to purchase a trail permit. Official staging area is on the north side of McNabb Street one block east of Black Road. Sault Trailblazers Snowmobile Club for more information.

Get around
Getting around is easy - you can walk, bike (if you don't mind getting clipped off by cars) or take the bus... it is a big town with a small town atmosphere. If you are driving, don't expect any traffic jams or road rage. This is a nice, relaxing place to be and it is very convenient to get around. Beaches, rugged outdoors and ski hills are less than 30 minutes away from the city centre.
By bus
Sault Transit Services
operates from a central transit terminal at 160 Queen Street East at Dennis St. There are 8 regular routes running 19 hours a day, 7 days a week except statutory holidays: New Year's Day, Good Friday, Victoria Day, Canada Day, Civic Holiday, Thanksgiving Day, Christmas Day, and Boxing Day. Cash fare is $2.85 for all riders (Dec 2018), and you must have exact fare as drivers do not provide change. Children 12 years of age and under ride free when accompanied by an adult; to qualify, children must be under 5 feet (150 cm) tall. You can also get a multi-ride pass with 20 rides for $45. Monthly adult, student, and senior passes are available upon advance purchase.
If paying fare by cash or multi-ride pass and you need to use more than one bus to complete your trip, ask the driver for a transfer after you pay the fare.
Request stop service, where the driver will let you off at a location along the route other than a bus stop, is available in the evenings -- either when the street lights turn on, or after 9PM, whichever is earlier. Speak to the driver a few blocks in advance, and they'll let you off as close as possible to your request, so long as they can stop safely. Exit via the front doors.
Parabus Service
: Sault Transit also operates a Parabus service for passengers with disabilities. Trips on Tu-F are booked the day before; trips on Sa-M are booked by F 4PM. Same-day service is offered if scheduling permits. Call the Parabus office at +1 705-942-1404 to book a trip. Visitors are requested to call the Parabus office to make arrangements. Cash fare is $2.85; a 40-ride pass is also available for $79.
By taxi
7500 Taxi +1 705-945-7500
Checker Cab +1 705-942-3600
Cruz Cab +1 705-450-2789
Union Cab +1 705-946-1300
Easy Cab +1 705-256-2222
Soo Yellow Cab +1 705-942-0005
If the driver was helpful to you, it is customary to tip the driver about 10% and a dollar per bag that they carry for you (not just unload). At the very least, you should round fares up to the nearest dollar.
See
On your visit you can walk to boardwalk along the river or take a Sault Locks tour to cruise the first canoe lock, the original Ermatinger-Clergue Old Stone House, Bush Plane Museum, the Sault Ste. Marie Art Gallery and Museum, and the Sault Ste. Marie Canal.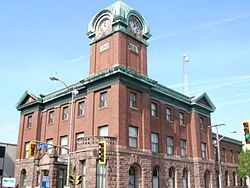 phone: +1 705-759-7278

address: 690 Queen St E

Museum of local history.

Canadian Bushplane Heritage Centre

phone: +1 705-945-6242

address: 50 Pim St

Features 29 planes including the 1st Beaver float plane produced. See the movie Wildfires!, a fire fighting adventure in 3-D. Flight simulator, fire tower, and children's centre. Closed Good Friday, Thanksgiving, Christmas, Boxing Day and New Year's Day.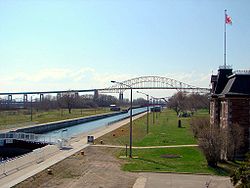 Sault Ste. Marie Canal National Historic SiteThis canal once had the longest lock in the world and was the first one powered by electricity. It was built to allow ships to bypass the rapids. Visitor Centre, gift shop, washrooms, parking, walking and biking trails. Fat Bikes available for hourly rental (from $10/hr). Full guided site tours available.

Ermatinger-Clergue National Historic Site

phone: +1 705-759-5443

address: 800 Bay St

Many exhibits and interactive features in the Heritage Discovery Centre. The Ermatinger Old Stone House is restored to depict the domestic and professional life of Charles Oakes Ermatinger and other prominent residents and visitors of the House between 1808 and 1870. The Clergue Blockhouse, was relocated to the site in 1996, and served as the home of industrialist Francis Hector Clergue from 1894-1908.
Boardwalk along the St. Marys River with lovely views of the rapids and lake steamers. Well-lit.

Roberta Bondar Park

address: 65 Foster Drive

Named in honour of Canada's first female astronaut, Dr. Roberta Bondar. There is a statue of her. It is a waterfront event space for concerts and festivals.

phone: +1 705-949-9067

address: 10 East Street

Featuring local, national, and international artists, it holds a collection of over 4,000 works of art.

address: GFL Memorial Gardens at 269 Queen Street East

Ontario Hockey League/Canadian Hockey League major junior hockey team.
Along the waterfront in the city centre are many historic sites and attractions.
Do
Bon Soo Winter CarnivalA ten-digit, diverse program of outdoor and indoor sports and activity events, and cultural activities including concerts, ice sculptures, and a polar bear swim.

Skiing - Searchmont Resort, Buttermilk Alpine, Heyden
Snowshoeing
Golf - Crimson Ridge, Root River, Maplewood, Superior View, Queensgate Greens
Snowmobiling
Hunting and fishing
Kayaking
Mountain biking
Hiking -- Voyageur Trail
Swim -- beaches at Point Des Chenes, Harmony, others
Essar Centre -- sports and entertainment complex downtown - concerts & events.
Horseback riding
Train tours
Agawa Canyon Tour Train - One of the most popular and scenic one-day rail excursions that takes visitors on a fully narrated tour non-stop to Agawa Canyon Park, 114 railway miles north of the Sault. There is a three-hour stopover at the canyon where there are hiking trails, a canteen, railway museum, and children's play area. This tour runs from mid-June to Mid-October. Most popular times are in September and October when the fall colours are at their peak. Train has dining cars and dome cars in addition to regular coach cars. The train cars have big windows, comfortable seating, flat screen monitors with front of locomotive camera, and GPS-guided narration in five languages (English, French, German, Japanese, and Mandarin).
Tour of the Line - Travel to the end of the steel north at Hearst and see more of the rugged country past the Agawa Canyon. Unlike the Agawa Canyon Tour Train, this tour is on the regular passenger train. Passengers must provide their own food for the journey and there is a microwave and mini-fridge on the train. Also, passengers can bring coolers on board. Alcohol consumption is prohibited and the train is smoke-free. Restaurants in the Sault and Hearst also provide box lunches for the journey. This tour has a specially-priced return ticket that requires an overnight stay in Hearst and return to the Sault the next morning. Hearst accommodations are the customer's responsibility and they must be booked prior to the purchase of train tickets.
Canyon Combo - Check your luggage at the train station the day before you leave, which will be loaded into the baggage car of the regular passenger train. You will first board the Agawa Canyon Tour Train and you have two hours at Agawa Canyon Park before you board the northbound train to Hearst.
Wilderness and snowmobile adventures
Camp car and private car rentals
Gambling
phone: +1 705-759-0100

address: 30 Bay Street West

Northern Ontario's first full-time casino features a 35,000 sq ft (3,252 m²) gaming floor, 450 slot machines, 21 gaming tables and a 100-seat restaurant and bar. By law, you must be 19 years of age or older to enter.
Buy
address: 293 Bay St

Movie theatres, liquor store, almost 100 stores.

address: 44 Great Northern Rd

25 stores including Canadian Tire.

Mill Market (farmers market)

address: 35 Canal Dr
Eat
Budget
phone: +1 705-253-9216

address: 13 Queen St E

A family tradition - inexpensive, and the portions are very generous.

Mz. Vickiz Panino Express

phone: +1 705-759-2424

address: 1177 Great Northern Rd

Sandwiches to go, etc.

phone: +1 705-759-8285

address: 1076 Great Northern Rd

Good steakhouse.
Mid-range
phone: +1 705-949-3000

address: 760 Second Line East and 300 Second Line West

Italian, pizza.

address: 523 Queen St E

Sometimes hard to notice from the outside, this family run restaurant has a great atmosphere, friendly staff, and excellent food

Fratelli's Kitchen and Pizzeria

phone: +1 705-256-1313

address: 522 Great Northern Rd

phone: +1 705-575-7522

address: · 97 Great Northern Rd #3

Good pizza, secret recipe. Burgers and wings, too.

phone: +1 705-254-7105

address: 685 Queen Street East

Since 1961, Muio's has been home to family dining in the Soo. Chicken on a Bun, pizza, burgers, and fish & chips.

phone: +1 705-759-8282

address: 82 Great Northern Rd

Specializes in steaks, seafood and prime rib.

Service Grill & Sidetrack Lounge

address: 319 Korah Rd

Pizza and sports bar/lounge.
Splurge
phone: +1 705-253-0002

address: 515 Queen St E

Classic Italian fare in an elegant but cozy atmosphere.

Embers Grill & Smokehouse

phone: +1 705-575-3359

address: 531 Albert St E

phone: +1 705-942-3050

address: 516 Great Northern Rd

Southern Italian, with richly flavored sauces, homemade pastas, steaks, and BBQ back ribs.

phone: +1 705-759-0000

address: 180 Bay Street

Located inside the Quality Inn & Suites. Angus steaks, seafood, pasta.

phone: +1 705-254-7656

address: 250 Queen St E
Drink
phone: +1 705-945-0754

address: 651 Queen St E

Art gallery & martini lounge. Has live music most evenings, typically of the folk and eclectic variety. Crowd is mixed and 'upscale' in comparison to most places in town. Not easily noticed from Queen street, park in back. One of the 'Core Four' within two blocks of downtown Queen Street. Always mixing it up with artists, wine/beer tasting events, live music... not to mention great drinks.

Sportscenter - Sports Bar & Grill

address: 624 Wellington St W

Smaller and pub-ish. (Try to ignore the smell.)

Top Hat

address: 654 Queen St E

Billiards, darts, general game room. Large area. Mixed ages, often younger (under 30). One of the 'Core Four' within two blocks of downtown Queen Street.

Reggie's West

phone: +1 705-253-1411

address: 306 Korah Rd

Full menu available. Live music Thursday Friday and Saturday, Karaoke. Known for its wings and burgers.

Rockstar

address: 864 Queen St East

Rock & roll attitude decorated with rock & roll memorabilia, live bands, DJs, large patio, mixed age, kitchen specializing in wings.
Sleep
Budget
Mid-range
Hotel Delta Sault Ste. Marie Waterfront Hotel

address: 208 St Mary's River Dr

Waterfront hotel featuring 195 modern rooms, full service View Restaurant+Bar, Bridgewater Health club with a large indoor pool.

Fairfield Inn & Suites by Marriott

address: 633 Great Northern Rd

Continental breakfast, free Wi-Fi, salt water pool and 24-hr fitness centre.

Quattro Hotel and Conference Centre

address: 229 Great Northern Rd

Largest hotel in the city, largest conference facilities in Northern Ontario; full service hotel with continental breakfast included; outdoor pool and indoor pool with 5½-storey water slide, sauna, and fitness centre, Bistro Lounge, free Wi-Fi.

phone: +1 705-949-8111

address: 360 Great Northern Rd

indoor/outdoor hot tubs, wading pool with waterfall, pool, Casey's Grill Bar and The Pub.
Quality Inn & Suites Bay Front

phone: +1 705-945-9264

address: 180 Bay St

Opposite Station Mall and the ACR train station.
Connect
Mobile phone coverage
Mobile service from Sault Ste. Marie westward through
Thunder Bay
to the
Manitoba
border is operated by
TBayTel
. The rugged landscape of this area, combined with the significant gaps between towers, means that a signal is by no means guaranteed.
In Sault Ste. Marie, limited cellphone coverage can be expected outside the city centre, especially north (Fifth Line, Hiawatha Park) and west of town (Airport, Pointe des Chênes, Gros Cap). Coverage on
Highway 17
north from Sault Ste Marie to
Wawa
is sporadic; huge areas have no coverage at all. Leave the beaten path (the
Trans-Canada Highway
or the few cities) and there's nothing. Much of the road to Wawa is parkland with few services of any kind.
Roaming is supported for clients of the three major Canadian 3G networks (UMTS/WCDMA on 850/1900 MHz). There is no 2G capability. While TBayTel advertises something it calls `4G` in limited areas, this is HSPA+ (a faster version of the 3G UMTS standard) and not LTE.
Unless your handset supports 3G/UMTS on the North American frequencies, you will get
no service
... not even to call 9-1-1 in an emergency.
Do not rely on having cellphone coverage on this route!
Before heading out on this relatively remote section of highway, it is strongly recommended to carefully examine your cell provider's coverage maps and bring appropriate supplies for use if stranded by a breakdown.
Internet and Wi-Fi
Branches of the Sault Ste. Marie public library offer free Wi-Fi access.
Sault College and Algoma University provide free Wifi for guests on their campuses.
Customers of Shaw Cable from anywhere in Canada can take advantage of the numerous Shaw Go Wifi hotspots present in the Sault. Look for a ShawOpen SSID; after connecting, log in with your Shaw email address and password.
Stay safe
Crime
As a rule, the most pressing concern for travellers in Sault Ste. Marie is property crime. Violent crime is most prevalent between people who already know each other (e.g. organized crime; domestic violence); stranger-on-stranger violence is uncommon.
Do not leave any kind of valuables in your car. Thieves may break into your vehicle for a trivial amount of goods, causing much more damage than the stolen items are worth. If such items need to be left in your car anyway, at least conceal them.
Valuables to safeguard include not only cash, but also electronics (including cell phones and GPS systems), firearms, alcohol, tobacco, and medication. In particular, opioid pain medications are a common target for theft.
Do not leave bicycles unattended -- they will likely be stolen.
Winter driving
Winters in
Northern Ontario
are often severe, making auto travel in winter an unpredictable venture. Whether travelling locally or on the highways, one must be prudent, allow extra travel time, and be prepared to be flexible with one's travel plans. See the
Winter driving
topic for a general backgrounder.
Highway 17 North
from Sault Ste. Marie to
Wawa
sits in a
snowbelt
and receives heavy amounts of snow every year. The prevailing westerly winds pick up moisture as they blow across Lake Superior, which then gets visited on the shoreline as
lake-effect snow
and
snow squalls
. As such,
this section of highway is frequently closed in winter, sometimes for days at a time.
Closures may occur because of crashes, because of whiteouts that reduce visibility to near zero, or because snow is simply accumulating too quickly for the snowplow crews to keep up.
Highway 17 East
is also occasionally closed by crashes or inclement weather, though considerably less often than the northern route. To the south, into the
United States
, US-2 is sometimes closed, as is the Mackinac Bridge; I-75 is very rarely closed, though if surrounding roads are, travel on it may be inadvisable as well.
Go next