Seattle/Downtown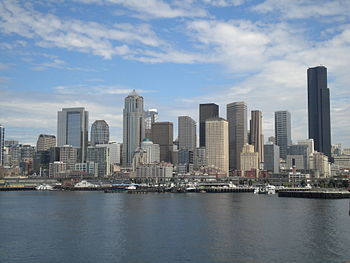 Packed between Elliott Bay and the hilly neighborhoods to the east,
Downtown Seattle
unsurprisingly contains the city's bustling financial and retail district. This is also where many of Seattle's tourist attractions are, including the iconic Pike Place Market, the expansive Seattle Art Museum, the touristy waterfront, and some of the city's most stunning architecture, all within easy walking distance of each other.
Get in
By car
Getting in by car is not recommended, due to the congestion and parking problems, but if you have to, these are the main routes to get in:
From I-5 northbound, exit either onto James Street (Exit 164) or Seneca Street (Exit 165, on the left side of the road).
From I-5 southbound, exit onto Stewart Street (Exit 166), Union Street (Exit 165B) or James Street (Exit 165A).
From SR-99 northbound, exit onto Seneca Street.
From SR-99 southbound, exit onto Wall Street then turn left onto 5th or 2nd Avenue.
From I-90 from the Eastside, continue straight onto the 4th Avenue S exit, then turn left towards Downtown, or exit onto I-5 north and follow the I-5 northbound directions.
From WA-520 from the Eastside, exit onto I-5 south and follow the I-5 southbound directions.
By ferry
Washington State Ferries
offer service from Pier 52 of the Seattle waterfront (also known as Colman Dock) to
Bainbridge Island
and
Bremerton
, which makes for a very fun and scenic ride.
Additionally, the
King County Water Taxi
offers service between Pier 50 on the downtown Seattle waterfront and Seacrest Park in
West Seattle
, with amazing views of the city. Fare is $4.75 for adults ($4 with an ORCA card), $2 for seniors/disabled, $4.75 youth ages 6-18 ($3 with an ORCA card), free for children 5 and under.
By public transit
Downtown is the hub of Seattle's public transit system and almost every neighborhood in Seattle is connected by a direct bus route to Downtown.
King County Metro buses serve Seattle neighborhoods. Fares are $2.50 ($2.75 during the weekday rush hour) and include a paper transfer (or an automatic transfer if you pay using an ORCA card) good for two hours.
Sound Transit provides all-day express bus service from the outlying suburbs and communities of the Seattle Area such as Bellevue (Rt #550), Everett (#512), Issaquah (#554), Redmond (#545) and Tacoma (Rt #590, 594).
In addition to buses, Sound Transit also operates the Link Light Rail line, which runs north through Capitol Hill to the University of Washington and south to the airport, Tukwila and SeaTac.
The Sounder, a commuter rail service, has lines running south to Tacoma and north to Everett. The Sounder's terminal is in the King Street Station, at the southern end of Downtown.
The South Lake Union Streetcar connects the Westlake Center in north Downtown to the nearby neighborhood of South Lake Union just to the north. Fare is $2.25 for adults, $1.50 youth, and $1 for seniors.
The Seattle Center Monorail makes a direct connection between Westlake Center and the Seattle Center north of Downtown, which is home to the Space Needle. One-way tickets are $2.25 for adults, $1 seniors/youth; transfers or ORCA cards are not accepted.
Get around
Seattle's downtown is quite compact, and avenues (running NW to SE, parallel to the waterfront) are hill-free and can easily be walked. However, streets (running NE to SW) can be extremely steep. When your feet are tired, hop onto the Metro buses for a break.
A rule of thumb to remember the downtown street names, from Yesler Way to Westlake Park, is the mnemonic "Jesus Christ Made Seattle Under Protest", as the streets are named as six first-letter pairs of these words (Jefferson & James, Cherry & Columbia, Marion & Madison, Spring & Seneca, University & Union, Pike & Pine).

See
address: 1101 Alaskan Way, Pier 55

Offers special dinner and sightseeing cruises. The most common tour visitors take is the hour-long journey on Elliott Bay, which gives you an excellent view not just of the Space Needle and the Downtown skyline, but the freight harbor to the south as well.

phone: +1 206 623-8600

address: 1301 Alaskan Way

Named for once being the main departure point during the Seattle gold rush, Miner's Landing now hosts a food court and a variety of gourmet restaurants, a sports merchandise store, a carousel for kids and the Seattle Great Wheel.
phone: +1 206 623-8600

address: 1301 Alaskan Way

Rising 175 feet in the air, this Ferris wheel offers a 15 minute ride in one of the wheel's 42 gondolas, each of which can hold up to 8 people. You'll get a wonderful view of the Seattle waterfront, the Downtown skyline, as well as the Puget Sound, the snow-covered Olympics, and the green city hills.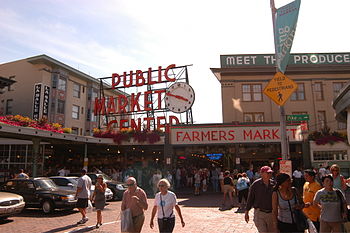 phone: +1 206 682-7453

address: 1501 Pike Pl

One of Seattle's most touristy destinations, Pike Place Market is a functioning public market; one of the oldest in the country. Mostly indoors, it consists of dozens of little shops tucked into a few square blocks downtown, situated on multiple levels. Even if you hate shopping you might still like this place, with its colorful atmosphere and quirky gimmicks, like the famous seafood stand where the staff toss fish from one end to the other. As the weather gets warmer, many artisans set up booths to sell photographs, glass, ceramics, and fresh flowers. Farmers come to sell their produce, and a vast amount of tiny hole-in-the-wall places offer all kinds of cuisine (French, Russian, Chinese, etc.) It's within walking distance of the waterfront, and crowds fill the market each time a cruise ship is parked in the harbor. Look for big blond Johnny Hahn on his portable piano or one of the other regular street musicians around the market. Be sure to head into the lower levels beneath the crowded main arcade to explore the cramped, dusty shops buried within the building. And don't miss adjacent Post Alley, a hidden gem filled with gourmet restaurants and unique souvenir shops, as well as odd sights like a gum-covered wall.

phone: +1 206 386-4300

address: 1483 Alaskan Way (on Pier 59 on the waterfront)

Showcases native fish and mammals of the Pacific Northwest. Among the highlights are the Windows on Washington (WOW) exhibit, two touch tanks featuring animals of the inland sea and outer coast, and a display that holds two giant pacific octopuses, gill sharks and Pacific coral reefs. The outdoor exhibit upstairs features a collection of birds, harbor and Northern fur seals, as well as river and sea otters. At a separate area on the lower level, you can go inside an underwater dome to get up-close with swimming animals from the Puget Sound.

phone: +1 206 654-3100

address: 100 University St

The museum's recent physical expansion, coupled with an aggressive campaign to expand the collection, now displays a good assortment of art from the Pacific Northwest and around the world. Though the permanent exhibitions only occasionally delve deeply into a specific subject (such as the enormous variety of pieces in the porcelain room), extensive special exhibitions fill the gap. Tours available.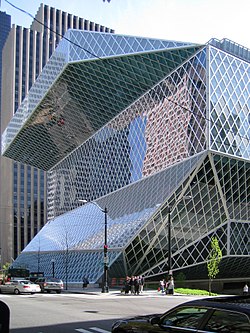 Seattle Public Library-Central Library

phone: +1 206 386-4636

address: 1000 4th Ave

A dramatic glass and steel structure in the heart of Downtown, designed by Rem Koolhaas. This is not an average public library and has become a tourist destination in its own right. A popular way to experience the unique architecture of the building is to take an elevator to the 10th floor, the highest observation deck in the building. From here you can walk down to the main floor through the Book Spiral; the core of the structure which organizes the library's books in one continuous path organized by the Dewey decimal system.

phone: +1 206 386-5564

address: 701 5th Ave

This observatory sits on the 73rd floor of the Columbia Center, one of the tallest buildings on the West Coast and the tallest public observation deck in the Pacific Northwest, sitting 932 feet (284.2 meters) above the ground and more than 330 feet taller than the Space Needle. Great views are offered from the top and some people claim the view is better from here than from the Space Needle. Another advantage over the Space Needle is that this building isn't well known as a tourist attraction, so there's usually little to no line to get to the top. Tickets are available for purchase online (2$ less expensive or in the atrium at the Columbia Center). There is a cafe in the observation deck serving sandwiches and drinks (including beer and wine) and a food court at the bottom of the Columbia Center.

phone: +1 206 684-4075

address: 2701 5th Ave

Etymologically meaning "welcome" in the native Chinook language, Tilikum is home to a statue of Chief Seattle, the chief of the Duwamish tribe that gives this city its name. Sit in the park or in the Tilikum Place Cafe's outdoor seating and enjoy views of the Space Needle while sipping a coffee or enjoying a lunch, and watch the monorail go by.
Do
phone: +1 206 215-4800

address: 200 University St

An aesthetically and acoustically beautiful new concert hall. The official home of the Seattle Symphony Orchestra, it also houses other classical and performing arts roadshows.

phone: +1 206 521-0952

address: 1511 7th Ave

A chain gaming arcade which is a great place to enjoy all types of video games. A restaurant and bar inside, World Sports Grille, serves American food.

SceneInSeattle Fine Art ToursThis tour is a good option for those who aren't in town for "Art Walk" but still want to know what's happening in Seattle's art scene. The tour was started by a local gallery and is headed by a curator or gallery owner. You walk through the "West Edge," also known as the Museum District, galleries and learn about Seattle's art history, up-and-coming artists, scandals, and public works. It offers a lovely insider's view in the local art scene, and they also tour other neighborhoods like the "East Edge" of Pioneer Square.
Buy
Most of the district's retail is situated around Westlake Station, roughly in an area bordered by 3rd and 8th Avenues, Olive Way and University Street. Brand-name
clothing
and
outerwear
are the main draws: the flagship
Nordstrom
department store dominates the high-end, and the adjacent
Macy's
serves a more midrange market.
Westlake Center
has many well-known shops and a food court, and a handful of outlet stores for brands like
Columbia
and
Mountain Hardware
are nearby.
Pike Place Market
is in and of itself a tourist attraction as well as a place to buy souvenirs and groceries.
phone: +1 206 467-0788

address: 1530 Post Alley

Sells all kinds of souvenirs exclusive to Washington state. Along with the usual coffee mugs and fridge magnets, they also sell glass sculptures you can find at the Chihuly Arts and Glass, baked salmon, artisan chocolates and the rain-globe, an equivalent to a snow globe but adapted to suit the stereotypical Seattle drizzle. They also have another shop in Westlake Center.

phone: +1 206 405-2655

address: 600 Pine St

An upscale shopping mall at the heart of Downtown Seattle, featuring brand tenants, but only a handful of dining options. There is also a large movie theater upstairs. "Snow" falls hourly every afternoon to dusk during the holiday shopping season.

phone: +1 206 441-3441

address: 2018 1st Ave

Occupying the home of the infamous Vogue nightclub, Vain is a community space, boutique and hair salon. The upper two floors are 20 working art studios. They have an active arts calendar and host other cultural events and fundraisers. Known for supporting "alternative visions of beauty," you can expect to find an 8 year old getting their first mohawk alongside a 68 year old having a conservative bob trimmed up.
Eat
Many of the best eating options in Seattle can be found downtown, primarily at the Pike Place Market and in the Belltown neighborhood.
Budget
Pike Place Market
The shops around Pike Place Market are an excellent place to grab some cheap eats. Pick up some bread, cheese, sausage and smoked meats and have a picnic on the park at the north end of the Market, or get a cup of coffee and sit at a table on the sidewalk.
Pike Place Chowder

phone: +1 206 267-2537

address: 1530 Post Alley

Usually has long lines (up to 30 minutes) due to the fact this location is more well-known. Has more choices of chowder. Seats quickly fill up!

Pike Place Chowder

phone: +1 206 838-5680

address: 600 Pine St
phone: +1 206 441-6068

address: 1908 Pike Pl

A very popular eatery, specializing in their namesake Russian pastries. They have many varieties from which to chose. The smoked salmon, the cheese, onion and garlic roll, and the apple cinnamon roll are all excellent. Be prepared for long lines and out of stock items if you come in late!
phone: +1 206 838-1712

address: 1511 Pike Pl

Delicious sausages from a German master butcher.
Mid-range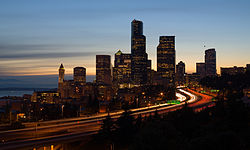 Splurge
Drink
Bars and taverns
The Belltown neighborhood is an excellent place for barhopping, particularly along 2nd Ave.
Cyclops

address: 2421 1st Ave

Good, hip (but not ultra-hip) bar, and not a bad restaurant either. Interesting neo-retro decor. The Ace Hotel is upstairs. Excellent breakfast.

address: 808 Post Ave

A great Irish bar. A house band, nice regulars, and halibut burger to die for. Happy hour is 3-7, M-F.

The Pink Door

address: 1919 Post Alley

Reasonably good Italian restaurant, but it's a better bar, with a rather romantic European market ambiance and a trellis-covered outdoor deck. Occasional cabaret-style live entertainment, no cover.

address: 2222A 2nd Ave

A variety of classic pinball games and honest hot dogs. Be sure to check out the Trophy Lounge hidden in the back.

Tula's

address: 2214 2nd Ave

Tula's is a good and affordable venue for local jazz. Cover charges range from $5 to $12.

address: 1021 Pike St

One of the country's oldest lesbian bars. A full bar, the 'Rose' also serves light meals and snacks. The requisite pool table is always waiting for the next challenger.

phone: +1 206-728-8500

address: 2214 1st Ave (on 1st avenue between Bell and Blanchard Street)

Good upscale lounge and restaurant with no cover charge and a pleasant ambiance that has reasonable prices. Daily happy hour with food and drink specials from 4 to 7PM daily and late night happy hour Sunday thru Thursday from 9 to 11PM. Friday (Ladies night) and Saturday night draw good crowds with a live DJ and a mini dance floor. There are 2 levels with some couch and booth seating available.
Breweries
Pike Brewery

address: 1415 1st Ave

Great variety of beers (try the Kiltlifter) and good food too. Can be found in grocery stores and on tap at some bars.
Coffee
phone: +1 206 728-1717

address: 1606 Pike Pl

Serves Caffé Vita coffee in Pike Place Market's largest independent coffeehouse. Also an art gallery, with new art on the walls at the beginning of each month. The first Saturday of every month, holds an art opening from 6PM-9PM.

Original Starbucks

address: 1912 Pike Pl

Who would have thought, when this unassuming place opened in 1971, that it would give rise to a global empire? So get in line, order a latte (no different from anywhere else in the world), and ponder the vagaries of history. And check out the uncensored mermaid which acted as the original logo for the company.
Sleep
If you're staying in Seattle, you're very likely to stay in Downtown, as here is where most of the city's accommodations are offered. Most splurge options are in the area surrounding the Pike Place Market or Westlake, while most budget options can be found in the Belltown neighborhood.
Budget
Mid-range
Splurge
Connect
Cellphone signals are strong throughout Downtown, save for in the Downtown Transit Tunnel. Wi-Fi connectivity is available at most coffee shops. The Seattle Central Library has lightning-speed plug-in and wireless internet connections.
Seattle Public LibraryAll branches of the Seattle Public Library have open wireless, using the SSID spl-public. Public computers with Internet access and basic office software are available for up to 90 minutes at a time, but require either a SPL library card or a temporary pass available from the circulation desk.
phone: +1 206 386-4636

address: 1000 4th Ave

Several hundred public computers, and blazing-fast wired and wireless Internet.
Go next