Seattle/Pioneer Square-International District
Pioneer Square
is
Seattle
's oldest neighborhood, showcasing a wealth of art galleries, bookstores, antique shops, cool restaurants, and buzzing nightclubs within easy walking (or free bus) distance of most Downtown Seattle hotels. The classic red brick buildings, cobblestone streets and horse-drawn carriages are a reminder of life a century ago. Local lore holds that the term "skid row" originated in Pioneer Square, when timber would be slid down Yesler Way to a steam powered mill on the Seattle waterfront. The area sits, from east to west, between 3rd Ave. and the waterfront; and between
Downtown proper
to the north, and the
sports stadiums
to the south. The square itself is nothing much, and the people talking about the square are referring to the area.
Just to its east, the
International District
is the name given to Seattle's Asian neighborhood. It is located southeast of Downtown, loosely bounded by 4th Avenue S. and S. Dearborn Street. While the old Chinatown stops are concentrated around the Interstate 5 freeway, the area to the east is called
Little Saigon
, centered on 12th and Jackson. From there, going south along Rainier Avenue, the stores transform from Vietnamese to Cambodian, beyond which it slowly merges into
South Seattle
.
Get in
It is easy to get here from the Downtown hotels – the
walk
is short, and any
bus
traveling south from Downtown will get you to within a few blocks of your destination. There are a few pay parking lots, and limited street parking is available too. Often the best parking bet are the metered spaces under the Alaskan Way Viaduct, which are usually overlooked by all but the locals. Occidental Street, which sits between 1st and 2nd Avenues, is closed to cars between Washington and Jackson Streets and forms a pedestrian mall lined with galleries and shops.
The
Central Link Light Rail
stops at Pioneer Square Station at James Street/3rd Avenue (a few blocks north of the main neighborhood) and at International District Station at Jackson Street/5th Avenue.
The
First Hill Streetcar
line runs along Jackson Street through the area, connecting the district to
First Hill and Capitol Hill
.
King Street Station
, served by
Amtrak
and
Sounder commuter rail
, sits directly in the center of the area at 4th and Jackson.
See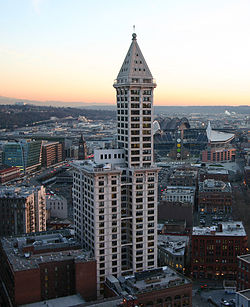 Parks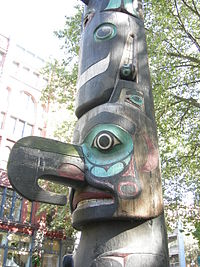 phone: +1 206 684-4075

address: 423 Maynard Ave S

A small park in the center of Chinatown. Though you're not too likely to see old folks doing tai chi or playing checkers, it still has character.

phone: +1 206 684-4075

address: Occidental Ave between Main St and Washington St

This urban park is best known for its four totem poles carved by local artist Duane Pasco. It also has bocce courts, ping pong and foosball tables.

Pioneer SquarePioneer Square proper is just a small corner park that's often occupied by homeless folks, but generally safe during the day.

Waterfall Garden

address: 2nd Ave at S Main St

This small, tranquil park features a 22-foot high waterfall cascading over granite boulders. The park occupies the site where two 19-year olds, James Casey and Claude Ryan, began a messenger service in 1907 in the basement of a tavern, which eventually grew up to become United Parcel Service (UPS). The Annie E. Casey Foundation, started by James Casey and his siblings in honor of their mother, created the park and maintains it "in honor of the men and women of United Parcel Service."
Do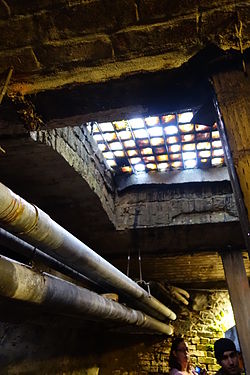 Art WalkThe Art Walk is almost synonymous with Pioneer Square and takes place on the first Thursday of every month. Galleries are open until 9PM. Show up early for the free wine and hors d'oeuvres.

phone: +1 206 623-0759

address: 508 Maynard Ave S

A pinball machine museum where all the machines are on free play once you pay admission. There is soda and beer available.

Venus Karaoke

address: 601 S King St, Ste 102

One of the few karaoke rooms in the city. Rented by the hour, with a good selection of Cantonese, Mandarin, and English songs. Open late, with two bars upstairs.
Underground tours
Seattle's oldest neighborhood has a hidden history: after being destroyed by a fire in 1889, large parts of the city were regraded, simultaneously solving the problems of steep hills, tidal flooding, and sanitation by raising what is now Pioneer Square by one story, creating the
Seattle Underground
.
Today, two companies run multiple tours through different sections of the Underground, with informative commentary about Seattle's history.
You will have to go up and down several flights of old stairs, and walk over some uneven terrain in poor lighting; choose footwear appropriately.
Buy
address: 513 S Weller St

The commercial, if not cultural, hub of the International District is Uwajimaya Village, a huge Japanese supermarket with many smaller eateries and a branch of the Kinokuniya bookstore. If you need anything at all from Japan while in Seattle, this is the place to find it.
phone: +1 206 587-2477

address: 525 S Weller St

A branch of the international Japanese bookstore, crammed full of books from and about Japan as well as other merchandise. Stationery, plushies, K-pop CDs, and calligraphy supplies are just a few of the things you can find in the jam-packed aisles here.

phone: +1 206 624-6248

address: 600 5th Ave S

An enormous and well-known Asian supermarket, in business for over 90 years. The grocery store offers specialty items for almost all forms of Asian cooking. They have great produce, though not always the best prices. But most importantly, they have obscure items like kaffir lime leaves or entire lotus roots, labeled in English. An area on the side has Asian kitchen appliances like rice cookers, kitchenwares including a lot of Asian cookware, dishware, and utensils, and other home goods and supplies.
Most of the older businesses in the International District are, of course, Chinese, and there are a few general stores where you can pick up good woks and other imported items. Over in Little Saigon, the Viet Wah supermarket has Asian foods for a lot cheaper than Uwajimaya.
Eat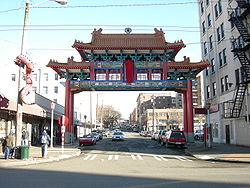 True to its name, the International District has a great variety of ethnic cuisines. While tourists and most non-Asian Seattleites stick to the large Chinese restaurants, the smaller places serve mostly locals and offer a quite authentic atmosphere as well as food. Chinese seafood restaurants are a Seattle institution popular with locals, many with live seafood tanks; they're not particularly elegant, but the food is great (if a bit venturesome for some tastes). And while most of Seattle's immigrant Japanese population has long since moved out to the suburbs (as have the upscale sushi bars), a few restaurants still stick it out in the area. Some places, especially the hole-in-the-wall restaurants, only accept cash as payment.
Budget
phone: +1 206 382-0662

address: 601 S King St

A restaurant/bar that serves Japanese-style Western foods like spaghetti and curry rice. Popular with exchange students and occasional Seattle Mariners.

phone: +1 206 340-1388

address: 418 8th Ave S

A popular Vietnamese restaurant.

phone: +1 206 748-9825

address: 660 S King St

Cambodian noodles and rice dishes which are considerably more exciting than Al Gore, who appears in a photo with the owner.

Pho Bac

phone: +1 206 323-4387

address: 1240 S Jackson St

An odd, red boat-shaped shack serving Vietnamese noodle soup. Don't ask for a menu; the only choices are regular or large, and what kind of beef you want.

Saigon Deli

phone: +1 206 322-3700

address: 1237 S Jackson St

This deli serves one of the best banh mi (Vietnamese sandwich) in Seattle. Crisp baguette filled with your choice of protein (meat or tofu), mayo, freshly pickled do chua (carrot and daikon), cucumber, cilantro and hot chilies, all for $3 or less! They also serve a variety of other Vietnamese delicacies.

phone: +1 206-323-1782

address: 1017 S Jackson St

A small Laotian and Thai restaurant with large portions and cheap prices.

phone: +1 206 264-8287

address: 159 Yesler Way

East Coast style deli specializing in hoagies, including the delightful pastrami (dubbed Tastrami) and Philly cheesesteak with more varieties of cheese and wit's.

phone: +1 206 624-6248

address: 600 5th Ave S

The food court at Uwajimaya, and the accompanying Uwajimaya grocery store, deserve special mention. The food court offers a wide variety of Asian cuisines, ranging from Hawaiian BBQ to Hong Kong style baked goods, and everything in-between, though the Thai offerings are not so good. The Chinese steam tables offer reliable, Western-style treats in large quantities for cheap. The Korean establishment, Shilla Korean BBQ, is probably the best out of the entire court, with very reasonable prices and large portions. There aren't any real Japanese offerings, but just inside the grocery store, the deli to the right has plenty of sushi and other Japanese lunch items available, including some excellent bento meal sets that disappear quickly.

phone: +1 206 682-4161

address: 672 S King St

Very good vegetarian pizza place with many different kinds of vegetarian pizza (a tasty vegan pizza is also available; call ahead to request it). The place also serves espresso, wine and Manny's Pale Ale on tap. World Pizza's signature pizza features roasted potatoes, garlic, rosemary and Gorgonzola. Happy hour Monday to Friday from 3PM to 6PM featuring $2.75 slices, and $2.50 bottles of Rainier beer.
Chinese
For a cheap eat, try a
dim sum
lunch. Roving servers bring steam carts of exotic (e.g., chicken feet) but often delicious food, then stamp your meal ticket for each dish. When you're done, take your ticket up to the register and pay. If you aren't a complete master of chopsticks, bring your own fork for the slippery shrimp and rice noodles, because the staff will rarely get around to bringing you one. If you're not getting what you want, or you don't see it, ask the staff - you may have to be a little aggressive.
phone: +1 206 737-8506

address: 608 S Weller St

Hotpot style dining with your very own seemingly large pot and soup, with as much add-ons as you want. They also offer macaron ice cream.

Canton Won Ton House

phone: +1 206 682-5080

address: 608 S Weller St

Hong Kong-style noodle soup and congee (jook); great with a side order of Chinese donuts (you tiau). Very inexpensive.

Henry's Taiwan

address: 502 S King St

Order the Locomotive Bento Box: cheap, large portions, and tasty.

Jade Garden

phone: +1 206 622-8181

address: 424 7th Ave S

Local favorite for dim sum. While very popular, don't let the seemingly long wait for a table sway you the line usually takes less than 30 minutes.

Purple Dot Cafe

phone: +1 206 622 028

address: 515 Maynard Ave S

This is not a fusion restaurant, but rather a Macau style restaurant. Whic explains why you can order your Hong Kong style dishes with spaghetti and cream sauce. Purple Dot is open until really late on the weekends, where packs of 80 lb. red-faced co-eds can be spotted stumbling around in their glittery halter tops. The restaurant's decor may remind one of a Hong Kong style Mickey Mouse Club, with its colorful curved furnishings and fiesta patterned carpet. But at Purple Dot, the draw for authentic food overpowers the teeny bopper atmosphere, as during the day there are just as many families as there are clubbers at night. Wash down the cajun chicken wings with an iced lemon tea, or stick to Cantonese soul food like jook and wonton mein.

phone: +1 206 720-1690

address: 1048 S Jackson St

The name in Chinese is Lao Sichuan (Old Sichuan Restaurant). Great dry-fried beans with chicken. Simpler hotpot than at Seven Stars Pepper, with tasty dumplings.

Szechuan Noodle Bowl

phone: +1 206 623-4198

address: 420 8th Ave S

The name of the shop in Chinese means "Great King of Beef Noodles". Hole-in-the wall place. Limited selection of spicy noodle soups. Also provides dumplings.

phone: +1 206-622-7372

address: 655 S King St

This restaurant has been open since 1935 and is now the oldest Chinese restaurant in Seattle. It is run and owned by Harry Chan, who is the 3rd generation to continuously operate the restaurant.
Mid-range
phone: +1 206 624-1201

address: 520 S Main St

Open for lunch, just around the corner from Maneki. Smaller pieces and a bit pricer, but fresh and tasty.

phone: +1 206 622-3644

address: 214 1st Ave S

One of the best sources of artisan bread in Seattle, this place offers an excellent lunch, cafeteria style (but stylish!).

phone: +1 206 682-1828

address: 610 S Jackson St

Family-run pub with a homely menu and atmosphere. Get your favorite Japanese entrées like tempura, teriyaki, donburi, noodles, and sushi (or an obento with an assortment of everything), or have some beer or shochu and linger for a while ordering small plates.

phone: +1 206 622-2631

address: 306 6th Ave S

Very good sushi, as well as many non-sushi Japanese dishes. The restaurant claims to be at least 100 years old, although it has moved since its estimated founding date in 1904, and is considerably smaller than the grand space it occupied prior to World War II. Their sushi pieces are very large, and their prices are very reasonable. It is highly suggested to reserve on the day before you wish to eat here.

phone: +1 206 622-2563

address: 114 1st Ave S

Great gumbo and jambalaya, but the real winner is the fried oyster po-boy sandwich. Great lunch spot on the cheap.

phone: +1 206 621-8772

address: 309 3rd Ave S

This is the place to eat lunch in Pioneer Square. There is often a line that can take over an hour to get through. Salami sandwiches on artisan bread... can't beat it.

Seven Stars Pepper

address: 1207 S Jackson St, Suite 211 (Ding How Plaza)

A local hotpot with great hand-shaven dandan noodles and chonggin hot chicken.

phone: +1 206 860-1404

address: 1036 S Jackson St

It's worth the awkward crawl through Seattle's steepest and most congested parking lot to relax with a Tamarind Soda next to the cool contemporary-style fountain. Tamarind Tree is an anomaly in Little Saigon, to say the least. Three Vietnamese brothers created an atmosphere that feels like it should be located in a Belltown Hotel rather than a Vietnamese ghetto, and the place packs in more flavors for under $9 than any other restaurant. Try the fish paste with bacon, or the seven courses of beef. High quality service, sauces, and appetizers, served up artfully at Little Saigon prices. Try the spring rolls with a side of fresh peanut sauce.
Drink
Bubble tea
Bubble tea arrived in the International District in the late 90s. Places here originally served it in basic plastic cups with dome lids, though now all the bubble tea cafes in the district vacuum seal the tops of each cup with semi-permanent plastic covers.
Ambrosia

phone: +1 206 623-9028

address: 619 S King St

This was Seattle's first bubble tea establishment. Well known for its long lines and the curt Taiwanese "bubbletea nazi" that ran the cash register. Other bubble tea cafes followed suit, thus thinning out Ambrosia's clientele.

Gossip Espresso & Tea

phone: +1 206 624-5402

address: 651 S King St

This prime corner storefront used to be Seattle's oldest meat market. Gossip is now a popular hangout for neighborhood teens. A spiral staircase leads to a second level lounge where the original ornate ceiling panels still exist. Cash only, also has karaoke downstairs.

Oasis Tea Zone

phone: +1 206 447-8098

address: 519 6th Ave S

Pool tables, Ikea furniture, and music videos entertain a mostly younger crowd. Oasis is known for its more fragrant-tasting bubble teas; specifically, they make fruit teas with real fruit.

phone: +1 206 538-0596

address: 651 S King St

Small cafe serving bubble tea, grass jelly and ices in the Taiwanese style. One of the few shops to offer a choice in terms of the amount of brown sugar syrup in the tea. A U.S. outpost of a well-known Taiwanese chain.
Coffee
Panama Hotel Tea & Coffee House

phone: +1 206 515-4000

address: 607 S Main St

The result of a unique renovation, Panama Hotel is both a teahouse and historical museum. Fine tea connoisseurs appreciate the wide selection of quality teas. The Panama Hotel once housed the personal belongings of interned Japanese Americans who had to sell their homes and abandon their businesses. The belongings that were never claimed, including pieces of furniture and a piano, are on display here.

address: 602 2nd Ave

Independently owned, the shop also doubles as an art space. This is a true Seattle coffee shop with modern design, great espresso, a Clover coffee brewer, and competition-level baristas. Want to learn more about coffee? These people love answering questions. You may even stumble into an impromptu tasting!

address: 171 S Jackson St

Elegant and arty.
Nightclubs
phone: +1 206 682-0608

address: 240 Second Ave

Pub with an underground put put course

address: 124 S Washington St

One of the most popular nightclubs in Seattle, ideal for singles. The DJs usually spin hip-hop on Friday nights and dance/techno on Saturday nights.
Sleep
Cope
Basic Cut Barbershop

address: 616 S Jackson St

Tucked into the partial second floor of a small store is one of the cheapest barbershops in the city. Kim (i.e. Lan) is quick but thorough and she's very nice.
The nature of this area (homeless and crime) means that there are no public toilets in the area. So, unless you're planning on visiting a restaurant or an attraction, considering making a stop before you arrive here.
Stay safe
Pioneer Square and Occidental Park, as with many parts of the downtown area, are best avoided at night, since they get shady when the beggars, the homeless, and possible crime abound. The International District is noticeably safer, especially the area between 4th Avenue S and
Interstate 5
, but watch out for drunks after midnight.
Connect
The City of Seattle provides free wi-fi access in Occidental Park. Use the SSID "seattlewifi".
Seattle Public LibraryAll branches of the Seattle Public Library have open wireless, using the SSID spl-public. Public computers with Internet access and basic office software are available for up to 90 minutes at a time, but require either a SPL library card or a temporary pass available from the circulation desk.