Seattle/Queen Anne-South Lake Union
Northwest of
Downtown Seattle
,
Queen Anne
is a hilly residential neighborhood with marvelous views of the city's skyline.
Magnolia
, a wealthy residential neighborhood, sits on a peninsula west of Queen Anne, separated from Queen Anne by
Interbay
, an unexpected commercial and industrial strip in the valley between the two hilly neighborhoods.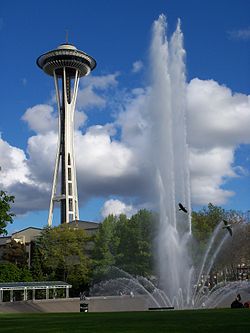 Seattle Center
, at the southern base of Queen Anne Hill, was built to host the 1962 World's Fair. Today, Seattle Center is a park-like facility surrounded by many of
Seattle
's finest event venues and museums, as well as two notable survivors from the World's Fair: the Monorail and the Space Needle, both of which have become icons of the city.
Directly north of Downtown is
South Lake Union
, a former industrial neighborhood that is one of the oldest residential neighborhoods in Seattle. A wave of gentrification has made South Lake Union home to Amazon's new headquarters and a range of biotech organizations, and brought a lot of new housing developments, and a new streetcar line.
Get in
Seattle Center and South Lake Union lie within easy walking or bicycling distance of
Downtown
. Climbing up Queen Anne Hill, on the other hand, is more of a workout. Aurora Avenue (SR-99) is a highway that divides Seattle Center and South Lake Union and can only be crossed in a few spots.
Note that Queen Anne Avenue is the dividing line between the "North" and the "West" roads. So don't be surprised if you cross 1st Avenue N, and then shortly thereafter find yourself crossing 1st Avenue W without having changed direction!
By car
Due to its geography, Queen Anne Hill can be difficult to navigate for the unfamiliar, especially by car. There are two simple ways to get to the center of the neighborhood: The first is via Queen Anne Avenue from the south (though take note: Queen Anne Avenue traffic is south-only when south of Roy Street). The second is by 3rd Avenue W from the north side, near Seattle Pacific University. Approaching by Dexter Avenue, Gilman Avenue, W Dravus Street or any of the numerous side streets should not be attempted unless you have time to kill.
Denny Way runs along the south side of Seattle Center. Parking is plentiful, albeit often expensive.
Dexter, Westlake, Fairview, and Eastlake Avenues pass through South Lake Union. Mercer Street is the primary east-west route and most convenient access from I-5, although it's amongst the most traffic-congested streets in the city.
To access Magnolia, from the north take Emerson Street Bridge over 15th Avenue towards the Fisherman's Terminal. From the south, take 15th Avenue W (Elliott), exiting at the Magnolia Bridge.
By public transit
King County MetroQueen Anne is served mainly by frequent and all-day bus routes 1, 2/13, 3/4, 8, and the RapidRide D line, all of which which make stops close to the Seattle Center. South Lake Union is served by frequent bus route 62 on Dexter Avenue, while Fairview Avenue is served by frequent bus route 70. Magnolia is served by the all-day bus routes 24 and 33, with 33 serving Discovery Park. See the King County Metro website for schedules and maps.

phone: +1 206 905-2620

The monorail makes a direct connection between Westlake Center in Downtown to the Seattle Center.

South Lake Union StreetcarSouth Lake Union is served by the South Lake Union Streetcar, which runs from the Westlake Center in Downtown to the southeastern shore of Lake Union. The streetcar was announced as the "South Lake Union Trolley" until the developer realized the unfortunate acronym, which is still used by many residents. Local coffee shop Inner Chapters on Fairview Avenue sells T-shirts that say, "Ride the S.L.U.T.".
See
phone: +1 206 386-4236

address: 3801 W Government Way

The highest point in the city, this can be thought of as Seattle's unofficial central park given its huge, somewhat secluded nature, with a number of trails that meander through the green forests down to the lighthouse at the beach. The park also contains wildlife you don't typically find in a large city. A visitors' center with information about the wildlife living in the park and the best trails to hike are in the center of the park.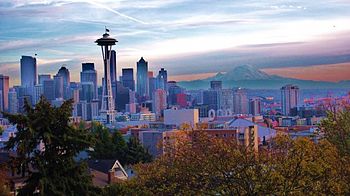 phone: +1 206 684-4075

address: 211 W Highland Dr

A photographer's paradise, this is perhaps the most obvious spectacle in Queen Anne. This park affords the quintessential view of Downtown Seattle with the Space Needle in the foreground, and (depending on the weather) Mount Rainier and the Cascades, as well as across the Puget Sound to Bainbridge Island.
South Lake Union
Lake Union ParkHome to the Center for Wooden Boats and the Museum of History and Industry.
phone: +1 206 382-2628

address: 1010 Valley St

An intriguing museum where you can learn about maritime culture and experience sailing traditional wooden boats. The center's programs allow you to get a hands-on feel, putting in control of crafting and sailing your own wooden craft. On Sundays, rain or shine, you can get a free boat ride on a classic wooden boat around the lake for an hour. At times artist-in-residence Saaduuts leads programs.

Museum of History and Industry

phone: +1 206 324-1126

address: 860 Terry Ave. N

The museum focuses on the history of Seattle and the greater Puget Sound region, with exhibitions focusing on the maritime history of the city and the rise of the region's technology industry, as well as a set of changing exhibits.

Northwest Seaport/Maritime Heritage Center

phone: +1 206 447-9800

address: 1002 Valley St

Home to a number of historic ships, including a schooner, a tugboat, a fireboat, a lightship, a steamer, and several others.
South Lake Union Discovery Center

phone: +1 206 342-5900

address: 101 Westlake Ave N

An introduction to the neighborhood, with displays explaining the history of South Lake Union. There is also a model of the whole neighborhood in the building.
Amazon have their headquarters in South Lake Union, including the visually-striking Spheres, a building made of three glass domes filled with lush plants. The expansive construction of Amazon buildings and new apartments and shops has made SLU practically synonymous with Amazon.
Seattle Center
phone: +1 206-905-2100

address: 400 Broad St

The iconic Seattle landmark, built for the 1962 World's Fair and still a wildly popular attraction for visitors. The view is spectacular on a clear day when the sun sets, when Downtown Seattle contrasts beautifully with the ocean to the west and the snow-capped mountains in every other direction. You can get a comparably good view for free from Bhy Kracke Park (pronounced "By Crackie") atop Queen Anne Hill; the Sky View Observatory downtown is taller and also has good views.
Renovated in 2018, there are now floor-to-ceiling windows on both levels, a rotating glass floor ("The Loupe") on the lower level that completes one revolution every 45 minutes, and open-air glass walls where you can lean backwards and take a selfie. The revolving Sky City restaurant has been closed due to renovations, but the wine bar is still open.

phone: +1 206 443-2001

address: 200 2nd Ave N

An interactive science museum featuring permanent and temporary exhibits, a butterfly atrium, IMAX theater, planetarium, and laser shows.

phone: +1 206 770-2700

address: 325 5th Ave N

An excellent pop culture museum housed inside a visually striking building designed by Frank Gehry to "evoke the rock 'n' roll experience", with exhibits on all manner of popular culture: film, television, music, video games, fashion, etc. There's a particular focus on science fiction and Seattle musicians, with a sci-fi hall of fame and exhibits dedicated to Jimi Hendrix and Nirvana. Top-notch special exhibits have included the likes of David Bowie, Star Trek, and the Marvel comic and movie universe. There are many interactive exhibits, but don't expect to get a turn without a long wait. Outside, the large playground is a big hit with kids.

phone: +1 206 441-1768

address: 200 2nd Ave N

An independent non-profit museum which hosts popular traveling exhibits and features permanent exhibits and programs geared towards children.

phone: +1 407 956-3527

address: 305 Harrison St

This museum provides a look at the inspiration and influences that inform the career of artist Dale Chihuly. The on-site exhibition hall contains eight galleries and three drawing walls, offering visitors a comprehensive look at Chihuly's significant series of work. The centerpiece of the museum is a glasshouse with a suspended 1,400-piece, 100-foot-long sculpture. Also on the grounds is a lush garden, which serves as a backdrop for four monumental sculptures and other installations.
Do
Buy
phone: +1 206 691-3279

address: 20 Mercer St

Large record store featuring many local artists and a large vinyl selection.

phone: +1 206 264-9255

address: 1304 Stewart St

New and secondhand sports equipment, usually in excellent condition. Skis and snowboards, bikes, and a small assortment of other sporting goods.

phone: +1 206 223-1944

address: 222 Yale Ave N

Seattle is one of the best cities in the world to buy high-quality secondhand outdoors equipment — good to know, because brand new equipment is often really expensive. REI's flagship store in Seattle has a twice-yearly Garage Sale clearance event and a clearance section downstairs where you can often find boots, down sleeping bags, tents, etc. with easily repairable damage at a fraction of the cost. The sprawling store also has an outdoor trail for test-driving mountain bikes, a climbing wall, and a small "mountain" in the shoe section for trying hiking boots.
Eat
There are a number of food carts that typically cater to office workers at the South Lake Union complex. They generally open for lunch on weekdays, with tenants changing each day.
Budget
phone: +1 206 587-6800

address: 1263 Thomas St

Dick's Drive In

address: 500 Queen Anne Ave N
Mid-range
phone: +1 206 285-7768

address: 1502 Queen Anne Ave N

A busy diner with an ever-changing theme-based menu and decor to match. Sometimes it's New York City, sometimes Hawaii. The food is good and reasonable priced, but be prepared to wait during busy periods, especially weekend brunch.

phone: +1 206 282-6616

address: 364 Roy St

Serves up delicious food from the rich tradition of Chinese vegetarian cooking. With a menu that boasts over 120 items, there's a lot to choose from, and the servings are generous. Also one of the few certified Kosher restaurants in Seattle.

phone: +1 206 223-0300

address: 731 Westlake Ave N

American cuisine and prime sports viewing. Large game room with free arcade games, billiards, giant Jenga, cornhole, bocce ball, and more.

Phuket

phone: +1 206 284-3700

address: 517 Queen Anne Ave N

A cozy and well-appointed Thai restaurant across from Dick's. It can get very crowded, especially during events at Key Arena. The menu is not as extensive as in some other Thai restaurants, but has ample selections to choose from. Try the green papaya salad or the Panang curry with salmon.

address: 1253 Thomas St

Previously the Southlake Bar and Grill.

phone: +1 206 466-2737

address: 621 Queen Anne Ave N

A good and inexpensive Korean restaurant with good bibimbap and good lunch specials that also serves alcohol. Located across the street from the Marqueen Hotel and a few doors down from Peso's.

Molly Moon's Homemade Ice Cream

phone: +1 206 457-8854

address: 321 W Galer St

Molly Moon's offers 14 flavors of ice cream, homemade on the premises within sight of the customers. One vegan option is usually offered. Many staff have learned some basic American Sign Language. Craving something sweet after an evening at the Seattle Repertory Theatre? Take bus route #2 or #13 five stops north, then walk four short blocks west.
Splurge
Queen Anne is a relatively upscale neighborhood, and generally the restaurants rise to the occasion.
phone: +1 206 283-3313

address: 2576 Aurora Ave N

Great high-end restaurant with a wonderful view overlooking Lake Union and Queen Ann Hill. Live piano music. Best to make reservations well in advance (a week or two ahead) and dress well.
Drink
True to Seattle form, you need never go more than a few blocks without stumbling into a coffee shop. At the corner of Queen Anne Ave N and Boston St, for example, there is a
Caffe Ladro
, a tea shop called
The Teacup
, and a
Starbucks
.
Caffe Fiore

address: 224 W Galer St

An organic coffeeshop three blocks north of Kerry Park, offering a true experience of Seattle coffee house culture: good local art on display that changes on the first day of every month, consistently excellent coffee, environmental consciousness to a fault (the straws are compostable), and neighborly vitality that's easy to witness but hard to describe. Handsome baristas remember the orders of regular patrons, and most everyone you see is a regular patron. The coffee is rich, aromatic, and consistently excellent. Outdoor seating for sunny summer days. The most common order is a short latte, and for good reason.

El Diablo Coffee Company

address: 1811 Queen Anne Ave N

Attached to an independent bookstore, this two-story perennial student favorite features interesting (if loud) murals that style the upper and lower sections into "Heaven" and "Hell". Different from the Seattle norm, they offer coffee in the Cuban style; the Cafe Cubano, a strong sugared espresso, is highly recommended and a good deal. The most important aspect of all Cuban espresso varieties is that they are sweetened while the espresso is being brewed. There is no such thing as "unsweetened" Cuban coffee. Also served are fresh lemonade, bottled beer, and excellent cakes. Courtyard seating allows for people-watching on nice days.

Top Pot Doughnuts

phone: +1 206 631-2120

address: 325 W Galer St

Lodged in a former neighborhood grocery, this place offers "hand-forged" doughnuts, coffee, juice, and the like. Free wireless available.

Macrina Bakery

address: 615 W Mcgraw St

A premier local bakery whose chef was a finalist for a 2007 James Beard Award. Selection changes seasonally and daily, but there's always something delicious on offer. An excellent choice for a breakfast or light lunch; cafe-style seating encourages you to sit down and stay a while. Espresso can be inconsistent, if you're picky, grab food to go and walk elsewhere for coffee.
If you're looking for something to balance out all that caffeine as a stimulant, Lower Queen Anne fits the bill.
phone: +1 206 270-4444

address: 11 Roy St

A 'dueling piano' bar on lower Queen Anne, Chopstix is a fun, lively place where two grand pianos occupy center stage. There are plenty of sing-along opportunities and requests are taken (tipping helps). Dinner available until 10PM.

phone: +1 206 284-4618

address: 105 W Mercer St

Karaoke is the name of the game at Ozzie's and is available every night starting at 9PM.

Toulouse Petit Kitchen & Lounge

phone: +1 206 432-9069

address: 601 Queen Anne Avenue North

Excellent restaurant and lounge featuring New Orleans-style food and drink that was listed as a 2012 Travelers Choice Awards winner for one of America's best restaurants and one of the best happy hours in the USA by CNBC survey (great beignets). Happy hour every day from 4PM to 6PM and 10PM to 1AM with a breakfast happy hour from Monday to Friday from 8AM to 11AM.
Sleep
Much of this area is residential or light commercial, with lodgings few and far between;
Downtown
offers far more options. However, the Seattle Center area hosts several smaller hotels.
Comfort Suites Downtown - Seattle Center

phone: +1 206 282-2600

address: 601 Roy St

Holiday Inn

phone: +1 206 728-8123

address: 211 Dexter Ave N

Homewood Suites by Hilton Seattle

phone: +1 206 281-9393

address: 206 Western Ave W

All-suite hotel with views of Elliott Bay, 4 blocks from Seattle Center and the Space Needle, 6 blocks from the Olympic Sculpture Park.

Inn at Queen Anne

phone: +1 206 282-7357

address: 505 1st Ave N

address: 600 Queen Anne Ave N

Boutique lodging accommodations.

The Mediterranean

phone: +1 206 428-4700

address: 425 Queen Anne Ave N

address: 300 Roy St

Unique dog and earth-friendly lodging with a business center, free parking, and views of the Space Needle.

phone: +1 206 441-7878

address: 200 6th Ave N

Two blocks east of the Space Needle and monorail terminal, adjacent to Belltown. About a mile's walk (or a few minutes on the monorail) from the downtown core.
Cope
Connect
Nearly all coffee shops offer wi-fi.
Seattle Public LibraryAll branches of the Seattle Public Library have open wireless, using the SSID spl-public. Public computers with Internet access and basic office software are available for up to 90 minutes at a time, but require either a SPL library card or a temporary pass available from the circulation desk.
address: 400 W Garfield St

address: 2801 34th Ave W
By mail
phone: +1 206 282-0542

address: 415 1st Ave N

phone: +1 206 284-5958

address: 3211 W McGraw St