Seattle/Sodo-Georgetown
Seattle
's
Sodo
was originally "South of the Dome", referring to the now-demolished Kingdome; to keep some sense in the name, it is sometimes explained now as "South of Downtown".
Georgetown
picks up from Sodo somewhere around Spokane street and extends south to Boeing Field and is Seattle's thriving emerging arts neighborhood, full of great restaurants, coffee houses and funky taverns tucked between industrial buildings.
Get in
See
Do
phone: +1 206 381-7555

address: 800 Occidental Ave S

Home to Seattle's beloved Seahawks American football team and Sounders soccer club, CenturyLink Field is an impressive open air sports arena with great views beyond the goal posts. The stadium itself is notorious for being deafening while the so-called 12th men cheer for the Seahawks. If you can't make it to the game, you can join a tour to see a glance of the history of the teams that call the spot home. Tours are held Fridays and Saturdays at 12:30PM and 2:30PM for $12, $5 for child ages 4-12, $8 ages 65+.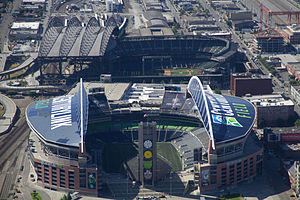 phone: +1 206 346-4287

address: 1250 1st Ave S

T-Mobile Park, renamed from Safeco Field after the 2018 season, is home to the Seattle Mariners baseball team and one of the finest ballparks in the country. Right field bleacher seats enjoy a panoramic view of Downtown and Elliott Bay. An element of the unique atmosphere is the train whistle that sounds each time a Mariners' home run occurs. The stadium offers anything from traditional ballpark dogs and the famous garlic fries to fine gourmet fare and local beers. The aroma of food is everywhere inside the park. There couldn't be a better way to spend a summer evening with friends and family in Seattle. You can tour the stadium for $10, $5 children ages 3-12. Schedules vary by season, but there are always tours at 12:30PM and 2:30PM, except during game days. You can buy the tickets online or at the Mariners pro shop.

Georgetown Art AttackLocal artisans present a stellar array of visual and performing arts throughout the historic industrial arts corridor. Featured studios include The Georgetown Arts and Cultural Center, Vecta Photo, The Georgetown Atelier, Nautilus Studio, Krab Jab Studios, Tenaya Sims, and many, many more.
Buy
phone: +1 206 652-4123

address: 2203 1st Ave S

Backpacks, laptop bags, messenger bags and more designed and manufactured in Seattle.

address: 5805 Airport Way S

Vintage & artisan market.
Eat
Budget
phone: +1 206 622-5127

address: 2445 4th Ave S

This quiet, unassuming mom and pop place, quite simply has the best doughnuts in town. While Krispy Kreme and Top Pot get all the hype, Dona Queen consistently produces a great selection of raised and cake doughnuts; the maple bars are fantastic. And as if that weren't enough, they offer a full array of breakfast and lunch items as well as Korean specialities.

Hallava Falafel

phone: +1 206 307-4769

address: 5825 Airport Way S

From a small, even by cantina truck standards, school bus yellow van Hallava serves up some helluva good falafel as well as shwarma, for those who want to get their carnivore on.

address: 2401 Utah Ave S

A cantina truck, with a cuisine all their own; a cross between Korean and Hawaiian (Kalbi Beef, Spicy Pork, Miso Ginger chicken and Kimchi) mostly served in a corn tortilla for excellent portability. Oh, and of course, spam is represented on the menu! Marination Mobile is new to the scene having started operations in July 2009, but have been posting their trials and tribulations since early spring. They also suggest that you follow them on Twitter for updates.

phone: +1 206 623-0629

address: 2260 1st Ave S

Brave the long lines for one of the best pulled pork sandwiches in town. This is a very popular Sodo lunch spot for local workers, so going after 1:30PM might lessen your wait. From their ordering window they offer different degrees of heat in their sauces, be forewarned: their hot is hot. 'Spike it' if you want a sausage link with your sandwich. Know what you want before it's your turn, so you don't hold up the rest of the line. Make sure that you get a fork and plenty of napkins, you're going to need them.

phone: +1 206 467-0306

address: 3228 1st Ave S

"A Sandwich the Size of Your Head". This mom and pop sandwich shop makes huge sandwiches to feed the hard working people who work around the Seattle waterfront. Their specialties include the Italian meat trio (ham, pepperoni and salami loaded with veggies on a pub roll), a Reuben, and Tim's Way meatloaf.

phone: +1 206 763-2696

address: 1128 S Albro Pl

Amazing all vegan, mostly wheat-free food with mock seafood theme.
Mid-range
Splurge
phone: +1 206 762-3330

address: 5609 Corson Ave S

The Corson Building is trying very hard to develop a rural setting in a very urban surrounding. This is a very chef inspired and driven restaurant and your only opportunity for fine dining in Georgetown. Dinner is served at certain times (check website) and at communal tables. You generally get to choose between two entrees and are left to the devices of the chef for the rest of the meal which is served 'family style' on large platters and/or in bowls passed between diners. Wine pairings and flights of wine are offered for an additional cost.
Drink
phone: +1 206 762-3373

address: 6009 Airport Way S

An unpretentious, laid back bar. Nobody has tapped into the Georgetown vibe more. Dimly lit and cavernous, it's a good place to hangout with friends. While it's quiet early in the week, weekends can get very busy.

All City Coffee Georgetown

phone: +1 206 767-7146

address: 1205 S Vale St

Stop by every Saturday morning to hear DJ Tamlin spinning reggae. Free Wi-Fi.

Jules Maes Saloon

phone: +1 206 957-7766

address: 5919 Airport Way S

Fans of tater tots unite! Jules Mae is a happening bar in Georgetown and a popular venue for live music on weekends. Their food is a couple notches above standard bar fare.

Marco Polo Bar and Grill

phone: +1 206 762-3964

address: 5613 4th Ave S

A long-time Sodo institution, embodies all that you expect from a working class bar, a variety of good, cold beer served in chilled glasses, stiff, reasonably priced mixed drinks and some cheap, fried food to sop up all that booze. Their pressure fried chicken is the stuff of local legend.

phone: +1 206 682-3377

address: 1201 First Ave S

Strategically located across from Quest and Safeco fields, very popular indeed, especially on game nights. They specialize in their own microbrews, although, at this point they are a pretty big brewery. They offer the classics, with their excellent Hefeweizen and IPA as well as some rotating seasonal varieties. Food is your typical pub grub; burgers, sandwiches and fried food. They do offer a selection of salads and other light fare to round out the menu. 21 and older only.

The Siren Tavern

phone: +1 206 223-9167

address: 3403 4th Ave S

A working-class bar that has stayed true to its roots. Jukebox, pool tables, dart boards and plenty of beer on tap. Who could ask for anything more?

address: 1700 1st Ave S

Sister venue to the original Showbox across from Pike Place Market, Showbox SoDo offers a variety of live music acts, check website for upcoming events. There is also food, of the burger and pizza variety, and drinks available from the lounge.

phone: +1 206 766-8055

address: 5200 Denver Ave S

Craft brewery in the middle of Georgetown.

phone: +1 206 402-6025

address: 5840 Airport Way S

A small craft brewery that exclusively serves English-style cask-conditioned ales.
Sleep
phone: +1 206 762-2233

address: 6100 Corson Avenue South

One of the decent options in the district with modern rooms. Some rooms provide a kitchenette.

phone: +1 206 204-9800

address: 1046 1st Ave S