Seattle/South
South Seattle
occupies a broad swath of
the city
between I-5 to the west and Lake Washington to the east. Though often overshadowed by flashier neighborhoods, continued development and the recent introduction of Seattle's first light rail line are raising its profile.
The area contains numerous neighborhoods with their own distinct characteristics, including:
Beacon Hill — A mostly residential neighborhood with a stop on the light rail and a variety of parks, restaurants and bars, as well as commanding views of the mountains and Downtown.
Columbia City — Once a forgotten part of the city left to decay, Columbia City has been revitalized in recent years. Known mostly only by locals, Columbia City is a quiet gem that offers great restaurants, bars, live entertainment, movie theaters, art galleries, and shops. Also, be sure to explore the Columbia City Library, a recently updated Carnegie library.
Mount Baker — Classic tree-lined streets with stately bungalows mark this mostly residential neighborhood on the shore of Lake Washington.
Othello — A bustling multi-cultural neighborhood conveniently located with its own light rail station offing a wide variety of shops and restaurants.
Rainier Valley — Home to more immigrants than any other neighborhood in Seattle. Small shops and restaurants abound, particularly African and East Asian.
Seward Park — A local park that's also the name for this neighborhood along Lake Washington south of Mount Baker.
South Seattle — In addition to the area, "South Seattle" can also refer to a small residential neighborhood west of Mt. Baker.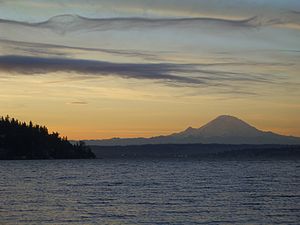 Get in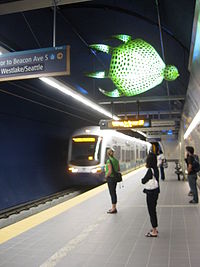 By car
Rainier Ave S. and Martin Luther King Jr. Way are the two main thoroughfares that run north and south through the district. Interstates 5 and 90 is the major highway through Seattle and offers several convenient exits into South Seattle.
By rail
The Central Link light rail is a clean and timely way to travel to South Seattle, with trains running every 10 minutes for most of the day. The line runs from the University of Washington through Downtown to Seatac Airport with several stops in the South Seattle area, including Beacon Hill, Mount Baker, Columbia City, Othello and Rainier Beach.
By bus
King County Metro bus routes #7 and #42 travel along Rainier and MLK, respectively, with frequent service seven days a week; the 7 is also one of the few routes to operate between 1 and 5AM. The #36 travels the length of Beacon Hill with connections at the Beacon Hill light rail station. East-west bus service is limited to local routes.
By bike
Like most of Seattle, attitudes towards bikers are fairly generous and there is a fair amount of built in bike lanes but some of the hills can be intimidating to unaccustomed cyclists. There are several popular bike trails through south Seattle including
Lake Washington Boulevard
which is a scenic, approximately 8-mile (13 km), route through Seattle, Washington, that hugs Lake Washington. There are views of the lake, small sections of rainforest, meadows, and views of the Cascade mountains. From the north end at Coleman Park (just south of Interstate 90)the trail runs all the way to Seward Park in the south. Bike maps can be obtained from the city
here
.
By boat
phone: +1 206 722-3887

address: 4400 Lake Washington Blvd S, 98118

limited guest moorage is available on this Lake Washington marina north of Seward Park which includes a small craft boat launch. Not near any facilities except parks so other transport should be arranged.
Seward Park creates a small protected harbor on the north shore that is popular for overnight moorage, especially in the summers.
By seaplane
address: 860 W. Perimeter Road – Renton, WA 98057

provides scheduled and charter seaplane flights to destinations from South Lake Washington, near South Seattle to the San Juan Islands, Vancouver Island, and British Columbia's Inside Passage. They operate 4 planes each offering six seats.
See
Parks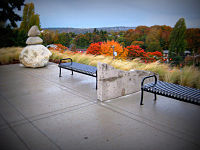 Designed by the Olmsted Brothers firm in Seattle's early days, park planners across the country recognize Seattle's park system as one of the best preserved and best designed in the United States. More importantly, while many eastern cities have only one or two Olmsted-designed parks, Seattle has an extensive multi-park plan linked by boulevards. It is this legacy that makes Seattle one of the most livable spots in the country including Jefferson and Seward parks in South Seattle.
Olmsted parks
address: 3801 Beacon Ave S, 98108

Seattle's sixth largest park at 45.2 acres and offers unparalleled views of the Duwamish River, downtown and the Olympic Mountains. It is the home to the Jefferson Park Golf Course, Jefferson Park driving range, Jefferson Skatepark, tennis courts (lighted), basketball courts, the Jefferson Community Center, Jefferson Lawn Bowling, and Beacon Mountain an ecologically oriented playscape with a water park in the summer.

Seward ParkThe entire park is a large peninsula that is surrounded by Lake Washington. Kids activities in the summer, great scenery, and a 2 and half mile paved level path that circles the whole peninsula, are a few of the attractions.
Other parks
phone: +1 206 684-4075

address: 9817 55th Ave S

In 1927 Fujitaro Kubota bought of logged-off swampland in the Rainier Beach neighborhood of Seattle and began his garden. Kubota Garden has since grown into a stunning landscape that blends Japanese garden concepts with native Northwest plants. Kubota was a horticultural pioneer when he began merging Japanese design techniques with North American materials in his display garden in 1927. The Gardens are a spectacular setting of hills and valleys, interlaced with streams, waterfalls, ponds, bridges, and rock outcroppings with a rich array of plant material.
Do
Buy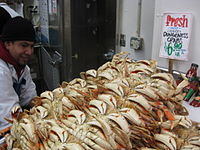 Eat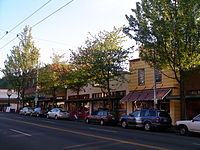 Many diverse ethnic restaurants can be found throughout South Seattle with many gems tucked away in residential areas. However most tend to be centered around three neighborhoods, each with their own nearby light rail stations, Beacon Hill, Columbia City and Othello.
phone: +1 206 395-2069

address: 3057 Beacon Ave S

Wood-fired pizzas, Italian dishes (salumi, cheeses and desserts), Italian wines/cocktails, and local beers on tap.

phone: +1 206 723-6023

address: 4865 Rainier Ave S

Excellent bread, pastries, cakes, and coffee. Mostly a dessert or snack place, though the ham and Gruyère croissant makes for a nice light lunch.

phone: +1 206 325-2114

address: 2701 15th Ave S

A Beacon Hill gem located just steps from the light rail station, great Pan de sal rolls and excellent for little sandwiches

phone: +1 206 551-1432

address: 2524 16th Ave S

great Mexican food, try their tortas

phone: +1 206 725-1418

address: 4868 Rainier Ave S

Family-friendly, authentic Tex-Mex restaurant with full bar.

El Quetzal

phone: +1 206 329-2970

address: 3209 Beacon Ave S

Family-friendly, but not your standard Tex-Mex, lots of amazing specials and good for large groups.

phone: +1 206 723-2080

address: 4872 Rainier Ave S

Classic American comfort food with fresh, local ingredients and a sophisticated touch.

phone: +1 206-329-1202

address: 4869 Rainier Avenue S

Authentic Caribbean cuisine from chef Bobby Laing.

phone: +1 206 722-4414

address: 3810 S Ferdinand St.

The Columbia City outpost of the acclaimed, small local barbecue chain.

phone: +1 206 322-9433

address: 3201 Beacon Ave S

family owned Filipino restaurant

phone: +1 206-723-2192

address: 4857 Rainer Avenue S

Italian restaurant billed as "Sicilian soul food" from chef Julie Andres.

Sunset Cafe

phone: +1 206 733-0342

address: 8115 Rainier Ave S

Central and South Seattle are by no means short of good Ethiopian restaurants, but this one is definitely a standout for its food. Service is friendly, if not the most efficient.

phone: +1 206 329-6260

address: 2524 Beacon Ave S

Serving fresh, amazing, healthy Vegetarian Indian dishes on seasonal rotation, with creativity, love and flair.

phone: +1 206-721-3501

address: 4918 Rainier Avenue S

Award-winning Neapolitan pizza, certified by the Associazione Verace Pizza Napoletana. Recognized as Independent Pizzeria Of The Year by Pizza Today magazine in 2010. More laid-back than their several other Seattle locations.

phone: +1 206 721-0212

address: 4909 Rainier Avenue South

Contemporary-themed sushi bar and Japanese restaurant.
Drink
Coffee
Like the rest of Seattle, South Seattle takes its coffee very seriously. Although there are several chain coffee shops like Starbucks, for the genuine experience visit one of these shops to rub elbows with the locals. Many of the establishments listed above (e.g. Tutta Bella, Columbia City Bakery) are also excellent for coffee.
phone: +1 206 659-0588

address: 3829-A South Edmunds St

Columbia City Coffee.

The Station

address: 2533 16th Ave S

cozy neighborhood coffee shop with friendly owners and nice revolving art shows.

Victrola Coffee Roasters

address: 3215 Beacon Ave S

neighborhood coffee shop limited food and cool map of Beacon Hill on the wall.
Bars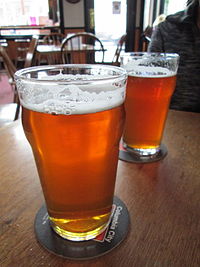 Seattle is well known for its local craft beers and most pubs carry a variety of local breweries so don't be afraid to ask your server when you want to try something new. Georgetown Brewery is a south Seattle based brewer so look for their varieties such as Manny's and Lucille.
Amorcito Lounge

address: 2410 Beacon Ave South

small dive bar with strong drinks and food from Java Love.

phone: +1 206 723-5123

address: 4914 Rainier Ave S

Many local beers on tap and food specials that change out weekly. All their food is made in house, fresh, no microwaves, no heat lamps and no deep-friers.

El Quetzal Bar

phone: +1 206 329-2970

address: 3209 Beacon Ave S

Full bar connected to El Quetzal Restaurant but with its own menu and unique drink specials.

Lottie's LoungeA neighborhood-centric lounge with full food menu and inspired original cocktail specials.

The BourbonLocated in the same building as the Columbia City Theatre, with a full bar menu, occasional DJ's and karaoke night.

The OakLocated on Beacon Hill this bar boasts a wide selection of local craft beers, mixed drinks and a well developed menu.

Tippe and Drague AlehouseLocated on Beacon Hill this bar boasts an amazing selection of local craft beers and cider in a cozy old world feeling bar.
Sleep
Generally a residential area South Seattle does not have a wide variety of places to stay. Visitors not staying with friends tend to find hotels
downtown
.
phone: +1 206 734-1994

address: 3317 S Hanford St

Bed and breakfast near Mount Baker Park and Lake Washington.
Connect
Most coffee shops offer free wifi and all branches of the Seattle Public Library have open wireless, using the SSID
spl-public
. Public computers with Internet access and basic office software are available for up to an hour at a time, but require either a SPL library card or a temporary pass available from the circulation desk. All services are free.