Seattle/University District
The
University District
, or "U-District", surrounds the University of Washington in northeast
Seattle
. It's centered on University Way Northeast, which all the locals call "The Ave".
Surrounding neighborhoods include
Ravenna
to the north and
Laurelhurst
to the east. Largely residential, their attractions are included here.
Get in
By car, take the 45th-50th Sts. exit from I-5, or head north from the Montlake Blvd. exit on SR-520. Parking on the campus itself is
very
expensive, up to $15 per day, although it's free after noon on Saturdays and all day Sundays. The vast E-1 lot east of campus on Montlake Blvd. is a relative bargain at $7, but without a university ID, you'll have to pay in all quarters! Street parking is more plentiful away from the campus.
Link light rail
is the fastest way to get to the area from central and southern Seattle, making its way under Capitol Hill to
Downtown
in less than ten minutes, and out to the airport in about 45 minutes. The station is located at the southern end of campus, next to the football stadium at Montlake Blvd and Pacific Street.
King County Metro
runs numerous bus routes to many outlying neighborhoods. Namely, use routes 48 and 49 to Capitol Hill, 31/32 to Fremont, 44 to Ballard, 45 to Greenwood and Lake Union, 48 to the Central District, 67 to Northgate, 65 to Wedgewood, 372 to Lake City, and 75 to Sand Point. From University Ave routes 45, 71, 73, and 373 travel to the Link Station making connections easy. The campus has excellent and wide-ranging commuter bus service, though most of the routes to the distant suburbs do not run on weekends or holidays.
See
address: 5520 Ravenna Ave. NE

Fans of comic artist Charles Burns might like to visit this park, the site of some of the creepier scenes in his book "Black Hole."

phone: +1 206 682-1414

address: 1303 NE 45th St

Live music venue in a 1921 theater building, operated by the same management as downtown's Paramount and Moore.
The UW campus has a number of notable museums and buildings which are open to the public.
phone: +1 206 543-0242

address: at Red Square

The Suzzallo is a grand Gothic-style structure. The high-ceiling Graduate Reading room is especially impressive.

Red SquareThis red brick-paved plaza fills with students moving between classes, hanging out, or some student-led activities.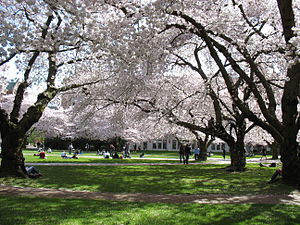 The QuadSurrounded by the liberal arts buildings, the Quad turns a wonderful shade of pink in early spring, when the Japanese cherry trees bloom. These blooms only last a couple weeks, however.

phone: +1 206 543-5590

address: University of Washington, 17th Ave NE & NE 45th St

A natural history museum with lots of Northwest Indian artifacts and dinosaur skeletons.

phone: +1 206 543-2280

address: University of Washington, 15th Ave NE & NE 41st St

One of the biggest contemporary art galleries in Washington, The Henry shows well-known contemporary and modern artists of visual media, as well as an annual exhibition of the UW's Master of Fine Arts students.
Do
University of Washington Waterfront Activities Center

phone: +1 206 543-9433

Rents canoes and rowboats, with all the necessary accessories. The ramp is also a good location to launch canoes and kayaks of your own.

address: 1303 NE Boat St

Hourly kayak rentals from Portage Bay providing access to the Arboreteum, Lake Washington and Lake Union.

Burke Gilman TrailStay to the right on this relatively flat paved bike/pedestrian path that runs along the shoreline of the lake and the canal past campus.

University Heights Center for the Community

phone: +1 206 527-4278

address: 5031 University Way NE

A not-for-profit community-based organization in the University District which offers an array of classes, host activities and events for the University District & Greater Seattle Area. Accepts visitors everyday. Once a Seattle School, now a designated landmark. Stop in the center or just cruise by and visit the Farmer's Market every Saturday year round.

Figure Drawing

address: top floor of the Art building on UW campus

Show up early to secure an easel and to find the host room. This nude figure drawing session is open to the public. Bring your own supplies, and cash for the model fee. Model is usually female. All levels welcome.

U-District Farmer's Market

address: NE 50th St and University Way NE

Local produce, cheeses and other products can be found here.

U-District Street FairThis street fair includes some performance artists (mainly musicians), many booths selling their wares, some food stalls and some live music. A rather generic affair over-all.

Friends of the Seattle Public Library Book Sale

address: Building 30, Magnuson Park

Held twice yearly, in April and September. Over 200,000 books, CDs, and videos from library surplus and private donations occupy an entire airplane hanger.
Buy
Eat
As can be expected of a college neighborhood, there are plenty of inexpensive places to eat in the U-District.
Budget
Aladdin Gyrocery

phone: +1 206 632-5253

address: 4139 University Way NE

These gyros are big, and the halal lamb & beef meat is grilled after it is shaved off of the cone. Vegetarians love the falafel with thick tahini sauce. Fee for credit card use below $10.

phone: +1 206 524-4332

address: 5240 University Way NE

The 1st vegan Thai food restaurant in the Northwest features a reasonably priced buffet from 11:30AM to 3PM. On a nice day, you can order the buffet to-go and have a picnic at Gasworks Park, although it is a long walk.

phone: +1 206 527-4000

address: 4759 Brooklyn Ave NE

Cedars shares an Indian menu with Taste of India (they have the same owners) and includes Mediterranean dishes as well.

Pho Thy Thy

phone: +1 206 632-4909

address: 4129 University Way NE

The menu, prices, and cream puffs appear to be clones of Than Brothers (number 9 at Pho Thy Thy is exactly the same as number 9 at Than Brothers). With that said, there are three things make Pho Thy Thy better: the vinyl booths are not ripped up, the warm glow of the TV makes for good company to solo lunchers, and credit cards are accepted.

Saigon Deli

phone: +1 206 634-2866

address: 4142 Brooklyn Ave NE #105

Saigon Deli serves a broad Vietnamese menu but the attraction are the báhn mì sandwiches which are among the best in the University District and are best ordered with an egg. They also serve a unique noodle soup with butternut squash broth. All entrees come with yogurt dessert.

phone: +1 206 548-9461

address: 4114 University Way NE

German sausage joint. Come here to enjoy good times with friends, watch the game, or just drink a half liter...or a liter...or a boot of beer!

phone: +1 206 524-0204

address: 801 NE 65th St

Vegan, worker owned, collectively run cafe.
Mid-range
phone: +1 206 545-8570

address: 1303 NE Boat St

Excellent selection of fish and other tacos and other imaginative Mexican fare. If the restaurant is too crowded and the weather is good, order from the takeout window and eat in the small park to the west. Also hosts a paddling club

phone: +1 206 522-6966

address: 4757 12th Ave NE

Vegan bakery and cafe that also features a raw foods menu. Coffee and tea available.

phone: +1 206 632-1900

address: 4537 University Way NE

Indian and Pakistani restaurant with the usual dishes.

phone: +1 206 523-5275

address: 4735 University Way NE

The best Malai Kofta in Seattle. Buffet available 11:30AM-3PM. handy coupon

phone: +1 206 343-1415

address: 5500 University Way NE

This is Seattle's only all-vegan pizza joint.

phone: +1 206 633-3854

address: 4214 University Way NE

This Pakistani-North Indian restaurant serves what might be the best South Asian food in the city. Pakistani food is subtly different than Indian. Creamier and richer and not averse to the use of beef. Definitely not a place for calorie-counters but everything is good to the last dish. Try the blackberry lassis, chicken korma, and channa bhatura.

phone: +1 206 528-1575

address: 5517 Roosevelt Way NE

Taste of India is in a funky building that has been amateurishly expanded, but the food is quite good. Mutter Masala available here (not at Cedars).

Thai Tom

phone: +1 206 548-9548

address: 4543 University Way NE

The closest thing Seattle has to a Bangkok street stall, with simple and spicy dishes which are as much fun to watch being cooked (just behind the counter) as to eat. If you expect something other than street food service, you might be disappointed. The food is fantastic. No credit cards.

phone: +1 206 633-7867

address: 4226 University Way NE

U. District branch of a Little Saigon staple, with a far broader menu than the Ave's many phở joints.
Splurge
Drink
Bars and taverns
Pizza A Mart

phone: +1 206 517-4000

address: 5026 University Way NE

One of the most popular bars with UW students. Always crowded Wed-Sun. Great pizza. Strong drinks.

College Inn Pub

address: 4006 University Way NE

The classic student haunt, serving thick ales and tasty chili.

Blue Moon Tavern

address: 712 NE 45th St

"Sorry we're open" says the sign at this Seattle institution founded in 1934. It's been a favorite of beatniks, radicals, and poets; erstwhile visitors have included Dylan Thomas and Allen Ginsburg.

Earl's on the Ave

address: 4333 University Way NE

Pours the strongest drink on the Ave. Mondays are $4 Long Islands. Home of old geezers and greek collegians, and has an excellent kitchen.

Big Time Brewery

address: 4133 University Way NE

Brews a variety of its own beers and serves pizza, chili and sandwiches.

The Kraken

address: 5257 University Way NE

Pirate themed bar.

address: 6504 20th Ave NE

Well lit bar below a coffee house and book store. The entire bar is wood paneled, with tables being cross sections of trees. All day happy hour on Sundays. On the north end of the U-dist.

Ravenna Alehouse Tavern

address: 2258 NE 65th St

Bar on the north-end of the Ave. Pool and Darts. Generally devoid of the college students most other bars in the area attract.

phone: +1 206 522-4950

address: 1012 NE 65th St

A nostalgic sports bar with 8 wide screen TVs, pool tables, and typical bar games. The real party is outside with table tennis court & seating area. Feel free to bring outside food (not drinks) or you can ask the bartender to deliver (not make) a burger!
Coffee
Lounjin

phone: +1 206 888-2827

address: 4527 University Way NE

This place has a vibe like none other on the Ave. Now serving ramen. Perfect for the cold weather. With their rich red walls and the velvety red curtains, the place looks straight-up classy. Lounjin serves Zoka coffee and has a large assortment of teas and flavors. The fresh baked goods are provided by Louisa's bakery. With a large sake selection, and one of the very few classy places to serve beer, wine, and appetizers, this is the place to bring your friends or hookup to the free wifi and study in style.

phone: +1 206 675-0668

address: 1309 NE 45th St

Hangout for students and community members. Serves chai, coffee, and espresso drinks, as well as pastries, breakfast, and lunch. Friendly baristas and chill atmosphere.

phone: +1 206 633-3030

address: 4212 University Way NE

Fifty years ago they were beatniks, thirty years ago they were hippies, who knows what they're called today, but they still hang out here. Great for philosophical discussions, working on your Ph.D thesis, and wireless internet access.

SureShot Espresso

phone: +1 206 632-3100

address: 4505 University Way NE

This hip little coffee joint features coffee from Caffe Vita, vegan pastries, mexican hot chocolate, and WiFi. There is comfortable seating and a backroom with old fashioned arcade games and pinball. The atmosphere is loud when they're playing indie rock music such as The Shins in the background.

Cafe Solstice

phone: +1 206 675-0850

address: 4116 University Way NE

This cafe is features coffee from Lighthouse Roasters and baristas with attitude. The atmosphere is subtly hip (with music such as Aphex Twin playing in the background) and is usually packed with students from one of the neighboring universities. Also serves homemade soups, sandwiches and pastries.

Boulevard Grocery

phone: +1 206 517-5572

address: 2007 NE Ravenna Blvd

Cafe located in a small local grocery. Serves Cafe Vita, basic pastries, hot and cold sandwiches, and Dilletante chocolates. Free wireless internet available.
Tea
WOW Bubble Tea

phone: +1 206 633-1229

address: 4553 University Way NE

Credit cards accepted. Friendly staff and bright, tasteful environment. WOW stands for "Wonder of Worship," but even atheists will keep coming back to WOW for some of the most natural, juiciest tasting milk tea in Seattle. Some speculate that WOW is the reason for the Caucasian crossover into the world of milk tea.
Sleep
Budget
address: 4140 Roosevelt Way NE

In the heart of the university business district, a few blocks from campus. A boutique hotel that is pet-friendly, has a 100% smoke-free environment and includes a hearty breakfast bar.
Mid-range
Stay safe
Unfortunately, the U-District isn't an entirely safe place late at night. If you find yourself walking down the Ave (University Way) at late hours, there will typically be fewer people loitering on the east side of the street. The number of panhandlers and "Ave Rats", as the homeless teen population is referred to, increases as you travel northbound, particularly past NE 45th St. The University campus is considered pretty safe. That being said, Seattle is a very tame city, and the Ave Rats tend to be harmless runaways more interested in spare change and each other than anything else. Indeed, the large student population of the neighborhood allows them to 'blend in' and escape in the neighborhood in a way they cannot anywhere else in the state: don't bother them and they won't bother you.
There have been increased incidents in the area east of "The Ave." between 45th and 65th where the student housing is. While walking late at night is still generally safe, it is better to walk in groups and to avoid poorly lit streets if possible.
If you are visibly female and have to walk at night, try avoiding "The Ave" from about 47th to 52nd because for some strange reason, women tend to be harassed more frequently on this stretch of "The Ave" than on other parts. Recommended to head west and go down Brooklyn but even as far as Roosevelt Way and then go back to "The Ave" if you can. If you are heading north, stay on the right side of Roosevelt - better lighting. The U District is still safer than most parts of the country at night, but precautions are always a good thing.

Connect
Public internet access is hard to find on the UW campus — although it has blanket wireless coverage, a university login is required. Consider trying the thicket of coffee shops surrounding the campus or the Seattle Public Library branch on Roosevelt Way at NE 50th St.